TravelWorldOnline recommends
The Slow Travel & Food Travel blog TravelWorldOnline Traveler presents travel tips. They are for everyone who takes the time to get to know their travel destinations up close. Here you will find recommendations on where and how to turn your vacation into an experience. Get to know the people who shape your holiday destination. Discover opportunities to meet them. Get involved in activities that allow you to go behind the scenes. And above all: enjoy your stay.
New Slow Travel and Trips to Savor Tips
Ideas and checklists for trips and trips
Travel destinations in spring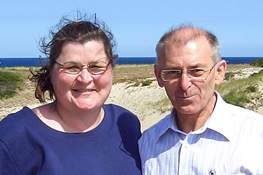 About us and Slow Travel & Trips to Savor Blog
The Slow Travel & Food travel blog TravelWorldOnline Traveler is published by Monika and Petar Fuchs. Monika traveled to America, Australia, Africa and Europe as a tour guide for XNUMX years. During this time she got to know the highlights of these continents. However, she always wondered what else a country has to offer. What makes it special? How is the character of a country? What shapes its people? She is now researching this together with Petar, her husband. On their journeys, that take them all over the world, they search for slow travel and travel tips to savor. They present their experiences and recommendations in this travel magazine. Monika writes, photographs and takes care of social media. Petar produces the videos.
What is TravelWorldOnline Traveler about?
What topics do you find in the Slow Travel & Food travel blog TravelWorldOnline Traveler? In order to experience a country intensely, you need time. Therefore, in this travel magazine you will find tips on how to get to know your travel destination. We recommend experiences that allow you to get to know the local people and their way of life up close. Take a look behind the scenes. Get involved in your vacation destination. Take part in activities that are offered. We'll show you what and where you can do this:
Discover the cuisines of the world. Take a look inside saucepans on site. Visit fishermen or farmers. Take a cooking class for regional specialties. All of this enables access to local life.
Wine and drinks in the world are an expression of the way of life in a region. Explore them at festivals, at wineries and in wine regions. Visit breweries, cafés or tea rooms.
In the Slow Travel Tips you will find recommendations. Find out where and how you can best explore a region. Discover the art of traveling slowly. Dive into the world of travel experiences with the Slow Travel & Food travel blog TravelWorldOnline. Experience the world intensely. Take your time. Also take a look behind the scenes. Learn that Slow Travel is the art of traveling to savor .
We hope you enjoy exploring the world with the Slow Travel & Food travel blog TravelWorldOnline
Text: © Copyright Monika Fuchs, Slow Travel & Genuss travel blog TravelWorldOnline
Photos: © Copyright Monika Fuchs, Slow Travel & Genuss travel blog TravelWorldOnline