Sanibel Island Restaurant - Island Cow

Our first visit to Sanibel Island Restaurant Island Cow showed us how different the attitude to life on Sanibel Island is from that in Fort Lauderdale and Miami. While in Miami it was a lightness that characterized life, in Fort Lauderdale it was the elegance and luxury of the super-rich. With their yachts, villas and shopping malls. You won't find this on the island. Sanibel Island is very different. There are no high-rise buildings and no hotel palaces here. And certainly no grand villas or super yachts. Here everything is one step smaller, but also more homely.
An island where we feel comfortable
Our hotel is more reminiscent of a motel than an inn with its twin room, the living room table just big enough for a family and the kitchen. From our balcony we look out over a pool area, behind which the view of the Gulf of Mexico and the beach of Sanibel opens up. Cozy, comfortable and manageable. These are the terms used to describe how we feel about Sanibel Island.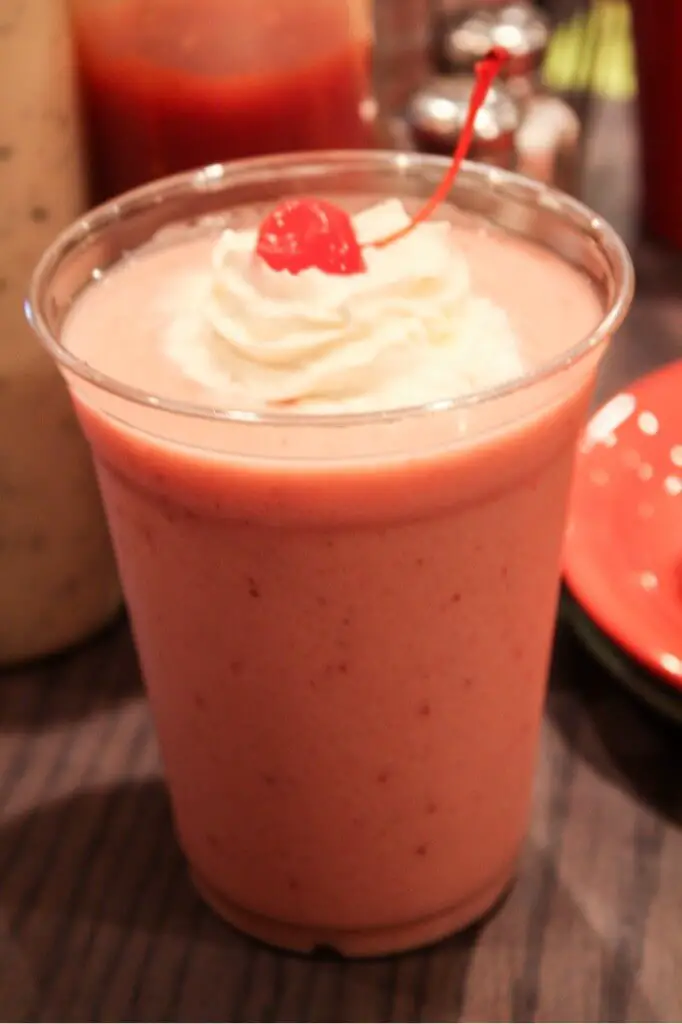 Dinner at the Sanibel Island Restaurant Island Cow
We had our first experience with locals at the Sanible Island Restaurant Island Cow on Periwinkle Way. This is the main road that runs through Sanibel Island. You cannot overlook the restaurant.
The thick strawberry-banana smoothie whets our appetite for food. The decision is difficult, however, as the menu at the Island Cow is so huge that you need half an hour to really see all the dishes that are available. The choice kills us. There are salads from Cesar's Salad to tropical fruit salads. There are pasta of all kinds, tacos with fillings, grilled, fried, boiled. We find spare ribs, steaks, several types of fish, burgers, sandwiches, wraps, soups, and a lot that we have never heard of before. Finally, out of desperation, we opt for grilled grouper (a local type of fish) and gumbo, a southern specialty made from shellfish, seafood, chicken and sausage on rice.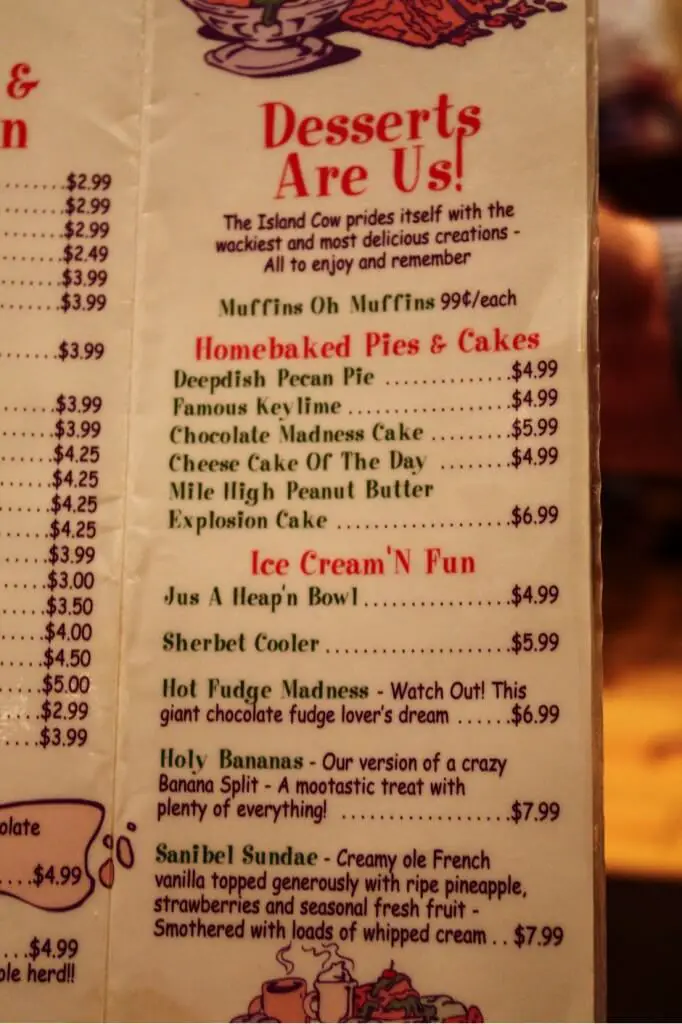 Desserts at the Island Cow Restaurant
While we are waiting for our meal, we study the dessert menu. After all, we skipped lunch today on the drive from Fort Lauderdale to Sanibel Island and are now hungry. There is also a large selection for desserts. You can choose from a pie made from pecans, key lime pie, a "crazy" chocolate cake, peanut butter or even an explosion cake. Each of these names arouses curiosity about what is hidden behind them. However, you can certainly not lose weight with these desserts. We are already thinking about how we want to end our meal at the Island Cow. However, we do not yet know what to expect.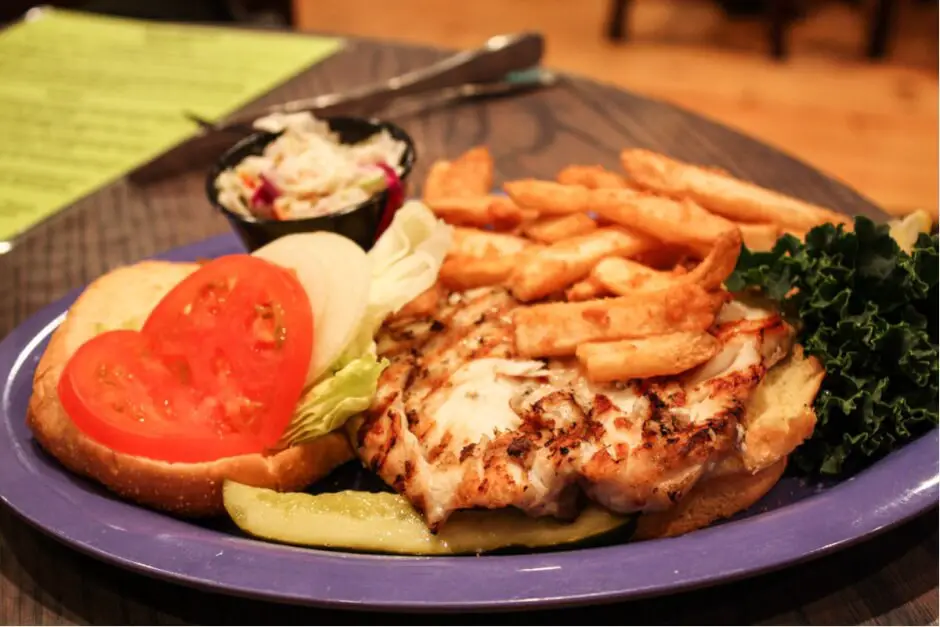 Grouper from the grill
Petar's fish from the grill turns out to be a piece of fish on a toast roll with vegetables and French fries - a portion that we eat at home for several days.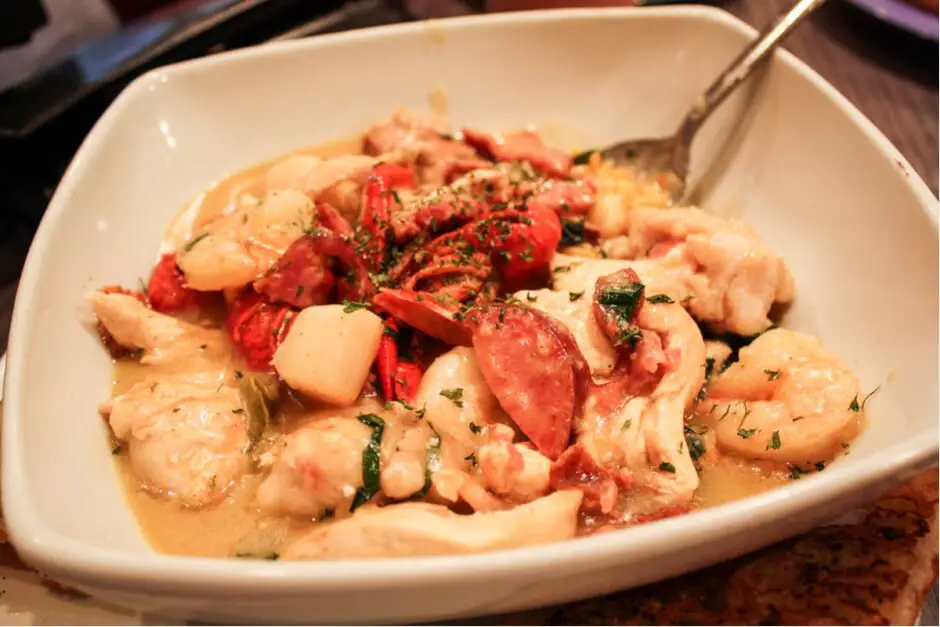 Gumbo, a southern specialty
The gumbo is a kind of fish, chicken and sausage stew on a bed of rice in a bowl of one size that we only use at home when friends come to visit. The food smelled fantastic and tasted the way you imagine mother's kitchen in the southern United States. Just delicious! However, after this meal, which we only ate part of the meal, there was nothing left with our dessert. There was no longer enough hunger for that.
Do you like to travel by motorhome?
Do you want to rent a motorhome? Then you will find information and a selection in these  booking options.
Check our packing list for campers to see whether you have packed everything for your motorhome tour.
On Sanibel Island you can use the Periwinkle Trailer Park Where to stay: 1119 Periwinkle Way, Sanibel, FL 33957, United States. This is the only campsite on Sanibel Island.
The Island Cow Restaurant
Island Cow Restaurant is very popular with Sanibel Island locals. No sooner was a table empty than the next guests were brought to the table. The guests were a mixed bag. There were families with children, couples who ended up here after a bike tour, an elderly lady who had the waiter explain the menu to her in great detail, and even some of the city's dignitaries. It was noisy in the restaurant, but somehow it's part of it - a popular and good place to enjoy a meal with friends and family.
Don't forget that Tip. This is not included in the price in the USA.
That must be for a trip to Sanibel Island in the suitcase
---
Travel Arrangements
Parking at the airport
Here you can reserve your parking space at the airport.
Arrival
Book yours here Arrival by plane, bus or train*. Various airlines fly to Miami, including Lufthansa, United Airlines and others
Rental car
Book yours Rental car*
Hotels and accommodations
Book yours Accommodation on Sanibel Island *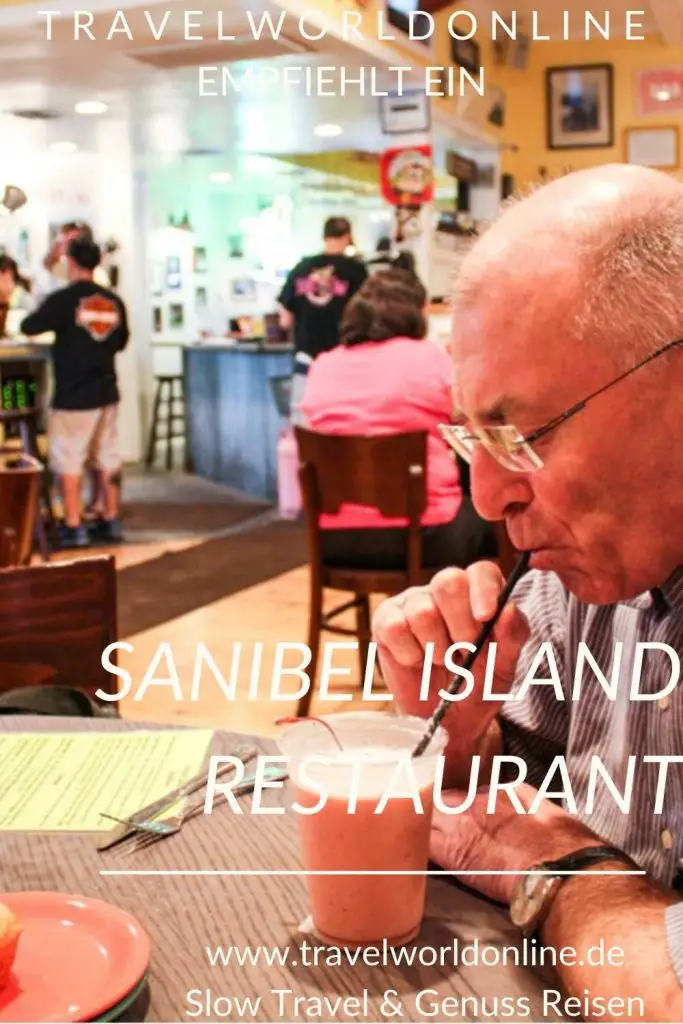 Do you already know:
Source: On-site research supported by the Lee County Convention and Visitors Bureau
Text: © Copyright Monika Fuchs, TravelWorldOnline
Photos: © Copyright Monika Fuchs, TravelWorldOnline
Sanibel Island Restaurant where the locals eat - Island Cow