The best way to taste Burgenland wine is in a winery
The best way to find out how good Burgenland wines taste is directly from the winemaker. He can explain the special features of Burgenland wine to you. Discover on one Wine journey through Austriahow the wineries in Burgenland present their Burgenland wine.
Wine is known to be a very special juice. A good wine has soul: it can be gentle and mild, it can be furious and powerful, it can be lovely and sweet. Wine is a product of its environment and this is reflected in it. In the flavors it absorbs from the soil it grows on. In the sweetness that reflects the hours of sunshine that he experiences as he grows. In the taste that it takes on in the barrels in which it ages. It is the art of the winemaker to preserve these aspects of his existence for the wine and to work them out in such a way that the connoisseur experiences them in the glass at the end. Producing good wine requires experience and skill and requires love and commitment.
Wineries in Burgenland serve Burgenland wine three times differently
Therefore, selling the wine should be something special. You can get Burgenland wines at a wine tasting in one of the wineries in Burgenland, where you can taste the wine yourself. Then you can choose exactly the one that tastes best to you. It's different for everyone, because wine is a matter of taste. While one person prefers a dry wine, the next likes to drink it sweetly. At a tasting you can find out which wine goes best with you. We have three wine tastings at Burgenland experienced and experienced that there are also differences.
A wine tasting at a Burgenland winery
In Deutschkreutz in central Burgenland we can taste the wines from the Gager winery. The winemaker takes us through his winery and shows us his barrels. In these, Zweigelt and Blaufränkisch mature in 12 to 18 months to wines that regularly win prizes and awards. Similar to the vinotheque in Horitschon, you can feel the love for wine that flows through its producers. Josef Gager proudly presents his wines to us and urges us to taste them all. The selection is large and excellent. It is difficult for us to choose a Burgenland wine that we like best. They are all good. Finally, we decide on the flagship of the house, the Cablot (Cabernet Sauvignon / Merlot). The contact with the winemaker makes this wine tasting an experience.
Winery Gager
Karrnergasse 2 u. 8
7301 Deutschkreutz
Wine tasting in the Vinatrium in Deutschkreutz
The Deutschkreutz wine shop is just a few steps away from the Gager winery. Here we can get an overview of the wines of the winegrowers from Central Burgenland in one room. In the vaulted cellar we can taste as many wines as we want. You pay a flat rate and can taste your way through the wines as you please. There is a snack plate for refreshment in between. Then the alcohol hits a reasonable base. If you want, you can get an overview of the 300 wines from the 50 winegrowers in Central Burgenland. If you want advice, all you have to do is ask. Here the guest has the choice. He can form his own impression of the Burgenland wines. Or he makes use of the knowledge and wine knowledge of the vinotheques.
Vinatrium area wine shop
Mainzer Straße 55
7301 Deutschkreutz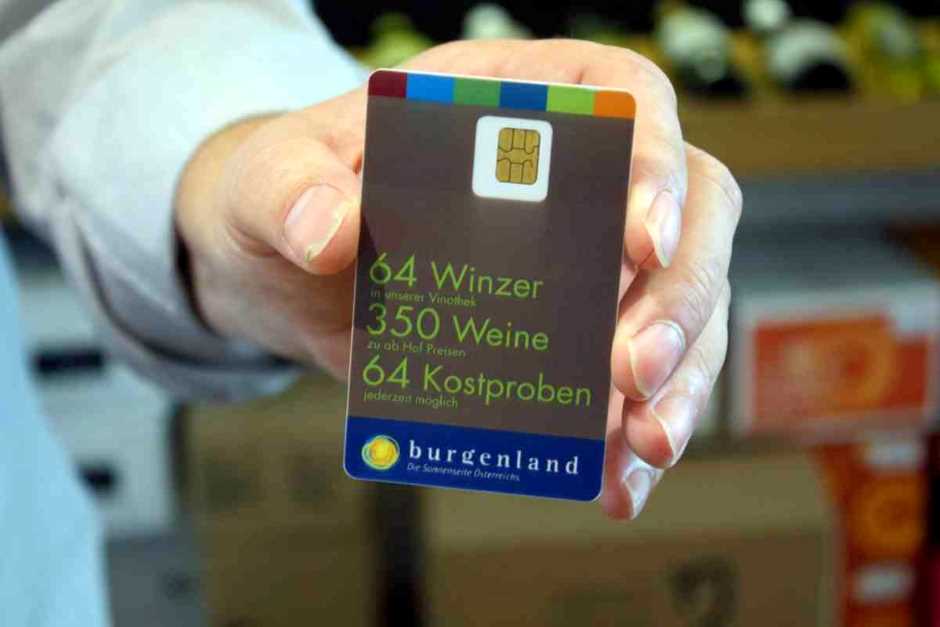 Taste Burgenland wine in a sustainable way
We were able to experience the third wine tasting in the house at Kellerplatz in Purbach on Lake Neusiedl. The wine cellars of the vintners are grouped around the square in front of the vinotheque. In front of these you can taste the wines from Burgenland in Buschenschanken in summer. In the vinotheque, however, we are standing in front of a bar that is controlled by a computer.
For ten euros we get a card that we can use to tap the wines ourselves. We can use buttons to determine how large the quantity and price should be that we want to invest in a type of wine. If one of the bottles is empty, one of the ladies from reception comes immediately and refills it. To give us a base for the wines, we are served a platter of appetizers. With this we can always strengthen ourselves between the wines. We learn that hardly any wine is wasted in this type of wine tasting. The guest only drinks what he wants. This way the tasting stays sustainable and not a drop of wine is thrown away. This is a type of wine tasting like we have never experienced before.
House on the basement square in Purbach
Cellar alley 1
7083 Purbach at Lake Neusiedl
The three vinotheques that we got to know on our travels through Burgenland show us Burgenland wines perfectly. Each of them offers something special and has its own character. Each tries in its own way to do justice to the wine, with the vinotheques trying to convey what is special about the wine - the "soul of the wine". As it is, everyone tastes a different wine. Everyone likes a different type of vinotheque. The selection of wines in Burgenland is just as large as the selection of vinotheques. Everyone can choose the one that suits them best. Which type of wine tasting in Burgenland do you like best?
Do you like to travel by motorhome?
---
Travel organization for your Burgenland holiday with wine:
Easy access by plane, train and bus
Arrival by plane, bus or train*. Lufthansa, Austrian Airlines and Swiss fly to Vienna. In addition, long-distance buses go to Vienna. From there you can rent a car. Arrival by train is possible.
Book your rental car here:
Rent a car cheaply and conveniently online *
Book accommodation online here:
---
Do you already know:
Tips on wine and drinks can be found at Wine tourism - wine regions. Slow travel Travel Tips is available at this link. Discover Wine regions in Austria.
Source: On-site research with the support of Burgenland Tourismus
Text: © Copyright Monika Fuchs, TravelWorldOnline
Photos: © Copyright Monika Fuchs, TravelWorldOnline
Taste Burgenland wine - three times different