Can you camp in Mesa Verde National Park?
Camping in Mesa Verde National Park is possible. However, there is only one campsite there. This is located near the park entrance. However, there are other campsites in the vicinity of the national park where you can camp near the Mesa Verde National Park can camp. I always came to Mesa Verde on road trips where my stay was limited to one day. However, because I was there frequently, I got to know the park well. Coming from Moab or the Four Corners region via Shiprock, we used to camp in Cortez. Traveling from the east, the campground prior to arrival was in Durango. There was usually not enough time for an overnight stay in the national park. However, if you take several days for the national park, I definitely recommend overnight stays at the campsite in Mesa Verde.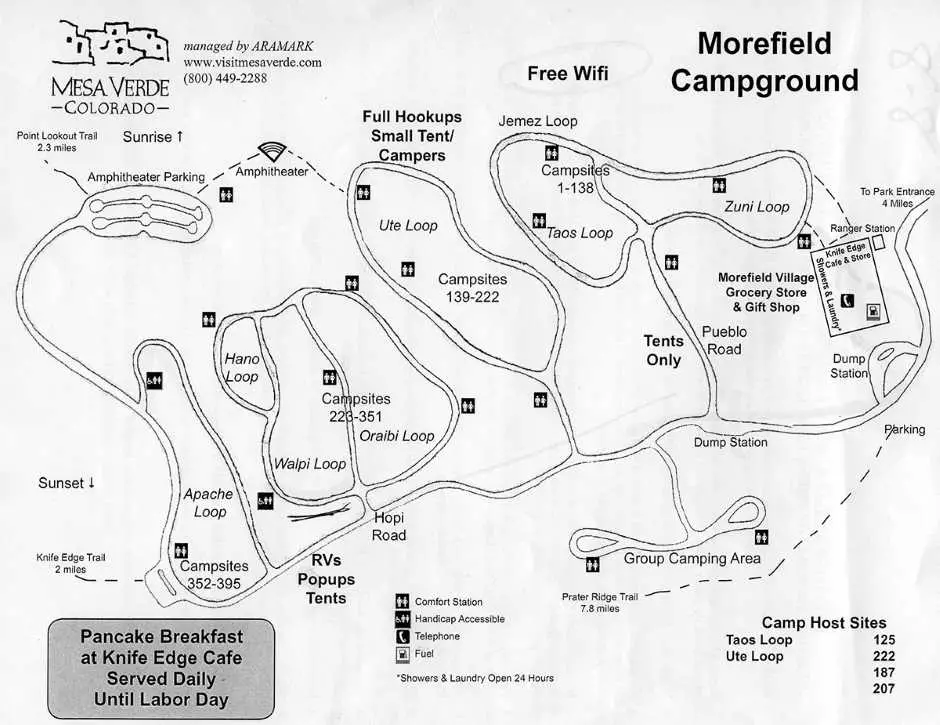 Camping in Mesa Verde National Park at Morefield Campground
Morefield Campground is the only campground that allows camping in Mesa Verde National Park. It is four miles from the park entrance in the national park.
Opening times: April 28th – October 11th
There are also so-called primitive camping dates on which no services are offered. These are:
Spring: April 14 – April 27
Autumn: October 12 – October 26
The campsite is surrounded by nature and offers 267 campsites. The Knife Edge Café, which is part of the campground, offers an all-you-can-eat pancake breakfast during the season. There is also a gift shop and a well-stocked grocery and camping shop. There are also barbecue grills on the pitches for the steak or the One pot stew im Dutch Oven. Three of the Hiking trails in Mesa Verde National Park. While these don't lead to clifftop settlements, they do lead to beautiful views from the mesa of the surrounding area. You have to drive deeper into the park to get to the clifftop settlements.
Morefield Campground
Mile Marker 4 US 160
Mesa Verde National Park, CO 81330
Phone: +18004492288
Camping near Mesa Verde National Park
Do you have a larger mobile home? Then there are camping options near the national park that are also suitable for Class A and 5th wheel RVs.
Ancient Cedars RV Park
This campground is directly across from the entrance to Mesa Verde National Park, albeit outside the national park boundaries. There is easy access Class A and 5th Wheel RV sites here. There are also pull through pitches with full hook-ups, water, and 20/30/50 AMP. The campground is not as heavily overgrown as Morefield Campground. Therefore, it is better suited for larger RVs. Campers who want more shade and privacy will also find suitable pitches here. If you are only traveling with a sleeping bag, you will find simple log cabins with a fridge, TV, microwave, heating and air conditioning, but without running water showers near the campsite. Linens are not provided. Fire pits are available at all tent sites and motorhome sites with water and electricity, as well as most RV sites. Free WiFi in the park. Swimming pool. 24 hour car washes.
34979 US-160,
Mancos, CO 81328
Tel. 1 (970) 565-3517
Mesa Verde RV Resort
Camping near Mesa Verde National Park is also available at Mesa Verde RV Resort. This campsite is just a little further towards Mancos. The Kachina Dancer statue on Highway 160 points to the campground entrance. The campground has top ratings from Good Sam, Woodalls and is AAA and CAA listed. Large mobile homes can also be accommodated here. It offers clean shower rooms, 24-hour laundry facilities, free WiFi, two hot tubs and a heated swimming pool, as well as a sitting area with gas Grills and fireplaces. You can also rent charcoal grills and portable fireplaces for a BBQ or Dutch Oven dinner.
35303 US HWY 160
Mancos, Colo. 81328
Tel. 1.970.533.7421 as well
 1.800.776.7421
Camping in Cortez, near Mesa Verde National Park
Cortez RV Resort by Rjourney
On most of my road trips we camped in Cortez at this campground. This campground was once a KOA campground. Today it has new owners, but continues to offer the services as before. There are Pull Thru and Back In pitches for large RVs too. You can stay in tents, or there are simple log cabins and tipis for rent without running water or a kitchen, where you have to bring your own bedding. There is WiFi, fire pits, picnic tables, public shower rooms.
27432 US-160
Cortez, CO 81321
Tel: (970) 837-7057
There are other campsites in Cortez, but they are in town. I liked the Cortez RV Resort on the outskirts better.
Love RVing to Mesa Verde National Park?
Do you want to rent a motorhome? Then you will find information and a selection in these  booking options.
You can find pitches at the Morefield Campground in Mesa Verde National Park. (Phone 1-800-449-2288)
Check our packing list for campers to see whether you have packed everything for your motorhome tour.
Mesa Verde National Park Questions and Answers
How much time do you need in the park?
Absolute minimum for a visit is one day. During this time, however, you have to choose carefully what you want to visit, because one day is not enough to see everything. If you want to visit both the Chapin and the Wetherill Mesa, you should calculate at least 2-3 days. If hikes are also planned, you can add 1-2 days.
How many entrances are there to Mesa Verde National Park?
There is only one entrance to Mesa Verde National Park. This is located on Highway 160 between Mancos and Cortez. It is about 35 miles west of Durango. From the park entrance it is another 21 miles to the first cliff settlement. The road there is steep, narrow and winding.
---
Travel organization to Denver, Colorado:
Parking at the airport
Here you can reserve your parking space at the airport.
Check in:
Arrival by plane, bus or train*. Denver has an international airport where direct flights from Germany and Europe land.
Rent a car for your Colorado trip :
Cheap Car Hire - Book Fast and Easy! *
Camper Rentals:
Compare motorhome prices here.
Hotels:
Accommodation in Denver* You can also book through our partner booking.com.
Colorado Travel Guide:
---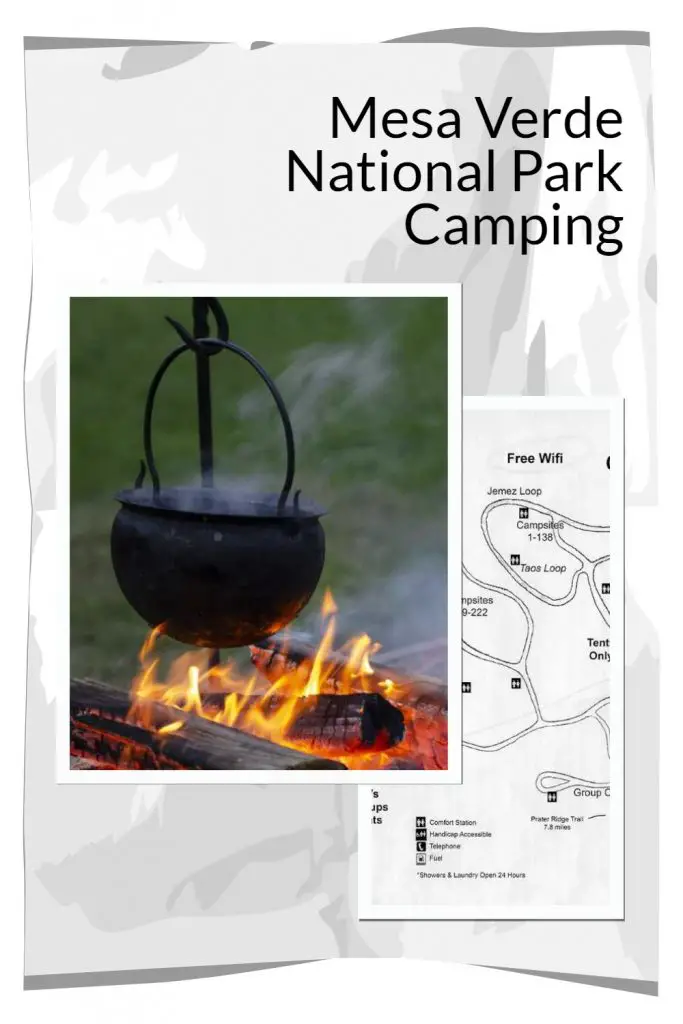 Do you also know:
Source: own research, hikes and local trips
Text: Monika Fuchs and TravelWorldOnline
Photos: NPS and Pixabay
Video: Monika Fuchs and TravelWorldOnline
Camping Mesa Verde National Park
Last update on 9.09.2023/XNUMX/XNUMX / Affiliate links / Images from the Amazon Product Advertising API