Enjoy the autumn in Canada
When autumn comes to Canada, the forests light up Quebec's and Ontario in a unique sea of ​​colour. Also known as "Indian Summer," the spectacle is triggered by a single freezing cold night. However, the exact start time cannot be determined precisely, there are only approximate guide values. It is also quite possible that more northern areas are already wearing their colorful dress, while the forests in the south are still deep green.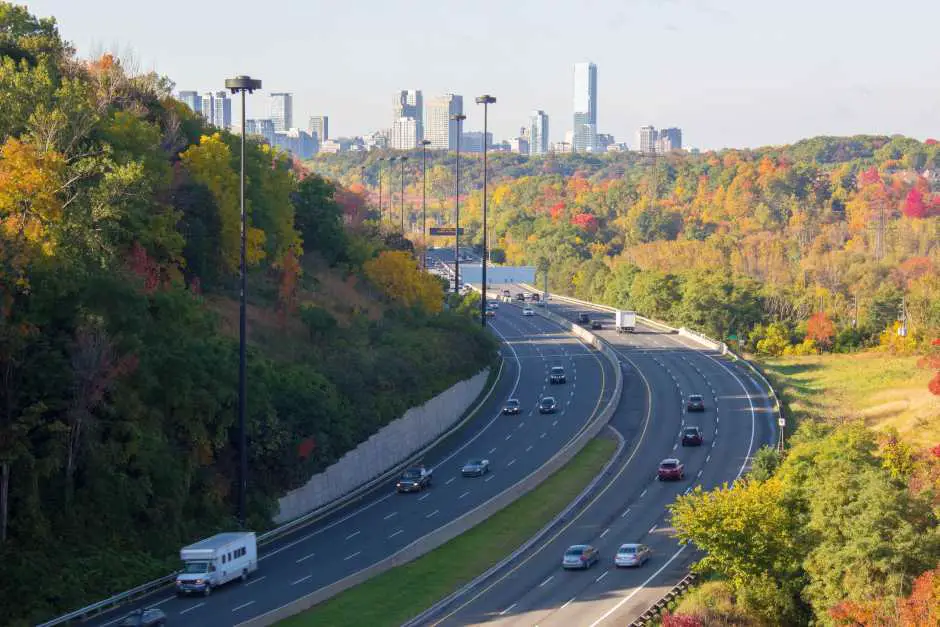 Our autumn tour of Canada begins in Toronto
In order to enjoy the fantastic sight of the Indian Summer in Canada, it is advisable to have a Car rental in Toronto to search. From there you can drive your rental car towards Parry Sound on Lake Huron. A boat tour through the30.000 Islands" takes you past countless islands and offers an incomparable view of the colorful nature experience. If you're into hiking, Killbear Provincial Park west of Parry Sound or Massasauga Provincial Park a few miles south offer hikes in the variegated leafy forests.
Enjoy the Indian Summer at Algonquin Provincial Park
The journey continues towards Algonquin Provincial Park, a 7725 km² national park that enchants with its coniferous and deciduous forests, swamps, rock faces and thousands of lakes. From the viewing platform of the visitor center you have a unique view of the surrounding forests. With a little luck, you can not only admire the wonderfully colorful crowns of the sugar maple, but also spot some moose or white-tailed deer. While not easily spotted, black bears, wolves, beavers, and numerous other mammals, birds, and reptiles are present in the park.
Ottawa
The next intermediate goal is suitable Ottawa, the capital of Canada, which presents itself as a successful symbiosis of Old World flair and New World panache. The architecture of the city, which perfectly combines glass facades of high-rise buildings with stone houses from the 19th century, further underlines this fascinating contrast. The special charm of the "Westminster of the Wilderness" results from the combination of culture and art as well as nature that surrounds the city. Ottawa's outstanding attractions include numerous art galleries and the National Museum. Also, many homes are in Ottawa adorned in autumn and thus also offer a special flair.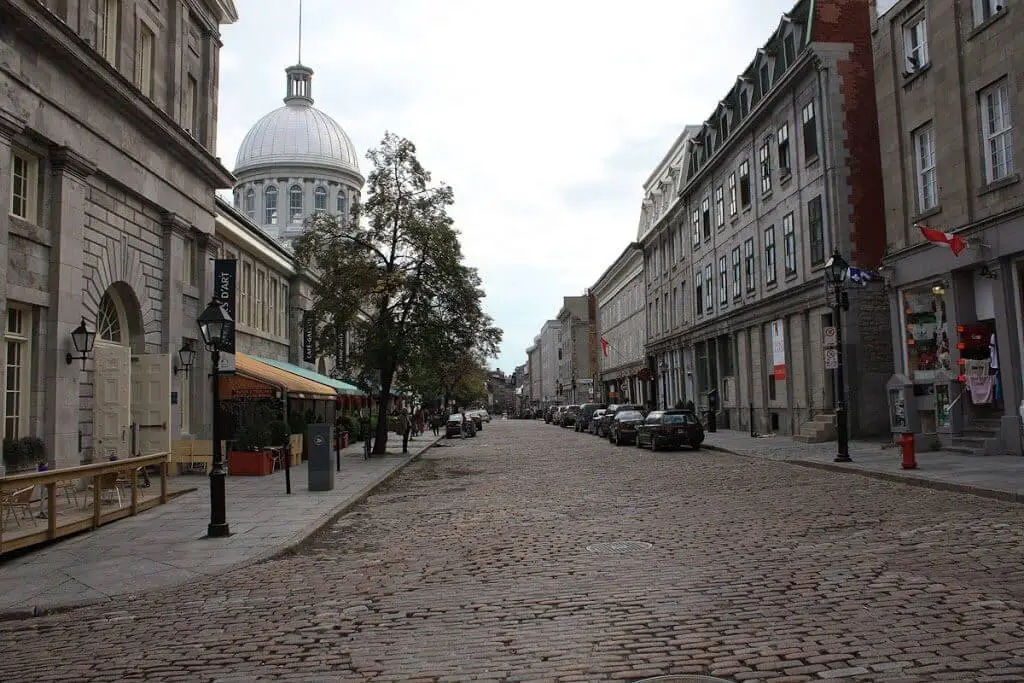 Montreal in the fall
No less interesting Montreal, Canada's second largest city in the province of Quebec, located on a large island in the middle of the St. Lawrence River. Montreal has the largest French-speaking community outside of Europe. The city also offers a mix of French and English culture. Vibrant residential areas such as Chinatown, Little Italy, Plateau Mount-Royal and others reflect ethnic diversity and the influence of cultures from around the world. Montreal travelers shouldn't miss a visit to the Notre-Dame Basilica, Bonsecours Market and the Pointe-à-Callière National Historic Site.
Canada Autumn in La Mauriecie National Park
The journey then leads amidst the blaze of color to the nearby La Mauriecie National Park. Here, the last ice age left a magnificent granite landscape dotted with small lakes and covered with mixed forest vegetation. Elk, black bears, foxes, coyotes and more than a hundred different bird species live among the maple trees that glow in bright red tones. Wall paintings show that nomadic tribes lived, fished and hunted in this area around 5.000 years ago.
Canada Autumn in the Laurentide
Endless forests in colorful autumn dress can also be found in the Laurentides, one of the oldest mountain ranges in the world. Located in the heart of this magnificent landscape, Laurentides Provincial Park, home to numerous caribou, bears and beavers, has been declared a protected ecosystem by UNESCO. Wild rivers, long gorges and clear lakes in untouched natural landscape offer excellent hiking opportunities.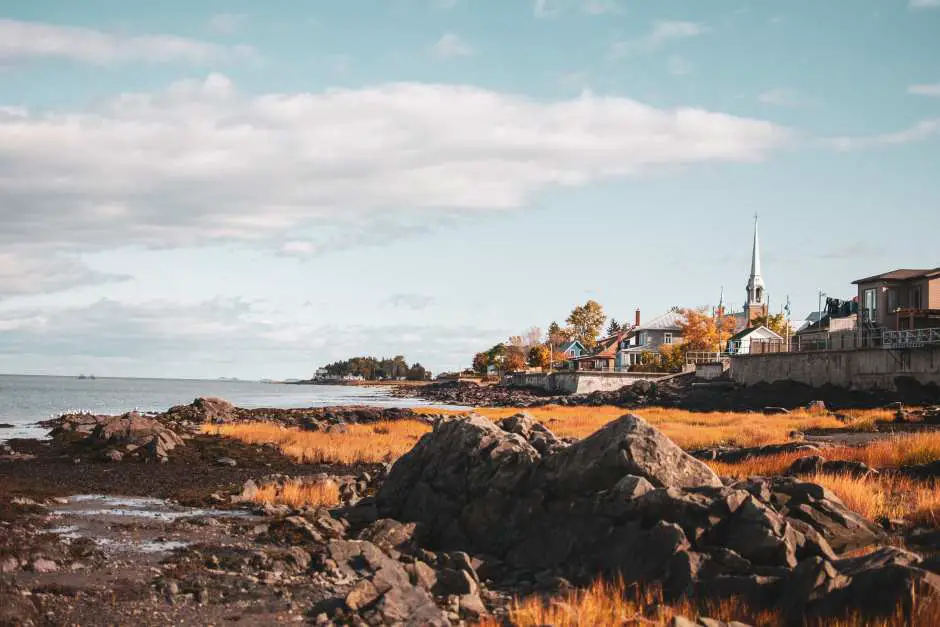 Indian Summer at Saguenay Fjord
One of the most impressive regions of eastern Canada is also the Saguenay Fjord. This fjord landscape looks almost Norwegian. In some places, the tributary of the St. Lorenz reaches a depth of up to 275 meters. Until the Autumn whales can be found here, which, with a bit of luck, can be seen up close on a boat tour. In addition to belugas, massive fin whales and even the largest creatures on earth, the blue whales, cavort in this area.
Canada Autumn in the Atlantic Provinces
Not forgetting Canada's Atlantic provinces, which come up with their own unique atmosphere in the fall. Of particular note are the coastal areas with their fishing villages, colorful deciduous forests and wild beaches.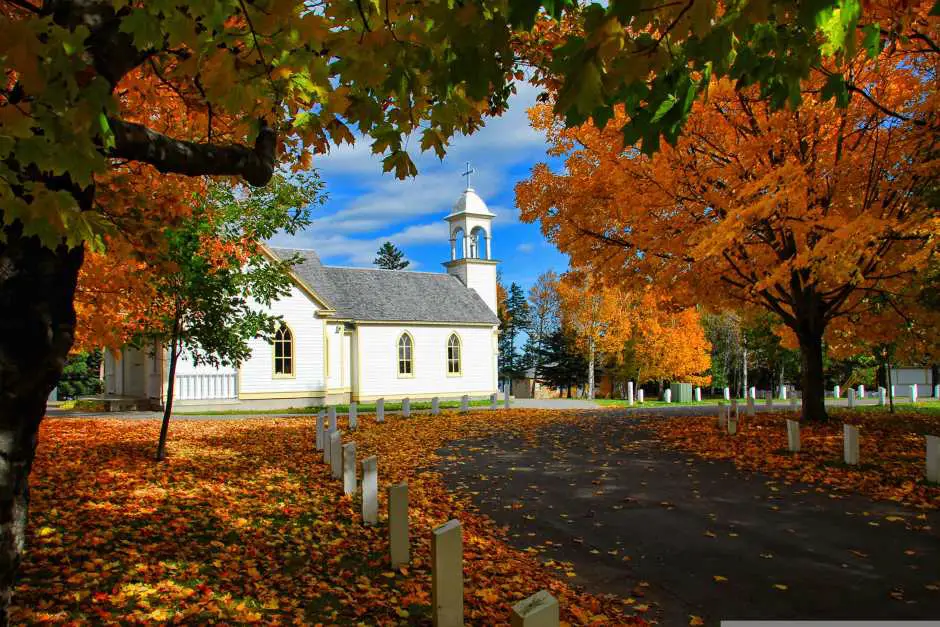 New Brunswick
New Brunswick for example, autumn offers a play of colors of reds, oranges and yellows that extends to the forests, hills and valleys along the Saint John River. The Fundy National Park with its deep gorges and waterfalls as well as the Kouchibouguac National Park with its wide sandy beaches and dunes are perfect places to experience the splendor of colour.
Nova Scotia
In Nova Scotia lure the Cape Breton Highlands in autumn with its wonderful natural scenery of mountain slopes, valleys and lakes. The Cabot Trail, a 300 km long scenic drive through Cape Breton National Park and offers views of the coastal landscape. The charming capital also inspires Halifax in autumn with its port, colorful autumn trees and cultural events.
Newfoundland and Labrador
In Newfoundland and Labrador enchants the colors of the forests in autumn with their deep red and bright yellow. The Gros Morne National Park with its mountains, lakes and fjords offers ideal opportunities for hiking and wildlife observation. The charming St. John's, the capital of Newfoundland and Labrador, inspires in autumn with its colorful wooden houses and its maritime flair.
Prince Edward Island
Of course you can too Prince Edward Island not to be missed on an autumn trip through Canada. The small island province in the Atlantic is known for its red sandy beaches, charming villages and rich cultural history. In autumn, the forests of the island shine in bright colors, especially the maple trees and birches provide a colorful play of colors. A ride on the Confederation Bridge, which connects Prince Edward Island to the mainland, already offers a view of the autumn landscape.
It is particularly worth seeing Prince Edward Island National Park, which stretches along the north coast of the island. Here you will find sandy beaches, dunes and cliffs that radiate a special calm and peacefulness in autumn. In the interior of the island there are also numerous hiking trails through forests, moors and hilly landscapes. The capital Charlottetown enchants in autumn with its colorful houses and cozy cafés. The fishing villages of the island, such as North Rustico or Victoria-by-the-Sea are also worth a visit in autumn. Here you can local seafood and other culinary specialties enjoy.
And finally ...
If you visit Canada in autumn, you will experience a blaze of color in the endless forests. The Indian Summer season transforms the landscape into a colorful sea of ​​red, orange and yellow tones. The best way to experience this is definitely to travel around the country in a rental car. Departing from Toronto, you'll visit the provinces of Ontario and Quebec to discover the autumn landscape. Destinations such as Algonquin Provincial Park, Ottawa, Montreal, the Saguenay Fjord and the Atlantic provinces are absolute highlights.
Fall travel destinations in Canada
The coniferous and deciduous forests, rock faces and thousands of lakes are particularly impressive in Algonquin Provincial Park. You can see moose, white-tailed deer and other animals here. In Ottawa you will experience the combination of culture and art and nature. In Montreal you will visit the largest French-speaking community outside of Europe. A combination of nature, culture and hospitality awaits you on Prince Edward Island. Here you will definitely find sandy beaches, dunes and cliffs as well as charming villages.
The Atlantic provinces of Nova Scotia, New Brunswick and Newfoundland and Labrador are another highlight. Picturesque fishing villages, colorful deciduous forests and wild beaches await you here. You can ride the Cabot Trail in Nova Scotia, visit Fundy National Park in New Brunswick or hike in Gros Morne National Park in Newfoundland and Labrador.
Canada in Autumn is an experience not to be missed. With a colorful mix of nature, culture and culinary specialties, you will never forget this trip.
Fall Canada Questions and Answers
What are the best things to do in Canada in the fall?
In autumn, Canada offers numerous activities, such as Hiking in the colorful forests, white water rafting, canoe trips on the lakes or boat trips to the whale watching areas along the coast.
Where can you find the most beautiful photo opportunities in Canada in autumn?
The most beautiful photo motifs in autumn can be found in Canada's national parks, such as Algonquin Provincial Park or Banff National Park. But you will also find many beautiful places for photographers in the smaller provincial parks or in the coastal regions along the St. Lawrence River.
What is the weather like in Canada in autumn?
The weather in Canada in the fall varies by region. It is already getting very cold in the west and north, while it can still be mild in the Atlantic provinces and Ontario. However, you always have to reckon with sudden changes in the weather and heavy rainfall.
Which animals can you see in Canada in autumn?
Many animal species in Canada have their mating season in the fall, which means that bears, deer and moose can be seen more frequently. Wolves and foxes are also active in nature in autumn.
What clothes should you pack for a trip to Canada in the fall?
For a trip to Canada in the fall, you should pack warm clothes, such as a wind and waterproof jacket, warm sweaters and pants, hats and gloves as well sturdy shoes or boots.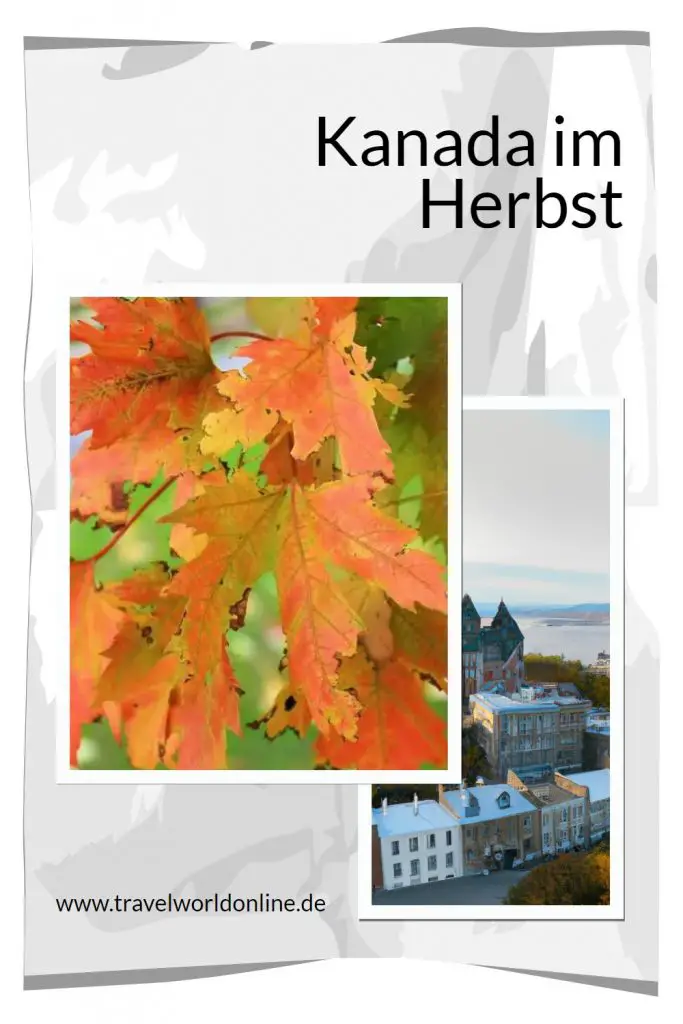 Do you also know:
Source Canada Autumn: Research on site. In any case, our opinion remains our own.
Text: © Copyright Monika Fuchs and TravelWorldOnline.
Photos Canada Autumn: © Copyright Monika Fuchs as well as TravelWorldOnline and Pixabay.