Did you know that chickpeas have been cultivated for thousands of years? In Asia Minor, evidence was found that the inhabitants of this region had been cultivating this legume there for 8000 years. While researching a chickpea salad recipe, we came across this interesting piece of information. No wonder then that chickpea recipes have a long tradition in Oriental cuisine. In the Maghreb countries in North Africa there are many recipes in which chickpeas play a role as an ingredient. From the African cuisine That's where our salad comes from. In Tunisia, the chickpea salad is easy to prepare. You only need a few ingredients. Also, it's quick to finish. A perfect side dish if you're in the summer grilling. It also goes well with quick fried dishes and fish. We served it here with fried fish. He's also good at it cook in the camper.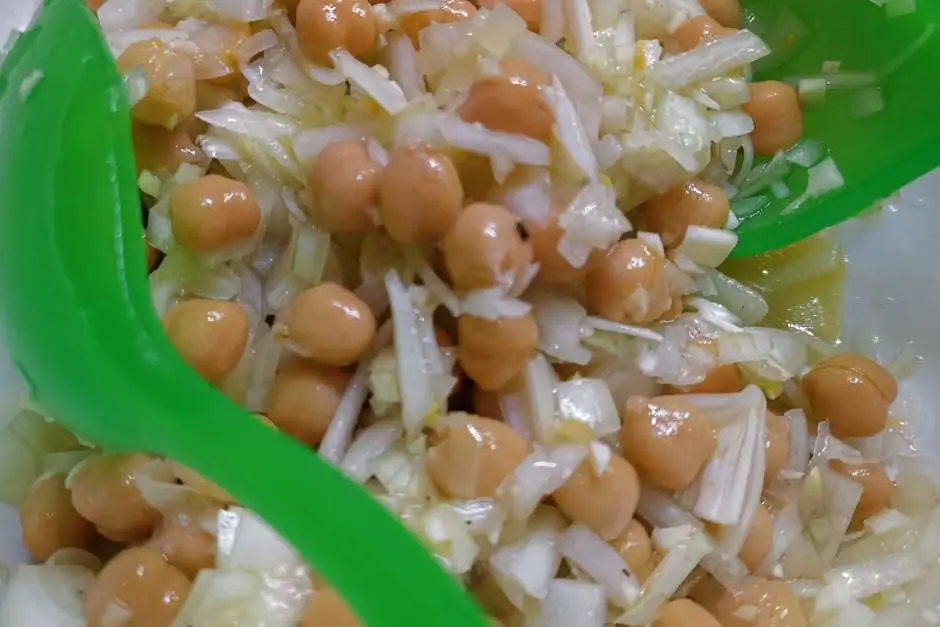 Quick chickpea salad like in Tunisia
This is how you prepare the quick chickpea salad recipe from Tunisia.
Ingredients:
a can of chickpeas
two onions
three cloves of garlic
fresh parsley
six tablespoons olive oil
three tablespoons of vinegar
a pinch of salt and pepper
If you want the chickpea salad to taste a little spicier, add some harissa to taste.
Preparation:
For the salad dressing, chop the onions into small pieces. If you want the chickpea salad to be a bit spicier, you can chop one small. Cut the other into slightly larger pieces. Then the sharpness of the onion comes into its own.
Pass the garlic cloves through the press and add them to the onions.
Place the onion and garlic mixture in a bowl. Then you add oil and vinegar. Season everything with salt and pepper to taste.
Then wash the canned chickpeas thoroughly. Then you add them to the salad dressing.
Finally, chop the parsley and add it to the chickpea salad.
If you want the salad to be a little spicier, you can add harissa to taste.
Then let the chickpea salad sit a little before serving.
The chickpea salad tastes good with grilled meat. But we also like to eat it with baked fish, for which it provides a spicy side dish.
We wish you a good appetite.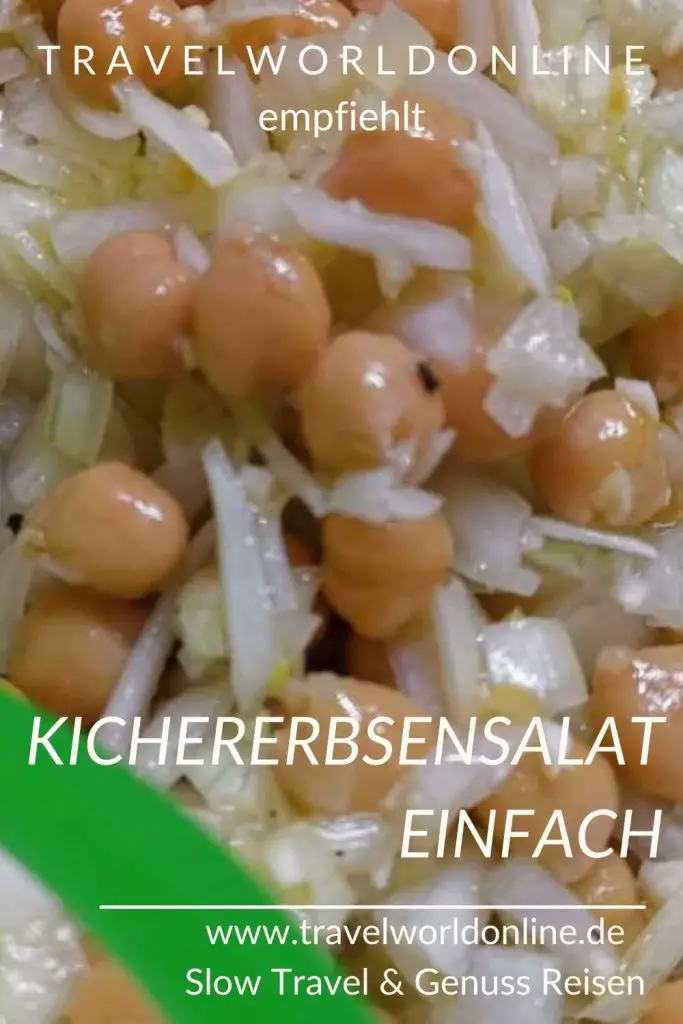 Do you already know:
Source: own research
Text: © Copyright Monika Fuchs, TravelWorldOnline
Photos: © Copyright Monika Fuchs, TravelWorldOnline
Quick chickpea salad from Tunisia