Easter Tradition in Burgenland

We have a Easter tradition im Burgenland got to know – scratching Easter eggs. Ostrich eggs of all colors twirl through the air on the wheel. Forsythia eggs dangle in the wind. Easter bunnies peer out from between the flower borders in the Stipsits family's front yard. It's Easter time in Stinatz. The perfect time for one Easter holidays in Burgenland. For Erika Stipsits, this means that she now hardly does anything other than decorate eggs. She dyes them and then decorates them with motifs.
Easter tradition in Burgenland: it lives on in Stinatz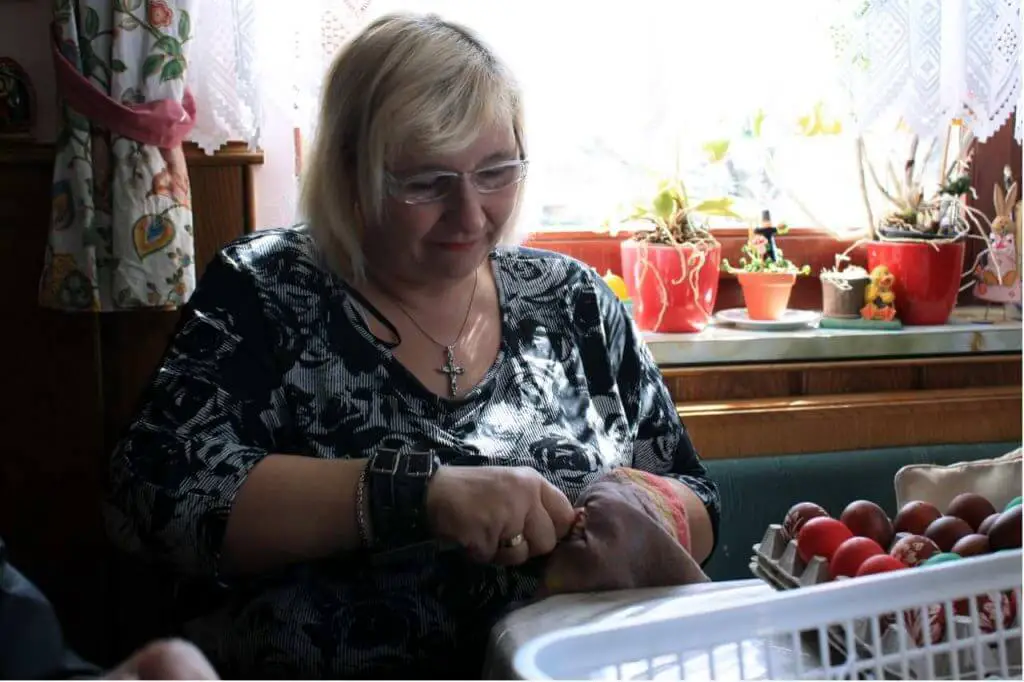 She learned how to carve Easter eggs from her mother. She knows it from her grandmother. In the months leading up to Easter, Erika Stipsits works on the eggs. These can be seen. She has collected motifs in a sample book. From this she gets the ideas for her egg decorations. There are floral motifs, hearts, leaf shapes, tendrils and borders. These turn a chicken, goose or ostrich egg into a work of art. Easter traditions vary from region to region, such as in Franken. The Easter tradition in Burgenland is something special.
Easter Eggs Carving - Easter Tradition in Burgenland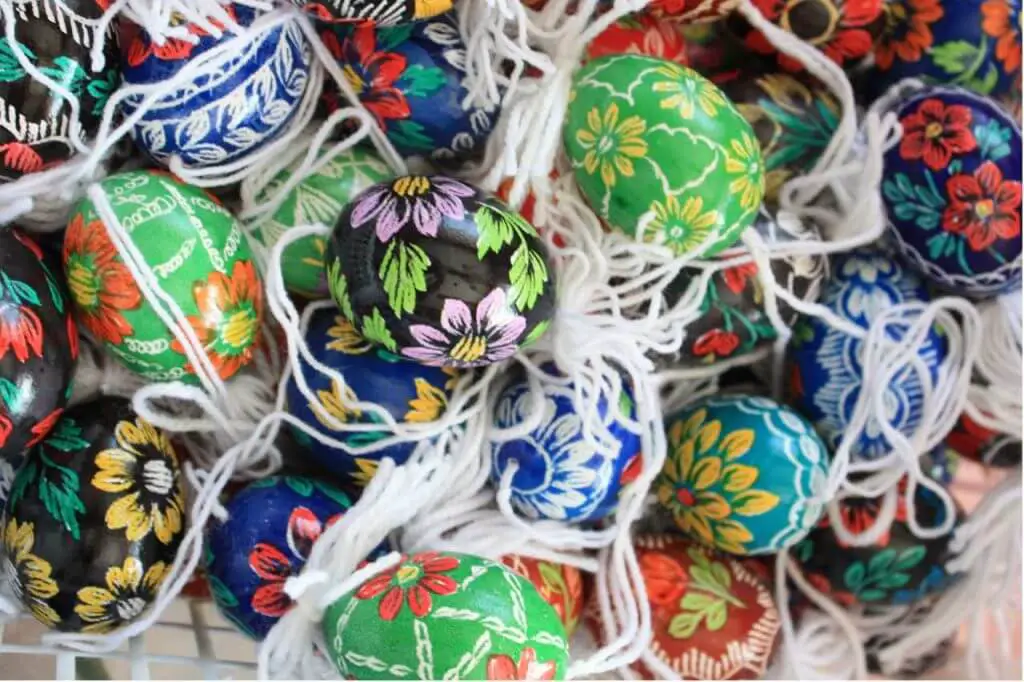 The village of Stinatz is close to the neighboring countries. In the turmoil of the 19th century, families were knocked out Croatia in the Burgenland, They still honor the traditions of Croatia today. Even if, as Erika Stipsits says, "the majority of young people no longer bother to continue the customs. The work is too exhausting for them. In addition, the effort is too great for them. "
In fact, carving Easter eggs is work. The calluses on Erika Stipsits' hands speak volumes. They show how exhausting the job is. "Easter usually ends with tendinitis," reports Ms. Stipsits. No wonder! She works on her works of art every day from morning until late at night.
Scraping Easter eggs in Stinatz is an Easter tradition in Burgenland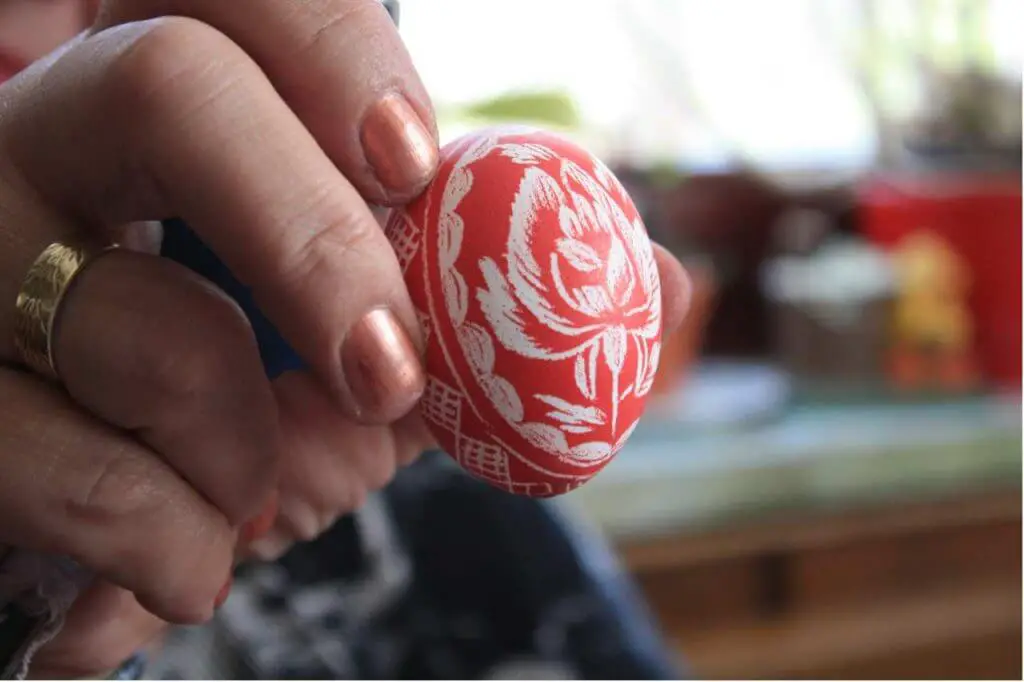 However, their diligence pays off. The Easter egg carvers from Stinatz are known throughout Austria. Everyone has heard of them. Erika Stipsits has appeared on television. She was even a guest of the Federal President. Her customers also come from all over the country: "One of my regular customers travels from Carinthia year after year. Just to get eggs." The Easter tradition in Burgenland is known beyond the borders of the region.
Easter tradition in Burgenland - Watch Ms. Stipsits at work
What she likes best, however, is when customers visit her in her kitchen. She works there during the day. Then you can watch her as the works of art are created in the Easter tradition in Burgenland. You can even express your wishes about the motifs. "An Easter egg with 'Hello Kitty' is easy to make," says Erika Stipsits. Within minutes she then conjures up an egg with her fans' favorite motif. You don't need a template or instructions for this. She masters this work in her sleep. During our visit she talks about the art of carving Easter eggs. At the same time, she is working on one egg after the other. Each with a different motif, without a template. She doesn't even have to stop to think about how to design the pattern. She is familiar with the Easter tradition of scratching eggs.
Anyone who wants to watch the Easter tradition in Burgenland themselves is very welcome. In the period between Ash Wednesday and Easter Saturday you can visit Ms. Erika Stipsits in her kitchen. You should only call beforehand. Ms. Erika Stipsits, Hauptstraße 196, A-7552 Stinatz, Tel. 03358/3192.
Bring this Easter tradition from Burgenland home
Instructions, motifs and templates for scratching Easter eggs can be found here:
So that you can also experience the Easter tradition from Burgenland at home, all you need is a hard-boiled egg, a fine brush, a color of your choice and a scratch template.
First, paint the hard-boiled egg with a color of your choice and let it dry. Then place the scratch template on the egg and fix it with some adhesive tape. Use the fine brush to carefully scratch off the paint from the areas that are white on the template.
You can also combine different colors or layer multiple scratch templates to create a unique design. When you're done, you can give the egg a little clear coat to protect it.
This no-wax scratching technique is also a great way to decorate your Easter eggs, and it's also a good option if you don't have crayons handy. Try it out and let your creativity run wild! This is how you bring the Easter tradition from Burgenland into the living room at home.
Travel Arrangements
Parking at the airport
Here you can reserve your parking space at the airport.
Arrival to experience the Easter tradition in Burgenland
Arrival by plane, bus or train*. The journey time to Stinatz is from Vienna by car from one and a half hours, from Salzburg three and a half hours, ex Graz an hour as well Munich five hours. You can therefore easily experience the Easter tradition in Burgenland on a weekend trip.
Rental car
Reserve your rental car here in Austria *
Accommodation to see the Easter tradition in Burgenland
We recommend an overnight stay in Falkensteiner Balance Resort * (Adults only) or in Thermenhotel PuchasPLUS * in Stegersbach. With an overnight stay in these hotels you will definitely make your trip to the Easter tradition in Burgenland one Enjoyment trip.
Do you like to travel by motorhome?
---
With this Easter tradition in Burgenland we take part in the "Spring" blog parade part.
Do you also know:
Source Easter tradition in Burgenland – scratching Easter eggs: on-site research with the support of Burgenland Tourismus and Kreativ Reisen. However, our opinion remains our own.
Text Easter tradition in Burgenland: © Copyright Monika Fuchs and TravelWorldOnline
Photos: Easter tradition in Burgenland © Monika Fuchs and TravelWorldOnline
Easter Tradition in Burgenland: Easter Eggs Scratching