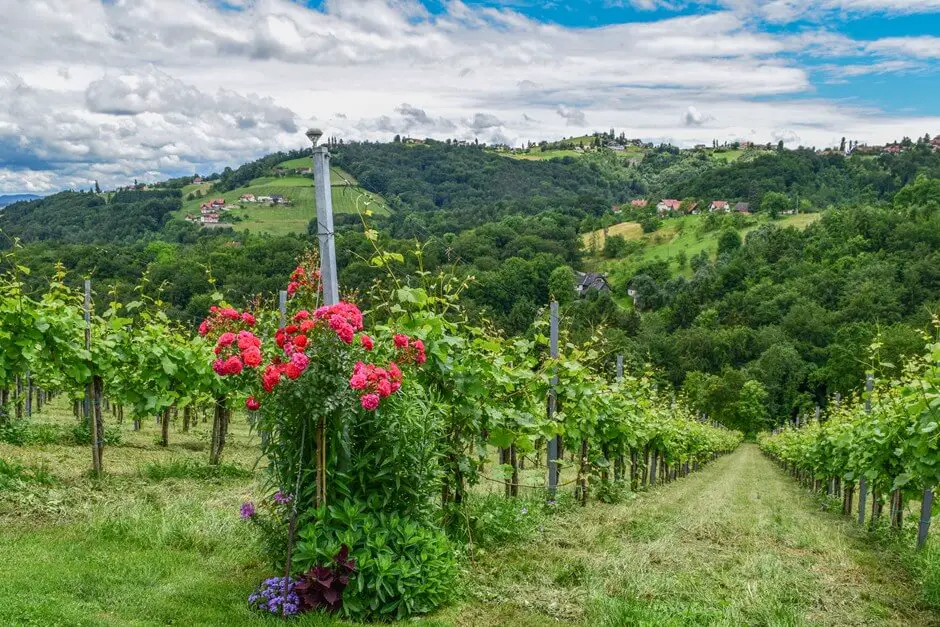 The Sausal Wine Route was our destination during our stay in Southern Styria in June. You have never heard of Sausal? It did not change until a few years ago. The Sausal is a small wine region in the region of Kitzeck. It is located east of Graz. We had learned from this wine region during our visits to the South Styrian Wine Route and the Schilcher wine route, That had made us curious. How beautiful it is there, we had no idea at the time. Their beauty opens up only when you're on the Sausal Wine Road. Let us take you on our enjoyment tour along the Sausal Wine Route.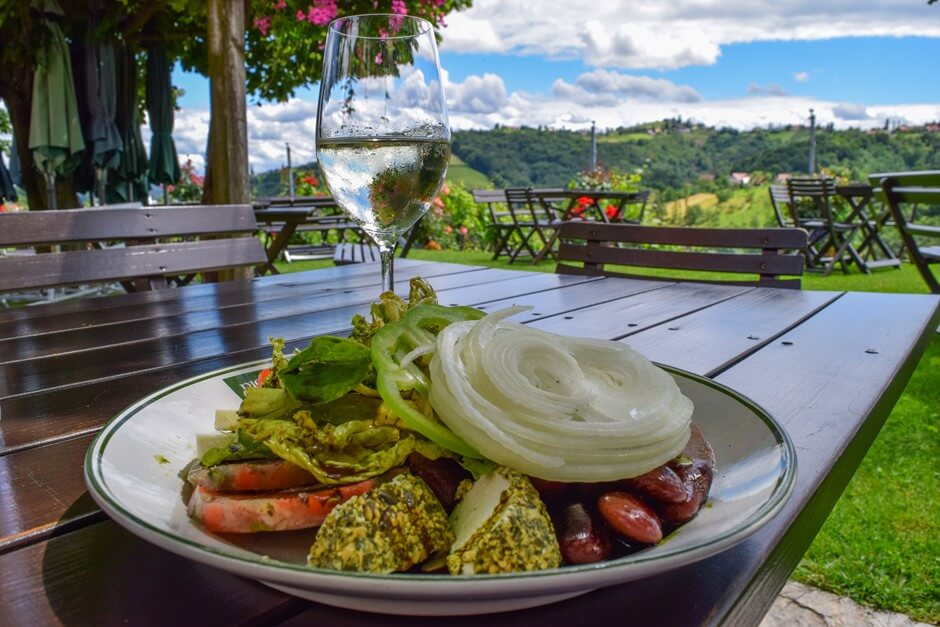 Enjoy the Sausal Wine Route
If you travel by car from Graz, the road leads you through relatively flat terrain. There is no trace of vineyards. It is only when our navigation system in Maierhof sends us onto the Sausal Wine Road that the road begins to climb. It quickly becomes narrow and leads ever steeper up the mountain. Narrow side paths constantly branch off to wineries that are off the main route. If you want to call it that at all, because it does not differ from the narrow branches. Some of the climbs that we pass on our journey through Sausal are remarkable - some climb up to 20%. It gives me a strange feeling when you are standing at the foot of such a mountain by car. After two days of enjoying the Sausal, I don't think of anything anymore. We have got used to it and enjoy the many and constantly changing views of the beautiful surroundings.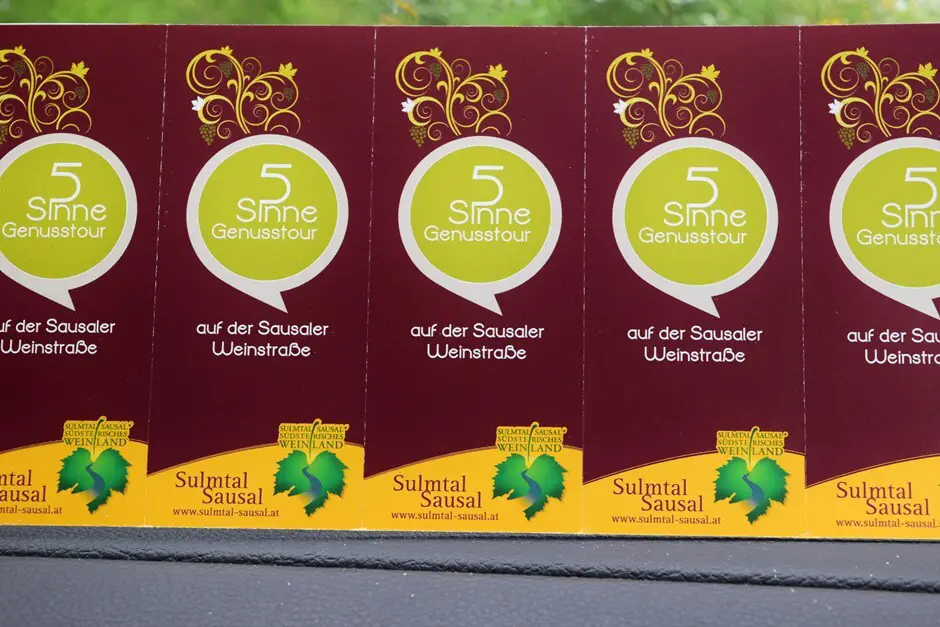 On the way on the 5 senses enjoyment tour through the Sausal
We are invited to the 5 senses enjoyment tour through the Sausal. For this we receive a voucher with which we can taste five different dishes at participating taverns. Of course with our own wines. There are twenty different wineries to choose from, of which we can serve a five-course meal. All products of the inviting establishments made in the house. Whether we taste the dishes in one day or over several days is up to us. However, those who manage the amount of good food in one day have my full respect. We are having a hard time eating the Sausal delicacies on two days. You can also extend the pleasure tour to five days. In this way, we not only get to know the great wines and culinary specialties in Sausal. We also meet interesting people who live in this region.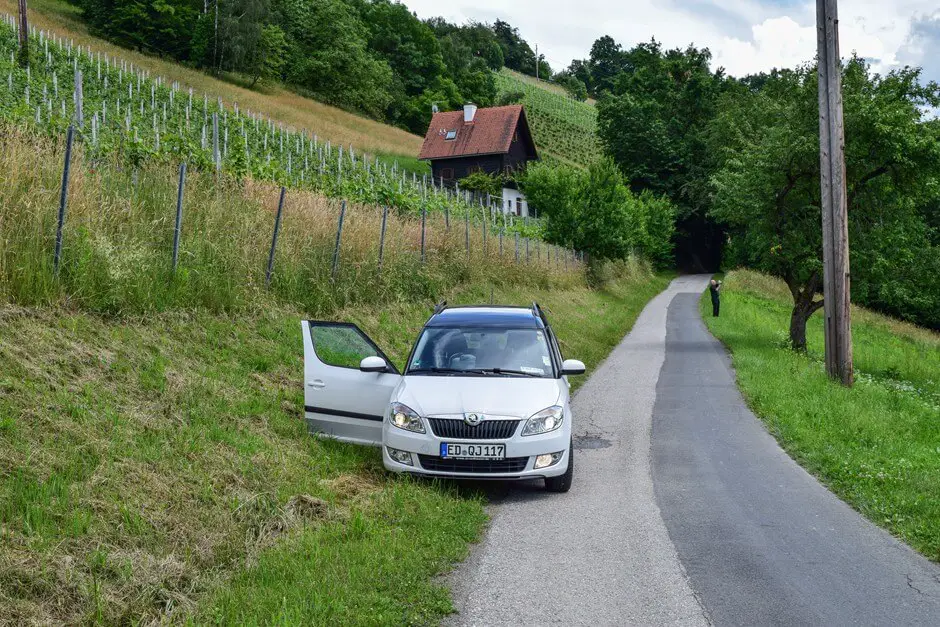 Fish in the tavern Schneeberger
We are enjoying the Sausal Wine Route for the first time in the Schneeberger family's wine bar in Heimschuh. Daughter Margret introduces us to the whole family and tells who does what in the winery. In any case, the company is run by her parents. Her brother Johann is also responsible for the wine and the vineyards. Schwager Walter finally takes over the distribution of the wines. A real family business. Instead, Margret proudly shows us "her empire": she runs the Buschenschank. At the same time, she produces the delicious sausages, smoked ham and smoked trout, which we can try on our fish plate. Here the bread is even baked in the winery - according to a self-developed recipe. In general, Margret attaches great importance to the fact that the products of her winery are optimally presented to the guest.
"I always test new recipes," she laughs. She is currently developing a new herbal spread. "Somehow it has to get even better," she says with a critical look at her own creation. In any case, I already like it.
In the tavern of the Schneeberger family we get a plate of fish dishes: home-strewed salmon trout, fish brine with pear oil, spicy marinated trout fillet and more. It tastes delicious in any case. Especially with the Sauvignon Blanc from the winery Schneeberger.
Winery Buschenschank Schneeberger
Pernich 19
A-8451 home shoe
Daily. open from 12 clock
GPS N 46 ° 47 '14 "O 15 ° 28' 37"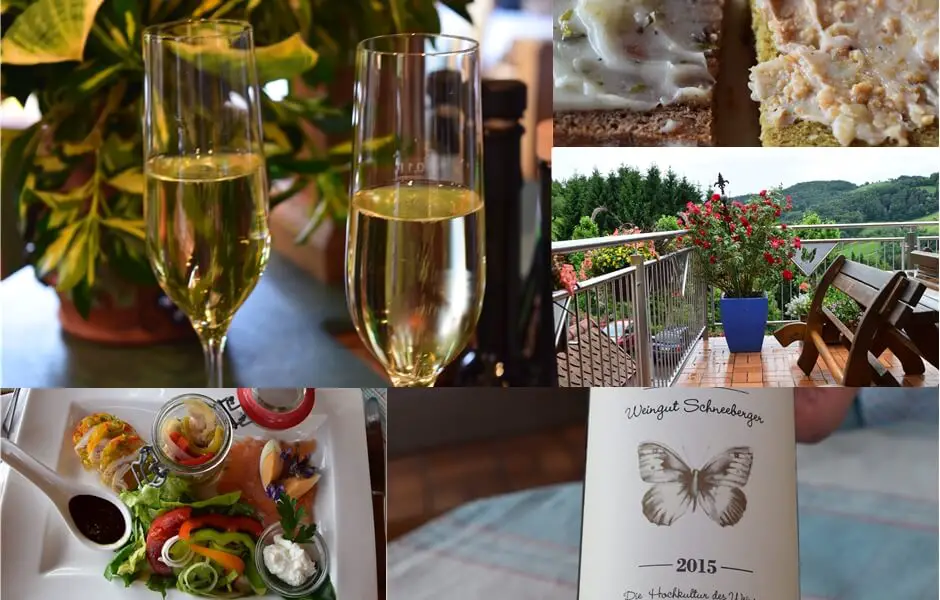 Cheese in the tavern Felberjörgl
At the next tavern, even our navigation device is having a hard time finding its way. It sends us on a turn out into the air over a steep slope. Thanks to a friendly woman on the roadside, who is pouring the flowers in her front yard, we still find the way to Felberjörgl. Laughter and murmurs from the garden show us already in front of the house, that it's the guests go well here. A few locals and their German friends reminisce with a glass Morillon (Scheurebe), as they have met on vacation.
On the other hand, we order a cheese plate and enjoy it with a glass of Morillon Classic 2015, whose aroma of apple, melon and citrus is the perfect end to this summer's day in Sausal.
Winery Buschenschank Felberjörgl
High 47
A-8442 Kitzeck
Do-Tues, from 13 clock, Wed.
GPS: N 46 ° 47 '32 "O 15 ° 25' 35"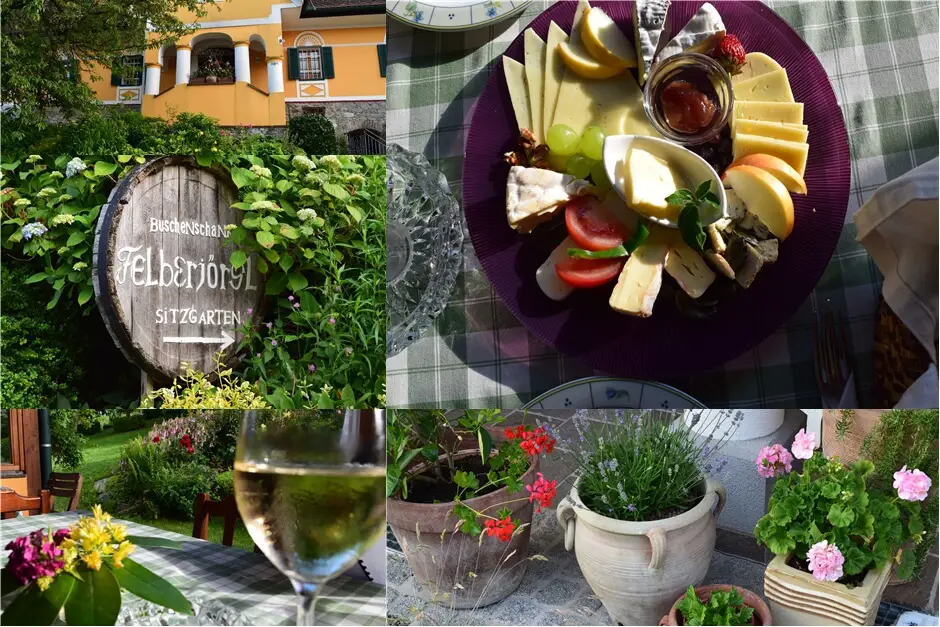 Saures and a magnificent view in Buschenschank Pichler-Schober
At two o'clock the next afternoon we are finally in Mitteregg, which belongs to St. Nikolai in the Sausal. Then the winery Pichler-Schober opens its tavern. I do not want to leave here. We are sitting in the middle of a sea of ​​flowers made of hanging baskets, a pergola and rose bushes in all colors. And behind it we look at the magnificent landscape on the Sausal Wine Road from Kitzeck on the Demmerkogel to Graz. Petar and I try to capture the beauty of the landscape in photos and video, but to see them in all their facets, you have to experience them firsthand. We particularly enjoy the Sausal Wine Road here.
We then continue our culinary journey through the Sausal with a plate of "sour": salad, jellied vegetables, broad beans, tomatoes, eggs and cold roast mixed with Styrian vinegar and pumpkin seed oil. There is also a Welschriesling from the hotel's own vineyard. However, I would prefer to lie down in one of the deckchairs and dawdle all day with views of the surroundings. But the next Buschenschank is already waiting for us.
Winery Buschenschank Pichler-Schober
Midereg 26
A-8505 St. Nikolai iS
Wed-Sun from 14 pm, Mon and Tue rest day
GPS: N 46 ° 48 '09 "O 15 ° 27' 02"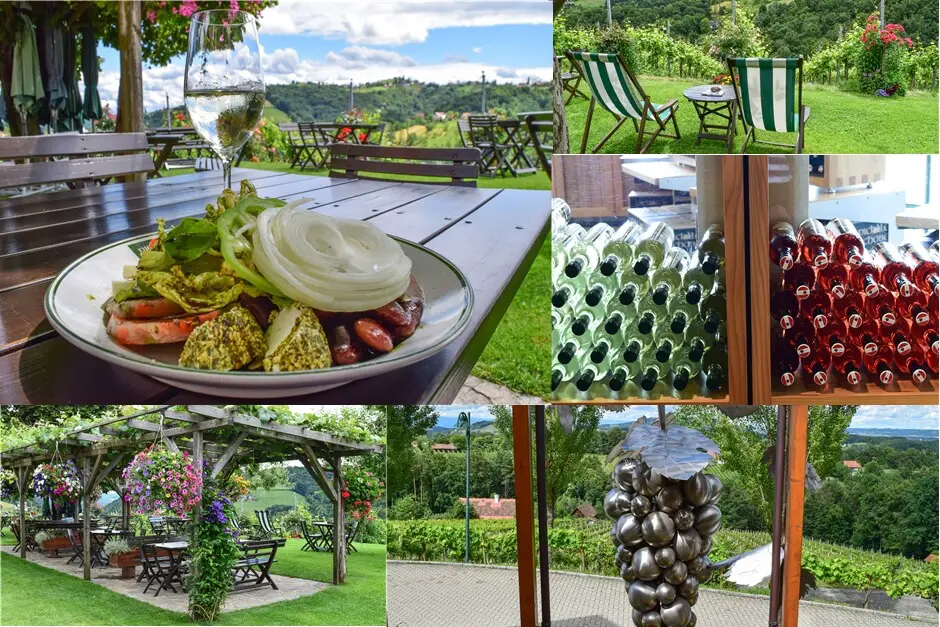 Beef and organic wine in the tavern Warga-Hack
The next stop is an organic wine estate on the Sausal Wine Route. So far I didn't know organic wine. So I was curious how it tasted. As an aperitif, the winemaker's father serves us a wormwood wine - a mixture of wine made with wormwood and lemon peel strips. Although I first have to get used to the rather bitter taste, I like it better with every sip. In the heat of the day, it turns out to be a refreshing summer drink. However, it is not a wine that I want to drink all the time. But on hot days like this it tastes pleasantly fresh.
The eye eats in the tavern warga-hack: a nicely prepared bovine with delicious Musse from Isabella grapes is served to us with a jug of water, which is also refined with fresh redcurrants and mint leaves.
Organic winery Warga Hack
Gauitsch 20
A-8442 Kitzeck
Tue-Sat from 14 pm, Sun and Mon day of rest
GPS: N 46 ° 47 '19 "O 15 ° 27' 20"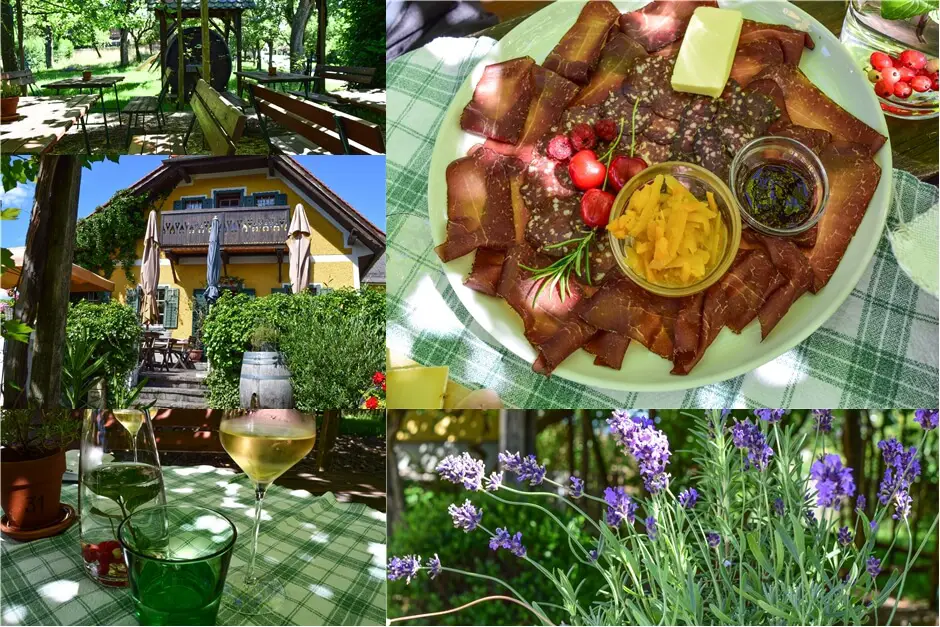 Brettljause vom Schwein and overnight stay in the winery Buschenschank Schneiderannerl
Our last treat stop on the Sausal Wine Road is finally the Buschenschank in the winery Schneiderannerl in Pistorf, where we spend the night in one of the winegrower's rooms. So Petar can also enjoy the wines of the Sausal Wine Road and then no longer drive a car. Our landlady greets us as always very friendly and offers to bring us two different plates. We choose the pig's pancake as included in the enjoyment tour, and a dessert plate of homemade cakes and pastries that the family's grandmother baked fresh in the morning.
Comfortably we let so end finally our pleasure trip through the Sausal. With a plate of home-smoked ham, spicy salami, paprika-flavored bacon strips and pickled pumpkin and grandma's delicious cake assortment, we end our culinary journey through southern Styria.
Winery Buschenschank Winzerzimmer Schneiderannerl
Sausal 27
A-8443 Pistorf
Tue-Sun from 12 pm, Mon day of rest
GPS: N 46 ° 46 '33 "O 15 ° 24' 09"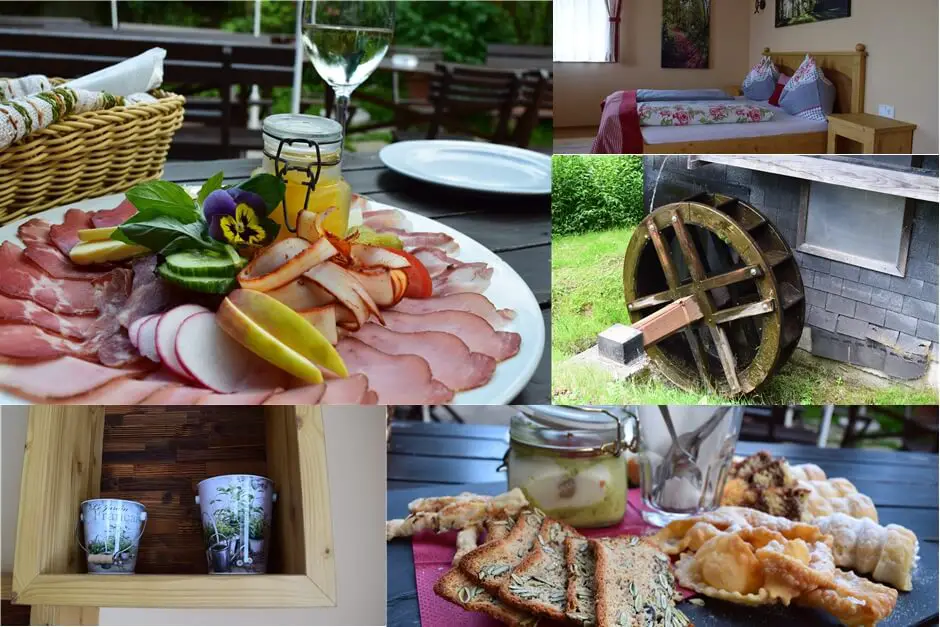 Our gourmet tour along the Sausal Wine Road finally comes to an end after two days full of regional specialties, good wine and interesting encounters with the people who produce them. If you would like to experience the 5 senses enjoyment tour through the Sausal, you will receive the vouchers at the TV Sulmtal Sausal, Tel .: 03456 3500 E-Mail: info@sulmtal-sausal.at

Petar's video also shows the highlights and the views on our enjoyment tour along the Sausal Wine Route:
Videos are subject to copyright
---
Travel Arrangements
Arriving by plane and / or car

The nearest airport is Graz. From there it is best to travel by rental car or car to enjoy the Sausal Wine Route.
Cars:
Cheap car hire - book quickly and easily!
Accommodation in Kitzeck
Hotels and accommodation in Kitzeck in the Sausal * You can also easily book through our partner booking.com.
---
Other destinations in Styria
Find more Tips for wine tourism and wine regions you find here. discover Interesting routes in Austria here. More Slow Travel more travel tips There's this link. Discover others Wine regions in Austria.
Source: own research on site. We would like to thank the TV Sulmtal Sausal and the Styrian Tourism GmbH for supporting this trip. However, our opinion remains as our own.
Text: © Copyright Monika Fuchs, TravelWorldOnline
Photos: © Copyright Monika Fuchs, TravelWorldOnline