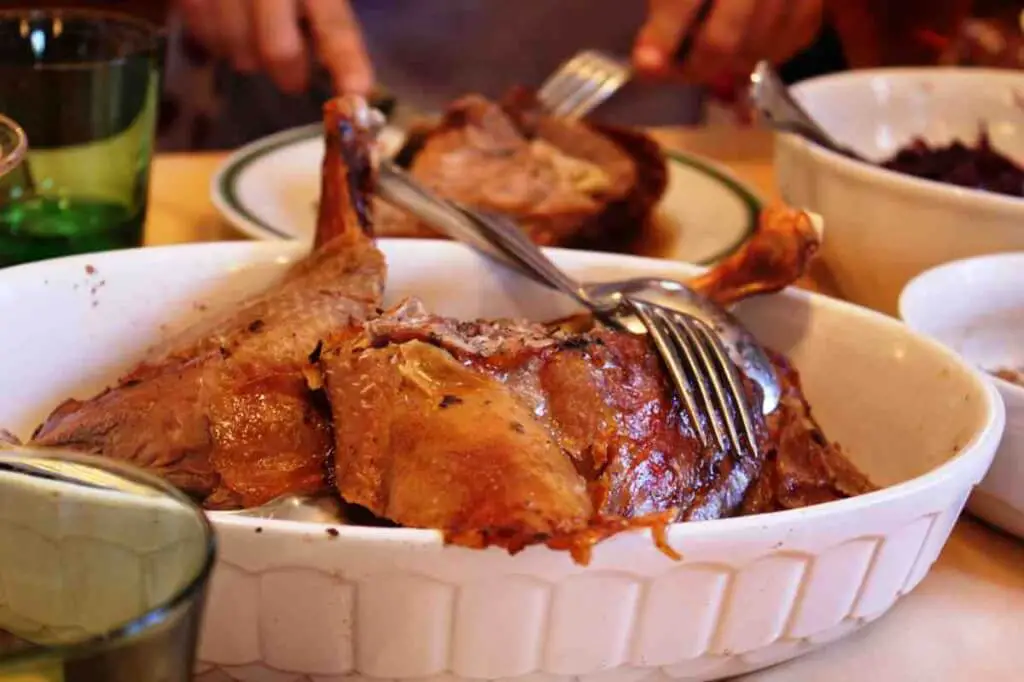 This time we were under the sign of the goose in Burgenland for a few days. We were invited to a shopping tour, which led us from the Burgenland-Austrian border over Eisenstadt to the Neusiedler See. Our route took us to different producers who provided ingredients for our roast goose, which we prepared together at the end of our trip. We met and tasted delicious, amazing and interesting things on the way. Follow us on our journey to goose in Burgenland.
At the beginning, of course, is the goose. And we get these from the largest goose breeding farm in Burgenland, at Herta Schneider in Eisenberg, where My Weidegans enjoys her life. Our first surprise awaits us there: more than 1300 geese come curiously to us. They live in the wild for twenty months in a pasture that is not covered. When I asked why the geese did not fly away, Wolfgang Scheiblauer, who took us across the area, answered: "You feel good here. Sometimes they fly over the fence, but they keep coming back. "And they can fly, as they prove to us with loud chatter and impressive group flights. Unlike fattened geese, which are fed ready for slaughter within a few weeks, the Burgenland grazing geese leave it up to nature how much weight they eat. They feed on fresh grass in their pasture most of the time and also receive barley, oats and wheat from their own cultivation.
A few miles away we visit the Family Hirmann in Rudersdorfwho produces vinegar from all sorts of ingredients. We get pumpkin seed oil for our goose, which the family also produces. However, when we enter their warehouses, the intense scent of apple almost takes our breath away. Various types of apple are stored in the containers, each of which smells different. "We have our own orchards. But what we harvest there is not enough. That's why we buy more varieties from other apple growers in the region, "explains Andrea Hirmann, who leads us through her property. The warehouse overflows with us with yellow, red, colorful and green apple varieties that are waiting to be processed into vinegar, apple juice or fine spirits. But apples are not the only ingredients from which the Hirmanns produce vinegar. In their sales room we discover vinegar made from red wine or white wine, but also from cherry, strawberry, raspberry, pear, apricot, peach, sour cherry, plum or quince. Vegetable vinegars made from cucumber, carrot, pumpkin, beet, bell pepper or tomato are more exotic. But the most surprising are the vinegar variations made from wild garlic, dark or light beer, nut or horseradish (horseradish).
On Friday we continue to the capital of Burgenland, to Eisenstadt, where we visit the weekly market. There, farmers from the area offer fresh fruit and vegetables. We also get ingredients for our roast goose fresh from the market here. There are chutneys made from apricots, apples or plums, liqueurs made from sour cherries or sloes, and cognac from quinces. I find the spruce top honey interesting. How does it taste? For this, carrots, potatoes, cauliflower, horseradish and other vegetables are offered fresh.
A good wine should not be missing a glass of wine. In the house on Kellerplatz in Purbach in the Leithaberg region, we can taste the wines of the winemakers from the region for a few euros. In the most modern vinotheque in Burgenland, visitors can use a chip card to serve the most varied types of wine themselves, an interesting concept, as we find. They have the choice of how big the sip should be, and how many wines they want to taste. Unlike traditional wine tastings, this is controlled in Purbach via a computer system that bills the wines individually. When the amount on the chip card is used up, you simply recharge it and you can continue to search for the perfect wine for the self-fried goose.
The rest of the day we spend on the Apfelhof of the Leeb family in St. Andrä am Zicksee. We drive out with Albert Leeb to one of the apple orchards, where he explains what to look for in commercial apple growing. How difficult it is, but also what satisfaction it brings, we quickly realize when we listen to his enthusiastic statements. And then he puts baskets in our hands and says: "Now it's your turn. Pick as many apples as you can. "We are happy to comply with the request, because the sour, sweet taste of the apples goes well with a roast goose. Our goose will not be filled with apples the next day. But for that we take a few bottles of the delicious apple juice that the Leeb family and their team make from their own apples. This goes perfectly with a home-cooked roast goose.
On the last day of our trip to the goose we spend, among other things, in the kitchen of the chiropractor Ilona Püspök Landgasthof Altes Brauhaus in Frauenkirchen. With the energetic support of her chef Robert, our collected ingredients are now being made into a delicious goose menu. While our goose is seasoned with salt, pepper and marjoram at 170 degrees for about an hour and a half in the oven, Robert prepares a delicious mousse from the goose liver, which he then serves as an appetizer along with pumpkin slices, quince mustard and a delicious cherry sauce Old cherry varieties from the Leitha Mountains served. The main course of our goose menu is traditionally our crispy fried goose with red cabbage and white cabbage salad. In addition there are dumplings, quince must and lentils vegetables. And on our dessert plate we find once again the delicious Leithaberger cherries, but also a good apple pie, apricot must and a wonderfully light Somlo'er Nockerl. Is not this a fitting end to our trip to the Gans in Burgenland? What do you all mean?
Videos are subject to copyright
Source: own research on site at the invitation of Burgenland Tourismus. Our opinion remains our own.
Text: © Copyright Monika Fuchs, TravelWorldOnline
Photos: © Copyright Monika Fuchs, TravelWorldOnline
Video: © Copyright Petar Fuchs, TravelWorldOnline