Wine experience is fun in Winzerkeller Sommerach! It offers its visitors many opportunities to enjoy, taste and experience the wine. We visited the wine cellar on our journey through the Franconian wine country and were impressed.
The summer bar in Winzerkeller Sommerach
The small wine town of Sommerach lies between Volkach and the Benedictine Abbey of Münsterschwarzach am Main. If you drive directly along the Main, you will get directly to the wine cellar when passing through Sommerach. The modern building made of local materials and lots of glass is unmistakable, and it also perfectly stages the wines of the Sommerach wine cooperative. The summer bar is open on beautiful days from Easter to autumn. There, the wines are served by a total of 90 winemakers in the region who have joined together to form a cooperative. They market their wines together, and the Sommerach wine cellar is their headquarters. When we visit Sommerach, however, the sky opens its doors and it rains. That's why we can only imagine how nice it should be to sit here on warm summer evenings with a glass of wine and relax.
Wine experience in Sommerach
Instead, Ms. Köberle awaits us at the precious bar inside the wine cellar. She has been working here for many years and shows us the diverse possibilities of how to experience wine in the Sommerach wine cellar. If you come on a rainy day like us, you can get your tasting in the vinotheque and try it in the elegant bar. When I asked if you could also eat there, Ms. Köberle said: "There are small snacks that we offer for tasting. But the restaurant is not a precious place because we want to concentrate on the wine. "
Perfect dishes to the wine
To do this, you can take part in regularly organized cooking courses right next door in a specially equipped kitchenette. "These are offered all year round and always have a seasonal motto," explains Ms. Köberle. So why not learn to cook in the wine region? In September you can learn how best to cook fish, crustaceans and shellfish so that they harmonize with wine. Pasta and sauces also go perfectly with the Sommeracher wines. Those who feel like it can learn how to prepare them themselves. In November, depending on the season, game is on the cooking course calendar. If you feel like it, you can learn how to best combine game and freshly harvested vegetables with wine.
Genusserlebnismarkt, enjoyment shopping and pleasure weekends
Enjoyment is a top priority in the Winzerkeller Sommerach: during the summer, a gourmet experience market is held where artisans from the region offer typical Franconian products. Of particular interest is certainly the Sommeracher enjoyment tour. This is a walk through the vineyards, which takes place under expert guidance. In December, the Winzerkeller also opens its doors for the Christmas market in Sommerach. Therefore, a visit to Sommerach is worthwhile even in winter.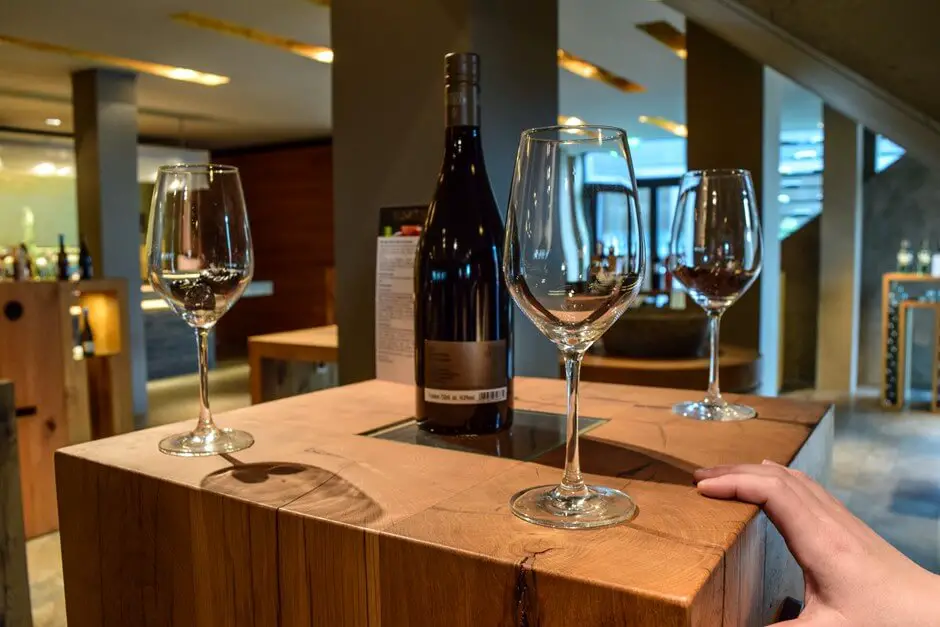 Wine school in Winzerkeller Sommerach
However, in the wine school on the first floor of the wine cellar we get a lesson on how to train your senses to experience the wine. I get a clip that I put on my nose so I can't breathe in through my nose. "Why is that necessary?" I want to know. "Because it separates your olfactory and taste senses." Then Mrs. Köberle serves me a sip of wine and asks: "Can you say what it tastes like?" I swallow - and taste nothing. When I tell her that, she laughs and says: "That's exactly what we want to teach you. You need a nose and taste buds so that you can taste the subtleties of the wine. "You can learn such things and more in the courses at the Sommeracher Weinschule.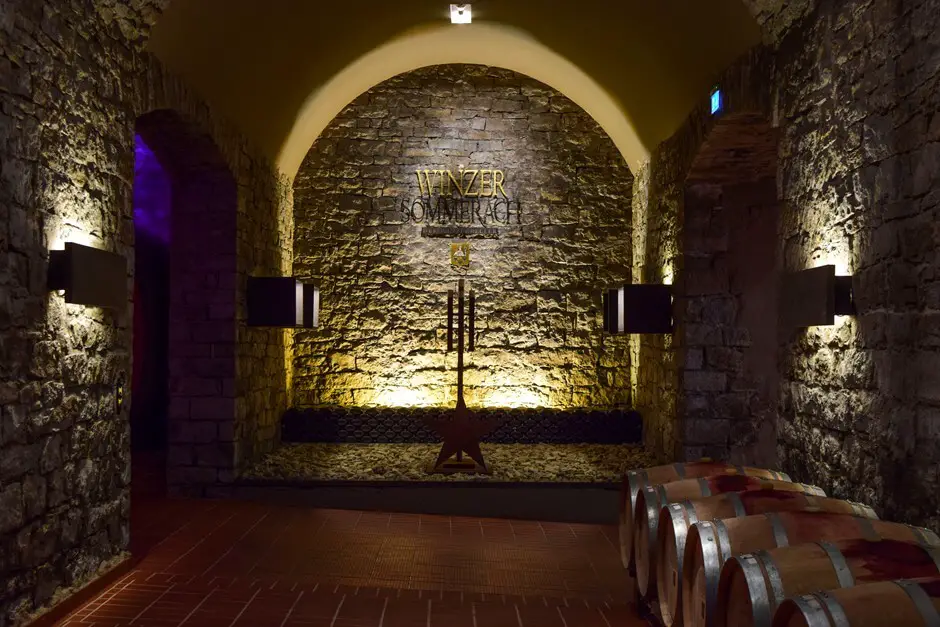 The vaulted cellars in the Winzerkeller Sommerach
What you cannot miss when you visit the summer cellar in the cellar are the two vaulted cellars. They date from the founding period around 1901 and today house red wine barrels and the top wines of the winegrowers' cooperative. You are under the vinotheque. Take a tour of the cellars. Because you can also feel the breath of time it takes for a wine to mature in its barrels, this is a special place for us on our journey through the Franconian wine country. "A temple for wine," I think when I see the red wine barrels illuminated in purple light.
That's why you remember this place:
Wine Cellars in Sommerach
To the cat's head 1
97334 Sommerach
Tel. + 49 (0) 93 81 - 80 61 0
Opening times: Monday to Friday 9 a.m. to 18 p.m., Saturday, Sunday and public holidays 10 a.m. to 18 p.m. Wine sales and serving in the Kostbar.
Do you like to travel by motorhome?
Travel Tips to Savor for Franconia
---
Travel Arrangements
Arrival by plane, car, bus and train

Arrival by plane, bus or train*. The nearest airport is Frankfurt. Arrival by train is possible.
Car Rentals:
Cheap car hire - book quickly and easily!
Rent Motorhomes:
Book motorhomes in Europe here! There is also a large parking lot on the banks of the Main (Mainuferstraße), where mobile homes can also park. With our Motorhome packing list You'll never forget anything again.
Accommodations in the region:
There are also accommodations to book online in the nearby one Ochsenfurt * and surroundings via our partner Booking.com.
---
What else is there to discover in Franconia?
Do you also know:
Source: own research on site. We thank the Franconian wine country for the support of this trip and the company Knaus for the motorhome, which was made available to us for this trip. Our opinion, as always, remains our own.
Text: © Copyright Monika Fuchs, TravelWorldOnline
Photos: © Copyright Monika Fuchs, TravelWorldOnline
Experience wine in Winzerkeller Sommerach