The Frankfurt green sauce

There are regional recipes for the Frankfurt Green Sauce Hessenthat have been handed down in their own families for centuries. One generation passes the recipe on to the next and guards it like a treasure. One of these recipes is the green sauce. Ghosts argue about how the sauce is prepared. As a rule, the recipe is a well-kept family secret, and each family has its own - top secret - ingredient that gives it a very special taste.
The main ingredient of the Frankfurt Green Sauce, however, are these seven herbs: borage, chervil, cress, parsley, burnet, sorrel and chives. In any case, these herbs taste best in May. Then they are fresh and of the best quality. The Frankfurt green sauce is even protected by patents. Only the sauce may bear the name, the herbs of which are 70% from the Frankfurter come from space. The green sauce is also prepared between Easter and the first frosts in autumn.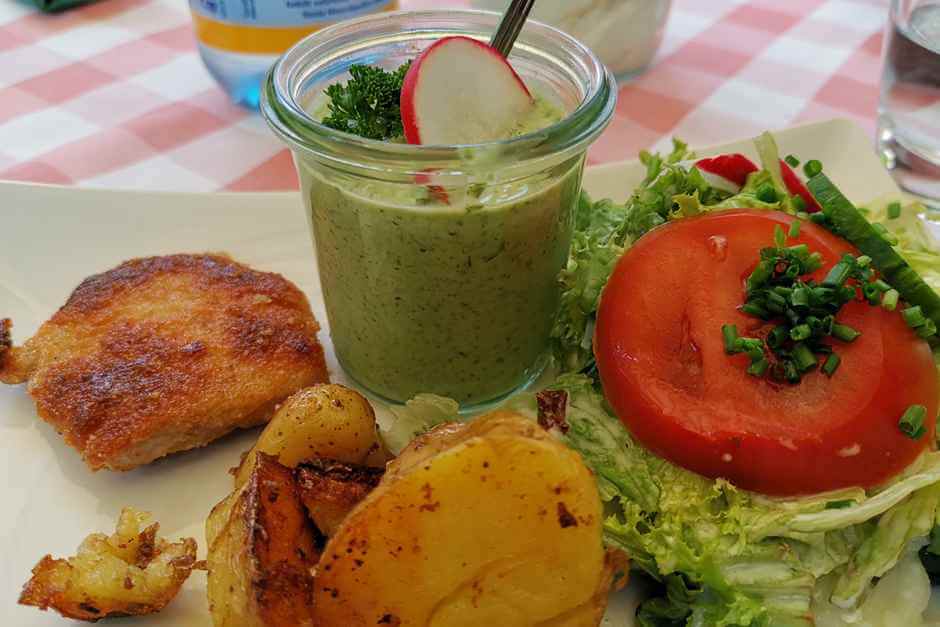 There are regional differences in the preparation. While the green sauce is around Kassel as in the photo above, it is grass green in the Frankfurt area. This is because the herbs for the green sauce are cut into small pieces in northern Hesse. in the Frankfurter Space, on the other hand, is pureed. It's quick and easy with one Universal shredder*, Chervil, cress or lovage are not used in the Kasseler area for the green sauce.
Recipe for the Frankfurt green sauce
For 4-5 persons
1 pack of Frankfurt green sauce herbs or a handful of each of parsley, chives, sorrel, chervil, cress, borage and pimpinelle
500 g of yogurt
200 g sour cream or sour cream
3 eggs
2 TL mustard
Lemon or 2 EL vinegar
Salt, pepper, sugar
Preparation:
Chop the herbs very finely that the vegetable juice exits. Then cut it with the kitchen knife finely. The finer, the better the sauce tastes. Then mix the yoghurt and sour cream with the herbs. Then grate the hard-boiled eggs and stir in the sauce. Finally add a dash of lemon or vinegar and season with salt, pepper and sugar.
If you want, you can add other ingredients like shallots, onions, garlic or mustard and use curds instead of yoghurt. So you can put together your personal family recipe for the Frankfurt Green Sauce.
The Frankfurt herbal sauce is served with boiled potatoes and hard-boiled eggs. It also tastes good to cooked ox breast, to Tafelspitz or fried fish. We have them on our journey through Hesse as a side dish to one Brotzeitteller cost.
Just try it yourself and cook it at home. We wish you a good appetite!
Do you already know:
Text: © Copyright Monika Fuchs, TravelWorldOnline
Photos: © Copyright Monika Fuchs, TravelWorldOnline