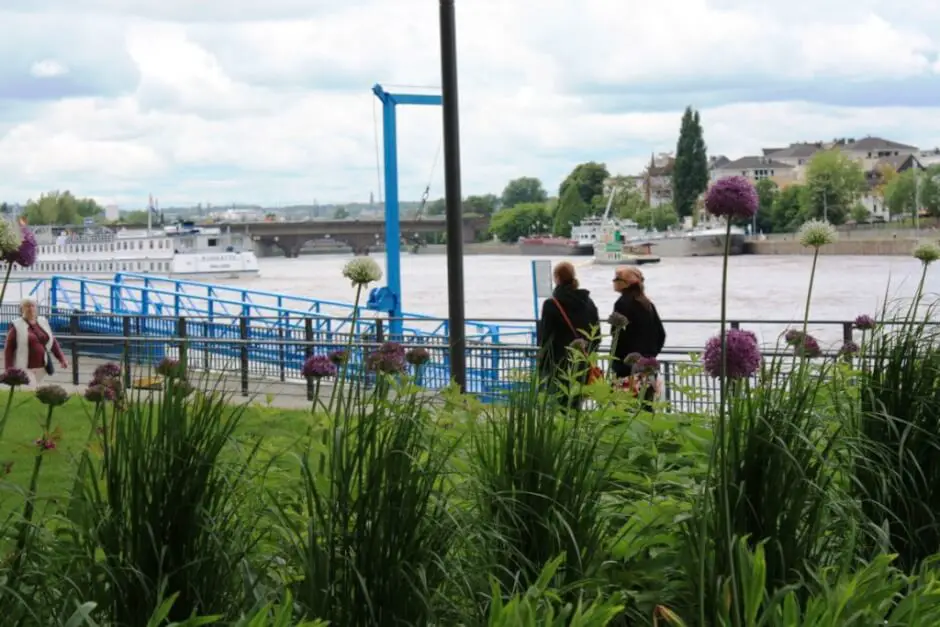 Koblenz attractions
Rhine and Moselle
The two rivers are the main attractions of Koblenz. Koblenz is located at the mouth of the Mosel get on the Rhine, That's halfway between Rotterdam and Munich. Reason enough to take a day off Rhineland-Palatinate close. So let's take a closer look at the Koblenz attractions. We stay at the GHotel & Living in the immediate vicinity of the city's main and bus station, the perfect location for exploring Koblenz. The trains and buses that drive to the attractions in Koblenz virtually leave from the front door. We leave our car in the parking garage of the central station - by the way with direct access to the hotel - and take bus line 1 to the Deutsches Eck stop. In 12 minutes we reach the point where the Moselle flows into the Rhine and two of the great German rivers merge. (Map)
Old town
Basilica of St. Kastor - one of Koblenz attractions
Towering above us are the towers of the Basilica of St. Kastor, dating back to the year 817, when Archbishop Hetti von Trier began building the church. Romanesque arched windows still bear witness to the age of the basilica. In this church, the envoys of the sons of Louis the Pious, who finally led to the division of the Frankish Empire in the Treaty of Verdun (843) gathered. Historical soil, then. Accordingly, we are impressed by the wall reliefs, the images of the saints, the ornate pulpit and the saints' sculptures inside the basilica. (Map)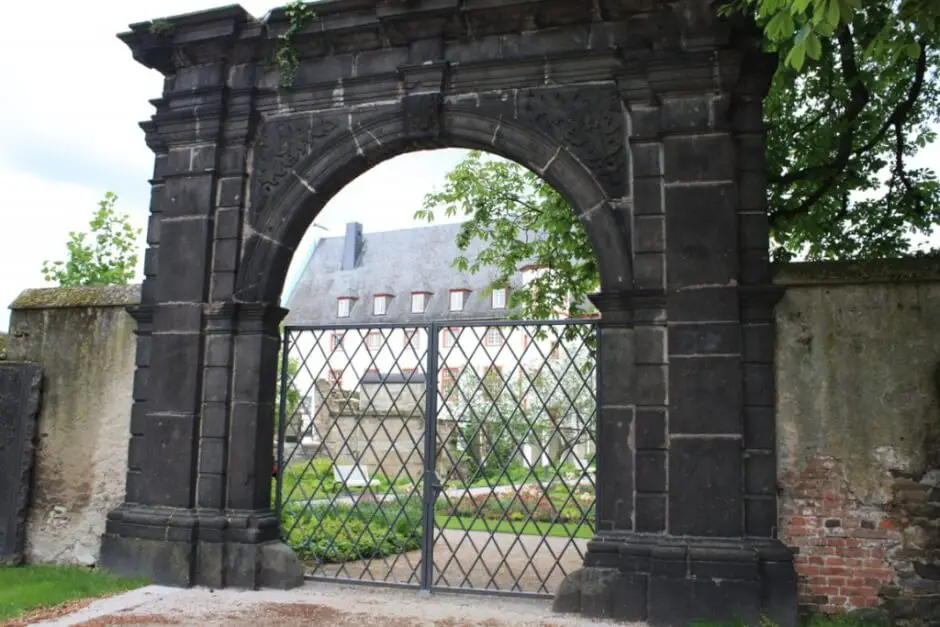 Museum
By decorative lattice gates we look next to the basilica on the Ludwig Museum Koblenz, which is surrounded by a well-kept park. Behind it, we already recognize the ships that drive on the Moselle towards Europe bridge. The river carries more water than normal, because part of the waterfront, which reaches to the German Eck, is under water. However, a walker will not be deterred by that and will walk his enthusiastic dachshund, who plunges into the floods full of pleasure - protected by Herrchen's leash, which prevents him from being driven away. (Map)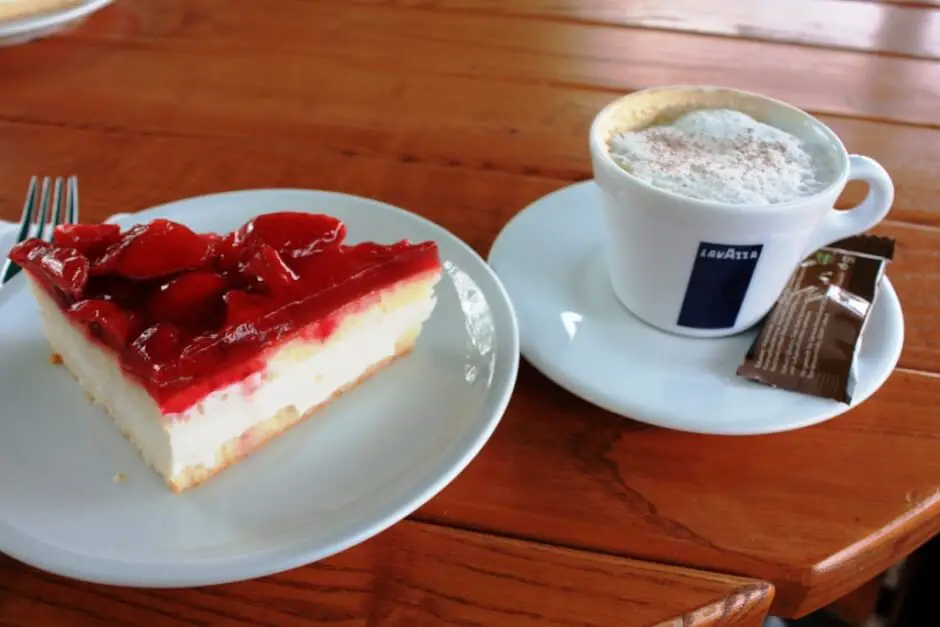 Activities
Coffee break
While we watch the flow of the Moselle, as it flows in the direction of the Rhine, cyclists overtake us again and again, who use the flat promenade for a relaxing trip on their bike. We join in the hustle and bustle, get a cappuccino with fresh strawberry cake and enjoy the view of the hustle and bustle on the banks of the Mosel from the Königsbacher beer garden on the Deutsches Eck. (Map)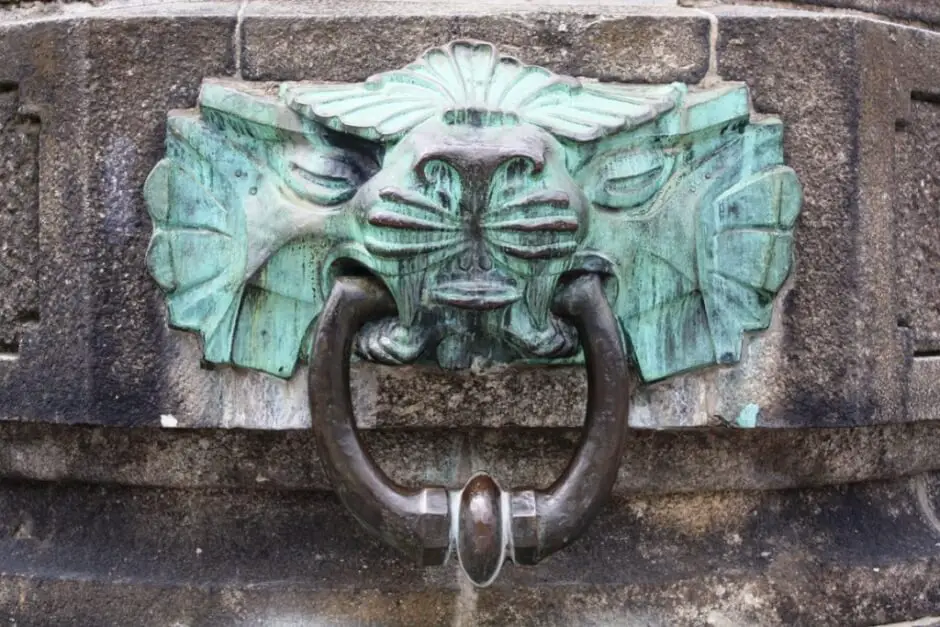 Equestrian statue at the Deutsches Eck - one of the Koblenz attractions
Strengthened, we continue our walk and are impressed by the huge shipping areas, which seem to be waiting for the ropes of large Rhine ships. However, I believe that they are more decor than actual use, so splendidly are they embellished. Over the mouth of the Mosel rises an imposing equestrian statue of Emperor Wilhelm I, who sits so powerfully on his horse that one thinks he is just breaking up in a battle. Not quite my taste. Such heroic cenotaphs are always suspect to me, and so we quickly follow the banks of the Rhine, which extend from here to the south. (Map)
River cruises
The Flußkreuzfahrtschiff one after the other lies on the shore, whose passengers, however, are on their way to exploration in the city. Only a few sit on the decks of the riverboats and enjoy an elegantly served lunch, while over their heads the gondolas of the cable car cross the Rhine, bringing their customers over to Ehrenbreitstein Fortress. From the top you certainly have a good view of the mouth of the Mosel in the Rhine. However, we return to the garden of the St. Kastor Basilica and once again enjoy the sight of the Romanesque church from a different perspective. The church rises monumentally above the formal flowerbeds in the small park and creates a strong contrast with its massive walls to the filigree spring flowers that bloom here. (Map)
By the way: drive from here too Boat trips for day trippers along the Middle Rhine with its many castles from. If you are a pleasure lover, you can learn more about such a tour.
Burg Ehrenbreitstein - one of the Koblenz attractions
With the cable car you can cross the Rhine from Koblenz and drive to the castle Ehrenbreitstein on the ridge on the other bank of the Rhine. The view from one of the eighteen panoramic cabins is fantastic. Our photo shows the cable car from the Rheinufer in Koblenz. From the top you can see the Rhine, the city of Koblenz and the Upper Middle Rhine Valley UNESCO world heritage counts. On the way you also have a good view of the confluence of the Rhine and the Moselle. (Map)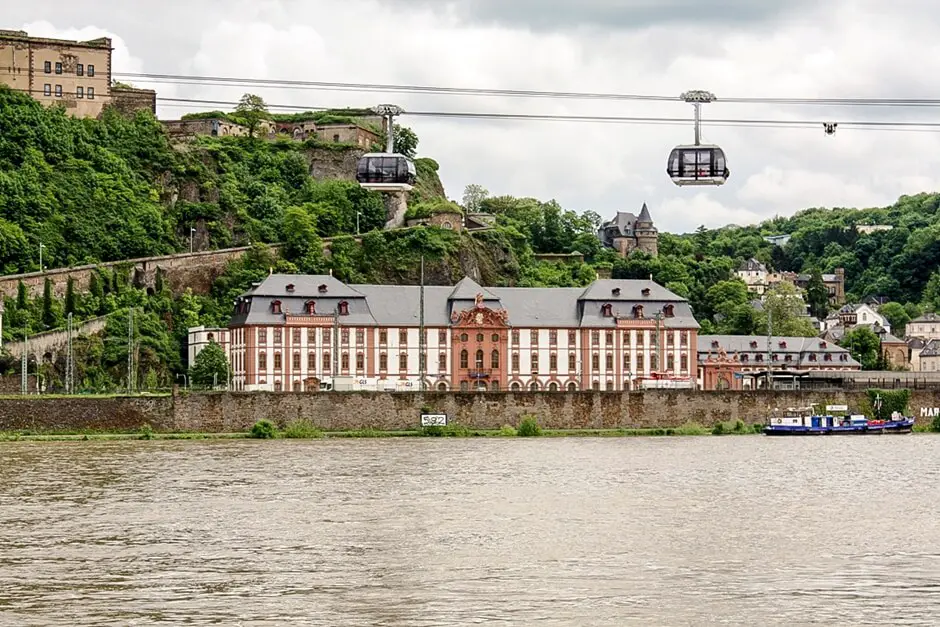 Upper Middle Rhine Valley
Koblenz is a city that belongs to the two rivers since 2002 Unesco World Heritage Upper Middle Rhine Valley. This is a tourism magnet with more than 2 million visitors per year. Come here, as we come here during the week, then you can enjoy this place in peace.
This slideshow also shows you this GHotel & Living *as we experienced it. More about the hotel You can read this link.
---
Travel Arrangements
You should also know this for a visit to the Deutsches Eck:
Mid-March - mid-November: Fortress tours in the Contregard left (daily and hourly, 10.00 clock - 17.00 clock
Landesmuseum Koblenz: Tägl. 9.30 - 17.00 clock
Chairlift: Easter to the end of May and Sept. - Oct. 10.00 - 17.00 pm
June to Sept. 09.00 to 17.50 pm
Practical: Koblenz attractions map
---
Find more cities in Germany for Slow Travel Tips Experiences can be found here.
Source: own research on site at the Koblenz attractions with friendly support (overnight) by HRS, but the opinion is our own.
Text: © Copyright Monika Fuchs, TravelWorldOnline
Photos: © Copyright Monika Fuchs, TravelWorldOnline