Delicious events in Graz

I can guarantee you one thing - Graz culinary it's worth discovering. Going on holiday in Austria's wine-growing regions always means enjoying good food. Culinary lovers love Graz in the Styria. No wonder, actually. The capital of Styria calls itself the "Capital of Pleasure Austria". In addition, the city is surrounded by a region of pleasure that is second to none. We were invited for two days to discover the culinary highlights of Graz. One was waiting for us Enjoyment tripthat had it all.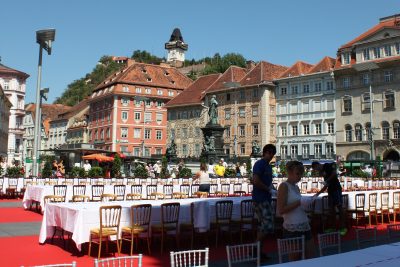 The Lange Tafel in Graz - a culinary highlight
The reason for our trip was the "Long Table in Graz" Gourmet and Wine Event the superlative that has taken place every summer since 2010 in the city's main square in front of the town hall. Then guests come from all over the world to get to know the regional specialties of Styria. These have it all. Alpine butter, home-made bread, mountain lamb, Vulcan ham from the Turopoly pig, pumpkin seed oil, beef and crawls are just a few of the delicacies that are served.
On the occasion of this event, the square in front of the town hall becomes a "table deck deck". The best chefs in town invite you to a gourmet festival of superlatives. Table sheets in white adorn panels that extend across the market square. Hard-working helpers place crystal glasses on it. Candle holders shine in floral arrangements. The city's chefs cook typical Austrian food in specially created kitchens. Graz specialties play the main role. But not only. There are also dishes that come with products from the pleasure region of Styria. The Lange Tafel in Graz is a feast for every gourmet.
It will next take place on August 24, 2024.
Tickets for the Lange Tafel in Graz are available at the tourism office
Tel. + 43 / 316 / 8075-0
info@graztourismus.at
https://www.graztourismus.at/
But there are other culinary highlights in Graz that you can enjoy all year round, and we want to introduce you to them in this article. So you can discover Graz culinary: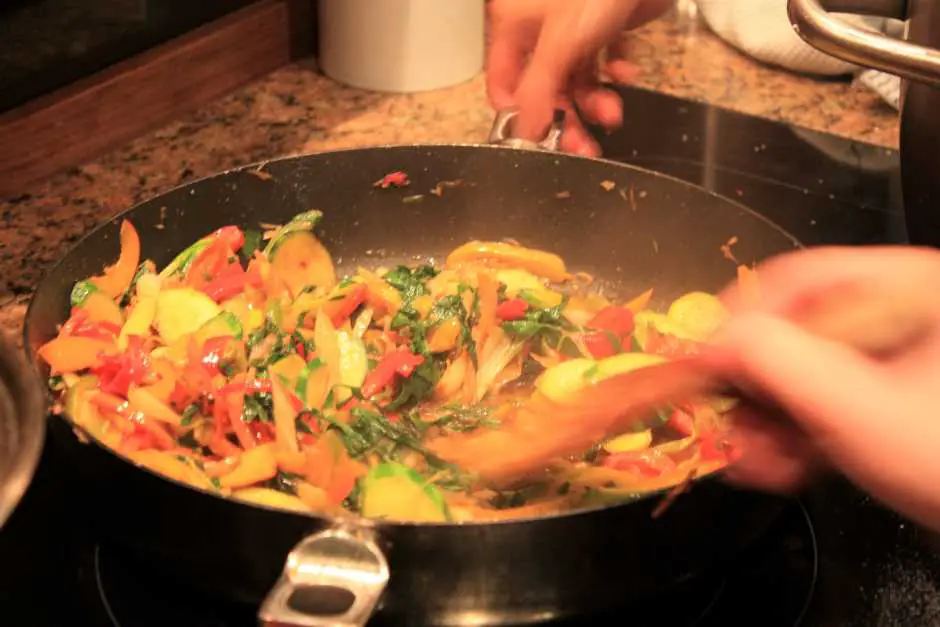 Discover Graz from a culinary point of view in Kitchen 12
It's best to travel with friends or the whole family to try their culinary skills in the Kitchen 12 kitchen. Under the direction of Ferdinand Hladik, we conjure up a four-course meal with just a few hours of fun. Afterwards, we fully enjoy what we cooked. Elena from Creativelena, Andreas from Travel by Photography, Martin from Tripwolf, Monique from blo-g.info and Janett from Teilzeitreisender, Petar and myself are also present.
Self-cooking is announced
After a short aperitif in the inner courtyard of the restaurant, you're off. We are divided into teams. Each team receives different tasks. We get aprons tied and off we go. In front of me is a huge basket of vegetables of all kinds, which I should chop up according to all the rules of the art of cooking. Vegetables in juliettes, cut at an angle, in wedges, in slices - "as thin as possible" - or in cubes. Finally, my vegetables pile up on the cutting boards in front of me before they are cooked in the wok.
Petar is now with Andreas, preparing chocolate pancakes. A task that the two men solve very well. Janett and Monique prepare the main course. Chicken breasts with semolina parmesan dumplings. Elena and Martin create three finger food, which is served to us after completing our cooking tasks as a starter in the restaurant courtyard.
In addition there's Styrian wine, sparkling wine or kombucha, which turns out to be a thirst quencher. And so a wonderful meal is created under the hands of us cook-laymen. With fun and laughter we have cooked a gourmet menu ourselves. If you also want to experience this, you can book this at:
Kitchen12
Emperor Josef Platz 3, A- 8010 Graz Austria
Mobile: + 43 (0) 664 / 523 6930
Tel .: + 43 (0) 316 - 851 285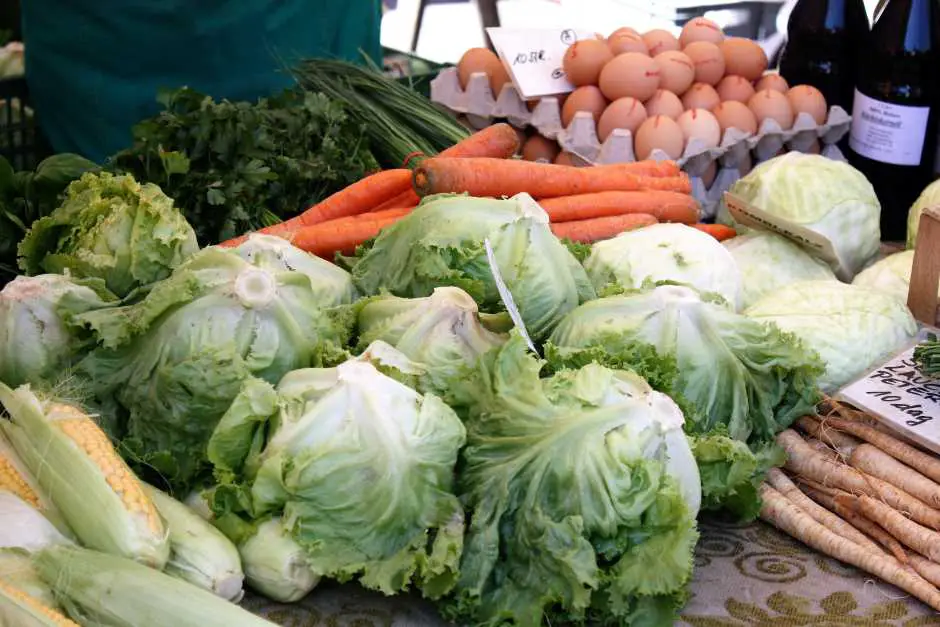 Graz culinary discover at the farmers market
If you want to get to know the regional specialties of Graz and the surrounding area, then we recommend you to visit one of the farmers markets of the city. Farmers from the area sell their products there. You will not get them fresher than on these markets. The fruits and vegetables you can see that it comes directly from the field. In addition, you will find many products at the market stalls that farmers produce from their agricultural products. Pumpkin seed oil is probably the most well-known specialty from Styria. However, you will also discover, for example, wine or fruit juices made by the farmers and winemakers of the region. There are many delicacies to try.
Here you will find one List of all farmers markets in Graz with opening times for your own explorations.
Discover Graz from a culinary point of view in the wine cellar and in restaurants
Not directly events, but still a good way to explore the culinary arts of Graz, are the wine cellars and restaurants that the city offers. It is best to start your tour at the Opera Pavilion or in the Opern Café at Opernring 22 (Map) with a mélange or an extended one. In the Opera Café, guests are encouraged to indulge in temptation while resting for the mind. The perfect introduction to a pleasurable tour of Graz.
Past the opera house we go to the restaurant Florian (Leonhardstr. 8, Map), where in the garden of the Romantikhotel we enjoy a fork breakfast with a Grazkrauthäuptl with radishes and kernel oil, a baked carp fillet on bird lettuce and roasted Eierschwammerl with egg. Strengthened, we continue our culinary tour of Graz through the Burggarten. We make a dangling through the Herrengasse and their side streets. We meet steakhouses and sidewalk cafes.
First at the inn Stainzerbauer (Bürgergasse 4, Map), however, we return again. In the wine cellar we taste some of the wines for which Styria is known. Quaint is the atmosphere in this old inn opposite the Palais Trauttmannsdorff.
Finally we end our enjoyment tour through Graz with a good lunch at the Palais-Hotel Erzherzog Johann (dead end 3, Map). Among lush plants and elegant chandeliers we enjoy a roulade of asparagus.
Graz discover culinary on a food tour
If you would like to be "cooked" and get to know the culinary highlights among the restaurants in Graz, you can also take a guided culinary tour of the city. We stroll through the city center on a walk. We see some of the city's attractions that are presented to us in humorous anecdotes.
We taste the specialties of southern Styria prepared by the best chefs in the city. Our group is made up of day trippers, newcomers, holidaymakers and us seven travel bloggers. It is quickly as if we have known each other for a long time. Culinary is also a topic of conversation. Similar to the "Long Table of Graz" the night before, shyness and reluctance will soon be forgotten. We talk shop about what we like best. Everyone tells which restaurant they like best or which wine, frizzante or drink they like the most. Food is a topic that interests all participants. This quickly removes the strangeness between the participants.
The Tourismus Information Graz offers culinary tours through the city, which you can book at:
Tourism Information Graz
Herrengasse 16, 8010 Graz
Tel. + 43 / 316 / 8075-0
We stayed at the Budget Design Hotel Roomz in Graz, which offers art and a color combination in magenta, green, blue and braum. One thing is for sure. If you are interested in good food, a nice atmosphere and enjoyable topics, then Graz, the capital of enjoyment in Austria, is the right place for you!
---
Travel Arrangements:
Parking at the airport
Here you can reserve your parking space at the airport.
Check in:
Arrival by plane, bus or train*. Graz has an airport. From there you can rent a car. It is also possible to travel to Graz by train. Long-distance buses also go to Graz.
Car Rentals:
Cheap rental cars and e-cars - book quickly and easily! *
Camper Rentals:
Book yours Caravan here. Or do you like to travel with him roof tent on the car? Also the overnight stay in camping tents is possible. Why is a folding e-bike useful when camping?
Accommodation in Graz
We stayed at the Budget Design Hotel Roomz near the fairgrounds. From there you can easily reach the city center of Graz by public transport. A stay in the Budget Design Hotel Roomz *  you can book at this link. Further Hotels in Graz * you can find under this link.
Excursions and activities in Graz
At our partner Booking.com you will find a list of Excursions and activities in Graz *that you can book via this link.
---
Other destinations in Styria
For more Slow Travel travel tips there's this link. Discover other wine regions in Austria here.
Do you already know:
Source: own research on site with the kind support of Graz Tourism
Text: © Copyright Monika Fuchs, TravelWorldOnline
Photos: © Copyright Monika Fuchs, TravelWorldOnline
Delicious events - experience Graz from a culinary point of view