Farm sales in the Mühlviertel
Since we moved to the country a few years ago, we have been buying more and more from farm shops or farm shops. Nearby farm shops deliver eggs that are twice the size of the ones we get in the supermarket. In summer, we find berries fresh from the field in farm shops nearby. In winter they offer jams, spreads or liqueurs and syrups that the farmers have made themselves. For connoisseurs like us, this is a real paradise. So what is closer than once on one of ours Trips to Savor take a tour to see farmers? It is also an opportunity to get in touch with the local people. in the Mühlviertel we were out shopping on the farm. What the Ab Hofverkauf Oberösterreich has to offer is impressive: we discovered craft beers, apple juice, vinegar, mustard, cider, geese, herbs, liqueurs and even pitch oil, which is part of the intangible world cultural heritage of UNESCO.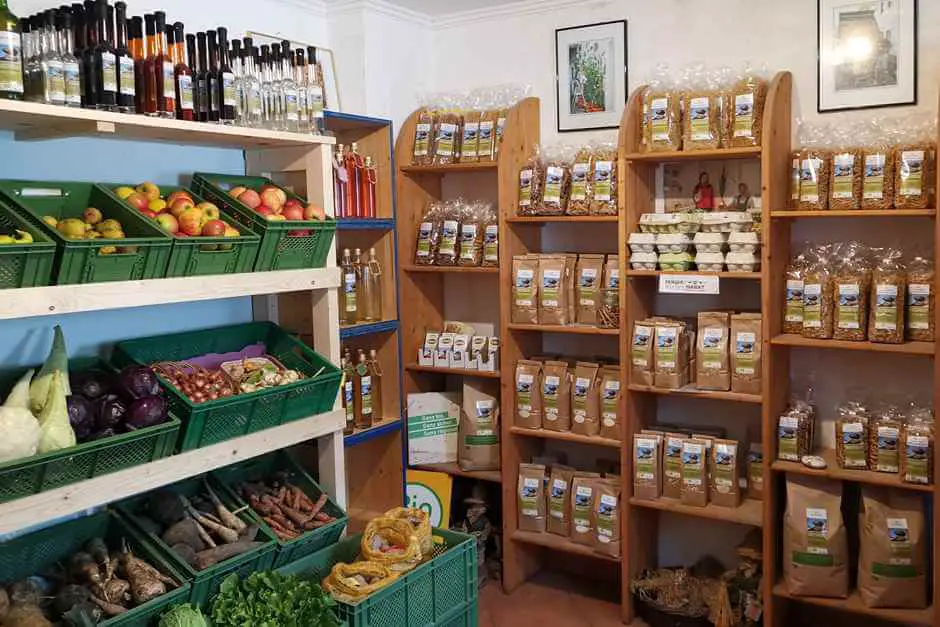 What are farm shops?
Some of the farm shops are shops that offer specialties from the region. Other farm shops are not shops in the true sense of the word. Instead, the buyer can pick up his goods there in a room or a barn. He does not pay for the goods directly, but puts the money in a cash register that is provided. Trust plays a major role here. Still others set up an ex-yard machine where you can buy meat, sausage or other products. The machines work like the well-known drinks or candy machines, where you can get your soft drink for money. However, we like shopping at the farmer best when you have personal contact with them. It's almost like shopping in the corner shop. Or a landlord sells his products for his own Inn manufactures, for 24 hours in a sales room in front of his inn.
Do you like to travel by motorhome?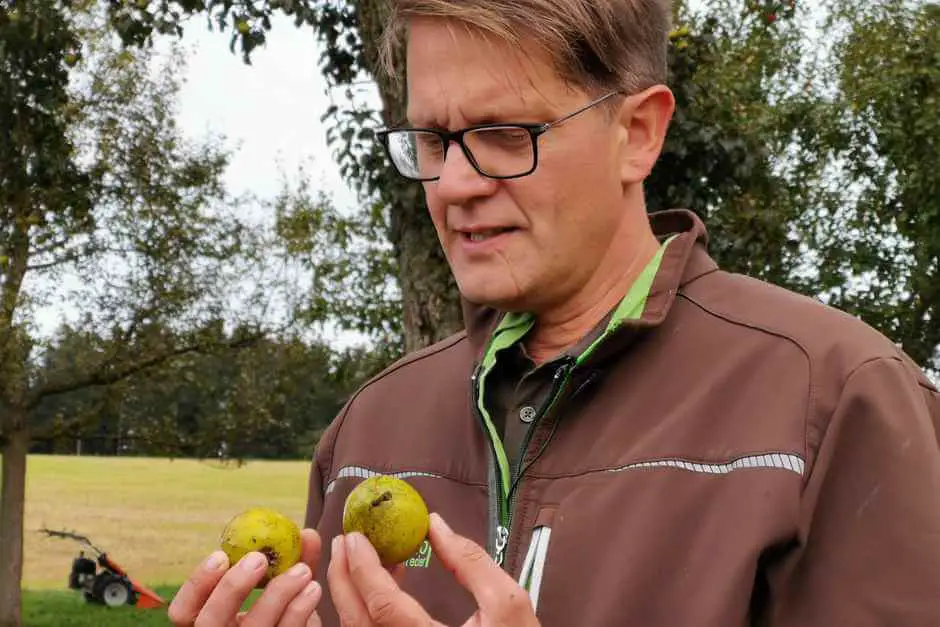 Farm shops near Freistadt
On our culinary journey through the Mühlviertler Alm around Freistadt, we visited some farm shops and farm shops near Freistadt. We got to know new delicacies that the farmers make themselves. Many of them have already won prizes in national and national competitions. What we liked best, however, was that during our visits we also met the people who stand behind these products.
Pear cider, apple juice, mustard and vinegar in the Pankrazhofer farm shop
Eva and Norbert Eder chose their house name - Pankrazhofer - as the name for their farm shop in the Mühlviertel. Her shop and farm is more than that. At the back of her yard are boxes of apples that the farmers from the area deliver. The Eders use it to make apple juice and more. Depending on the client's request. They themselves have littered meadows on which old pear varieties grow. They grow quinces in a plantation. They use these fruits to make juices, musts, mustards, oils and vinegars.
We already have a look at how to make mustard Mustard mill in Monschau seen.
Vinegar is Eva Eder's favorite product. She has long dreamed of producing it herself. However, it's not that easy when you make juices at the same time. So she teamed up with a couple of friends. Since then they have been causing a sensation as vinegar makers. Their types of vinegar are very popular. No wonder with varieties such as a naturally cloudy cider vinegar, an apple cider vinegar with blossom honey, an apple cider vinegar that matures for six months in oak barrels or a pear balsamic vinegar. That the products at Pankrazhofer are good is shown by the fact that award-winning chefs also buy their ingredients in his farm shop.
Organic show company Pankrazhofer
Lugendorf 7
A-4284 carrying wine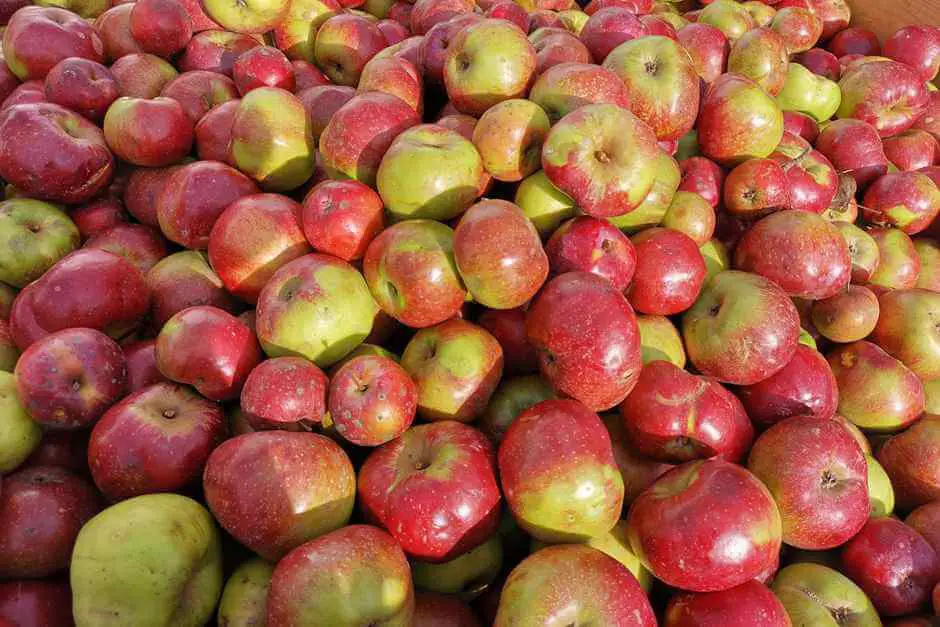 Fruit, vegetables and noodles at the Schmiedberger farm shop
The organic farmer Schmiedberger sells organic products. He grows organic vegetables and original spelled on his organic farm. He also breeds chickens, whose eggs he also sells in his farm shop near the Mühlviertel Nature Park or at the weekly market in Perg. However, it is nicer to order your products by phone. He then prepares them so that you just have to take them with you. Contactless in Corona times. Picking up can easily be combined with a trip to the Schwammerlstein. These stone balls are the emblem of the Mühlviertel Nature Park. They are only a few steps above the farm of the Schmiedberger family. So why not combine a trip into nature with the purchase of fresh fruit and vegetables?
Hiking guide for the Mühlviertel
Renate Schmiedberger shows us her farm shop. In addition to the fruit and vegetables that come from orchards and the family's fields, there is also pasta, flour and semolina made from their own spelled. You can definitely eat healthy with these ingredients. Her husband Andreas leads us down the slope to one of their fields. In the early morning mist we can see parsnips that are about to be harvested. He currently sells a kilogram of it for 2,90 euros in his farm shop. If you want fresh vegetables and fruits of the season, you will find a selection at Hofladen Schmiedberger that is impressive.
Schmiedberger organic farm
Winkl 3
A-4324 Rechberg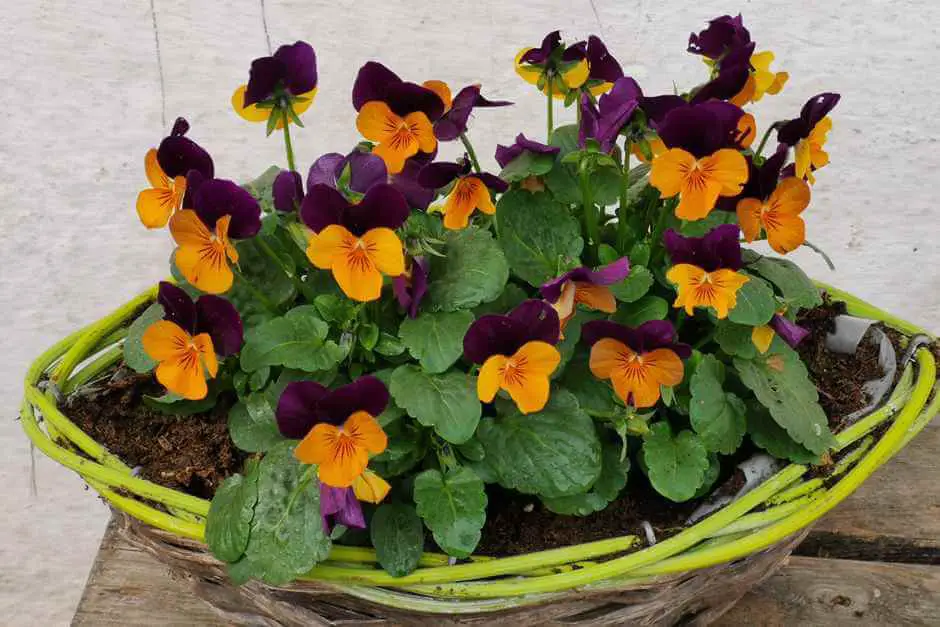 This is what you need for hiking in the Mühlviertler Alm region
Whiskey & UNESCO World Heritage Site at the Thauerböck farm shop
A highlight of our tour to the farm shops near Freistadt was the visit to the Thauerböck farm shop in Kaltenberg. Monika and Mario Thauerböck run their organic farm in a wonderfully beautiful hilly landscape. From their farm you can look over the hills of the Mühlviertler Alm to the horizon and see nothing but meadows, forests and fields. Old apple varieties grow on one of the meadows in front of their farm, which they grow for new products. So far they have used types of fruit that grow on their orchards. But they also go to the neighbors to pick sloes.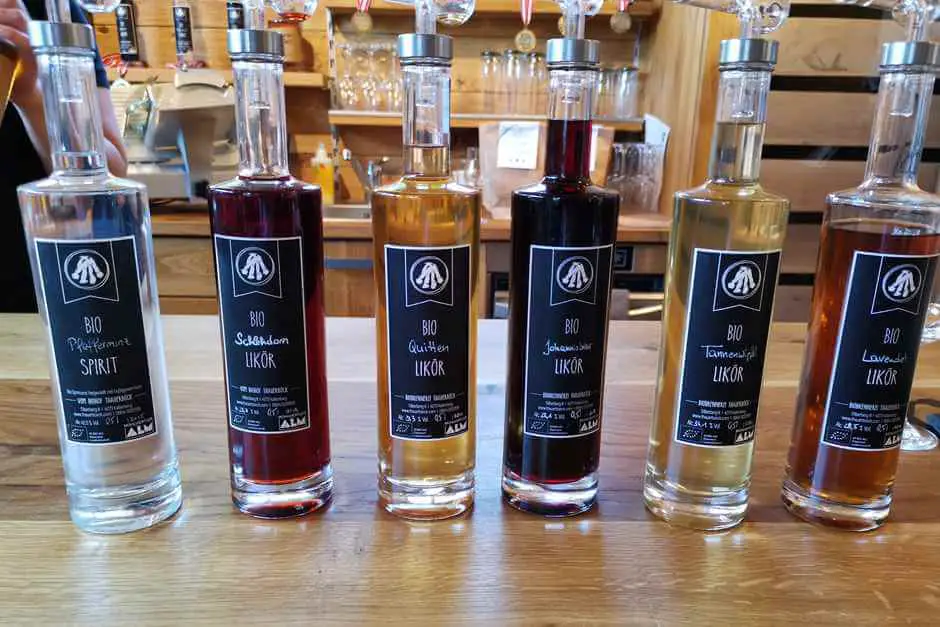 From the rye that grows in their fields they burn the grain and whiskey, which they sell in their farm shop near Kaltenberg. With the types of fruit, they make liqueurs that make my mouth water at the name. In her farm shop I discover a peppermint spirit, a blackthorn liqueur, a quince and currant liqueur and a pine tree top and lavender liqueur. I would have loved to try the whole range. However, since we are going home after our visit, I have to leave it with a small sip. With a heavy heart! Instead, we take some samples home with us at the farm shop.
But we can watch in the distillery how the schnapps is distilled, which forms the basis for these liqueurs. Josef Thauerböck, Mario's father, explains to Petar how he distills the whiskey. You can follow the process in Petar's video:
Pitch oil production - intangible world cultural heritage by UNESCO
At the Biohof Thauerböck we also heard about pitch oil production for the first time. This is a form of pitch extraction that was widespread in Upper Austria and Germany. To do this, a pitch oil stone was set up in the forest. There you had direct access to the resinous pine branches that are needed for pitch oil production.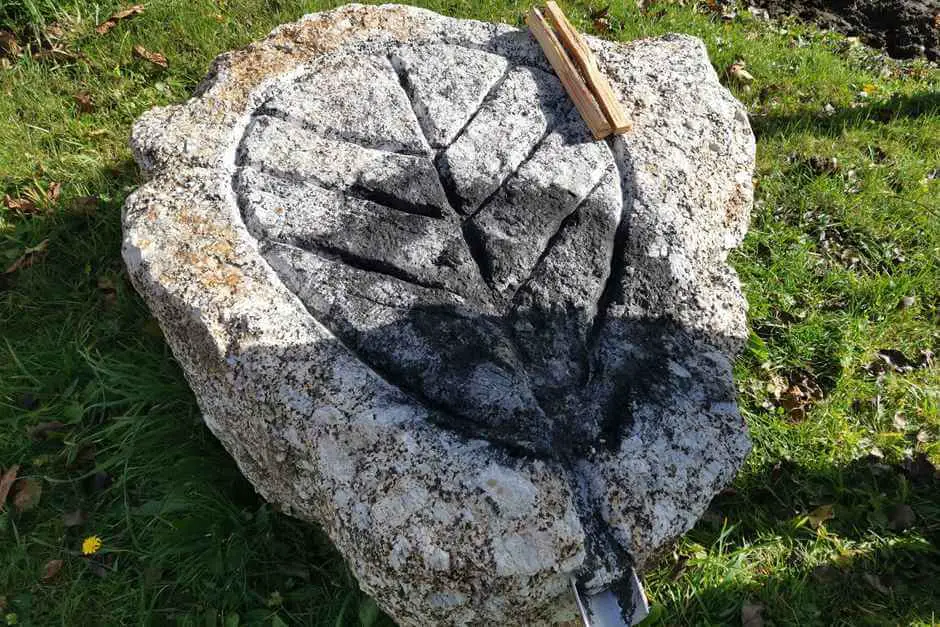 Pine, spruce, fir or larch branches are layered on stones like the one in the photo. These are covered with lawn and soil. The kiln is then fired for a day. You have to make sure that the wood does not burn, but only smolder. This causes the wood to give off pitch which flows down through the stone grooves. There you catch the liquid. The pitch oil is still made into an ointment on the organic farm that can be bought in the farmer's shop. It used to be mixed with pork fat and used as a car grease.
Thauerböck organic farm
Silberberg 8
A-4273 Kaltenberg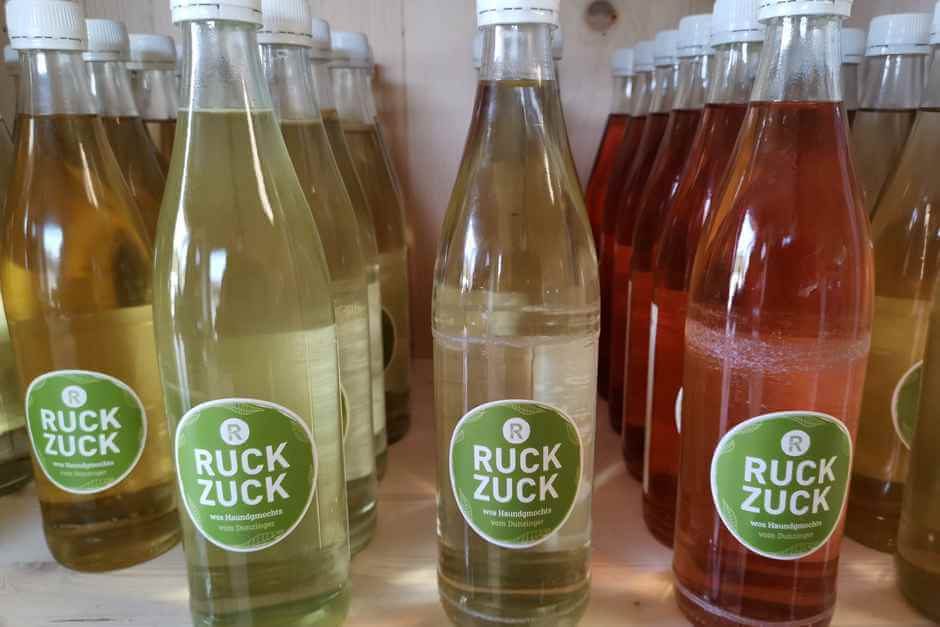 The RuckZuck store at the herbalist Dunzinger
At the herb inn Dunzinger in Hirschbach, they have come up with something else besides their herb business. There the innkeepers now also sell their herbal lemonades in a farm shop. However, unlike the previous stores we have featured, this is not a full service store. Instead, customers can choose from the range that, in addition to the herbal products that are homemade, also includes cheese, eggs, potatoes, red cabbage and more. Payment is made in a cash register. Without any contact. The offer is replenished every day. The small wooden shed where the goods are kept is also open 24 hours a day. This allows customers, for example, to shop according to their needs and time.
Herbalist Dunzinger
Guttenbrunn 18
A-4242 Hirschbach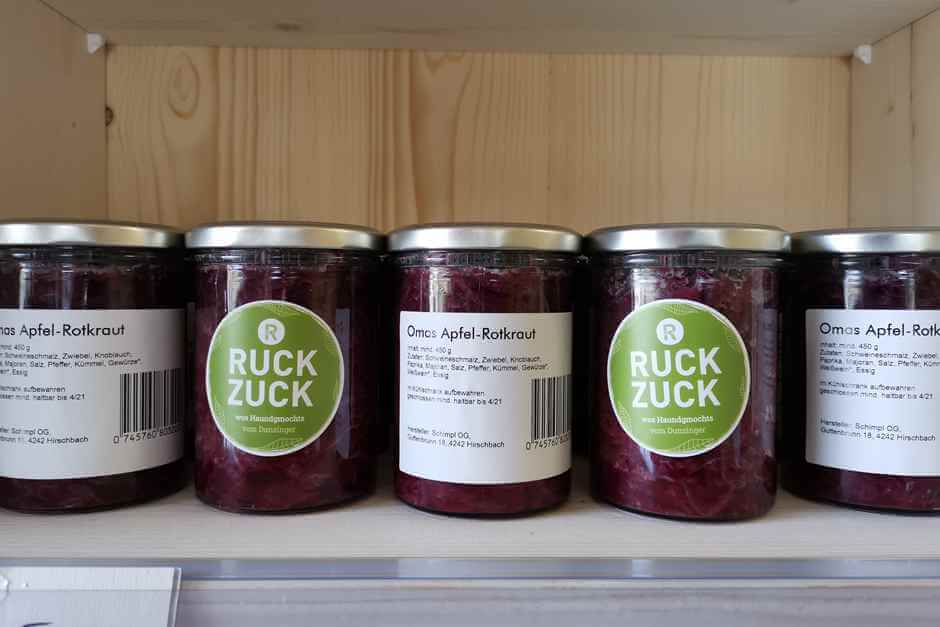 A tour of farm shops and farm shops in the area around Freistadt in the Mühlviertel
The best way to get to know specialties from a region is directly from the producers. It is definitely more than a culinary delight to taste your way through their homemade products. You will also learn more about how they are made and what the everyday life of the producers of the delicacies that we have on our plates looks like. This makes a trip to the farm shops near Freistadt a great experience. At the farm sale you can also get souvenirs that you can look forward to at home for a long time.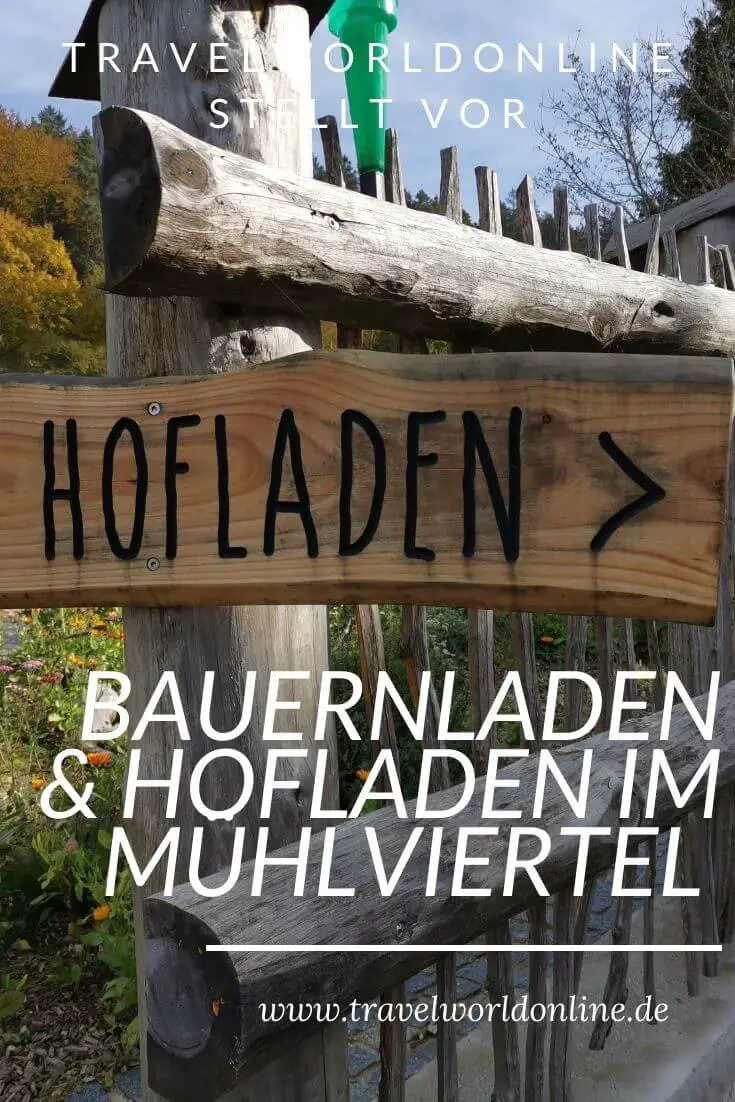 By the way: You also know
Source farm shops and farm shops near Freistadt and from the farm sale: Research on site. We would like to thank Tourismus Mühlviertler Alm and Genuss Reisen for the invitation.
Text farm shops and farm shops near Freistadt: © Copyright Monika Fuchs and TravelWorldOnline
Photos from the farm sale in the Mühlviertel: © Copyright Monika Fuchs and TravelWorldOnline
Farm shops near Freistadt
Last update on 1.06.2023/XNUMX/XNUMX / Affiliate links / Images from the Amazon Product Advertising API