A houseboat in Holland as an alternative to the hotel? This question we set ourselves when planning the travel of our Bloggerreise Flower corso in the Bollenstreek in Holland. The reason for this was that it was difficult to get a hotel for a group of seven people during the festival time. Simone from nach-holland.de suggested we stay in a houseboat instead. We were already driving a boat, we were last year on the Mayenne in the west of France with another group of bloggers on the houseboat on the way, It was a lot of fun, and so we liked to say. This time we did not want to sail through Holland's canals by boat, but use the boat as a location from which we wanted to see the various stations of the Blumencorso, partly also by boat.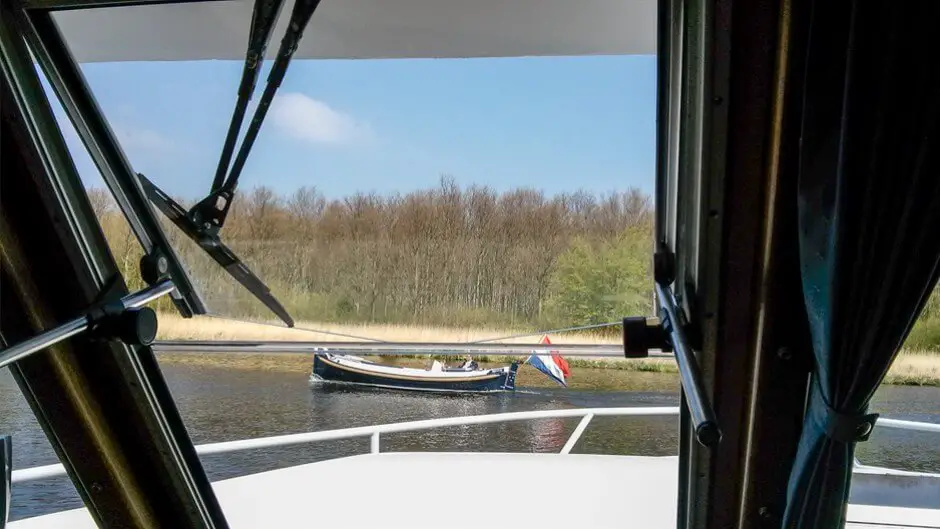 Our houseboat in Holland - an Olympia super cruiser
Olympia Charters in Warmond was so friendly and provided us with the largest of their houseboats in Holland, the Olympia Supercruiser, for our three overnight stays: a boat with six cabins that can sleep a total of 12 people. There are also two toilets and a shower on board, as well as a large lounge and a galley, which even had a gas stove, a large refrigerator with freezer compartment and an extractor hood. There was even a color TV, although we didn't turn it on once during our stay on board. There was far too much to talk about!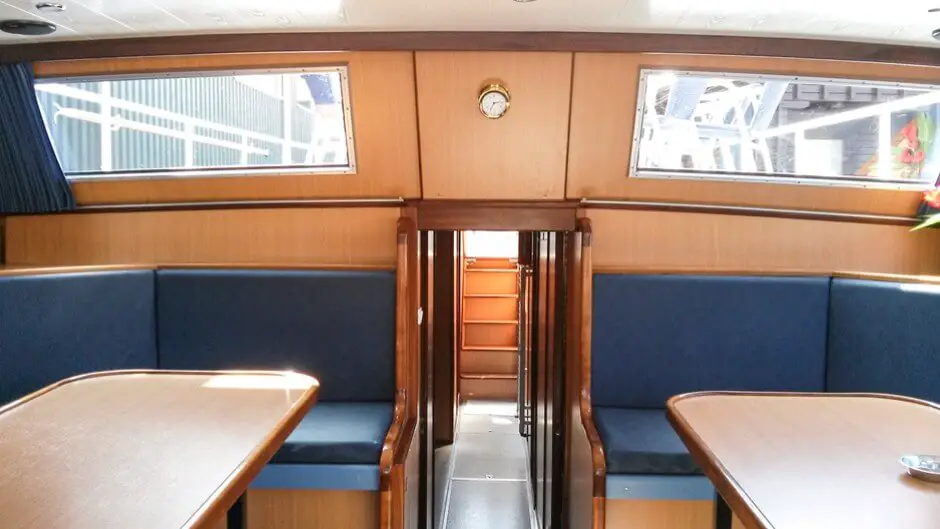 Houseboat in Holland as an alternative to the hotel
Our overnight stay on a houseboat in Holland turned out to be a stroke of luck, even if we had by far overestimated the coolness of the night temperatures and spent the night with the heater like in a sauna. The remaining nights we turned off the heating in our cabin and slept soundly in our bunks until we were woken up by geese early in the morning. These set out from the river banks in search of something to eat. We especially learned to appreciate the tranquility that awaited us in our oasis on the river in Warmond, because thousands of visitors cavorted in the places we visited during the flower parade in the Bollenstreek.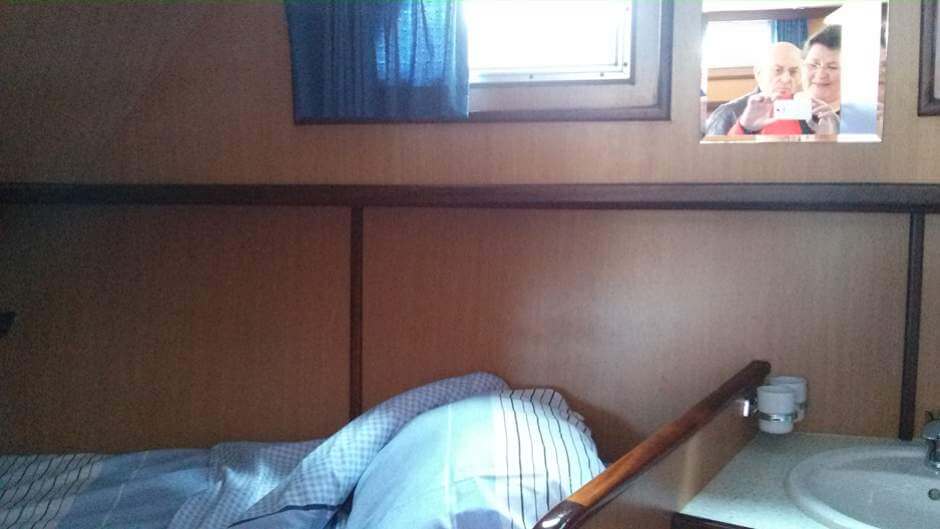 Cook for yourself in a houseboat in Holland
We prepared breakfast ourselves every morning in our houseboat in Holland. In each cubicle there was a sink that one person could always use to brush their teeth. Two people could sleep in the cabin, but it was too narrow for two to move there. We didn't need that either, because there were showers and extra toilets in the boathouse, so that we could easily distribute ourselves to all washing facilities in the morning.
During the day we were out and about in the region and ate in restaurants along our routes. So after our return we were able to sit down in the evening and discuss the day's events over a glass of wine. We find a nice way to end the days. We enjoyed it.
Our Olympic super cruiser turned out to be the perfect solution for visiting the flower parade. It was our retreat from the hustle and bustle that developed around it.
This is what our roommates in the houseboat in Holland say:
Do you already know:
Source houseboat in Holland: research on site. We would like to thank Olympia Charters for lending us their Olympia super cruiser. Our opinion remains our own.
Text houseboat in Holland: © Copyright Monika Fuchs, TravelWorldOnline
Photos houseboat in Holland: © Copyright Monika Fuchs, TravelWorldOnline
Houseboat in Holland as an alternative to the hotel