How do you eat a lobster in the shell?

How do you eat a lobster? We ask ourselves the question on our Enjoyment trip by New Brunswick. Do you know that too? You'd love to try an exotic specialty, but you don't know how to eat it. When eating lobster, that's probably how many of us do. We have been on the road a few times Eastern Canada trips for connoisseurs, and you can't avoid eating lobster there. It is on the menu in most restaurants that offer regional cuisine. It is something like a cross-provincial specialty in Nova Scotia, New Brunswick and Prince Edward Island - and you actually want to try it.
Where do you eat a lobster in Germany?
Eat Lobster in Germany? These restaurants always offer lobsters on their menu (no guarantee, the daily updated menu applies)
Tantris, Johann-Fichte-Str. 7, 80805 Munich
Seasons grill (in the Fairmont Hotel Vier Jahreszeiten), Neuer Jungfernstieg 9-14, 20354 Hamburg
Tim Raue, Rudi-Dutschke-Str. 26, 10969 Berlin
Beef Grill Club by Hasir Adenauer Platz, Kurfürstendamm 72, 10709 Berlin
Christopher, Porscheplatz 1, 70435 Stuttgart
Emmafisch GmbH, Emmastrasse 25, 40227 Düsseldorf
Not everyone knows how to eat the crustacean
Well, there are quite a few of them Ways in which the lobster is served. And there are also a number of them where you can get to the delicious lobster meat without the annoying rinsing. But it really only tastes really fresh from the skin. How do you get to the hidden delicacies? This is not so easy. Even if there are picture descriptions on placemats in many restaurants, which explain in pictures how to eat the lobster. Plastic aprons are wisely tied around the lobster-eating guest's neck before they start to disassemble their appetizing, bright crustacean on their plates. And frankly: it really is a mess to eat.
Even in New Brunswick, which boasts that most people know how to crack the crustacean, there are people who have never cut a lobster themselves. Our companion Darrell confesses to us that he only ate his first lobster in his bowl when he was over 50, although he grew up in New Brunswick. And we have cheated through it for years and did not know which hidden delicacies we are missing.
We learn how to eat a lobster
It was only on our last trip to New Brunswick that we finally grabbed the chance and drove out into the bay with "Lobster Tales" in Shediac, where we were explained in detail how the lobsters were caught and taken out of the sea and finally - right - to be eaten. Did you know, for example, that the meat is pushed out of the lobster legs like toothpaste is squeezed out of a tube? Or that there is also a tender piece of meat in the front body of the lobster, which most people simply throw away, which is called a "butterfly" because it looks like one? Anyone can pull the meat out of the scissors with a lobster fork. But how to crack the shell of an uncut lobster you have to know:
"You reach into the lobster tail from below and bend it back and forth until the meat hidden underneath can be easily loosened." The same procedure is followed when you want to separate the joints of the scissors: "Back and forth, back and forth ... "Then the parts come apart and you can take out the pieces of meat with a fork. And from the triangular tail ends you squeeze out the meat that is in it, as we already learned from the lobster legs - like toothpaste from a tube.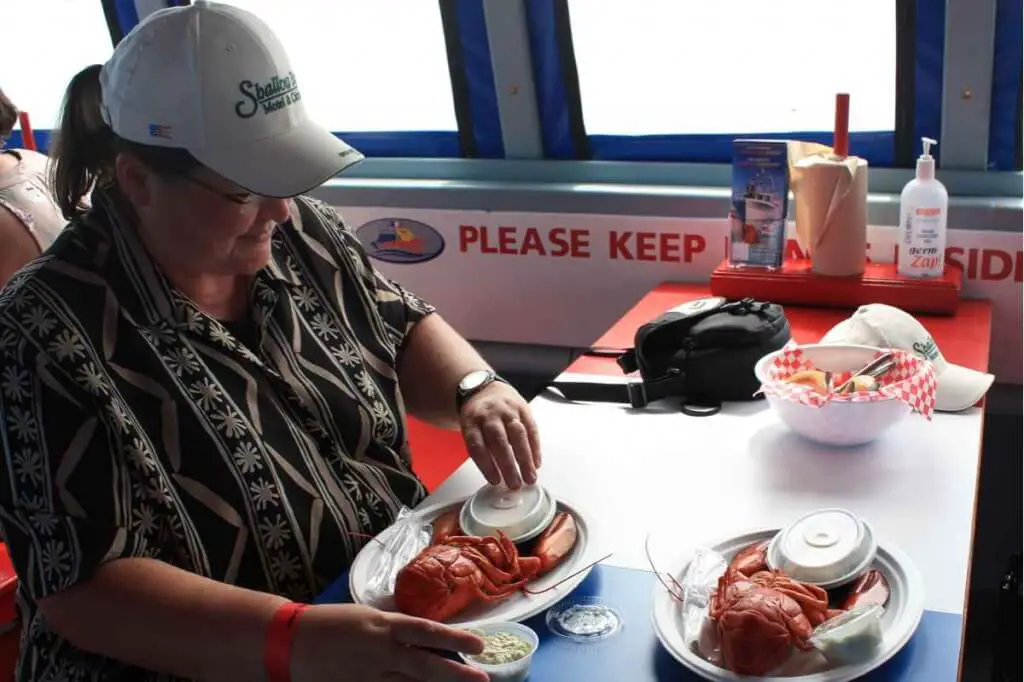 Now it's our turn
Now it's our turn: we are to apply, what we've learned and dissect a freshly cooked lobster in the shell. It lies belly up on our plate. That's how the juice remains in the shell. However, despite previous warnings, I do not prevent it from spilling over the entire table, when the shell first crackles. The plastic aprons are there for a reason. Do not be shy! Even if you feel a bit strange, when you tie them. It takes some practice to eat a lobster the elegant way. Anyway, I manage to eat all parts of the lobster for the first time in my life, and I know now, what to look for, when one of these crustaceans is served without being cut.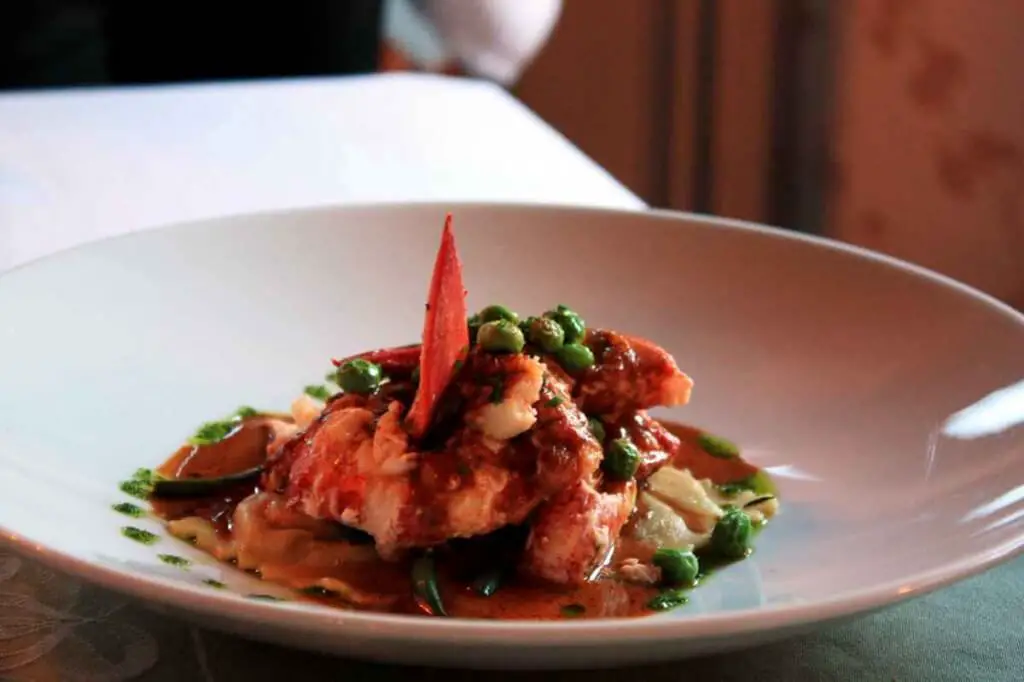 Do you prefer a "naked" lobster?
And if the whole thing is too tiring for you, you can still fall back on a "naked" lobster, which is served without a bowl. You can also do one Lobster stew try. Or you can ask yourself the question: How do you eat a lobster in a bowl? get answered on a lobster tour in Shediac. We have it on ours culinary journey learned through New Brunswick.
---
Travel Arrangements:
Parking at the airport
Here you can reserve your parking space at the airport.
Check in:
Book yours here Arrival by plane, bus or train*. Air Canada, Condor and Icelandair fly from Germany to various airports in eastern Canada.
Car Rentals:
Cheap car hire - book quickly and easily!
Hotels:
hotels in Shediac * You can book through our partner booking.com. Further New Brunswick hotels * you can find here.
Do you already know:
---
Source How do you eat a lobster: own research on site with the kind support of Tourism New Brunswick and the Canadian Tourism Commission. Our opinion remains our own.
Text: © Monika Fuchs, TravelWorldOnline, Travel blog for connoisseurs
Photos: © Copyright Monika and Petar Fuchs, TravelWorldOnline
How do you eat a lobster?