Portuguese fish specialties from the Alentejo

We enjoyed Portuguese fish specialties on our Journey through the Alentejo. In every restaurant this Travel on the fishing path through the Alentejo was fish on our menu. There was dogfish soup in Evora. Eel stew then awaited us in Cais Palafítico. Açorda de Marisco we ate in Sines. Finally, there were grilled fish delicacies in São Torpes. And finally, in Vila Nova de Milfontes we were served a real gourmet meal of seafood. So we got a tasty insight into the cuisine of the Alentejo.
Discover the Alentejo here: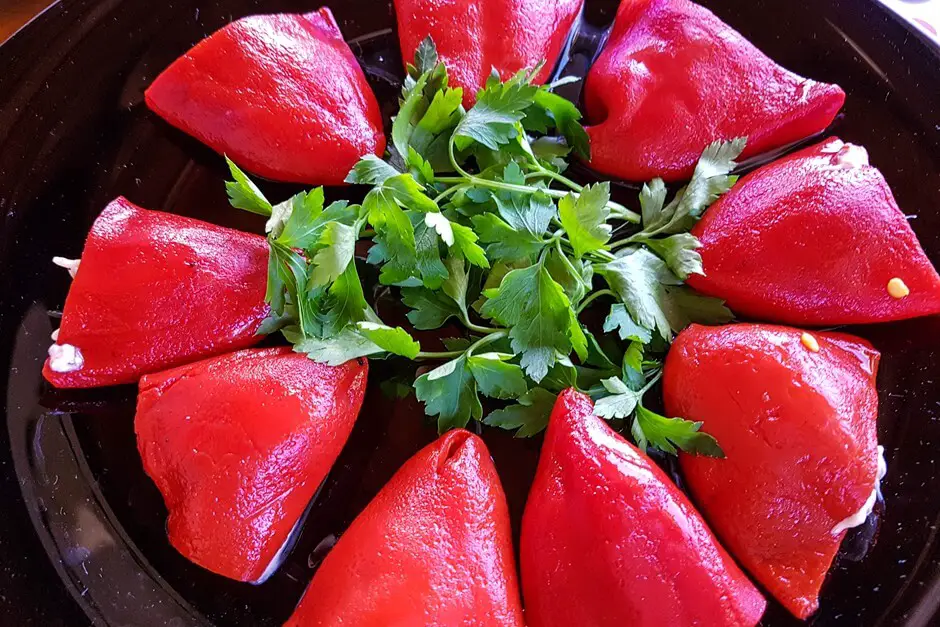 As soon as we left Évora, the largest town in the region, guided us our journey always along the coast. Therefore, we often met fishermen bringing their catch ashore. We visited restaurants where this too Specialties from Portugal was prepared. And we watched how they buy the fish fresh off the boat. However, the Portuguese fish specialties from the restaurants are what we remember best. Reason enough to introduce you to some of the recipes.
What we noticed with many of the Portuguese fish dishes in the Alentejo is that they are often seasoned with coriander. Coriander is used both in soups and as a decoration. This gives the fish dishes in the Alentejo their very special taste.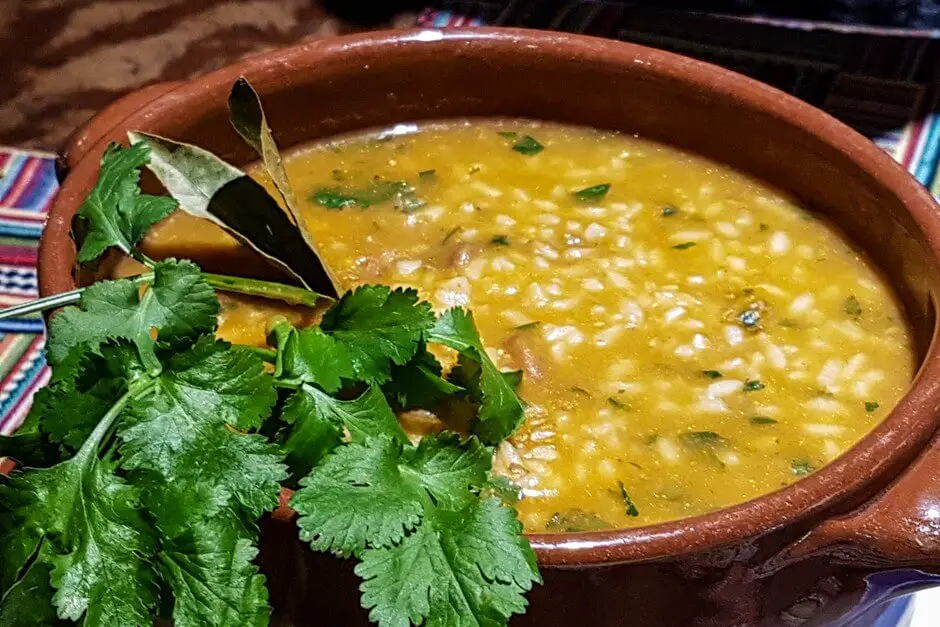 Portuguese fish dishes
There are many types of fish and seafood in this region. Sole and turbot were on the table, as were crustaceans. We also tried out how to eat barnacles. Shark, eel, octopus, cod and crabs were also on the menu. There is a large selection of fish to eat in the Alentejo. They're all fresh too. Those who like fish and seafood will definitely feel at home on the coast of Portugal.
Açorda de Marisco - Portuguese fish specialties
This dish originally comes from the kitchens of fishermen in the Alentejo. We were told that the combination of several-day-old bread and crustaceans made it possible for everyone to afford a meal. A "poor people meal", - but what a great one! Here is the recipe:
The ingredients are definitely enough for 6 people:
Shrimp - 2 pounds
Shells - 2 pounds
Frozen Seafood - 2 pounds
One onion
Six cloves of garlic
A bunch of fresh cilantro
One and a half loaves of old white bread
Six eggs
Two small cut tomatoes
3 ml white wine
Water
Salt and pepper to taste
Preparation
Heat white wine with a little salt. Add the mussels and cover, simmer over medium heat. Once the mussel shells have opened, separate the mussel meat from the shell. The bowls are then placed in a large pot. The meat is set aside. Then add the remaining liquid to the large pot, add salt and pepper and boil it up. Once cooked, add shrimp and the frozen seafood. After about 7 minutes, or as soon as the shrimp turn pink, remove all seafood from the pot. Set aside ten shrimps. The rest is peeled. The bowls are returned to the pot and allowed to simmer for about 20 minutes.
In a second saucepan, sauté the chopped garlic cloves, onions and half of the coriander leaves in olive oil until the onions are golden brown. In the meantime, break the bread into pieces and pour enough broth over it until it is covered. Leave it for 20 minutes. Then add the bread to the garlic, onion and coriander mixture. If necessary, add more broth. The mixture should be very moist. At low heat, mix everything until a mushy mass is formed.
Add the seafood, except the unpeeled shrimp. Turn off the heat. Finally, add the eggs quickly and mix everything. Decorate with the remaining coriander leaves and the unpeeled shrimp and serve.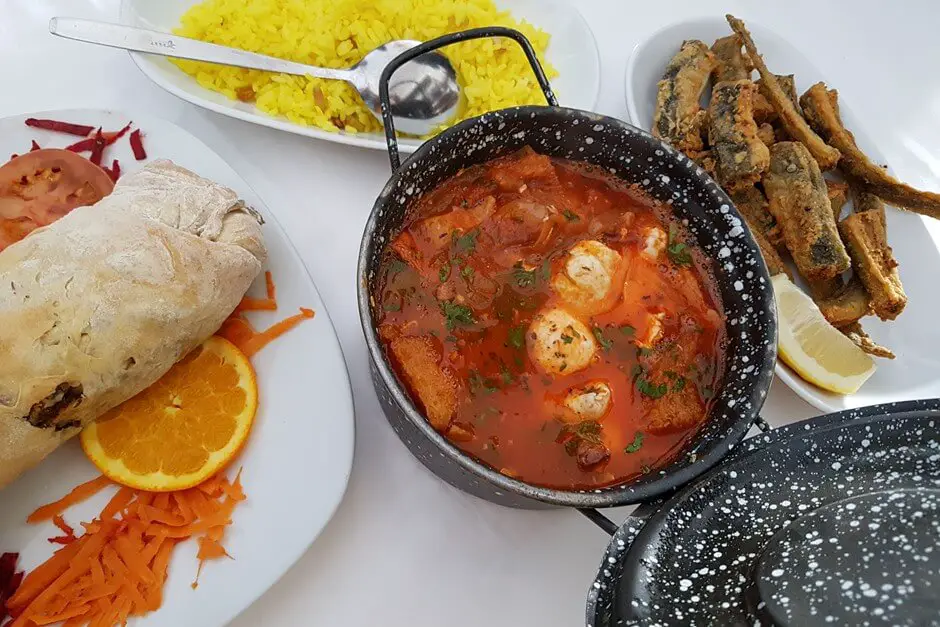 Eel stew
Anyone who wants to try Portuguese fish specialties has to try this dish. Eel stew is a dish that is served throughout Portugal.
Fresh Eel - 3 pounds
Five chopped onions
Three diced tomatoes
100 ml of olive oil
a quarter liter of white wine
A diced green pepper
Four chopped garlic cloves
Two teaspoons of paprika powder
Salt and pepper to taste
A spoonful of parsley
A teaspoon of mint
Preparation
Wash the eels well and cut into pieces. Then fry chopped onions, tomatoes, olive oil and garlic cloves in a pan over medium heat for four to five minutes. Add the eels together with the white wine and simmer over low heat. Then add the paprika, diced peppers and salt and pepper.
Cook over medium heat for about 15 minutes, stirring constantly, until the eels are cooked. Let it rest for another five minutes in a closed pot. Then decorate with parsley and mint. Served with toast.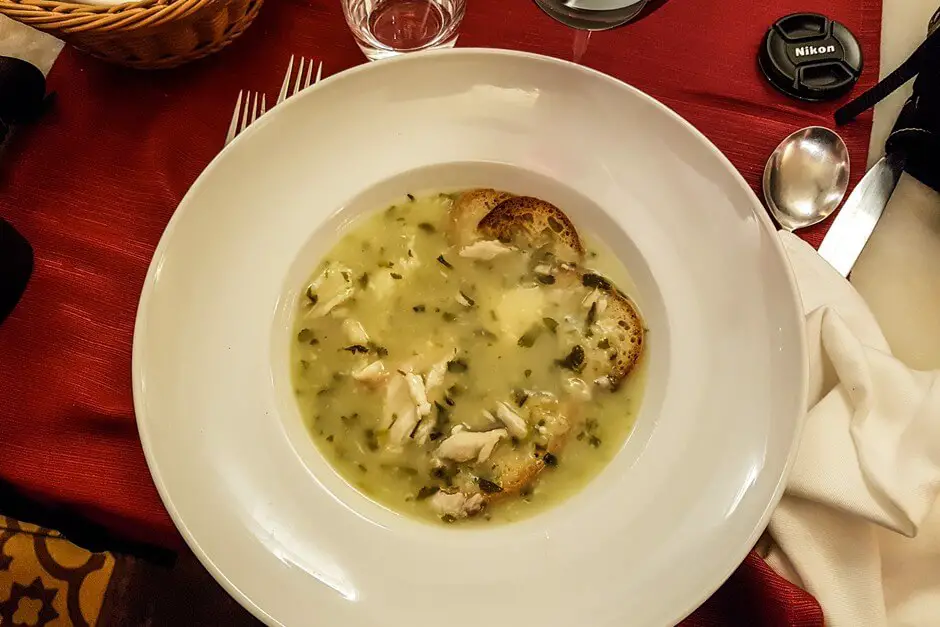 Our first fish dish on the trip was
Dogfish ​​soup
About 500 g of dogfish ​​steaks
One liter of water
50 ml of olive oil
A teaspoon of paprika
Four cloves of garlic
A bunch of coriander
Two tablespoons of flour
Pepper to taste
A bay leaf
A middle onion
Bread to taste
Salt to taste
Preparation
Season the Dogfish steaks in a bowl with olive oil, chopped garlic, pepper, paprika, sliced ​​cilantro and bay leaf.
Then add the water with a peeled onion and salt to a pan and bring to a boil over high heat. Once it throws bubbles, switch back to medium heat. Then add the fish steaks with the marinade. Then cook for about ten minutes.
Once the fish steaks are cooked, place them in a bowl. Then remove bones and set aside. Also remove the onion and the bay leaf.
Add more flour to the cooking water, stir the whole and let it thicken on low heat for about three to four minutes.
Turn off the oven, put the fish steaks back in the pan and let it stand for about five minutes.
Then you serve the fish soup with small pieces of bread. Who wants it traditional and really Portuguese puts the bread in the soup.
These are three Portuguese fish specialties from the Alentejo, which you can simply cook at home. Our favorite is Açorda de Marisco, which we were served on our trip even in the finest restaurant. Anyway, we'll try it ourselves. How about you?
By the way: do you already know these dishes?
Portugal tips from other travel bloggers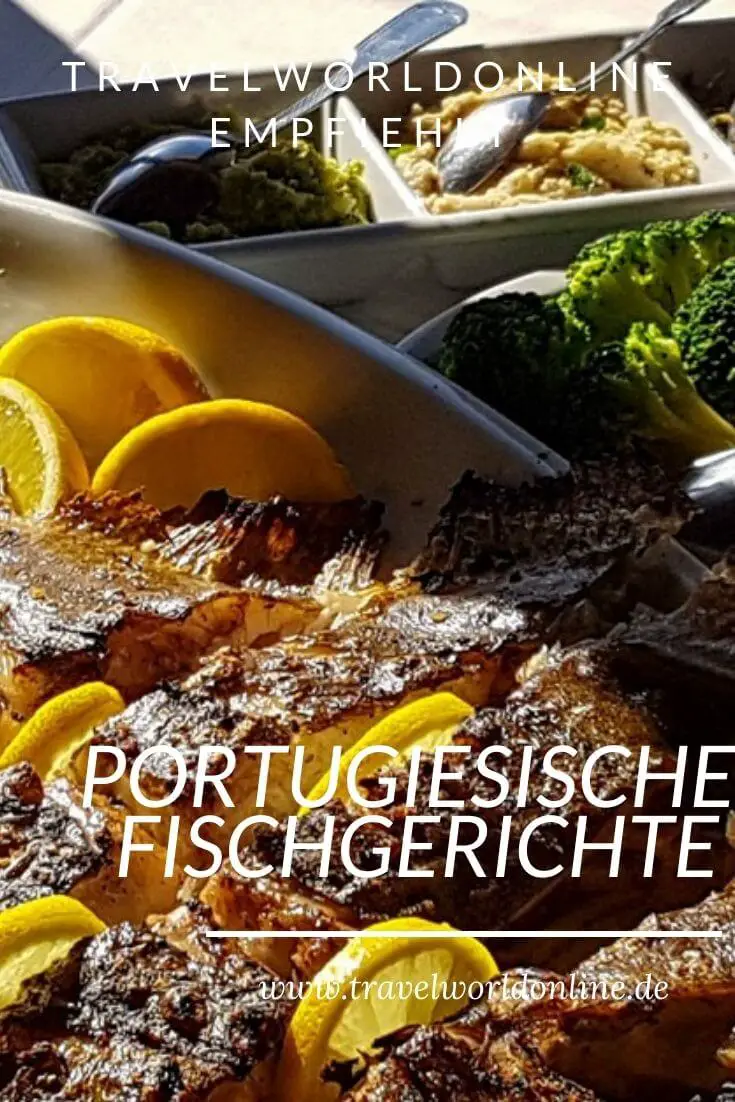 Do you already know:
Source: On-site research. We were invited to this trip by Aptece, Visit Alentejo and the Rota do Peixe. In any case, our opinion remains our own.
Text: © Copyright Monika Fuchs and TravelWorldOnline
Photos: © Copyright Monika Fuchs and TravelWorldOnline
Alentejo - Of Fish, Shrimp and Coriander