We take two days for a sightseeing tour of the Muskoka region in Ontario. In Canada, this holiday region is often referred to as the "Cottage Country" because here - just about an hour and a half north of Toronto - many residents of the metropolis have their holiday homes. Some of them are actually "cottages", which literally means "Kate" or "hut". Most of them can not be said, because the area around the Muskoka Lakes attracts more and more wealthy Canadians, including film stars, software moguls or top athletes, who like to stay on the shore of a lake like a "cottage" build to your taste. And that's usually a real palace.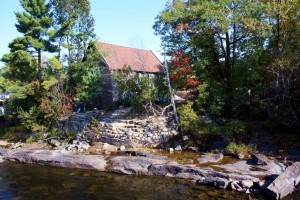 An old mill in Bala © Copyright Monika Fuchs, TravelWorldOnline
One thing the Muskoka region has to say about it: unbelievable charm. And this magic can be felt everywhere on a tour around the lakes, through the small villages, through deep forests and past rushing waterfalls. Time seems to be standing still here. In any case, this is a good place to escape the hustle and bustle of everyday life and to really relax.
The Muskoka region includes three lakes: Muskoka Lake in the south and Lake Rosseau and Lake Joseph in the north, so much water. And that's how we experience it on our tour of the Muskoka region - in some places we are literally surrounded by water, that is, the road leads along a narrow land bridge between two lakes and you can see on water, no matter which direction you look. Deep blue and lined with flaming red, yellow or even green deciduous trees, we pass small and manageable bays where hide pretty cottages between the trees or posing boastfully on the lake.
Yacht on Lake Rosseau © Copyright Monika Fuchs, TravelWorldOnline
Water sports are one of the main pleasures here: everywhere we see canoes or kayaks waiting for their owners to launch them and leisurely paddle through the surrounding waters. In the villages and also on many jetties in front of the cottages, there are considerable yachts at anchor, which are not only used for fun, but are also used quite banal for a shopping trip, as we observe with amazement in Gravenhurst at one of the jetties. Coming but actually two Dreikäsehochs that can not be older than ten and fifteen years old with such a powerful motor-powered power boat, put on like two experienced fur seals, appear after some time again with shopping bags and parents in tow and drive - this time with the father at the wheel - back home.
Aboard the Segwyn © Copyright Monika Fuchs, TravelWorldOnline
If you don't want to get into the canoe yourself or rent an expensive yacht, you can sail across Muskoka Lake on a leisurely boat trip with the old mail steamer "Segwyn" - with a good dose of nostalgia. This steamer is the last of its kind that is still fully functional and polished with a lot of attention to detail to a high gloss every day. On the way, he passes many of the noble holiday hostels that are everywhere on the shores of the lake. Incidentally, the whole Muskoka region has a little bit of the flair of yesteryear: in Gravenhurst, for example, the riverside region has been lovingly restored, and this conveys the ambience at the end of the 19th century, when tourism began to develop there. In Bala there is an old mill above one of the waterfalls, of which there are numerous in the area. And the general store in Rosseau has the smell of a real "mom and pop shop" that hardly exists today. It's obviously very popular because almost everyone - including a large group of wild-looking bikers in leather gear - stops here to rummage inside the store.
Who wants to enjoy this wonderful flair of the Muskoka region needs one thing above all: time and leisure. For a walk through the leafy deciduous forests of the region, a visit to the Cranberry Farm north of Bala, a shopping spree in the shop in Rosseau or for a delightful dinner on the lakeside terrace of the Regatta restaurant in Gravenhurst, watching the sun as they slowly beyond the horizon disappears. Or just to curl up with a good book in one of the cozy Muskoka Chairs by the lake and listen to the cries of the ice-diver, who occasionally echoes across the lake.
---
Travel Arrangements:
Getting there
Lufthansa, Air Canada and several other airlines fly to Toronto.
Accommodation
Accommodation in Muskoka Region * You can book through our partner booking.com. We have stayed in Sir Sam's Inn Resort & Spa * in Haliburton.
---
Source: own research on site with the kind support of Tourism Ontario
Text: © Monika Fuchs, TravelWorldOnline
Photos: © Copyright Monika Fuchs, TravelWorldOnline
Video: © Copyright Petar Fuchs, TravelWorldOnline
Sightseeing tour of the Muskoka region in Ontario