How a rag rug Sweden becomes a souvenir

Swedish patchwork as a souvenir? We wanted to find out what typical souvenirs are made of Sweden are. Here we came first furniture and Innovative to mind. Swedish design is known for cool shapes, colors and straight lines. At least that's the case for furniture. But if you only fill your apartment with such furnishings, it doesn't seem very inviting and, above all, not cozy. Maybe that's why the Swedes like to decorate their rooms with nostalgic elements. We were new to the fact that a patchwork represents Sweden. We went on our trip to Sweden in search of the taste of the Swedes and wanted to discover souvenirs that the Swedes like.
We found what we were looking for at Eva Tufte. She is Danish and a few years ago she settled near Lammhult in Smaland. In her spare time, she began weaving rag rugs herself - just as the region's farmhouses have done for centuries. She bought a loom, collected old fabrics, clothes, curtains and everything that could be recycled and began to make her own rag rugs.
Why a rag rug tells stories to Sweden
What started as a hobby was so much fun for her that she wanted to find out what the rags of other weavers looked like and how they made them. She got up and moved through the farmhouses of the region. She showed handmade rag rugs and told the stories interwoven. Everyone was astonished that they were just interested in the patchwork rugs that usually lay forgotten in the attics of the farmhouses. She discovered that these can be very different - depending on what is woven into it. And she found out that some peasant women are interwoven with proper patterns. Others preferred stripe patterns. And others made works of art out of their carpets using materials of different thicknesses. Eva began collecting rag rugs. She wrote down the stories told to her about the patchwork quilts.
Rag rugs from the furniture kingdom in Smaland
We meet Eva when she is setting up a shop in Lammhult, where she offers her rugs - homemade and collected - for sale. It's not yet open, but we can already see that it offers a huge selection of rag rugs. It starts to itch in our fingers. These are souvenirs, just like we are looking for them! Eva knows the story of each of her carpets. She tells her where she discovered a rug and tells of the stories the weavers told her about it.
The old jeans of the weaver's sons are processed in a blue and white striped carpet, and she reports what has become of them. Another carpet contains strips of tulle. "These were the curtains that the farmer's wife actually wanted to throw away. They ended up being used in this carpet, "she laughs. Eva likes her carpets. It even gives them names. Mostly after the names of the weavers from whom they come.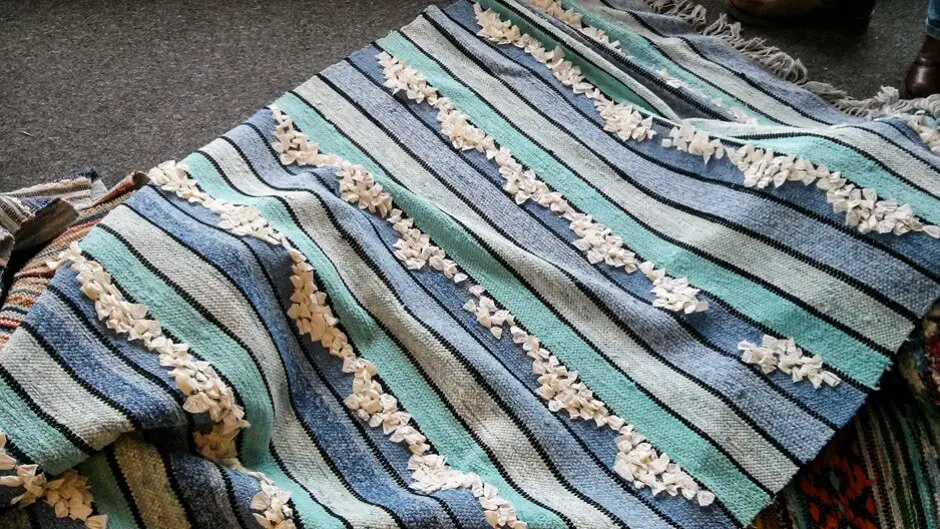 Online sales of patchwork carpets
When her patchwork quilt collection grew to dimensions she had never expected, Eva began to exhibit it. She quickly realized that she wasn't the only one who liked the carpets. And so she started offering them for sale on an online portal. Under the name Svenska Trasmattor, she offers her patchwork carpets all over the world. "I now have regular customers from all over the world," she tells us. "One of them, an Australian, has just ordered his fourth carpet from me and sent me a photo that shows how well the last carpet looks good as a decoration on the wall of his living room."
That their carpets meet the taste of the time, we experience even during our visit to their shop. While she shows us the specimens from her collection, two curious passersby knock on the shop door and ask for admittance. They let Eva's assistant show them carpets and leave the shop after twenty minutes - not without taking a rug for 400, - Euro. A good sign that their store is a success, right?
If you yourself once in the patchwork Shop to come by Eva, then you can do that here and take home one of her carpets as a souvenir from Sweden:
Rugs of Sweden
Berghem, mountain
36394 Lammhult
Doing a rag rug yourself
Do not you find the right patchwork quilt? Then you can do this yourself. How to do that, you will find out here:
Do you already know:
Source: Research on site.
We thank you Visit Smaland for the invitation to this trip. Our opinion remains our own.
Text: © Copyright Monika Fuchs, TravelWorldOnline
Photos: © Copyright Monika Fuchs, TravelWorldOnline
How a rag rug Sweden becomes a souvenir