Roma at Three Rivers isn't very big and never has been. It is a place on the east coast of the island on a peninsula in the Montague River, where the first settlers in Prince Edward Island under the direction of the French trader Jean Pierre Roma settled in the hope of turning their trading company into a profitable venture.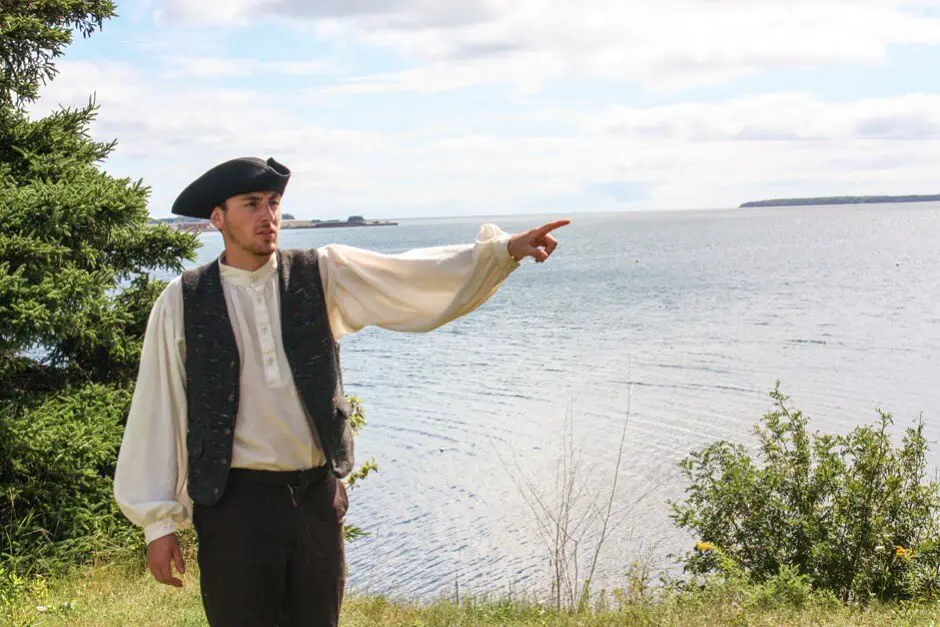 In the thirteen years that Roma at Three Rivers existed at Brudenell Point, they almost succeeded in doing so. But then she got caught in the turmoil of the Franco-British conflict and was destroyed by a British warship. It was only a few years ago that the remains of the settlement began to be archaeologically examined and foundations of the early French warehouses and houses were found. However, the sea had in the meantime destroyed part of the settlement through erosion, so that the current buildings of Roma at Three Rivers are not in the same place where the village of Jean Pierre Roma was once built.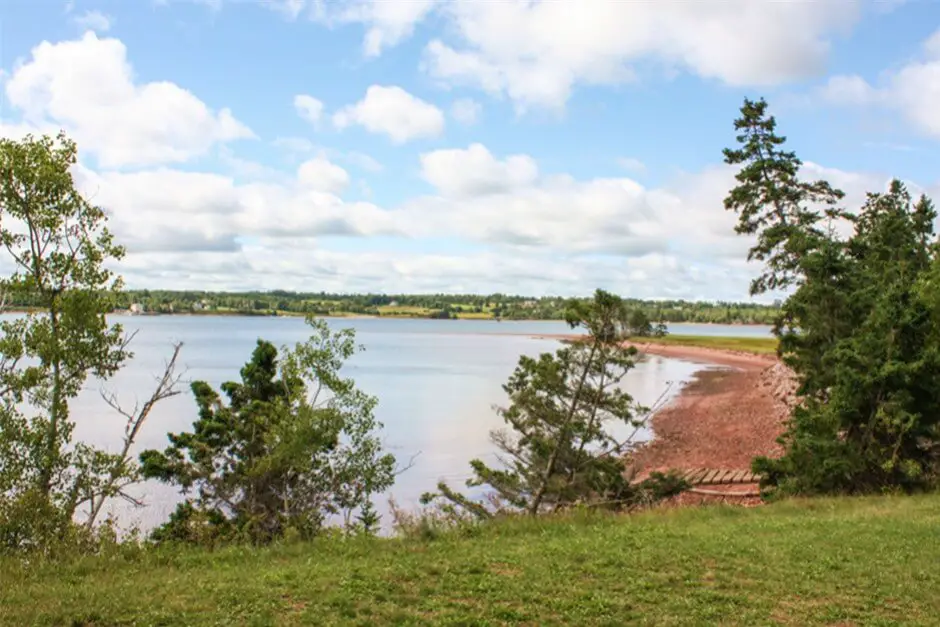 The first settlers in Prince Edward Island lived in Roma at Three Rivers
Young people from the area around the village in historical clothes bring the everyday life back to life, which experienced the first settlers from France at this point. Almost as if he had experienced it himself, our young guide shows us where the merchant ships once docked and where the warehouses and homes of the French settlers were. He tells us that with the few resources at their disposal, they repaired the ships on the shore by making tows, with which they stuffed holes between the planks. An arduous job. The ships were their main means of transport, as they took them around the island to outposts that emerged over time on Prince Edward Island.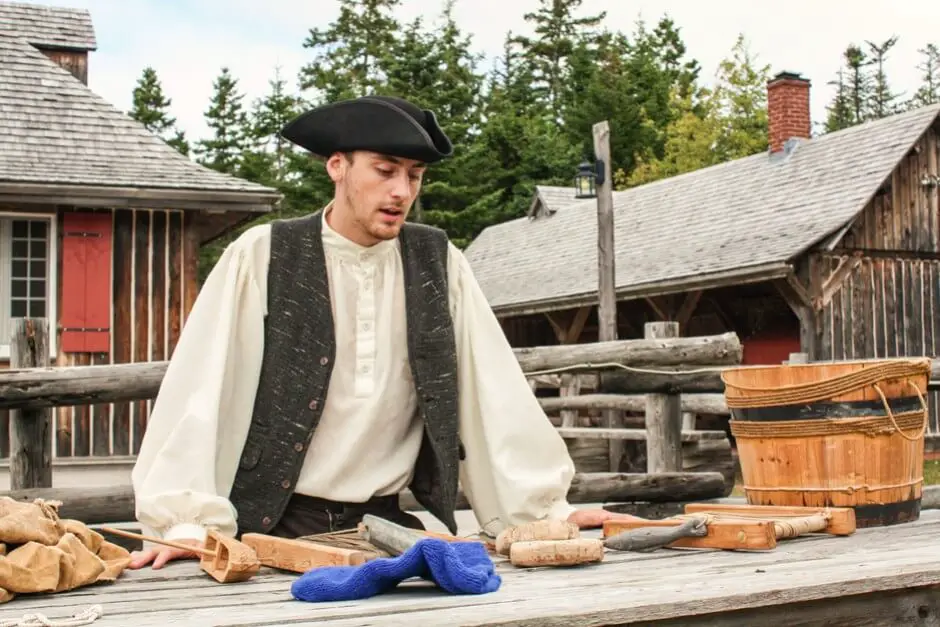 Fishermen on Prince Edward Island
The first settlers in Prince Edward Island had thought out their venture. Fishermen had come to the country with Jean Pierre Roma's group of settlers. It was their job to supply the trading settlement with cod, which in those days was still found in large quantities off the coast. This was brought ashore and laid out to dry on the bank. This is how it was preserved and served as a staple food for the settlers for a long time. Our guide explains to us how this work was done and what tools they used to do it.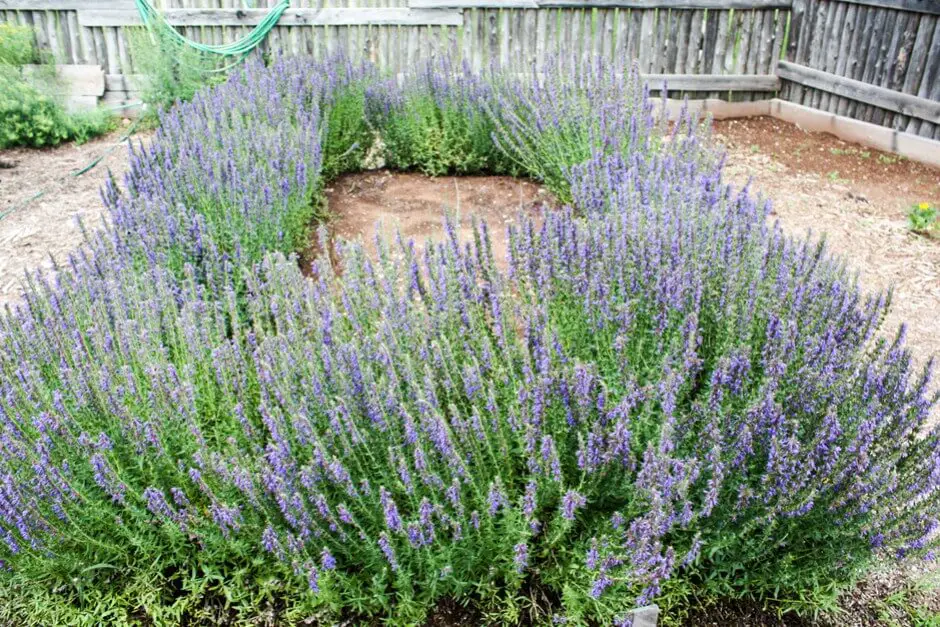 You need side dishes and herbs with cod
Cod alone is not tasty. Hence a herb garden was important. There the women of the village planted herbs such as thyme, marjoram, sage and basil. There were also beds with lettuce, cabbages and bushes with raspberries, blackberries and other fruits, which made the food in the village varied. Our guide explains that many of these spices were not only used as ingredients in the cooking pot, but were also used as medicinal products. Herbal mixtures helped with all illnesses and ailments.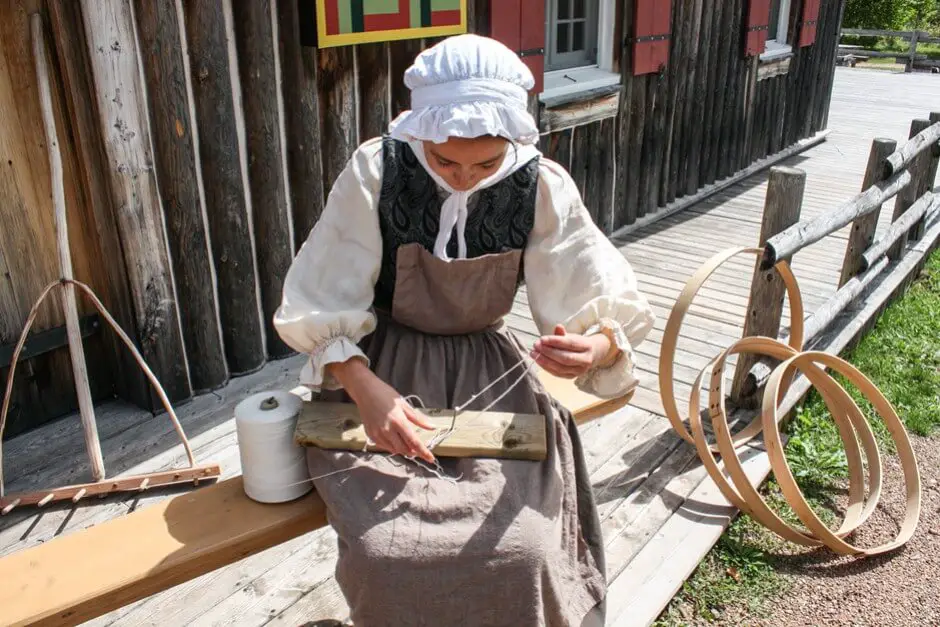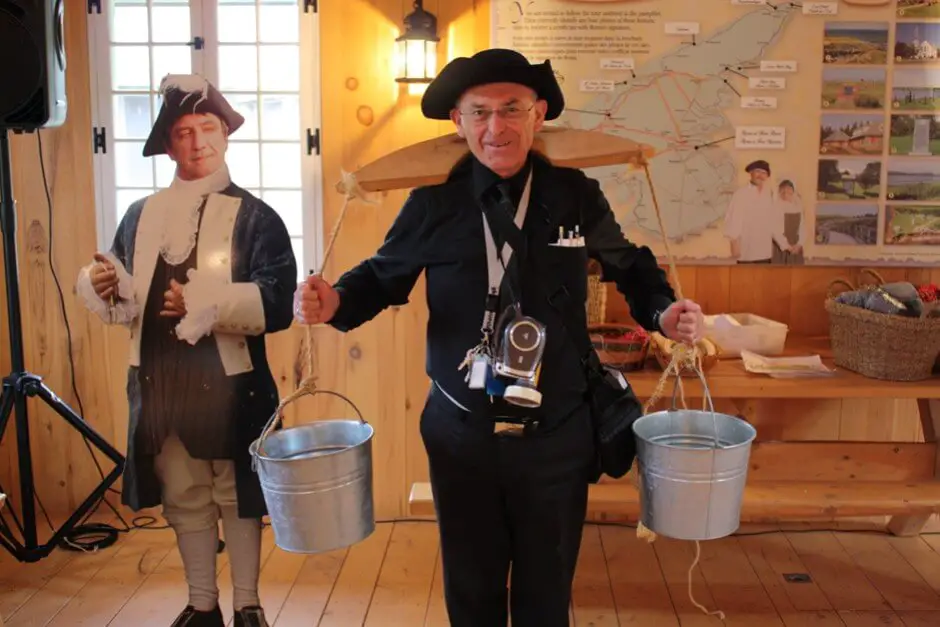 The Roles of Women among the First Settlers in Prince Edward Island
The tools that are everywhere show us how diverse the tasks of women in Roma were. Our companions know how and for what purpose the first settlers in Prince Edward Island used them. They show us how to make cord from wool or how to knot ropes from hemp. In the museum room we can see broken porcelain that was found during the excavations. They suggest that these utensils came from France. Records were made by hand with a bird's feather. This is how a record was kept of what happened on site. However, I am amazed how the writing could be so beautiful and fine. When I try to write with a bird pen, all I get is inkblots on the paper. Not easy! The men usually did heavier jobs. Here, Petar shows how to collect maple syrup from the woods in buckets and then bring the liquid to the cooking huts.
Bake bread in the village oven like the first settlers in Prince Edward Island
The village's oven is still powered by wood today and is in operation regularly in summer. Here, like the first settlers in Prince Edward Island, they bake bread, which is served as a midday meal to visitors to the open-air museum. There is also molasses, a by-product of rum production. The merchant ships brought this with them from their trade voyages to the West Indies. We do not miss the opportunity to try it. However, I do not understand how people could do physical work with this rather meager diet. There had to be the dessert made from cereal biscuits with tea. These taste good and remind me a little of the shortcrust pastries that you can still get today in many parts of England and Ireland.
What you need for a visit to Roma at Three Rivers
Sturdy footwear are a must when visiting this museum. You will also walk over rough terrain here.
You need one for the visit backpack, In it you can accommodate everything you need for your day trip.
The area surrounding Roma at Three Rivers is still agricultural today. Life is still taking its course. Hectic would be out of place. And so we enjoy a tranquil sojourn at this open-air museum on the east coast of Prince Edward Island. A way to learn a little more about the early settlers of Prince Edward Island.
Do you like to travel by motorhome?
For example, you can stay overnight with your motorhome at this campsite: PE Norton Campground, Brudenell Island Blvd, Georgetown, PE C0A 1L0, Canada.
Do you want to rent a motorhome? Then you will find information and a selection in these  booking options.
Check our packing list for campers to see whether you have packed everything for your motorhome tour.
---
Travel Arrangements:
Parking at the airport
Here you can reserve your parking space at the airport.
Arrival:
Book yours here Arrival by plane, bus or train*. The nearest airport is in Halifax. You can arrive by ferry or via the Confederation Bridge. The distance from Charlottetown is about 50 km (40 minutes driving time). It is about 35 km (30 minutes driving time) to the ferry station in Woods Island.
Car Rentals:
Cheap car hire - book quickly and easily!
Accommodation in Montague
There are no accommodations directly at Roma at Three Rivers. The museum is at the end of a peninsula. You can stay overnight in Montague *, The place is less than 7 km away.
Do you already know:
Source The First Settlers in Prince Edward Island: On-Site Research. We thank Prince Edward Island Tourism for inviting us to this trip.
Text The first settlers in Prince Edward Island: © Copyright Monika Fuchs, TravelWorldOnline
Photos The first settlers in Prince Edward Island © Copyright MonikaFuchs, TravelWorldOnline
The first settlers in Prince Edward Island