Toronto Chinatown
During our stay in Toronto let's take our time for a stroll through Chinatown. This is arguably one of the best-known ethnic neighborhoods in the Lake Ontario metropolis. Chinatown is the neighborhood in Toronto that also best showcases the culture of its residents. For me it symbolizes the diversity of this multicultural city. It's unmistakably Chinese with the artworks that stand in the center of Chinatown on the corner of Spadina and Dundas. With the Chinese characters emblazoned on house facades and shop signs. The grocery stores, at whose fruit stands fruits such as rambutan, lychees or dragon fruit seem exotic. Some fruits and vegetables have names that don't tell us anything. When asked what that is, we get the Chinese name as an answer. After that we're just as smart as before. There is definitely a lot to discover in Toronto's Chinatown. We invite you to take a stroll through Toronto's Chinatown.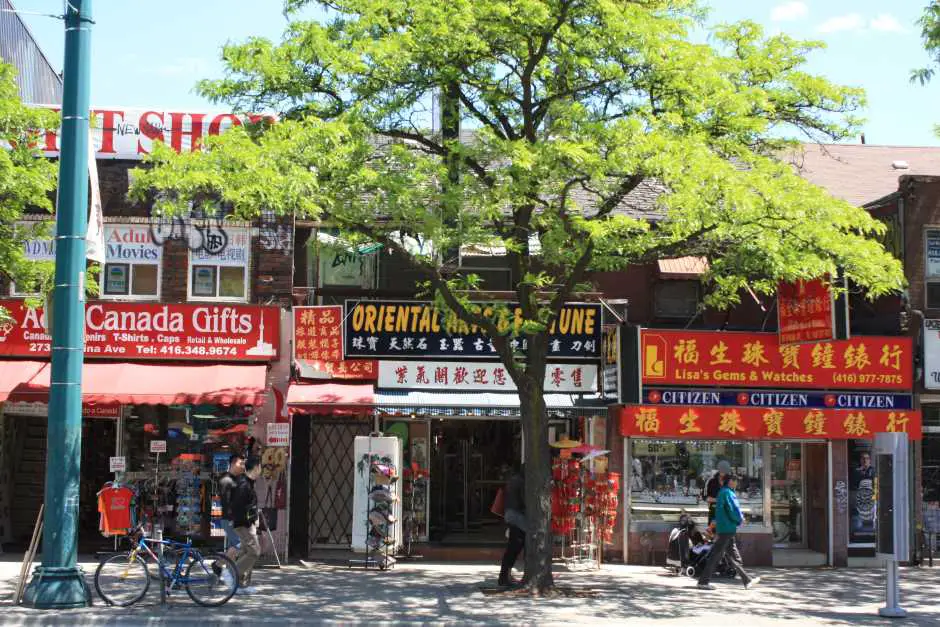 Chinatown Toronto - center at the intersection of Spadina and Dundas
We start our walk at the intersection of Spadina and Dundas. There is a stop for the street cars. A sign on the facade of the Hsin Kuang Center announces the opening of the Golden Diamond restaurant. In addition, it says that all day Dim Sum is offered. This is the delicious Chinese finger food. This can be brought to the table in bites by the waiter. Then you choose the dishes that suit you the most. There is no fixed price. Instead, you pay for the amount of snacks you have eaten. There is also tea. Foo Hung recommends drinking this too. Dim sum is very oily. The tea ensures that the food is well tolerated.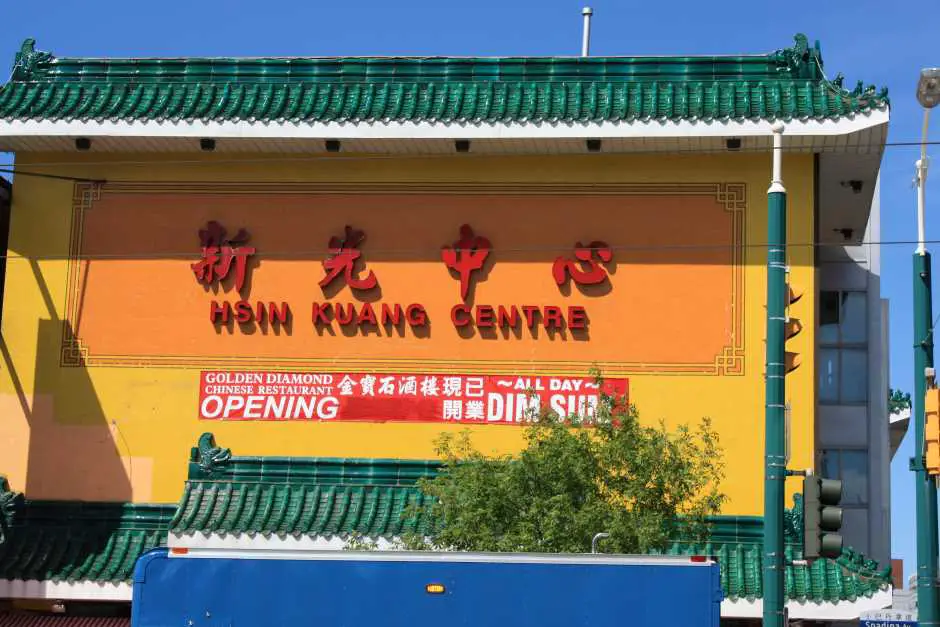 Shopping in Chinatown Toronto - not that easy
Generally the food in Chinatown. It's not that easy to find your way around. Exotic dishes, which we do not know, we find here in abundance. Some grocery stores adapt and present their goods in English. However, many do not. Or they can't because there is no English name for their products. So we stand in front of many a shop window or store shelf with a questioning look. If we seek help from the shop staff, the questioning look is often simply returned. Either because they don't understand what we're asking. Or because there are no English names for the dishes. English is not the main language in this part of town. We are therefore looking for shops where the goods are also explained in English.
There are exciting things to discover there. Pink rice cakes, yeast snails, like the ones we have at the bakery around the corner. Dumplings filled with pork, green or black beans. They come rolled in sesame seeds. We also find spring rolls with vegetable filling. At a bakery we discover Lotus Pastry, pastries made from sesame seeds. This is baked in the shape of a flower and looks almost lifelike in its colors. Finally, in the shop window, it adorns a structure for wedding cakes.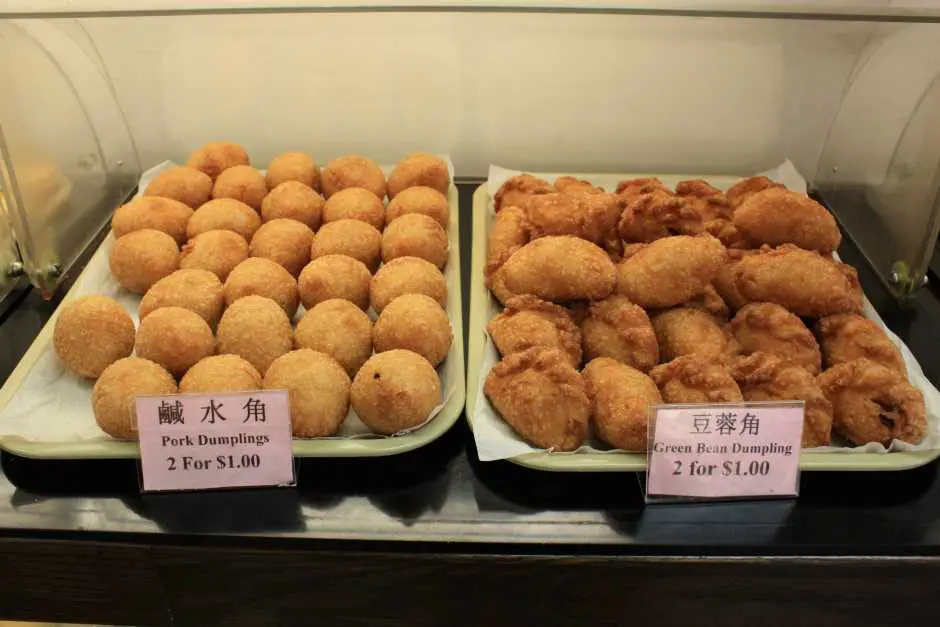 Exotic dishes in the Chinese Quarter
In other shops we see mangoes, sweet cherries, pineapples, papayas, bubble tea or sugar cane juice. The shop signs advertise the harvest from the Orient. They recommend tropical fruits or herbs from China. Or the nearest noodle restaurant. Most of the time, however, we cannot read them because they only announce in Chinese characters what is being sold behind the facade. It is definitely an exotic and fascinating world that we are immersed in here.
Toronto's Chinatown is getting smaller
Toronto's Chinatown is not as big as it once was. By the construction of the New City Hall and the development of Nathan Phillips Square, the Chinese were pushed west from their once larger part of the city. Where Chinese restaurants, laundries and shops used to be close together, the city's new town hall now towers into the sky. The Chinatown around the corner of Dundas and Spadina, on the other hand, only developed after the 1950s. Back then, the wealthy shopkeepers moved their businesses to what is now called Old Chinatown. That's why it's actually a misnomer.
In addition to Southern and Hong Kong Chinese, mainland Chinese are coming to Toronto Chinatown
The composition of Chinatown's population has also changed in recent years. Initially, it was mainly immigrants from southern China and Hong Kong who were drawn to Toronto. Since the transfer of sovereignty over Hong Kong to the People's Republic of China in 1997, immigrants have mainly come from mainland China and impoverished Vietnamese Chinese. They settle in Old Chinatown. The wealthy Chinese immigrants from Hong Kong, on the other hand, no longer live here. They prefer the residential areas of Markham and Richmond Hill instead.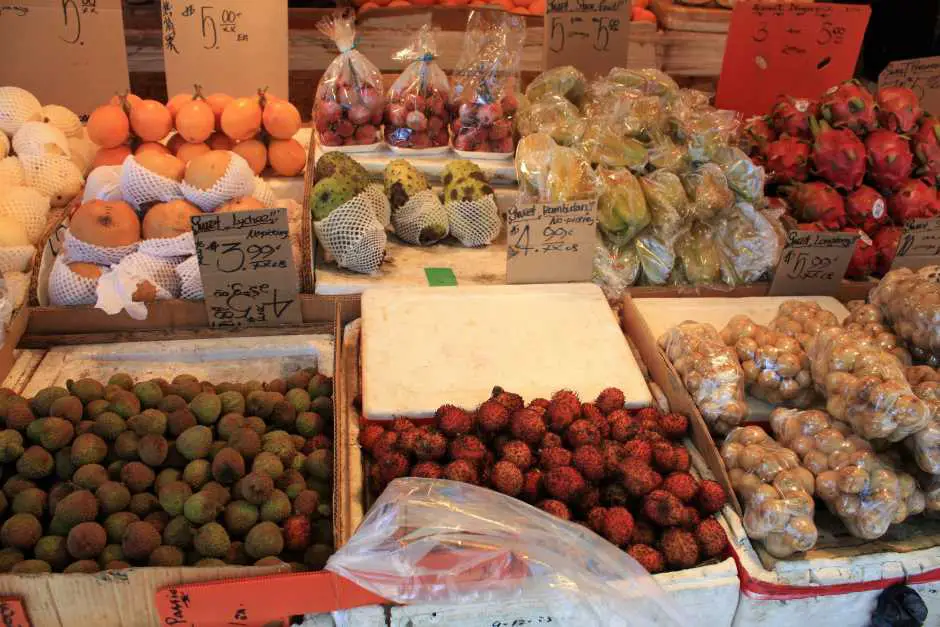 Discover the smells and scents of Chinatown in Toronto
Our tour of Toronto's Chinatown takes us into one strange world with smells and scentsthat arouse curiosity. We want to know more about that. We discover dishes that we don't know but like to taste. We also meet people whose language we do not understand. We look just as exotic to them as they do to us. We are confronted with a culture that we would like to get to know better. A reason to get even closer with the lifestyle of this Toronto people to put apart? What do you all mean? I think so, and maybe that'll be a topic for one of our next visits to the Lake Ontario town.
---
Travel Arrangements:
Parking at the airport
Here you can reserve your parking space at the airport.
Check in:
Arrival by plane, bus or train*. Air Canada, Lufthansa, Condor and Icelandair fly from Germany Toronto.
Car Rentals:
Cheap car hire - book quickly and easily!
Camper Rentals:
Transfers:
Conveniently from the airport to the city center bring you these transfers *.
Hotels:
hotels in Toronto * you can also book here.
Tours in and around Toronto:
Book yours here Tours in Toronto or a trip to Niagara Falls * .
Food Tours in Toronto:
Do you want to get to know Toronto's gastronomy? On this Tours through Toronto * is that possible.
---
Do you already know:
Source: On-site research supported by Tourism Ontario. However, our opinion remains our own.
Text: © Copyright Monika Fuchs and TravelWorldOnline
Photos: © Copyright Monika Fuchs and TravelWorldOnline
Video: © Copyright Petar Fuchs and TravelWorldOnline
Toronto Chinatown - Impressions