Our tip: Torontos suburb Leslieville is worth a visit

As you know, we were once again in Toronto this year, a city that we already know well from numerous visits. But as is the case with a city with 2,6 million inhabitants: you never know it completely. And that's not different in Toronto. Next to the Bata Shoe Museum With its fascinating exhibits on footwear from all over the world, we looked at one of the suburbs this time, because I think they too belong to a big city like Toronto. And we came across Leslieville, a hip neighborhood in East Toronto definitely worth a visit.
Leslieville is within easy reach: get on the Queen Street Streetcar and continue following the same street until you reach Leslieville, which lies just off Don Valley Parkway between about Carlaw Avenue and Coxwell Avenue. Of course you could drive there by car, but then you get a great insight into the everyday life of the people in Toronto: there rises a young mother with her child in the tram, and three men jump up and help her, the stroller in to lift the train. In front of us is a newly in love couple: she - with heavily tattooed arms and he with so many rings through lips, ears and nose, that I wonder how a kiss tastes there. But obviously not bad, because the two practice intensively. On the platform between the two tramcars, a tired Chinese tries hard to keep awake, but repeatedly collapses until he finally leaves the train at one of the stops beyond the city center. As he has noticed that this is the right one, I am forever a mystery, because he was not really awake.
We do not have much time, so we limit ourselves to a walk along Queen Street between these two streets, but already get a good idea of ​​what makes Leslieville's charm: a wild mix of brightly painted houses, one to one Saloon reminiscent General Store, a wild jumble of restaurants and bars, flower-adorned facades and artful graffiti on some walls. In between, we can take a look at a tattoo parlor and admire the various patterns you can get stuck in the shop window.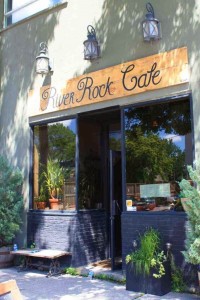 On the way, we meet people on their way to any destination - an elderly gentleman in crumpled Bermuda shorts and a crumpled sweat jacket hurrying down the street in front of us. A few meters farther on, we follow a young, all-black man, who's just coming out of a bakery with a full bag of donuts, apparently for lunch. Slowly we are getting hungry and looking for a restaurant that attracts us. And after some attempts, we come across the River Rock Cafe on the corner of Carlaw Street / Queen Street. With its wooden sign over the entrance, the pretty lanterns above and the lush plant decoration, it seems inviting to us. And we try our luck.
Two young women are sitting in the sun on the bench in front of the door, having a cozy chat. No sign of the hustle and bustle of the big city! When we look at the handwritten menu on the dark board above the counter at the restaurant entrance, one of them gets up and comes to the restaurant to serve us. I order a stir fry vegetable with rice, and Petar chooses green salad with nuts. Both are good choices. We like the cafe with the fresh bouquet of lilacs on the counter, the self-made tea chest of drawers, the windows with the opaque glass surfaces and the mirroring in the middle, which make the restaurant look bigger than it is. On our self-made table, where we sit on simple wooden chairs, there is an edition of the Time special edition "100 Ideas that changed the world", and in the background we listen to the songs of Sade and Harry Belafonte. Everything is good taste. And when we finally go to the checkout to pay after our good meal, the end of which we are delaying because we feel so comfortable in this environment, I hear a strange accent from the words of our nice waitress. My question turns out that Barbara is from Austria and has been running this cafe on a small side street of Queen Street in Toronto for several years. "I feel good here," she says, and I can understand that when I look around her cozy little cafe that she has set up in a former horse stable.
Almost reluctantly, we leave the River Rock Cafe and head to the nearest tram stop to head back on Queen Street to the downtown Toronto skyscrapers that tower above the city's residential blocks a few miles away. Even if Leslieville There are no world famous sights or highlights, so we are happy to have made this excursion into the daily life of Toronto, it helps us to understand the city and its people a little better.
---
Travel Arrangements:
Check in:
Arrival by plane, bus or train*. Air Canada, Lufthansa, Condor and Icelandair fly from Germany Toronto.
Car Rentals:
Cheap car hire - book quickly and easily!
Camper Rentals:
Transfers:
Conveniently from the airport to the city center bring you these transfers *.
Hotels:
Hotels in Toronto * You can book through our partner booking.com.
Sightseeing tours in and around Toronto:
Bay here your sightseeing Tours in Toronto or a trip to Niagara Falls * through our partner Get your Guide.
---
Do you also know:
Source: own research on site. The trip was supported by Tourism Ontario. Our opinion remains our own.
Text: © Copyright Monika Fuchs, TravelWorldOnline
Photos: © Copyright Monika Fuchs, TravelWorldOnline
Toronto's suburb of Leslieville