Gift Ideas - What Are The Best Travel Gifts?
What are the best travel gifts for travelers? We ask ourselves that question again every year in the weeks Christmas. Most of our friends love to travel as much as we do. Therefore, it goes without saying that travel gifts are the first thing we think about as the decision of what to give them for Christmas approaches. But these tips are also useful during the year for birthdays, anniversaries or as farewell gifts for travelers. There are definitely differences in interests. Or in the way of traveling. Some friends like to travel long-distance. But no matter if Ottawa, Toronto, Amsterdam or Helsinki, everyone is happy about travel gifts. However, they prefer useful gifts for travelers.
Others are more on foot, by bike and in their own country. Still others like to relax in spas or thermal baths. The needs are also different. Here we present the best travel gifts for all types of travelers. The greatest joy is provided by gifts for travelers that are tailored to their interests and the type of travel.
Travel gifts for travel bloggers among slow travelers
Many among the Slow Travelers publish their own travel blog. You always need new technical equipment to stay up to date.
Action cam for the photo trip
If the gift is supposed to be something special, you are guaranteed to give a travel blogger a lot of joy with an action cam. If one is under the Christmas tree, the joy is great.
Selfie drone following you in flight
We therefore recommend a very practical drone for hikers. Do you go hiking alone? Then you surely know that you are constantly working with your photo equipment. What do you think of a drone that automatically follows you? She films you from an unusual angle and also follows you everywhere. Great, is not it? With it you can take photos from extraordinary perspectives.
A bag for your electronics when you travel
A bag like this is certainly not only interesting for travel bloggers, but for everyone who takes a laptop, drone or cell phone with them on their travels. Who does not know the tangled cables and the mess of batteries, adapters and adapter plugs that you often look for in vain in your suitcase. A bag like this solves this problem in a practical way.
A socket cube
Anyone who travels today can no longer do without electronic devices. It doesn't matter whether it's a smartphone, camera or laptop - each of them needs to be charged every day. Hotel rooms or other locations rarely have enough outlets to charge multiple devices at the same time. It is all the more important to take a multiple plug with you when you travel. If this is then as compact as this socket cube, you will be even happier about such a gift.
Travel gifts that travelers are looking forward to
Gifts for travelers should definitely be chosen well. You don't need a lot of things when traveling. However, it is important that you have the right things with you. The size of the suitcase is particularly important in times of increasing prices for hand baggage and size restrictions for checked baggage. The smaller the suitcase or piece of luggage, the cheaper it is to travel.
Suitcases are perfect gift ideas for travelers
However, they should not be too big. After all, you have to drag them too. Trolleys that can be rolled and do not have to carry are therefore particularly practical.
We are big fans of Samsonite trolleys. They cost a lot, but they are an investment for life. If you travel frequently, as we do, they are a good investment. We have been traveling with our hand luggage trolley for years. Here you can buy it *, Further considerations on the question of whether Suitcase, trolley or backpack more practical we have hired here.
Luggage scales for on the go - useful gifts for travelers
You surely know that. People like to bring something home from trips. A bottle of wine. A souvenir from local artisans or the like are travel gifts that you like to make yourself. But: how heavy is the suitcase for the return flight? The souvenirs add weight to the suitcase quickly. It is therefore worth checking this again before your return flight. A luggage scale is suitable for this.
Backpacks are travel gifts for travelers
Every traveler will find a backpack handy. However, one should pay attention to what type of travel he prefers. Is he rather someone who likes to go on a city break? Then there is for it special day packs, in which you can pack all the utensils you need for a city tour. He likes to go Hiking? Or loves being in nature too Have a picnic? He may even go on hikes that stretch over several days. Or does he even go trekking in the wild? He definitely needs someone else for that Backpack for outdoor activities suitable is. We are rather the ones who enjoy walking through nature - from picnic area to picnic area. Therefore, this backpack is practical for us. In our hiking checklist you will find more gift ideas for pleasure hikers.
Silk sleeping bag - travel gifts for backpackers
In summer you can sleep anywhere in this sleeping bag. It is also practical for bag packers who like to travel to Asia. You don't need a thick sleeping bag in the tropics. This silk sleeping bag is perfect there and makes you feel good on the skin.
Washing machine without electricity - practical travel gift for on the go
With this washing machine without electricity, you can quickly wash your clothes in the hotel. This saves you weight because you don't need to take as much luggage with you. With a sustainable detergent you also protect the environment.
Trunk organizer - gifts for road trip enthusiasts who love to travel
Do your loved ones like to go on road trips by car? There is nothing worse than not finding your utensils in the trunk. Trunk organizers are practical for this. You can store odds and ends in it. But you can also store your snack for on the go. There are also organizers with cooling compartments in which you can keep drinks and food fresh. They are not only helpful when traveling, but also when shopping on the weekend.
For travelers with dogs - useful gifts for travelers with dogs
Many travelers take their four-legged friend with them in the car on their tours. Of course, this also needs its place in the car. So that this is well protected, there is appropriate equipment for the car.
A reversible jacket is a useful gift for globetrotters
When the luggage gets smaller, you have to limit yourself in the choice of clothes that you take with you. We therefore recommend packing a reversible jacket. You can look twice different with one piece of clothing. The jackets that use different materials on the inside and outside are particularly good. This means that you can wear sporty clothes during the day, while wearing the more elegant side on the outside in the evening. We especially like this reversible jacket.
Have you thought of shoes as a gift for traveling women?
We always walk a lot on our travels. This can be quite exhausting for the feet, especially when hiking or in cities. It is therefore all the more important to take good shoes with you on your travels. We have dealt with this topic in more detail before and have put together a number of tips that can be used during Buy comfortable shoes should be observed. Also are walking boots a great travel gift for anyone who likes to hike on trips. While our article is mainly about hiking shoes or shoes for longer walks, there are of course also occasions when more elegant shoes are necessary. Here, too, we value comfort, because there is nothing worse than having your feet constantly hurting during the trip. This is a shoe that we like.
Travel gifts for traveling connoisseurs
Pleasure travelers also like to look into the cooking pots of foreign countries. You also try exotic dishes. Taste unknown fruits. Or learn on site how to prepare dishes from other countries yourself. What could be more obvious than bringing home the ingredients for the kitchens of the world with a suitable gift. Gifts for travelers also go through the stomach.
Portable coffee maker for the car
Do you travel a lot by car and do you prefer to drink coffee that you have brewed yourself, just the way you like it? Then you are guaranteed to be happy about this portable coffee machine for the car. This means you are independent of the expensive coffees in the rest stops and can also take a coffee break in the middle of nature.

Spices of the world - gift ideas for traveling connoisseurs
Who is on his Trips to Savor likes to try the kitchens of the world, he usually also likes to do it in his own kitchen. However, this is not always easy. The spices that are needed for exotic recipes are often missing. So what could be more natural than a collection of Spices from all over the world * to give? He will be glad about it. A tempting collection, for example, is this one:
Recipes from the world's cuisines
If you have the spices at home, however, that is usually not enough. After all, you also have to know what you can prepare from it. So what is better than Gift for pleasure travelers as cookbooks with recipes from all over the world. Check out our recipe board on Pinterest for recipes from the Kitchens of the world, There's a huge selection of exotic food. There is also a cookbook that I particularly like.
Perfect travel guide for connoisseurs
Do you know that? Are you traveling to a certain city or region and have no idea what specialties they eat there? That can't happen to you with these food guides. Here you will find typical dishes, you can take a look into the pots and you will find tips and recommendations for markets and restaurants. Pleasure travelers will definitely be happy about these travel guides.
Wines & drinks of the world - a travel gift for connoisseurs
Of course, a good meal goes hand in hand with a good wine. So what could be more fitting than giving a selection of wines from all over the world as a gift to someone who enjoys visiting wineries and wine regions? Not everyone likes wine. Perhaps your connoisseur is more interested in high-spirited drinks such as gin or whiskey? Or would he rather try his way through the world's teas? There are many possibilities. A selection of world drinks is definitely a good gift for pleasure travelers. I think this wine tasting set is a great idea:
Books as a gift idea for the trip
When we are not traveling, we let ourselves be transported to foreign countries. Of course there are travel guides for every country and region in the world. However, thrillers or novels transport us much better to other regions of the world, where these are described in detail. These thrillers, for example, which all take place in Provence in the south of France, do this very well. After reading it, I have the feeling that I already know many of the places that play a role in it. For example, I like the Provence thrillers by Cay Rademacher, whose first volume is this:
Kindle for travel guides - useful gifts for travelers
We like to take travel guides from home with us on our travels. We do not use electronic guides, especially when traveling to non-European countries. Because roaming charges can quickly explode there. To avoid this and to avoid having to carry heavy travel guides with us, we load the travel guides onto our Kindle reader at home and have them always available on the go. Even without access to WiFi.
It's best to start charging now some travel guides for the next trip * of the globetrotter on the reader. Then the Christmas surprise is guaranteed to succeed.
Travel gifts for traveling slow travelers
Slow Traveler are sustainable travelers. We are traveling slowly in the world. On walks. Cozy hikes. Boat tours. With horse-drawn carriages. Or other slow means of transportation. Good shoes and backpacks we have already recommended you as a travel gift.
Stainless steel drinking bottle - practical gifts for travelers
I also find a metal bottle very practical in which you can transport drinks for the day. Pour in water, add a few herbs, cucumber slices and lemon juice - the soft drink is ready for the day. Because the bottle is made of metal, it can be cleaned easily and reused for a long time. It couldn't be more sustainable, right? One of the practical gifts for travelers
SILICONE TRAVEL BOTTLES - for shampoo and conditioner when travelling
There's nothing more annoying when traveling than running out of shampoo or conditioner. This can easily happen. Because suitcases and backpacks are not always treated with care when travelling. It can happen that commercially available shampoo bottles or containers with other liquids are no longer tight. This can no longer happen to you with these silicone travel bottles. When you pour your bath liquids, shampoos, shower gels and liquid soaps into these bottles, your luggage and clothes are protected.
Lucky places in Baden-Baden
The spa town of Baden-Baden was added to the list of world cultural heritage in 2021 as one of the Great Spa Towns of Europe. The spa on the Oos is a destination for connoisseurs that can hardly be more beautiful. Surrounded by vineyards, the city not only offers good water, but also many ways to experience it. Do you like to go hiking? No problem, there are numerous ways to do this. Do you prefer to relax in the pool area? This is particularly luxurious in Baden-Baden. Do you like to try your luck at gambling? You can do that in the elegant casino. There is a lot more you can do in Baden-Baden. This guide by Bernhard Wagner shows you his insider tips:
Do you already know: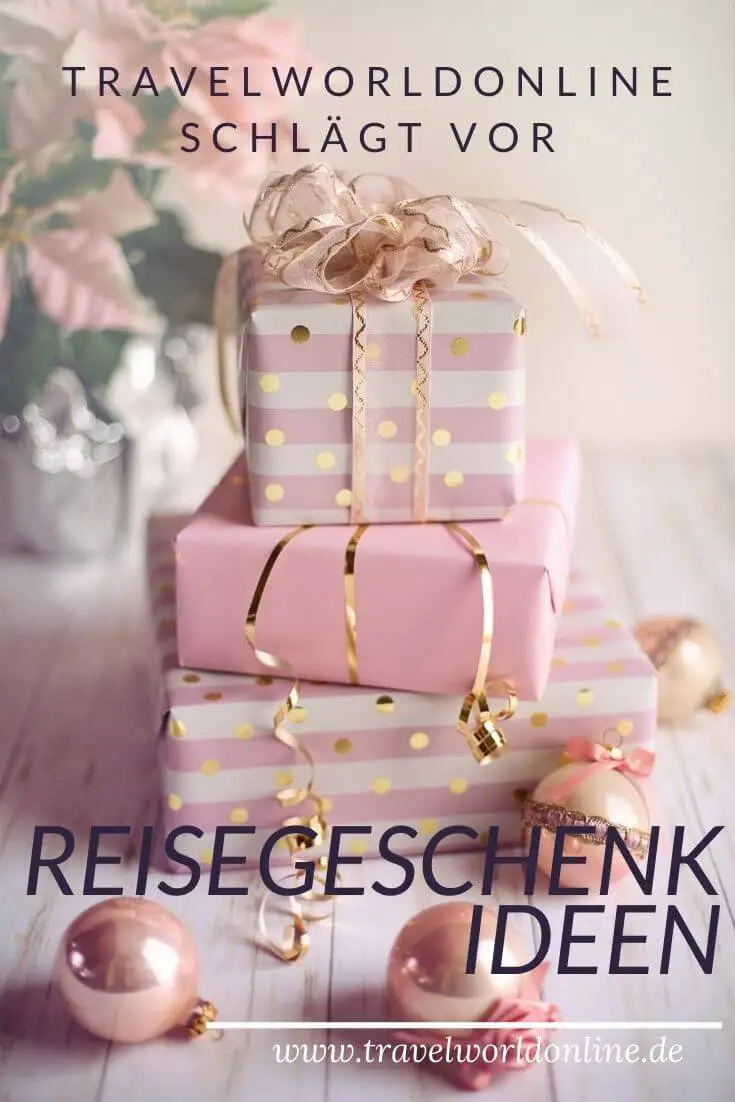 Source of Useful Gifts for Travelers - What are the Best Travel Gifts ?: Your own ideas.
Text useful gifts for travelers: © Copyright Monika Fuchs, TravelWorldOnline
Photos useful gifts for travelers © Copyright Amazon