Especially delicious in the Café Glashaus: try the Kurhaus Torte
We had already at our first trip to Binz in Mecklenburg-Vorpommern Heard of the Kurhaus cake that is served in the Café Glashaus in Binz, and of how good it should be. Only that we didn't find time to visit at the time. Since this time we are staying at the Travel Charme Kurhaus Binz and the cake was recommended to us again there, we were curious and we decided to try the cake instead of lunch.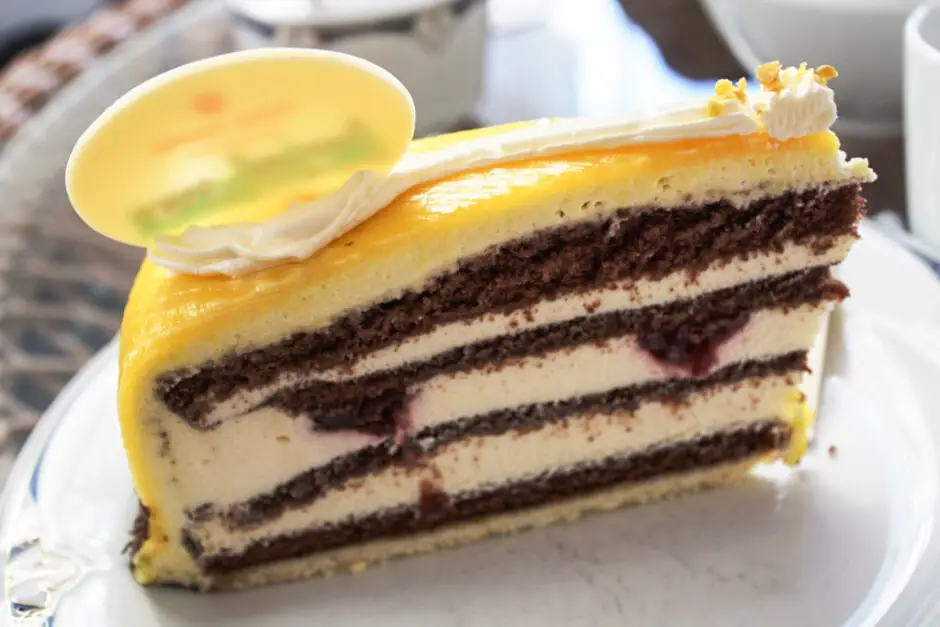 The cake is available at Café Glashaus
During our tour of the hotel the day before, we had already had a glimpse into the Café Glashaus from the gallery and were impressed by how inviting it looked with its glass roof and the front and back windows protecting it from the elements outside and bathe the two-storey room in lots of light and sun, the comfortable wicker furniture and the wrought-iron railing on the gallery, which bring summer and the sea into the building with their colors blue, yellow and green. A space that entices you to stay longer. So definitely try the Kurhaus cake!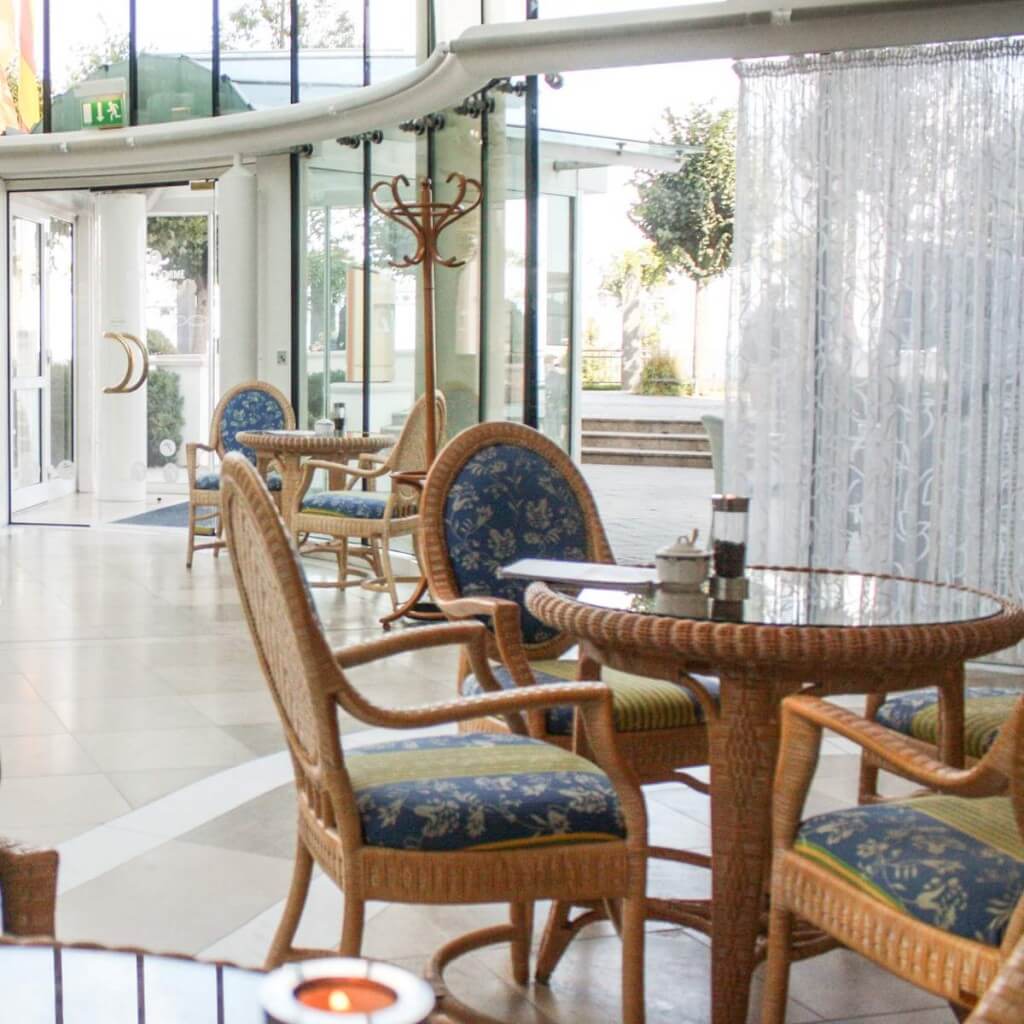 We are here at lunchtime, so we have the cafe for ourselves at first. But that changes quickly as soon as we sit down. More and more guests come in from the Binzer Promenade to be pampered here. The Café Glashaus connects the old Kurhaus and the former Kaiserhof, the neighboring building, which meanwhile also belongs to the Travel Charme Hotel Kurhaus Binz.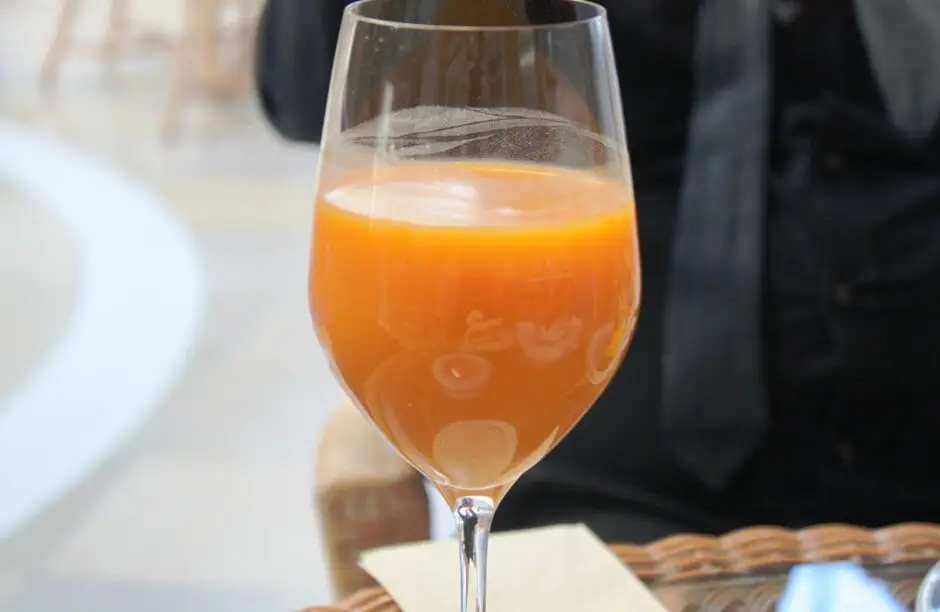 We each order a piece of cake. How often in that spa at the Baltic Sea, I drink a pot of Darjeeling tea. Petar is curious and tries a glass of sea buckthorn juice, which is served warm to him. The combination tastes wonderfully fresh, and that's what it looks like, doesn't it? Do not miss the Kurhaus cake and a visit to the Café Glashaus when you visit Binz. It is worth it! And not just because of the good cake.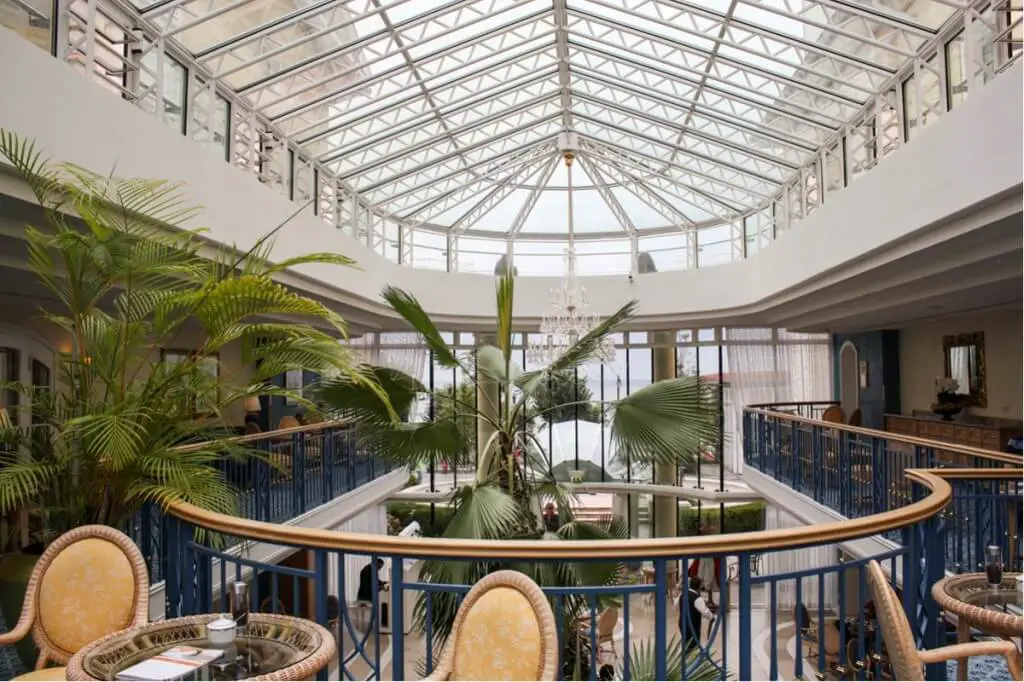 That must be in the suitcase for the Binz vacation on Rügen
---
Travel Arrangements:
Arrival by plane, train or bus
Arrival by plane, bus or train*. Lufthansa or Germanwings fly to Rostock. From there we continue with the rental car. It is possible to travel by train to Rügen train station.
Car Rentals:
Cheap car hire - book quickly and easily!
Camper Rentals:
Compare motorhome prices here. Or would you rather travel with us Rooftent or Tent?
Hotels in Binz:
Hotels in Binz * You can book through our partner booking.com at this link. The Travel Charme Kurhaus Binz * you can find under this link.
---
Do you already know:
Find more Enjoyment travel tips you find here. discover Gourmet hotels in Germany.
Source: own research on site
Text: © Copyright Monika Fuchs, TravelWorldOnline
Photos: © Copyright Monika Fuchs, TravelWorldOnline
Video: © Copyright Petar Fuchs, TravelWorldOnline
In the Kurhaus Binz: try Kurhaus Torte!