Vancouver's diverse dining scene
Vancouver's restaurants are definitely one thing: international, varied and, above all, good. There are only a few cities where the guest can dine in such a variety of ways as in the metropolis on Canada's west coast. In addition, Vancouver's restaurant scene attracts numerous award-winning chefs from around the world to show off their skills here. That's why it takes something special to make such a good name for yourself in this city within a few years as the Miku Restaurant. This was achieved by Seigo Nakamura, who moved to Canada with his company in 2008. His restaurant has already won several awards.
Aburi sushi with new-age sauces at Miku Restaurant
Already in Japan Seigo Nakamura specialized in Aburi Sushi. This form of shushi was developed in Japan about a century ago. These are sushi, which are fried with an open flame. This increases the natural taste of the fish. Seigo's recipe for success is based on serving traditional sushi new-age sauces using non-traditional ingredients that emphasize the unique taste of each species and immediately appeal to the European-trained palate. Soy and wasabi are not among the usual side dishes of semi-raw salmon on rice, aburi shrimp or fried chicken aburi. Instead, there is avocado sauce, mayonnaise from cod roe or jalapenos.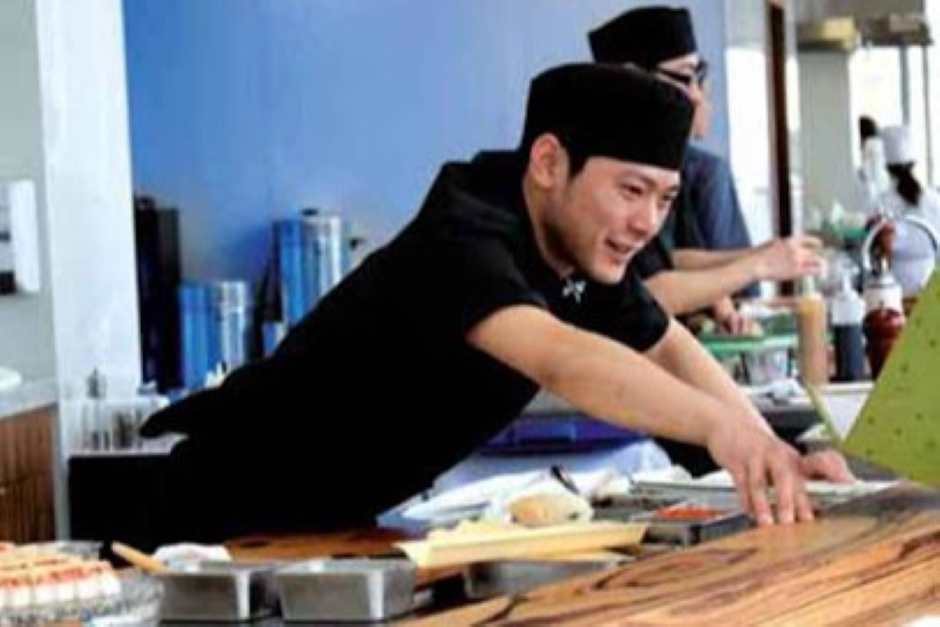 An extraordinary experience at Miku
If you go out to eat at Miku, you should prepare for extraordinary experiences. Where is the guest already shouting at a number of chefs while he is looking for the way to his table. However, a glance at the screaming cooks quickly shows the astonished European that they mean it friendly, because they smile at each guest warmly. On request, the friendly waiter quickly explains that this is a warm welcome - just Japanese style - and the sushi chefs welcome their guests. At Miku, which means "beautiful sky", there is a lively atmosphere that makes the restaurant experience something special.
The preparation of the sushi at Miku
The modern and minimalist decor of the restaurant matches this. There are no frills at all. Clear lines and colors define the room, which is very bright thanks to its glass walls that surround it on three sides. Monochrome leather chairs and tables with stone slabs are lined up along the glass front and in front of the long counter, behind which the sushi is prepared. The blue rear wall of the kitchen and the wooden front of the bar provide additional splashes of color.
Choosing the right food at Miku Restaurant
The sushi is cooked in an open kitchen, so that each guest has full insight into the kitchen scene. Along the long counter are prepared plates with rice snacks, on which thin slices of salmon, yellowtail, shrimp or even chicken meat are served, which are only waiting for their order. Only then they are freshly fried with a kind of Bunsen burner whose open fire heats meat or fish from above. The result is a slightly seared, extremely tender sushi that melts on the tongue.
Choosing the right food is difficult for many Europeans. The dishes are explained on the menu, but who knows what a Tosazu sauce or homemade ponzu or yuzu kosho is? As a rule, there is only one thing that can help: to have the friendly and extremely helpful waiter explain everything to you or to rely on the chef's recommendation. This puts together a daily selection of certain dishes that either consist solely of fish, contain seasonal ingredients or even only contain certain types of fish. There are also specially marked dishes on the menu that the chef himself recommends.
Miku Zen - A real treat for the palate
Petar and I were lucky enough to eat at the Miku Restaurant with an acquaintance who already knew the place very well and helped us with the selection. We chose Miku Zen, a selection of ten different seasonal sushi curated by the chef: four from the kitchen and six from the sushi bar. The constellation of salmon sushi on tofu, chicken aburi with one of Seigo's specialty sauces, Cod aburi on horseradish and mixed vegetables with sesame turned out to be a real treat for the palate. The sushi practically melted in your mouth, it was so tender. However, the dishes were ennobled by Petar, whom I had a hard time convincing to eat "raw" fish. He enjoyed Miku's food to the fullest and didn't let himself be disturbed by the chefs' happy farewell greeting, which they shouted at us when we left the restaurant - well full and very satisfied.
Note: The restaurant has moved from its original address on West Hastings Street to the Waterfront. However, they still serve a special kind of sushi. Now there's sushi with a view of Vancouver Harbor and Canada Place. Another reason to try this restaurant while in Vancouver! The Michelin Guide recommends it as the best brunch restaurant in town.
Miku restaurant
70-200 Granville Street
Granville Square (Canada Place Way and Howe Street)
Vancouver, BC
Canada V6C 1S4
p 604-568-3900
f 604-568-3903
Questions and answers:
How is Aburi Sushi different from traditional sushi?
Aburi sushi is seared with an open flame, which enhances the natural flavor of the fish. It is served with unique, non-traditional sauces at Miku Restaurant.
Can you order dishes other than sushi at Miku Restaurant?
Yes, there are other dishes on the menu such as chicken aburi or mixed vegetables with sesame.
Where does the name "Miku" come from and what does it mean?
"Miku" means "beautiful sky" in Japanese. However, it is not known exactly why the restaurant's founder, Seigo Nakamura, chose the name.
Has the Miku Restaurant closed in the meantime?
No, Miku Restaurant has just left its original address on West Hastings Street and relocated to Vancouver's waterfront. It still serves sushi of a special kind.
Is a reservation required at Miku Restaurant?
It is advisable to reserve in advance as the restaurant is very popular and is often fully booked.
Do you also know:
Source Miku Restaurant: Research on site. The trip was hosted by Tourism BC and the Canadian Tourism Commission. However, our opinion remains our own.
Text Miku Restaurant: © Copyright Monika Fuchs and TravelWorldOnline
Photos: © Copyright Monika Fuchs and TravelWorldOnline
Vancouver Miku Restaurant serves sushi for European palates