Amazing which figures of shells you in New Brunswick makes. On our tours, we like to take a look behind the scenes of local life, and we prefer to do so when we get to know people and experience for themselves how they live. It is not always easy, because such experiences often only come about through local contacts. During our trip through New Brunswick this summer, we were lucky enough to have a look over Marcia Poirier's shoulders while visiting her "Wild about Wampum" handicraft workshop. I was even able to lend a hand and try out how she makes her money. And that's extraordinary: Marcia provides Wampum. these are figures made of shells.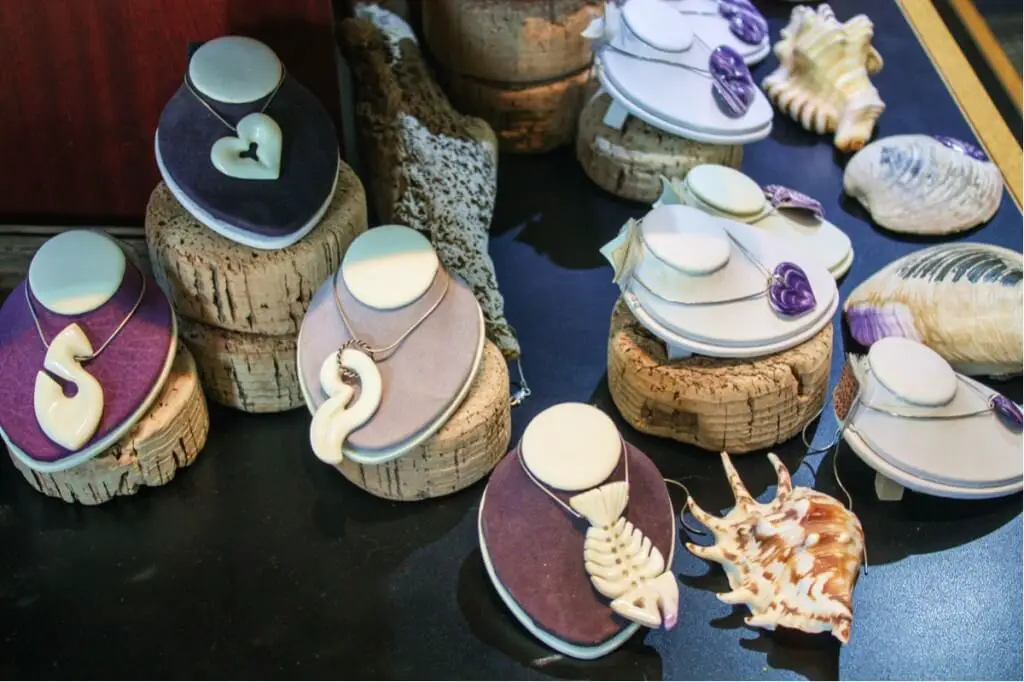 Figures made of shells
You are sure to ask yourself what is Wampum? Well, even the Wampanoag Indians on the east coast of North America made Wampum. On the one hand it served as jewelery, on the other hand it documented historical events, treaties between different Indian tribes and even peace treaties between Indians and European settlers. Wampum is made from shells. There are wampum belts and ribbons that are famous throughout North America because they symbolize peace arrangements of historical significance. Wampum can also be jewelry, and that's what Marcia and her husband Dave make in Cocagne, a small town on the 134 route. They make figures of shells, which are used as pendants, brooches or other jewelry.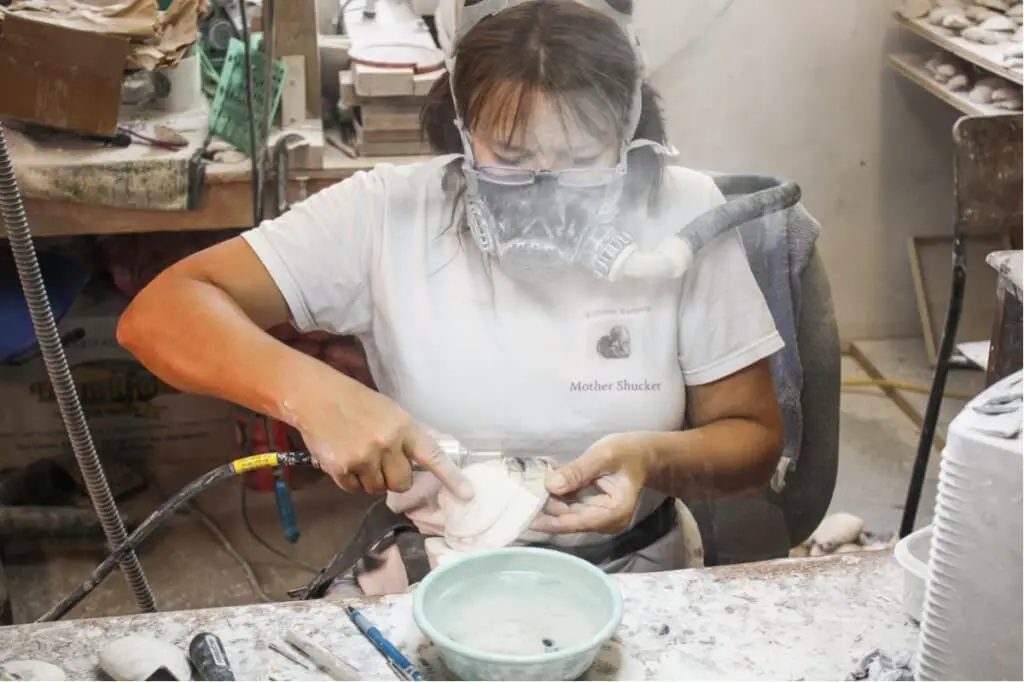 Self-taught craft
"How did you get the idea to make figures out of shells", I want to know from Marcia. She laughs and says: "It happened more or less by accident. As so often, I went for a walk on the beach and collected shells, the big, round ones - the Quahogs, as we call them. It struck me how beautiful their color is when the outer layers are scraped off. That didn't leave me alone. And so I started at home to remove these outer layers. "Dave interrupts them:" It took us two years to find the right tools to machine the conch shells. They are so hard that today we only use diamond cutters for them. Everything else is too weak. "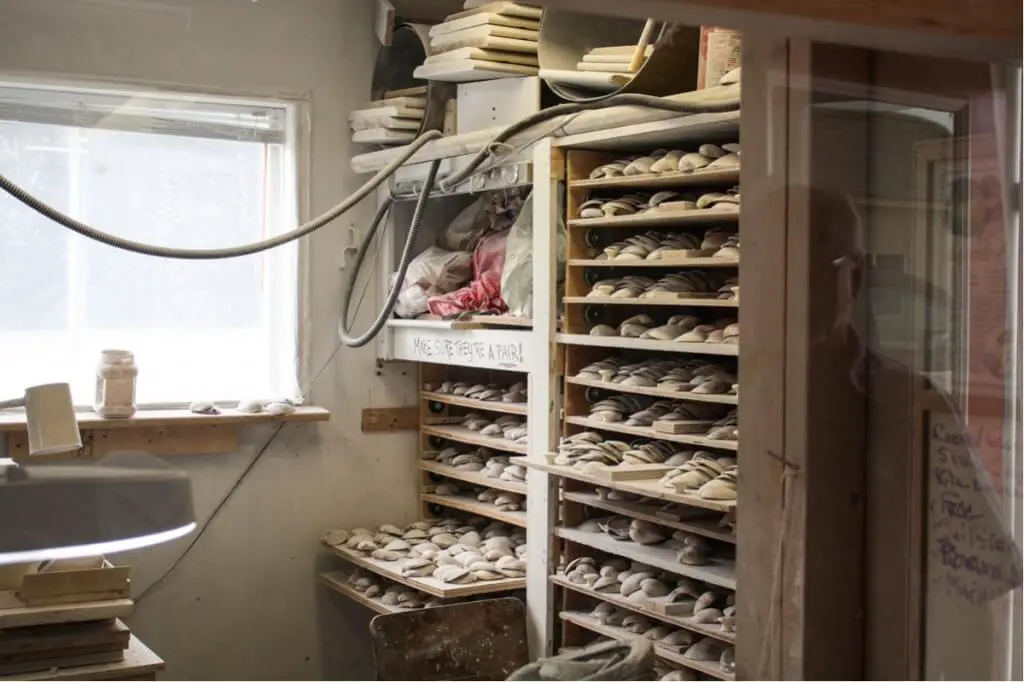 Where do the shells come from?
I ask her where she got the mountain of shells that are waiting to be processed in her workshop. "I get this from local fishermen. They charge a high price for this because they are actually much too big for the sale. Quahogs are harvested much smaller for consumption. Only then are they considered tasty, even though this is nonsense. But that's the way it is. You can only sell them in this size to me, and they charge a higher price. "She also tells how she was initially laughed at by the Indians in her neighborhood when her failed attempts led to nothing. Over time, however, she acquired friendship and respect, and she is now respected for maintaining her old craftsmanship.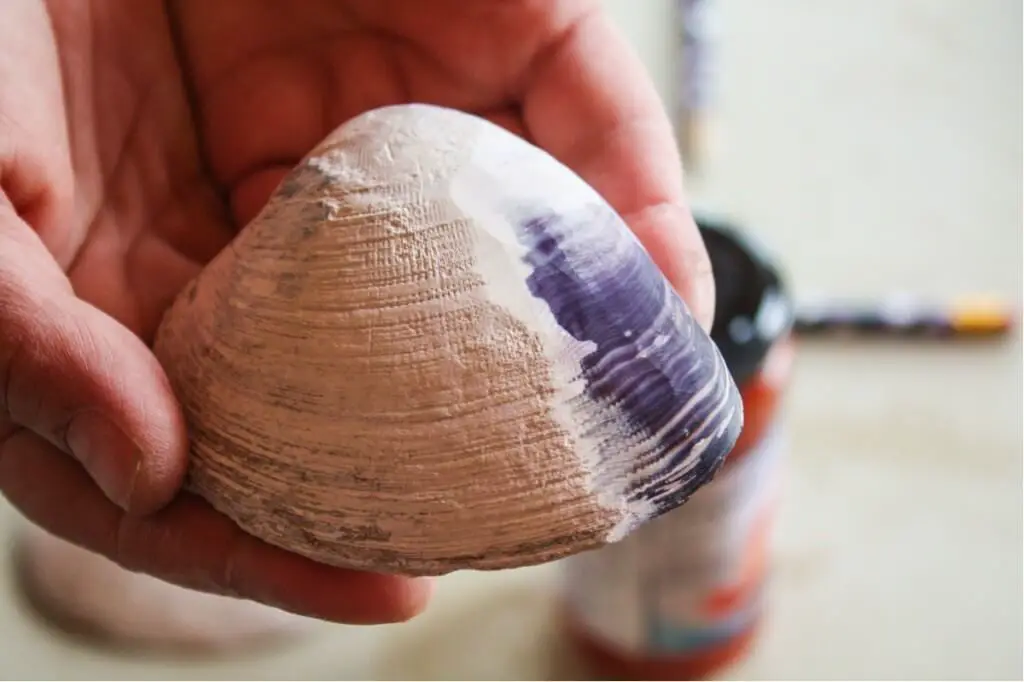 A dusty matter
Marcia leads us to her workshop and puts on her mouthguard. "It has to be, because the dust that is generated during the polishing process is so fine that it settles in the lungs." The lively little acadier looks like a construction worker in her working gown in front of the dusty grinding wheel on which she is pre-polished one of the shells. It grinds the outermost layers quickly and with practiced movements. Then she cuts out a heart-shaped piece and holds it out to me: "Now it's your turn. Now you make a jewelry pendant out of it. "I swallow and soon look exactly like her - with a mouthguard and apron:" You have to wear them, otherwise you won't get the fine dust out of your clothes. "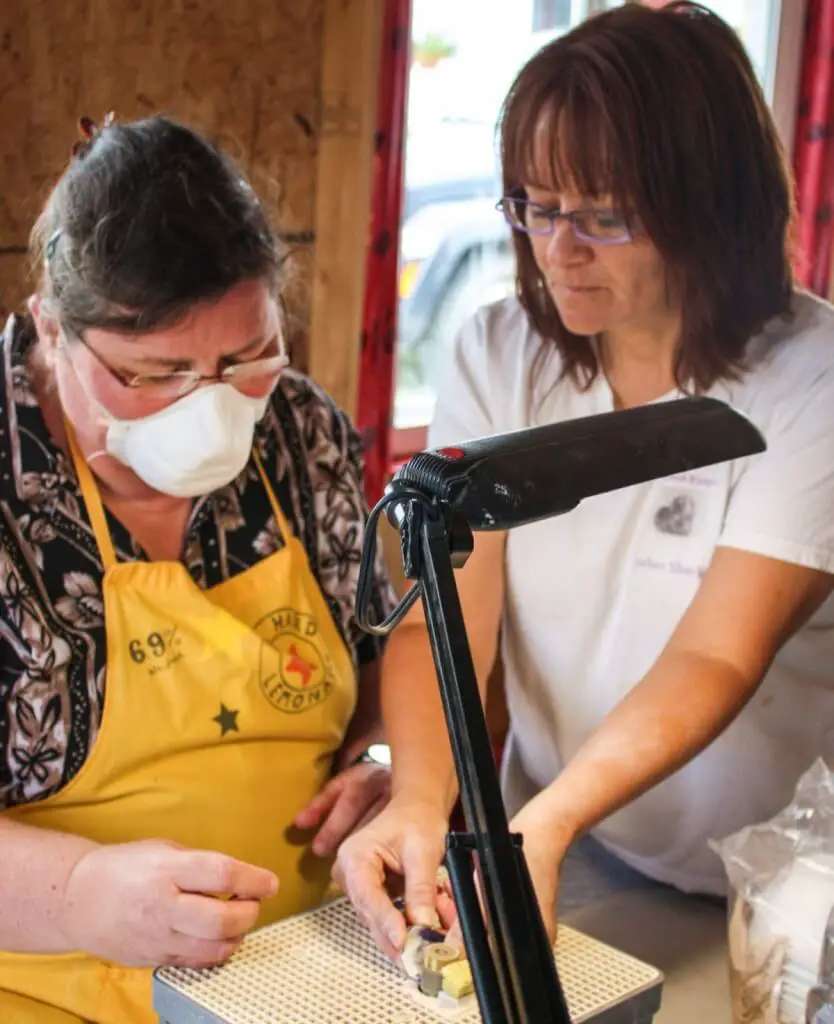 This is how an inconspicuous shell becomes a jewel
Marcia shows me how to work the shell piece and gives me finer and finer grinding wheels, and in fact: from a nondescript clam, under which I would never have suspected these intense colors on the beach, becomes a shiny pendant that feels wonderful under the fingers , When I wear the necklace around my neck today, its shape always tempts me to touch it and stroke it over it. A nice feeling, if, as I did in Cocagne, such a souvenir itself. Anyway, for me it's one of the most beautiful souvenirs I've brought home for a long time. Thank you, Marcia, for this great opportunity to take a look at your work!
And if you want to experience it yourself:
Wild about Wampum
4679 route 134
Cocagne, New Brunswick
Canada
Tel. 506-576-5545
By the way, mussels do not only play a role in New Brunswick. On Sanibel Island in Florida It's all about the shells too. Or take a look Prince Edward Island, From there come particularly delicious tasting mussels.
---
Travel Arrangements:
Check in:
Book yours here Arrival by plane, bus or train*. Air Canada, Lufthansa, Condor and Icelandair fly from Germany to various airports in eastern Canada.
Car Rentals:
Cheap car hire - book quickly and easily!
Hotels:
Hotels in New Brunswick * You can book through our partner booking.com.
---
Do you already know:
Source of figures from shells made in New Brunswick: own research on site. We thank Tourism New Brunswick for the friendly invitation to this trip. Our opinion remains our own.
Text: © Copyright Monika Fuchs, TravelWorldOnline
Photos: © Copyright Monika Fuchs, TravelWorldOnline
Figures of shells made in New Brunswick