Celebrate New Year's Eve with Aischgründer Carp
Why not celebrate New Year's Eve with Aischgründer carp? We were in for a few days Bad Windsheim, Among other things, we visited the carp museum in Neustadt an der Aisch. In an old building on the city wall, the visitor learns everything there is to know about the Aischgründer carp - and that's a lot. It's all about carp breeding and what to look for. It will be shown with which tools the carps in the ponds are cared for. And one learns that carp breeding in the valley of the Aisch already interested Bavarian kings. We learned everything about the life cycle of a carp, and admired the table culture, which plays a major role in the festive carp feast. The carp definitely belongs to a traditional New Year's Eve menu.
The tradition of the Aischgründer carp
This tradition is also maintained in Bad Windsheimer Aischgrund. The Aischtal is the largest carp breeding area in Germany. There is no place where you can taste this fish better than in the "tavern am Freilandmuseum"In Bad Windsheim. Karl Rienecker, the owner of the inn, knows how to prepare carp in a traditional way, but also in an extraordinary way. Carp baked or blue, carp pans or as carp fillet on chilli sauerkraut - these are just some of the recipes, after which he serves the tasty fish to his guests. They like to enjoy their 3 aisle carp menu.
Already in the Middle Ages Cistercian monks put on numerous Krapfenweiher in the Franconian Aischgrund. Especially during Lent the fish played an important role, and the demand was accordingly large. The waters of the Aisch supplied sufficient water for the carp ponds, of which more than 2300 are present to date for the breeding of fish in the entire valley of the Aisch.
Aischgründer carp fresh on the table
Karl Rienecker owns three of these carp ponds with room for up to 200 carp. Right next to the Aisch, very close to his restaurant. Fresh must be the water and important is a permeable sandy soil. Otherwise the fish tastes moldy. "I feed them on home-grown wheat and switch to barley and rye at the end of the summer," says Rienecker. "So they do not get too fat. Rather, they mature to tasty fish. "Up to three pounds bring his carp on the scales, if they fished after three years from the water and walk in the pan or pot. And only in the months with "r" - ie from September to April.
In Bad Windsheim, where over thirty brewers once made the popular beerOf course, the fish has to match the beer. And so there is to carp sausages and carp on Chillikraut like a dark museum beer - self-brewed, of course, in the Bad Windsheim Open Air Museum. Rienecker carp dishes are now known far beyond the village. Every year in autumn many visitors come to the "Aischgründer Carp-Schmeckerwochen", which takes place in September and October. There is even one Aischgründer carp queen, You can also celebrate New Year's Eve with Aischgründer carp
New Year's Eve celebrate at home
If you can not do it, or if you would like to cook your carp yourself on New Year's Eve, then these two recipes are certainly a good suggestion. Celebrating New Year's Eve with Aischgründer Karpfen is easy.
Aischgründer carp baked
Ingredients:
A gutted and divided along the ridge carp and salt, pepper, flour, semolina, clarified butter
Preparation:
Season the halves of the carp with salt and pepper, allow to infuse, toss in the mixture of flour and semolina.
Heat frying with buttered lard to 180 degrees, bake carp halves for approx. 10 minutes.
As a side dish you can order potato salad and mixed salads.
Or do you like to celebrate New Year's Eve with Aischgründer carp according to this recipe?
Aischgründer carp blue
Ingredients:
1 / 2 Aish Founder Carp per Person, 3 Liter Water, 1 / 4 Liter Vinegar 1 Tl. Salt, 2 EAT Sugar, 5 White Peppercorns, 10 Juniper Berries, 1 / 2 Tl. Mustard Seeds, 2 Laurel Leaves, 5 Cloves, 1 / 2 Pound of onions (cut into rings)
Preparation:
Place the water, 1 / 8 liter of vinegar and all the ingredients in a large saucepan and cook until the onions are glassy but not too soft. Fill carp halves with 1 / 8 liters of boiling vinegar on the skin side, let rest briefly. Then place in the onionsoud and no longer boil, but only let simmer at reduced heat. Serve garnished with lemon slices and onions after about 20 minutes.
As a side dish you can order boiled potatoes and salads.
New Year's Eve celebrates in hotels where Aischgründer carp are on the menu
Here we present a selection of hotels where Aischgründer carp are on the menu. You can reserve a room by clicking on the name of the hotel / inn:
Country Hotel 3 Crowns *:
Str. 8
91325 Adelsdorf
Restaurant: Mo - So ,, 11.30 - 14 clock and 17.30 - 22 clock
Landgasthof Zum Schwarzen Adler *
Ulsenheim 97
91478 market Nordheim
Restaurant: Tue, Thu-Sat 11.30 - 13.30 clock and 17.30 - 21.30 clock, So 11 - 14 clock and 17 - 20 clock
Landgasthof Goldener Stern *
Main Street 2
90619 Trautskirchen
Restaurant: Fri - Wed
Fränkischer Landgasthof Weichlein *
Weingartsgreuth 20
96193 Wachenroth
Restaurant: Tue - DO 17.30 - 23 o'clock, Fri + Sat 11.30 - 14 o'clock 18 - 22 o'clock, Su 11.30 - 14 o'clock 17.30 - 21 o'clock
Gasthof Brennerei-Stuben *
Mountain Road 21
91489 Wilhelmsdorf
Restaurant: Di- So 9 - 24 clock, hot kitchen until 22 clock
Conclusion: With Aischgründer carp can celebrate New Year's Eve perfectly
Whether you prefer to organize your New Year's Eve party at home, celebrating a good New Year's Eve dinner or a short trip over the turn of the year, you can combine that perfectly with an Aischgründer carp. Of course, this tastes not only on New Year's Eve. Carp is on the menu in the Aisch region between September and April. During the summer months, however, you are looking in vain for the restaurants in Franconia.
More ideas for short breaks at the beginning of the year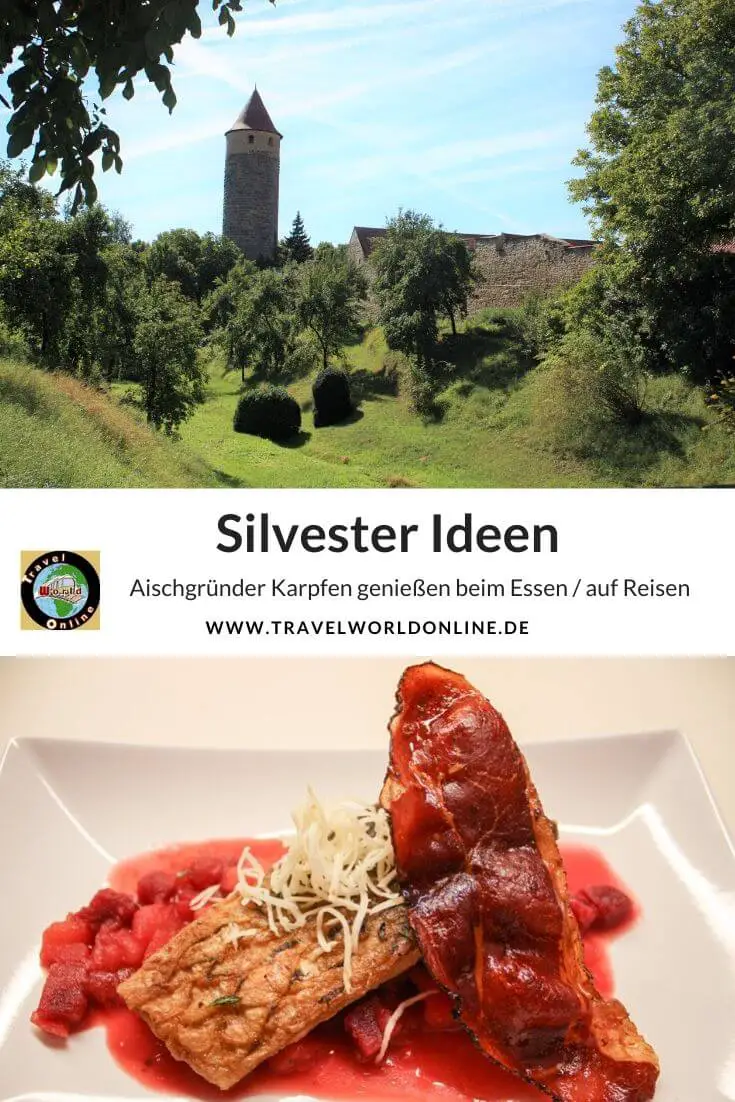 Quelle - New Year's Eve celebrate with Aischgründer carp: own research on site with the kind support of the spa administration Bad Windsheim
Text: © Copyright Monika Fuchs, TravelWorldOnline
Photos: © Copyright Monika Fuchs, TravelWorldOnline
Monika Fuchs and Petar Fuchs are the publishers of the Trips to Savor and Slow Travel Blog TravelWorldOnline Traveler , They have been publishing this blog since 2005. TravelWorldOnline is online since 2001.
Their topics are
Monika Fuchs is author and photographer of the blog and occasionally writes as a freelance journalist for DIE ZEIT Online and travel magazines like 360 ° Medien, TRIVAGO, etc. She also writes travel guides about destinations and Slow Travel experiences all over the world. Petar Fuchs produces the videos on this blog as well as on YouTube.
Find more Information about Monika and Petar Fuchs.