For three days we were late summer on the track in Kleinwalsertal. This time we formed a travel blog shared apartment together with our fellow bloggers Elena von Creative Lena, Christina of City Sea Country and fairy and Lara from Fairy is my name. At the invitation of Kleinwalsertal Tourismus in Austria we were in the apartment Talgrün in the Berghaus Anna Lisa in Mittelberg.
Lots of space for our travel blogger shared flat
Unlike our previous ventures, we with Elena and Christina on our Houseboat tours on the Mayenne and the Saone in France In the narrowest space, we had the Anna Lisa Platz at our disposal.
We were able to share four rooms with bathrooms. There was also a sauna with shower and a lounge with sitting area, dining table, cooking island and kitchen. Better than at home. 240 square meters, which we shared in sixth. Ideal for what we had in Kleinwalsertal ago.
That's why the Berghaus Anna Lisa in Kleinwalsertal was perfect for our travel blogger apartment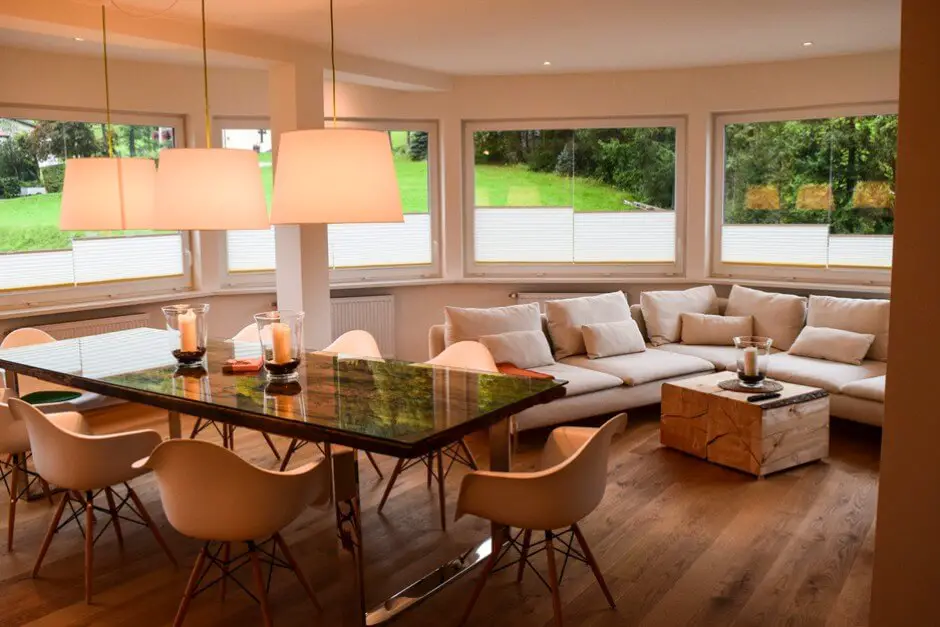 ---
You can book an apartment in Berghaus Anna Lisa here:
Mountain house Anna Lisa
Walserstrasse 309
6993 Mittelberg
Austria
further information, availability inquiry and online booking *
---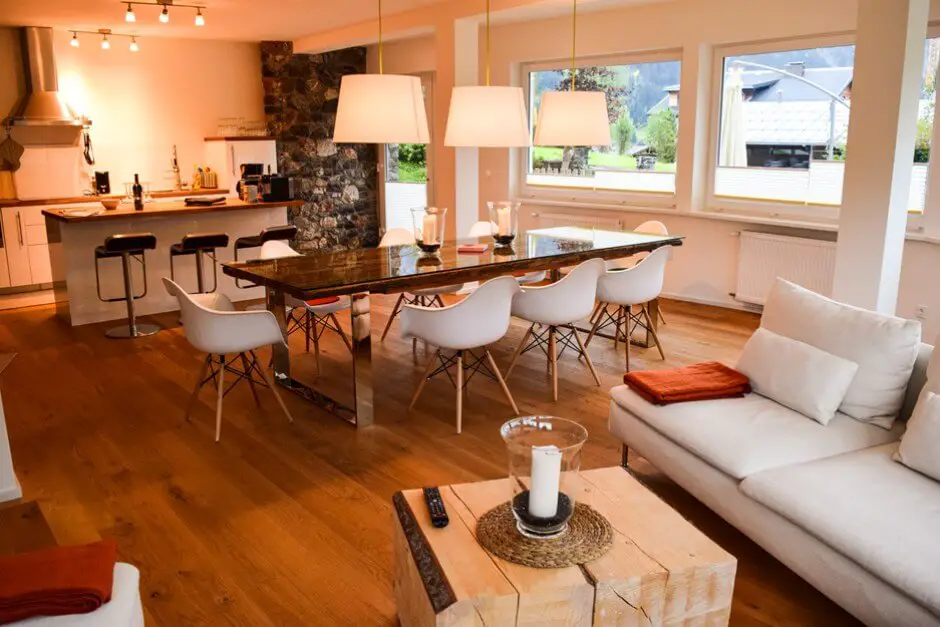 location
The apartment is suitable for families or groups like ours. It is located in the Kleinwalsertal on the outskirts of Mittelberg and is therefore the ideal starting point to explore the valley and the Farms in the Kleinwalsertal to explore. It offers space for 12 people. The Walserbus, which we as guests of the Berghaus Anna Lisa can use free of charge, stops just steps from our front door. It also takes us to the last corners of the valley. Since we had come by car, we appreciated the free parking spaces in front of the house. Parking costs money almost everywhere else in the valley.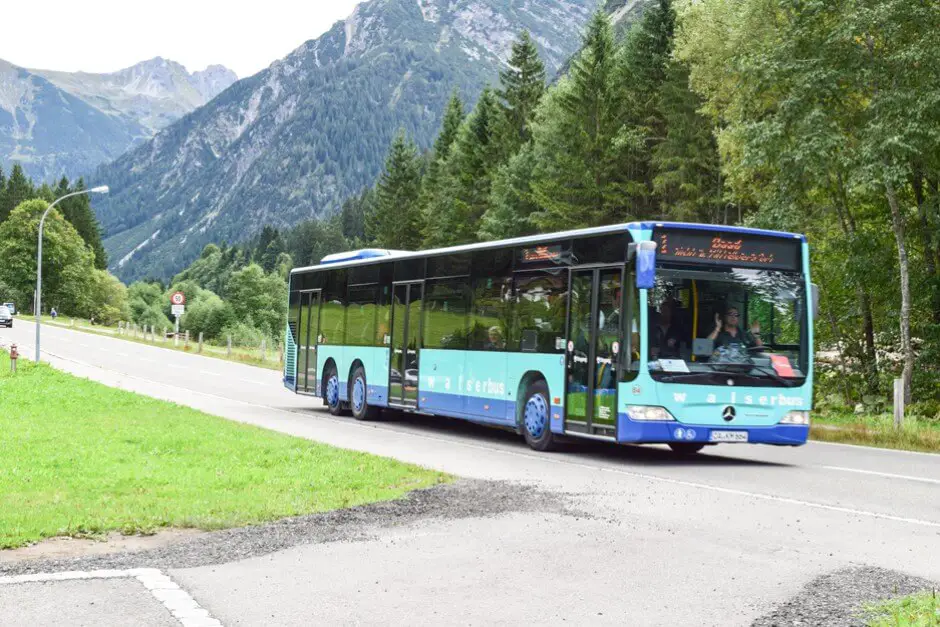 cuisine
What we enjoyed most was the kitchen where we prepared our breakfast. One evening we dared to cook Kleinwalsertaler "Chääs Chnöpfle". They are typical of that Kleinwalsertal food. That is the Vorarlberg Variant of the Kässpatzen. With the support of Elmar and Caro von Kleinwalsertal Tourismus, we made the "Chnöpfle" ourselves and layered it with cheeses from the alpine pastures in the valley. The cheese melted into the drops of dough. Onion rings fried in butter were heaped on top. The specialty from the Kleinwalsertal was ready from the shared kitchen. Homemade! And it was delicious on top of that.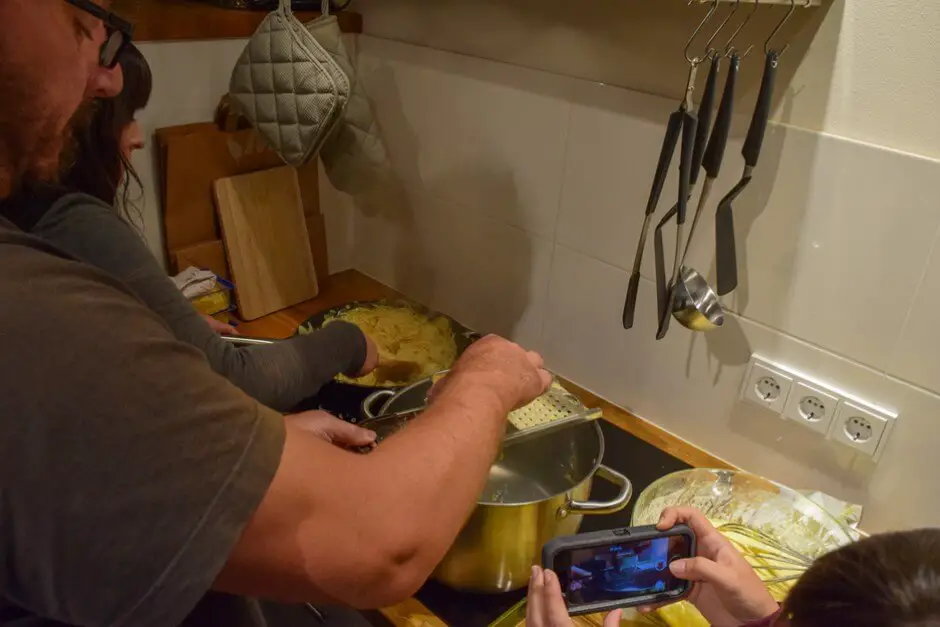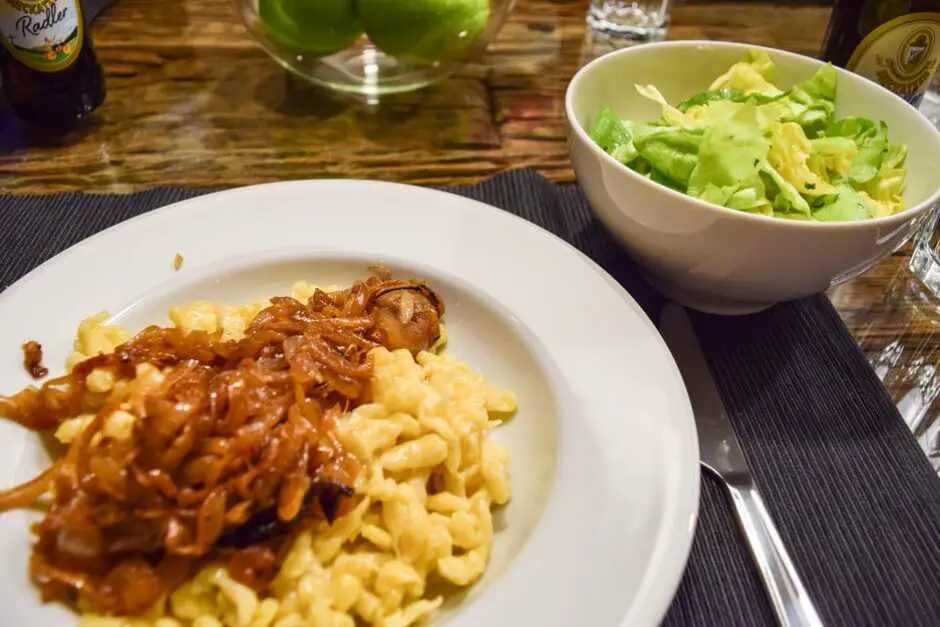 Everyday life in the travel blogger flat share
Each of us could choose topics to report on during our travel blogger flat share. That meant that we only met for breakfast and dinner. During the day we dealt with topics and activities for which our apartment was the meeting point and starting point.
What we are in this time Kleinwalsertal we will tell you elsewhere. Our apartment was the largest in the Berghaus Anna Lisa. There are two more holiday apartments, which are smaller but similarly equipped. This means that families and friends can also find accommodation here for holidays in the mountains in summer or for skiing in winter. We felt very comfortable there and can recommend it to others.
This is what you need for a trip to Kleinwalsertal Vorarlberg
What our travel bloggers colleagues and we experienced during our stay in the Kleinwalsertal, you can read here:
Wanderherbst Walser Originals, how they are and how they live
Why hiking with the Walsers is really worthwhile
Little fairy in the Kleinwalsertal
Barefoot hiking - herbal hike
Restaurants in the Kleinwalsertal
Our road trip through the Kleinwalsertal
---
Travel Arrangements
Parking at the airport
Here you can reserve your parking space at the airport.
Arrival by plane, car, bus and train

Arrival by plane, bus or train*. The nearest airport is Munich. Arrival by train is also possible. The train goes to Oberstdorf. From there, bus #1 will take you to Kleinwalsertal.
Car Rentals:
Cheap car hire - book quickly and easily!
Rent Motorhomes:
Book Motorhomes in Europe here! *  Or do you like to travel with him roof tent on the car? At Alpencamping Haller, Köpfleweg 10a, 6991 Riezlern, Austria, you will find a campsite. With our Motorhome packing list You'll never forget anything again.
Accommodations in the region:
Accommodation for online booking is also available in Kleinwalsertal* via Booking.com.
---
Do you already know
Source: On-site research for Berghaus Anna Lisa in Kleinwalsertal. We would like to thank Kleinwalsertal Tourismus and Berghaus Anna Lisa for inviting us to this trip. Our opinion remains our own.
Text: © Copyright Monika Fuchs, TravelWorldOnline
Photos: © Copyright Monika Fuchs, TravelWorldOnline
Video: © Copyright Petar Fuchs, TravelWorldOnline
Berghaus Anna Lisa in Kleinwalsertal for a travel blogger flat share