Buy African spices
Here you can buy African spices that you need for specialties from all over the world. We brought recipes for it with us from our travels through Africa.
African spices list
Chakalakka spice
With this African spice you can easily prepare a dish that originated in the mining settlements around Johannesburg. Chakalakka is a type of stew made with all kinds of vegetables. A Recepies that's what there is here.
Chakalakka is an African spice that can also be used to season grilled meat and vegetables. You can also use it to prepare dips. The mixture contains onion, paprika, chilli, tomatoes, coriander, turmeric, garlic, smoked paprika (paprika, smoke), carrots, ginger, fenugreek seeds, parsley, leek, cumin, pepper, parsnips, celery, cinnamon, allspice, cardamom, chilies , Cloves, caraway seeds. Sea salt and cane sugar are also included.
Cumin is an African spice
Cumin is also known as cumin or cumin. It is an African spice that is popular in North African cuisine. It was used thousands of years ago in the Middle East and in Egypt 3000 to 4000 years ago. This is shown by finds from excavations. Today, cumin is mainly grown in Iran, India, Indonesia and China. But there are also cultivation areas in Mediterranean countries such as Algeria and Tunisia. It can also be found on the Sinai Peninsula, Jordan, Israel and Armenia.
The African spice plays a role especially in the cuisine of North Africa. However, we discovered it in a recipe from Nigeria. It's one of the spices in this one Stew from Nigeria. This gives it a taste that is particularly spicy. It is also popular as a spice in the cuisine of Greece and Turkey, as well as in India, Brazil and Mexico.
bobotie
A dish from the cuisine of the Cape Malays in and around Cape Town that is very tasty bobotie. This recipe probably comes from the Spice Islands area. We can also prepare it for you. It's one of our favorite South African dishes. Of course you can prepare bobotie according to the recipe. However, it is quicker with this ready meal.
This gives your food a flavor that is spicy. This fits very well Mango chutney *. This is also part of a bobotie.
The bobotie spice Order here*.
Safran
Saffron is considered valuable. No wonder! The African spice consists of the flower pens of a type of crocus that blooms in autumn. Then the pickers go to the fields and collect the threads. Each crocus flower only has three of them. For one kilogram of saffron you need 150000 to 200000 flowers. A picker only manages 60 to 80 grams per day. That is why saffron is also known as red gold.
It is used as a spice in the cuisine of the Mediterranean, but also in the Orient. For example, it is one of the spice ingredients for Shakshuka. This is a dish from the cuisine of North Africa. From there it spread through Egypt to Israel. It is now almost a national dish there.
With these spices you can easily prepare the recipes from Africa that we present in our recipe collection from the regions of the world. Buying African spices has never been easier. There will be more recipes. It is therefore worth stopping by here again and again and discovering new recipes and spices.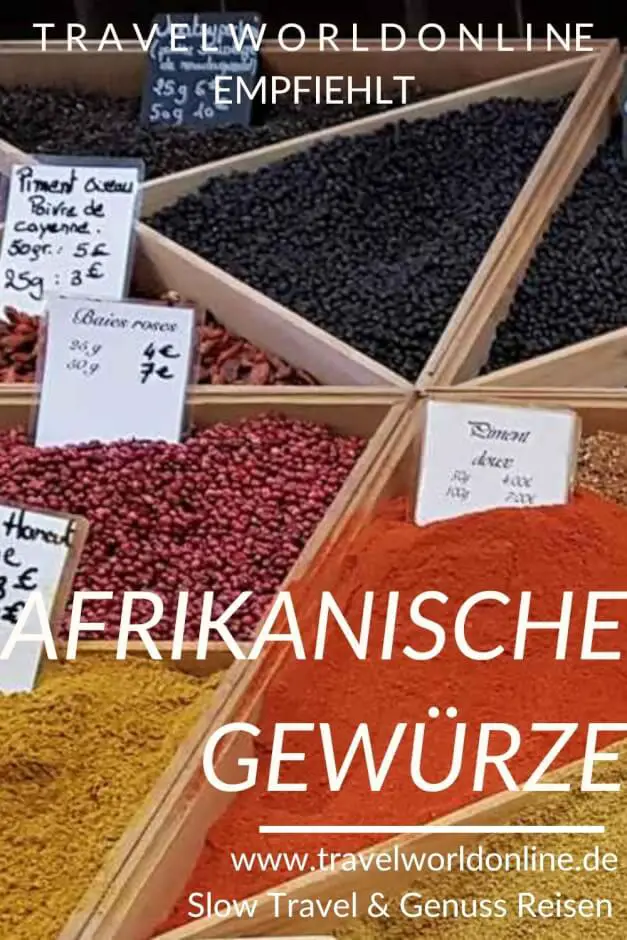 Do you already know:
Source Spices Africa: own research
Text African spices: (c) Copyright Monika Fuchs, TravelWorldOnline. All rights reserved.
Photos African spices: (c) Copyright Monika Fuchs, TravelWorldOnline. All rights reserved.