Cevapcici - a story from the Balkans
Grilling cevapcici is more than just a grill classic; it is a piece of culture and history. Originally from the Balkans, they have found their way into many European cuisines. The history of Cevapcici is closely linked to Ottoman cuisine. When the Ottomans conquered the Balkans, they brought their culinary traditions with them. This resulted in a fusion of oriental and Balkan flavors. Cevapcici are a perfect example of this. They combine oriental spices with the Balkan love of grilling. Grilling cevapcici on the gas grill always reminds us of our trips to Slovenia, Croatia or Montenegro.
The word "Cevapcici" comes from Serbo-Croatian and means something like "small sausages". In fact, they are not sausages in the classic sense. They are made from a mixture of beef, lamb or pork. The meat is finely chopped and mixed with onions, garlic and spices. Then you form small rolls or balls and place them on the grill.
When grilling, the right temperature and duration are important. The grill shouldn't be too hot, otherwise the cevapcici will burn on the outside while they are still raw on the inside. A medium heat is ideal. The grilling time varies depending on the thickness and type of meat. On average they take around 7 to 10 minutes.
This is how Cevapcici grills on the gas grill - one of the gas grill recipes from the Balkans
Many recipes for the Balkans come from the Balkans Gas grill. Grilling Cevapcici on the gas grill is part of it. The grilled meat rolls made from minced lamb or beef can be found throughout south-eastern Europe. They are considered a national dish in countries such as Croatia, Serbia, Bosnia and Herzegovina, North Macedonia and Albania. You can also find them on menus in Romania and Bulgaria, for example. The meatballs are said to originally come from Persia. From there, the Ottomans brought them to the Baltic States.
There is hardly a dish that is as typical for grilled food as Cevapcici. With us they often come to the grill in summer. You can buy Cevapcici ready-fried or Season your minced meat rolls with original spices from Bosnia *. These are usually frozen and only need to be fried briefly on the grill. A fresh salad and a garlic sauce. And the grill dish is ready. That fits perfectly Chimichurri sauce from Argentina. However, they are even better if you try grilling cevapcici yourself.
Grilling cevapcici is easy. It is one of the gas grill recipes that is good for beginners. This is what you need:
Grill the ingredients for the Cevapcici on the gas grill
minced lamb, beef or pork
Salt
pepper
red bell pepper powder
onions
Finely chopped garlic
Grilling cevapcici on the gas grill
First, you should make sure your gas grill is clean and preheated to a medium to high temperature.
Next, prepare the minced meat for the cevapcici by seasoning it with onions, garlic, paprika powder, salt and pepper. Form small, elongated rolls from the mixture - these are your cevapcici, which you just have to grill.
When the grill is ready, place the cevapcici on the grill for about 10-12 minutes until well cooked. Make sure to turn them regularly so that they brown nicely on all sides.
When you're done grilling the cevapcici, remove them from the grill and serve them hot with side dishes such as salad, ajvar and flatbread. A garlic dip also tastes good with it. Bon appetit!
Variations of the recipe
If you're feeling a little more adventurous when it comes to grilling, you can also try the following variations of the recipe. However, these recipes no longer have anything to do with the original cevapcici from the Balkans.
Poultry cevapcici: If you like something a little lighter, try cevapcici made from chicken or turkey. The preparation is similar to the classic recipe, except that you use poultry meat.
Vegetarian cevapcici: Yes, you heard that right. Cevapcici don't always have to be made of meat. A vegetarian version consists of chickpeas, onions and spices. Form this mixture into small rolls and then grill them.
Fish cevapcici: There is also a maritime version for all fish lovers. Types of fish such as salmon or tuna are particularly suitable for this. Simply chop the fish, mix it with onions and spices and grill.
Exotic Cevapcici: If you like something a little more unusual, you can also use exotic spices such as curry or chili. Grilling cevapcici takes on a very special touch.
Grilling cevapcici on the gas grill – matching drinks and side dishes
Grilled cevapcici taste particularly good with these drinks and side dishes:
Drinks that go well with grilling Cevapcici:
Beer: A cool pilsner or wheat beer goes perfectly with grilled cevapcici. It refreshes and emphasizes the savory taste of the meat.
wine: If you're more of a wine type, go for a light white wine. It harmonizes well with the spices and has a pleasant acidity.
Water with lemon: For a non-alcoholic version, a glass of water with a squeeze of lemon is ideal. It quenches thirst and is a good complement to the spicy meat.
Grill cevapcici on the gas grill with suitable side dishes:
Ajvar: This pepper sauce is the classic accompaniment to cevapcici. It is spicy but not too hot and complements grilled cevapcici perfectly.
flatbread: Fresh from the grill or oven, flatbread is the ideal base for your cevapcici. It absorbs the juices and sauces well. This is how cevapcici is traditionally grilled on a gas grill in the Balkans.
Fresh salad: A simple salad of tomatoes, cucumbers and onions brings freshness to the plate. A drizzle of olive oil and a little salt is enough as a dressing.
potato salad: If you like something heartier, potato salad is a good choice. It's filling and goes well with meat.
Rice: For those who like things simple, rice is the answer. It absorbs the sauces well and is a neutral side dish when grilling cevapcici.
No matter whether you choose beer or water, ajvar or potato salad, the important thing is that you like it. Grilling cevapcici on the gas grill is definitely versatile. The pieces of meat can be combined with many different drinks and side dishes.
Follow us for more Grilling tips on Pinterest.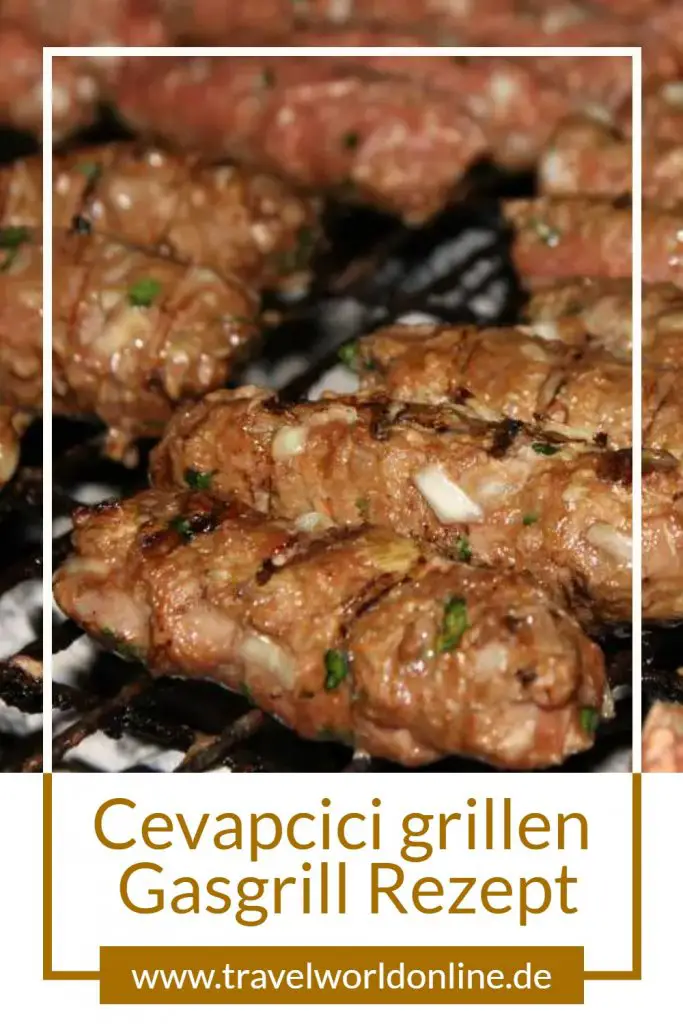 Do you also know:
Grilling source Cevapcici on the gas grill: own recipe.
Text Cevapcici on the gas grill: © Copyright Monika Fuchs and TravelWorldOnline
Photos: © Copyright Pixabay, thoha
Grilling cevapcici on the gas grill