Ceviche is a Peruvian seafood dish that combines lime juice, cilantro, onion, and garlic in a flavorful sauce that complements seafood perfectly. It is considered the national dish in Peru. There you can eat it everywhere in special restaurants, the cevicherias. We have tasted ceviche for the first time on our food tour of Miami. Many South Americans live there and serve the dishes of their homeland in restaurants. With this original ceviche recipe, you can easily prepare the Peruvian fish dish at home.
Original ceviche recipe with lime and coriander sauce
Serves 2 people:
300 g white fish (

Zander, trout, sole, sea bream, or sea bass

Monkfish)

half a teaspoon of salt

about 200 ml limes

half a teaspoon of diced ginger

a quarter of a chilli deseeded 

half a red onion

half a teaspoon of coriander leaves

a boiled sweet potato

50 g boiled corn kernels

3 tbsp leche de tigre per dish
Ingredients for the Leche de Tigre, the lime-cilantro sauce for the ceviche recipe:
50 g leftover fish 

half a teaspoon of chopped ginger

half a teaspoon minced garlic

a quarter of a chilli without seeds

a quarter tablespoon coriander

a tablespoon of chopped celery

two tablespoons of water

a quarter red onion

approx. 200 ml lime juice

Salt to taste
Looking for more ceviche recipes? Then check out these cookbooks.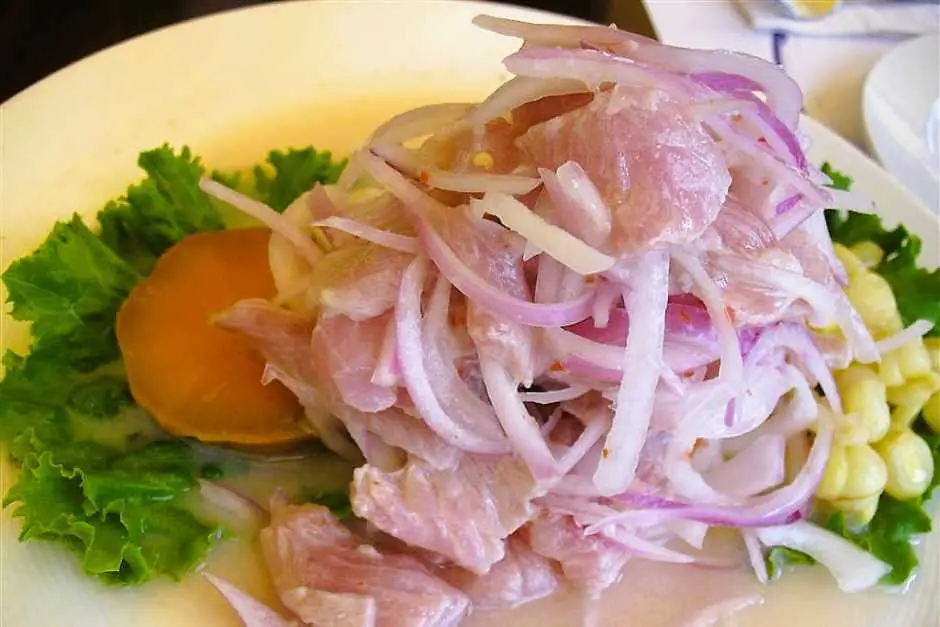 Choose your fish for the ceviche recipe
It is important that you use fresh fish. Fish from the freezer doesn't work. White fish from the region tastes best. If you don't live by the sea, you can also use trout or other white river fish. The ceviche recipe only works well with fresh fish.
Next, boil the sweet potato and let it cool. Then you cut it into slices.
Now chop the chili, ginger and coriander into small pieces. Cut the onion into wafer-thin slices. If you don't want them to be too spicy, you can salt them and then wash them off. This makes them taste milder.
Squeeze about five limes.
Wash the fish thoroughly and cut it into bite-sized cubes. Place the fish in a bowl and sprinkle with salt. Mix it up and let it steep for about a minute. Then pour the lime juice over the fish and leave it in the fridge for five minutes.
Place the fish cubes on plates and pour three tablespoons of leche de tigre (recipe below) over them. On top you give the chopped chili, ginger and coriander. You can serve the sweet potato slices with this original ceviche recipe.
Preparation of the leche de tigre:
For the lime and coriander sauce for the ceviche recipe you need to prepare this: Chop the ginger, garlic, chili, onion, coriander and celery into small cubes.
Squeeze the juice from about 5 limes.
Put some fish cubes, salt, water, lime juice and the chopped ingredients in the blender. Blend everything and add about three tablespoons of leche de tigre to each plate of ceviche.
Do you want to learn more about Peru? Then look at the Peru travel blog from Nora over.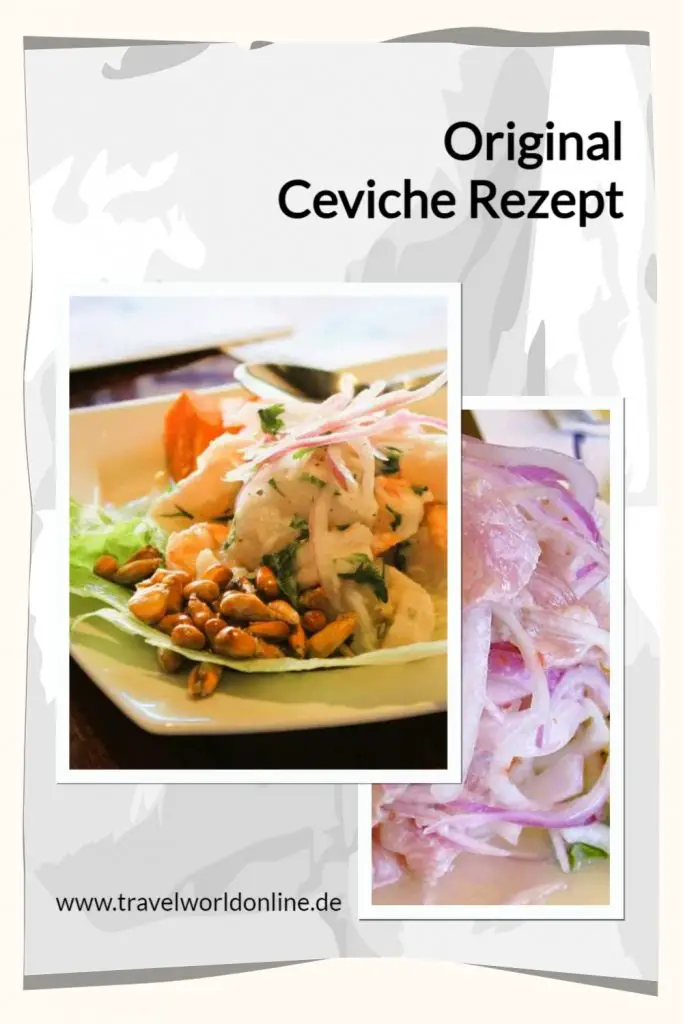 Do you also know:
Source of the original ceviche recipe: local research and inspiration from Nora from info-peru.de.
Text of the original ceviche recipe: © Monika Fuchs and TravelWorldOnline
Photos: Copyright Monika Fuchs and TravelWorldOnline
Ceviche Recipe with Lime Cilantro Sauce