Cheese from the Waldviertel

How to make cheese in the Waldviertel. We watched cheese making in the cheese making world in Heidenreichstein in Austria Waldviertel. We actually came here by accident. We had our visit to Hotel Schwarz Alm in Zwettl an excursion through Lower Austria undertaken. As always, we were looking for offers for connoisseurs. The promise of experiencing local cheese and cheese making on site finally attracted us to the world of cheese making.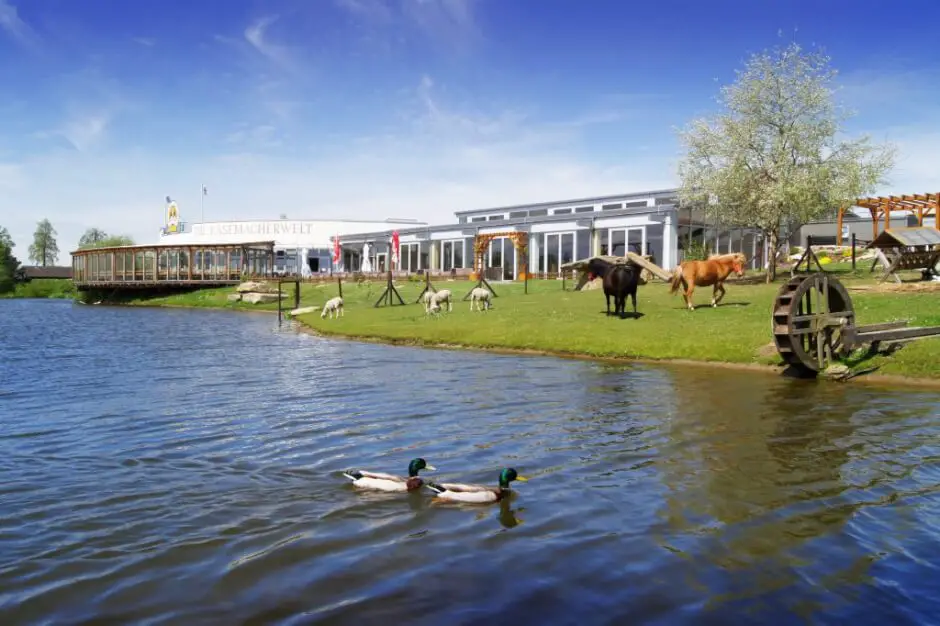 Cheese and cheese making in the cheese maker world
Heidenreichstein is about an hour and forty-five minutes from Linz and two hours from Vienna, not far from the border with the Czech Republic. The cheese maker world is located there. In this cheese dairy, emphasis is placed on regional ingredients. The cheese makers have their milk delivered by local farmers. This comes from cows, goats and sheep. They use this to make their cheeses. In the show dairy we could watch how cheese is made.
The actual cheese production can only be seen during the week. Then the cheese makers work. However, we were there on Sunday. Therefore we are shown the process of making cheese. Actually, I think that's better. Because that way we can watch directly how cheese is made. And it works like this:
The milk has to coagulate
First you strain the milk and pasteurize it. This must then turn sour. To do this, they are made to mature with lactic acid bacteria and curdled with rennet. This separates the solid components from the liquid whey. Protein, fat, lactose and minerals form a thick mass. For this, the milk has to stand for a while. Depending on the type of cheese, this can take anywhere from half an hour to several hours.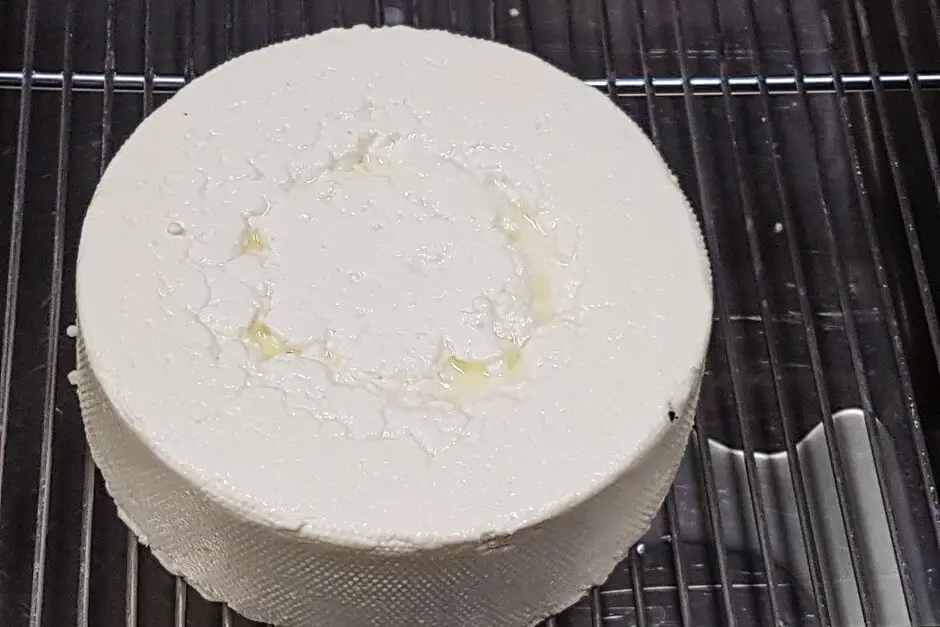 The whey is separated from the cheese curd
Through this process, some of the whey already separates from the solid components. That's not enough to make cheese. Therefore you divide this thick mass with the cheese harp in pieces. More whey is separated. This is repeated until the desired thickness is achieved. How strong it is depends on the kind of cheese you want to make.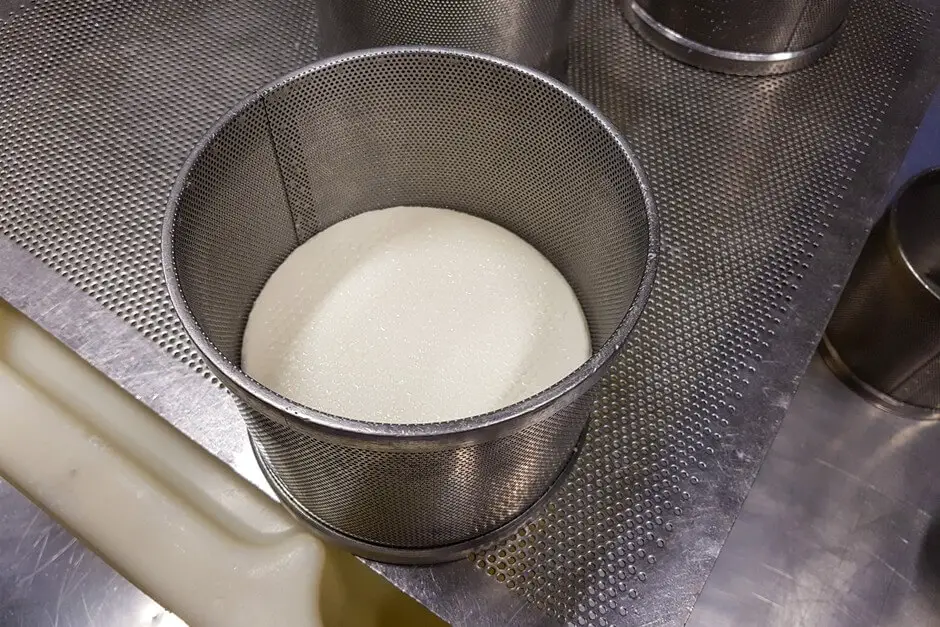 The bath in the brine
Then you put the cheese in brine. There he begins to form a bark. At the same time, the lake keeps harmful bacteria away.
Cheese has to ripen
Then the ripening process begins. This may take several weeks to months, depending on the type of cheese. During this time, the cheese maker turns the cheese loaf again and again. He brushes and washes him. In the maturing period, the cheese also gets its special features.
We can observe this process during our visit to the Käsemacherwelt. An exciting thing!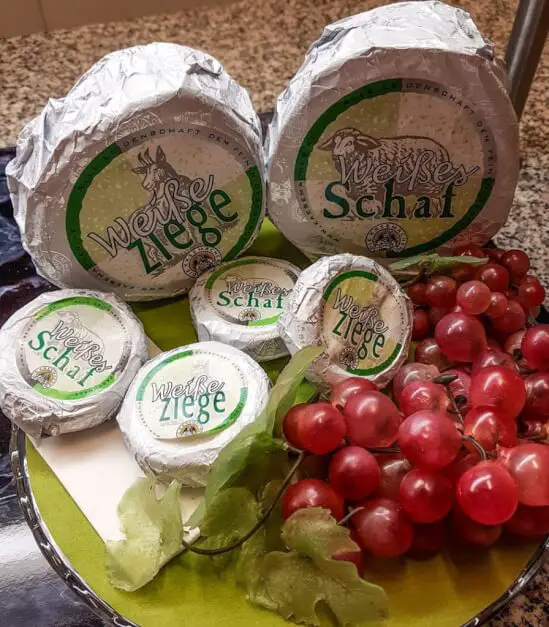 This is how the cheese tastes in the world of cheese making
But what would a visit to a cheese dairy be without trying cheese? There is also plenty of opportunity for this during our visit. Even before we look at the cheese-making process, we try different types of cheese. Then cheese specialties are waiting for us again. Here you show how to serve them. As an antipasti, for example. With grapes. Or with peppers, dates or olives.
Fascinatingly we find the different cheeses that are produced in the Waldviertel. Among them are the Waldviertel pumpkin cheese, a sheep's milk cheese with pumpkin pieces in the cheese dough. The goat cheese tartlets Cranberry are great. This is cream cheese wrapped in sweet cranberries. The Waldviertler Selchkäse tastes especially good. This spicy sheep's cheese is smoked over beech wood. My favorite cheese!
If you do not have enough, you can try other cheese specialties in the restaurant of the Käsemacherwelt. With a view of the beautiful surroundings and the town of Heidenreichstein. A trip to the world of cheese making is worthwhile.
---
Travel Arrangements:
You can experience cheese and cheese making here:
Käsemacher world
Litschauer street 18
3860 heath empire
Check in:
Book yours here Arrival by plane, bus or train*. You can reach Heidenreichstein by car from Munich in four hours (without traffic). away Salzburg takes two hours thirty minutes, ex Vienna two hours and up Linz one hour forty five minutes.
Car Rentals:
Cheap Car Hire - Book Fast and Easy! *
Hotels:
We have in Hotel Schwarz Alm * in Zwettl, which you can also book through our partner booking.com. From there you drive a good half hour.
---
Do you already know:
Discover more travel tips for trips to savor on our blog TravelWorldOnline.
Source: own research on site. We thank the Hotel Schwarz Alm for the invitation. Our opinion, as always, remains our own.
Text: © Copyright Monika Fuchs, TravelWorldOnline
Photos: © Copyright Monika Fuchs, TravelWorldOnline
Cheese and cheese production in the Waldviertel