Pumps for wide feet for city trips
Comfortable black pumps with heels
These comfortable pumps with heels are chic shoes for wide feet that are suitable for many occasions and can also be worn well with clothes. Well, pumps are not exactly high heels, but for wide feet they are elegant accessories for dresses and skirts. Thanks to the wide heels, you can stand longer and cover longer distances.
Chic comfortable pumps for wide feet
These pumps are comfortable and chic and are well suited for festive occasions, visiting good restaurants or even for a trade fair where a well-groomed appearance plays a role.
Wide foot pumps for women
These comfortable pumps are also very elegant. They are cut extra wide, but look elegant due to the pointed shoe opening. I also like that both the inner and outer materials are made of leather. The heels decorated with silver make them very easy to wear for elegant occasions.
Black pumps for wide feet
These pumps are comfortable because they have a low heel. The rhinestones on the tip make the shoe elegant. You can combine it well with traditional costumes or elegant clothes.
Comfortable high heels for wide feet
These black pumps are chic and elegant. Their simplicity makes them easy to combine with different clothing styles.
Comfortable elegant shoes
These black pumps with a block heel are very comfortable. The outer material is leather / synthetic. Inner material synthetic.
Send comfortable pumps extra wide
There are also elegant pumps in extra wide. The heels of this model are a little lower, but these pumps are extra wide and more comfortable for strong feet.
Comfortable heel shoes for wide feet
Comfortable pumps extra wide with low heels
This model is also available in an extra wide size. The leather strap over the forefoot makes it look particularly elegant.
Who knows elegant shoes for wide feet?
Those of you who have problem feet know how difficult it is to find comfortable pumps for wide feet. I have wide feet and a slight shape Hallux valgus. So I often ask myself this question. As an example I already have my search for here Hiking shoes for wide feet described. It is equally difficult to find elegant pumps for my feet. With width K, the selection in shoe stores is usually very limited. Even in stores that specialize in problem feet, I often find it difficult to find pumps that fit and appeal to me. It is often the case that the shoes fit. However, they are often designed so unimaginatively that I don't want to wear them.
Now it is always possible to wear my comfortable walking shoes, especially on city trips. Even if I always have it with me. I can still wear them on city tours. However, if a visit to an elegant restaurant or a visit to a trade fair is on the agenda, then hiking boots are out of place. The same applies if our travel program includes cultural visits to concerts, the opera or museums. Our city trips often take us to small towns and cities, whose historical charm often consists in the fact that cobblestone streets have been preserved. Especially when you cover long distances on city tours on city tours, your feet quickly hurt if you wear the wrong shoes. Comfortable pumps are therefore essential for city trips.
Where can I find comfortable, chic pumps for wide feet?
That's reason enough that I start looking online to find elegant, comfortable pumps for city trips and all the occasions that arise. My conditions are that they must be available in K width. At the same time, they should go well with elegant clothing. But above all, they have to be comfortable enough that I can walk longer distances without my feet starting to hurt. It is also important to me that they do not have high and thin heels. With such shoes, long stretches on pavement or even cobblestones can quickly become a torture. Wide and flat heels, on the other hand, make walking easier. In addition, in such shoes, the feet do not slip forward easily when walking and pinch the toes.
Chic shoes for wide feet like these work well as Gifts for travelerswho like city ​​breaks do. That also fits Backpacks for city trips, On our Journey from Copenhagen to Oslo I could have used such shoes.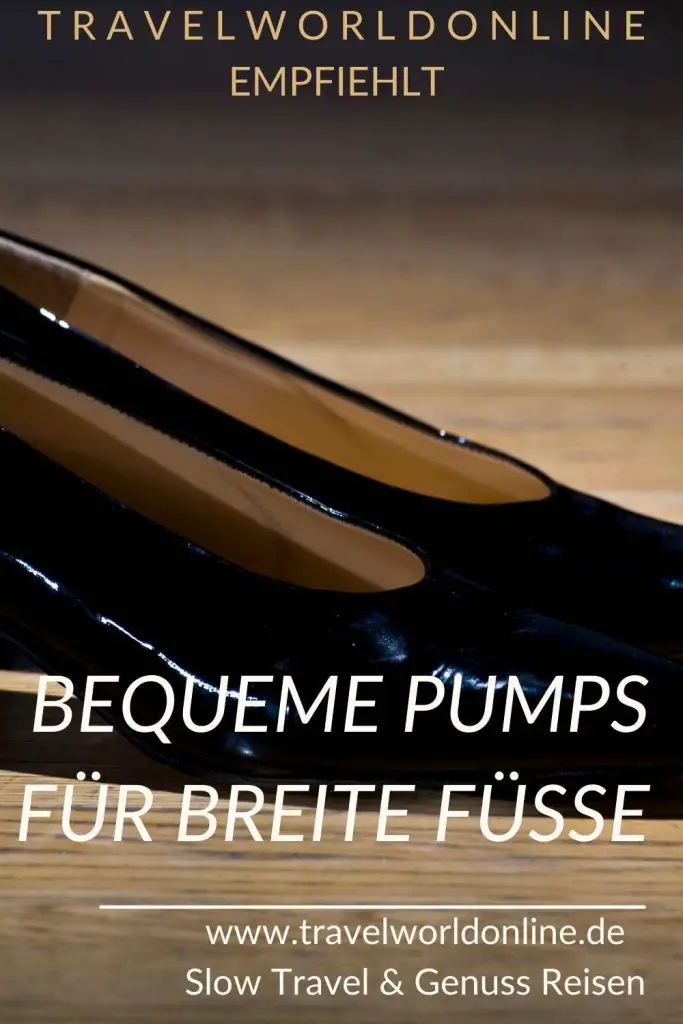 Do you already know:
Text Comfortable pumps for wide feet for city trips: © Copyright Monika Fuchs, TravelWorldOnline
Photos: © Copyright Canva or product photos from Amazon
Comfortable pumps for wide feet for city trips