As we learned on our previous visits to Salzburg, you can in the Mozart city in Austria eat well, be it in traditional restaurants or in inns where something extraordinary is served, such as the Salzburg Specialties at the Weiserhof that are cooked according to recipes that are 200 years old. This time we and our travel blogger friends Elena Paschinger expected from Creative Lena, Andreas Susana from Travelwriticus, Angelika Mandler-Saul from On the road again, Gerhard Liebenberger of Anders Reisen, Udo and Sonja Weisner of Jo hedgehog and Birgit Weszelka from Salzburg.info a very different culinary experience: we should cook our own dinner under the critical eyes of a award-winning chef. We were curious!
Austrian cooking at cook & wine in Salzburg
Günther Grahammer opened the two years ago together with his sister Laura cook & wine in Salzburg, a restaurant where guests can cook their own food under the guidance of their expert. Günther Grahammer learned to cook in the Hotel Bayrischer Hof in Salzburg and then spent several years abroad, where he refined his cooking skills. 2010 lured him back home to the love of Austrian cuisine and brought him a hood from Gault Millau for 2013. Günther's sister Laura discovered her passion for wine in England and expanded her knowledge of wine in Burgenland. The two teamed up with a great new restaurant concept: while Günther teaches his guests the tricks and tricks of high culinary art in various themed cooking classes, Laura serves them the matching wines. The guests have to cook themselves. As we have discovered, this is the guarantee for a wonderful and very amusing evening with friends, where you not only learn to prepare delicious dishes, but also get great cooking tips at home. Austrian cooking with a lot of fun!
Günther's restaurant and Laura's vinotheque form a perfect symbiosis in cook & wine in an unusual ambience. The two set up their cooking school in a former car dealership, and the guests cook together on a long island, which is equipped with the latest kitchen appliances, including a steamer. The table for the later common meal is already set and takes up the majority of the large hall in which luxury limousines were once for sale. With bright colors, imaginative lamps and a well-stocked vinotheque, the modern ambience makes you want to cook and enjoy.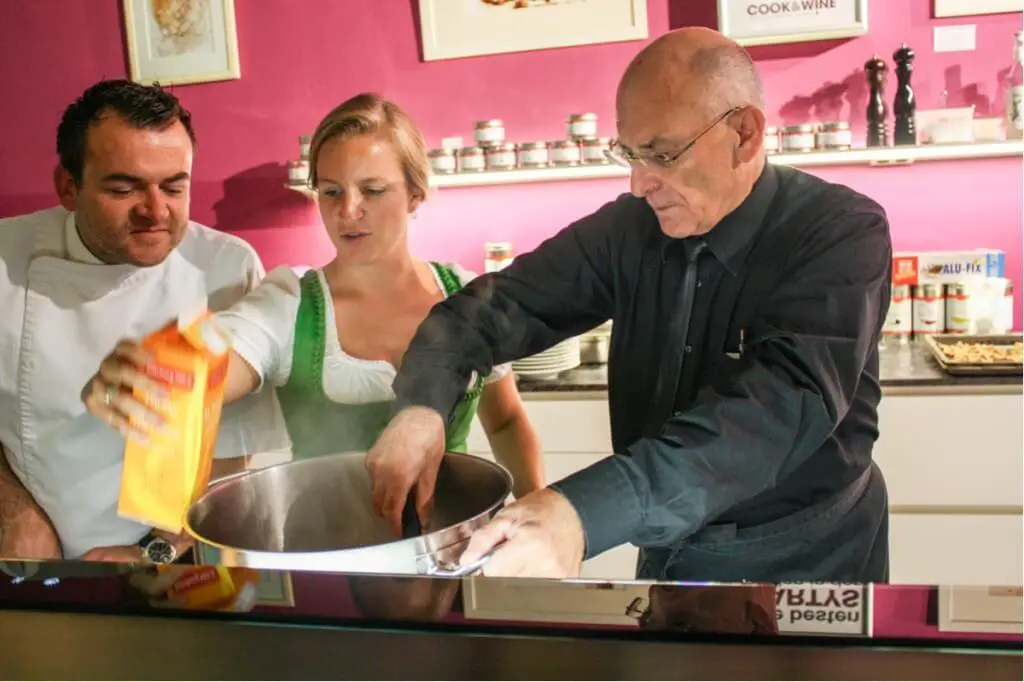 The best thing about an evening at cook & wine, however, is the relaxed atmosphere and the nice way in which we and friends are initiated into the secrets of Austrian culinary art under the expert guidance of Günther Grahammer. Not only does the food taste good afterwards, we also bring home new tricks for the home kitchen. Or did you know that garlic cloves can be easily removed from the skin by placing them in a metal bowl, covering it with a second one and shaking it for a few minutes. Afterwards you just need to fish the garlic cloves out of the bowl. "You can store them if you chop them up briefly with the hand blender, cover them in a bowl with oil and store them in the refrigerator," explains Günther. "There they stay fresh and last for weeks."
Everyone has to cook with them in cook & wine. Petar and I cut pretzels into cubes for pretzel dumplings. Andreas cleans chanterelles for the matching sauce. Gerhard learns how to properly cut onions. Elena and Birgit set about preparing curd strudel, and Angelika cooks a wonderful garlic soup for the starter. The result is a wonderful, home-cooked dinner with Austrian specialties: garlic foam soup, pretzel dumplings with chanterelle sauce and curd strudel with strawberry ragout for dessert. Laura serves us the right wine for every course, and so we spend a very enjoyable evening in a pleasant atmosphere and a great meal in Salzburg.
If you want to experience something like this yourself, you can take part in one of Günther Grahammer's theme cooking courses or - with six or more people - organize your own cooking class with friends. And of course, if you do not want to cook at all. Günther Grahammer also likes to cook for his guests. This is how Austrian cooking is fun!
cook & wine
Creek road 68
5023 Salzburg
www.cookandwine.at
What Gerhard Liebenberger learned during the cooking class of Günther Grahammer:
Cooking with a difference: kitchen party at cook & wine
As Udo and Sonja Weisner Salzburg have experienced culinary, you can read here.
Source: own research on site. We would like to thank Tourismus Salzburg for the kind invitation to this trip. Our opinion remains our own.
Text: © Copyright Monika Fuchs, TravelWorldOnline
Photos: © Copyright Monika Fuchs, TravelWorldOnline
Cooking Austrian in Salzburg - preferably with friends