There is hardly any other dish that is so associated with the life of the cowboys as the cowboy beans from the Dutch Oven. They didn't even know the dish that is named after them today in this form. They usually had a covered wagon with them, in which the cook transported his kitchen utensils. A Dutch Oven could not be missing from it. He was simply part of life in the Wild West. That's why the bean stew is also called chuckwagon beans.
However, the cowboy beans, as we know them today mainly from Texas, do not correspond to the dish that the cowboys ate on the trek. They didn't even have the ingredients they used. Canned beans, ketchup and BBQ sauce were not known in the 19th century. The bean dish, now named after the cowboys, is reminiscent of baked beans or chilli con carne, but with a flavor that is typical of the Southwest.
Cowboy Beans - quick, easy and good
It is not known where the name came from. However, one thing is clear. They fill you up. Your preparation is quick. They taste delicious. Cowboy beans are now considered a typical dish of the American Southwest. But you can also prepare them at home on the gas grill or when camping over the campfire. The good thing about this dish is that it is easy to prepare and ready in no time. It is therefore also ideal for the outdoor kitchen. After a hike, you usually don't feel like waiting long for food. The beans provide a quick remedy when you are hungry.
You need this for the BBQ beans
You can prepare cowboy beans in various ways, depending on whether you want to use meat, bacon or sausage.
Typical ingredients are for example:
Pork
2-3 cans of broad beans
minced meat
bacon (cut into small pieces)
black pepper
Bbq sauce
Ketchup or diced tomatoes
Brown sugar
some flour
milk, cream or crème fraîche
optionally you can add onions, garlic and herbs to taste
How to prepare cowboy beans in the Dutch oven:
Add oil to the Dutch Oven and heat over medium-high. If you use a gas grill, place the Dutch oven on the side hob.
First fry meat, sausage or bacon in hot oil. You can also sauté onions and garlic if you like.
Then add ketchup or chopped tomatoes and BBQ sauce.
Season with brown sugar, pepper and herbs of your choice. If the sauce is too runny, you can thicken it with some flour. However, we usually do without it.
When serving, you can add a dollop of cream or crème fraîche.
It tastes best with fresh baguette.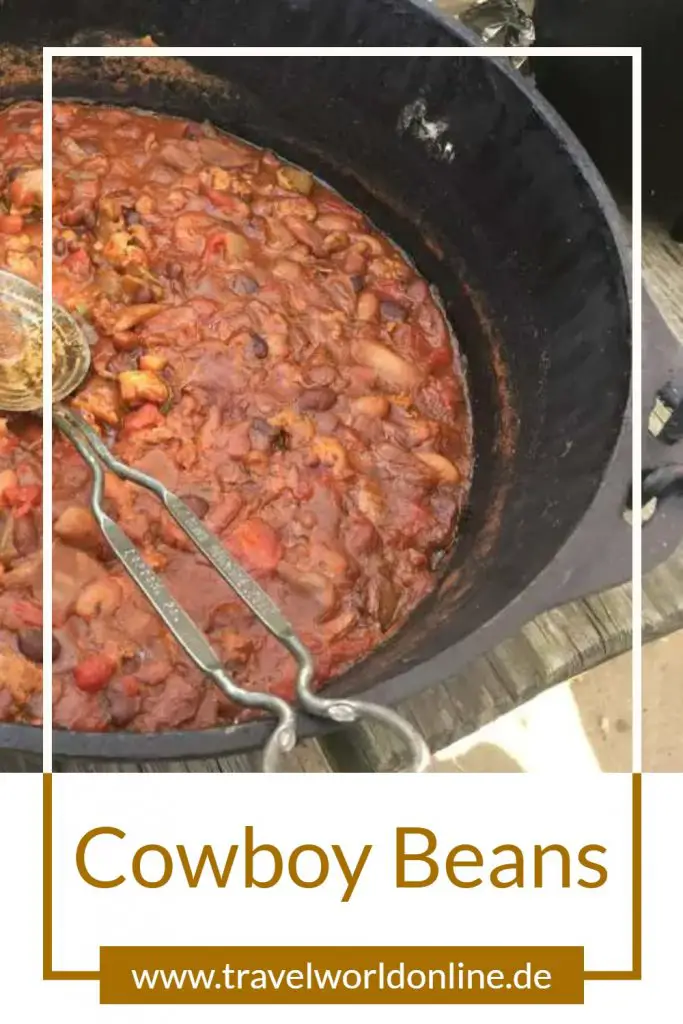 Do you also know:
Source Cowboy Beans: own research.
Text Cowboy Beans: © Copyright Monika Fuchs and TravelWorldOnline
Photos: © Copyright Pixabay
Cowboy beans like in the USA