Cold cucumber soup recipe with mint and olive oil © Céline de Cérou / France Olive
Summery cucumber soup with mint and olive oil from France
We were invited to a friend's house for lunch over the weekend. Food and recipes always play a major role in our conversations. At each meeting we imagine new recipes that we have discovered. This time I was delighted with cold cucumber soup with mint and olive oil, which my girlfriend had prepared. She finished the soup on a trip Franken get served. The soup is a perfect meal for hot summer days. It's quick to make, wonderfully refreshing and tastes like more. However, you have to prepare it a day before you eat it because it has to cool down in the fridge.
Recipe for cold cucumber soup with mint and olive oil from Nîmes
So I went looking for a recipe for the cold cucumber soup and was found at the French people find it. They use Huile d'olive de Nîmes PDO for their cucumber soup. Olive oils with a protected designation of origin conjure up a special touch, especially with cold dishes. They are not only an enrichment in terms of nutritional physiology, since many vitamins are fat-soluble and can only be used by the body in this way. The special flavors that result mainly from the different types of olives, growing area and processing make olive oils with a protected designation of origin much more of a kind of condiment. You should definitely work with different oils and work out which one suits the recipe best.
Cold soups are always welcome in summer. In addition, cucumbers have a cooling effect and the combination with fresh mint is extremely refreshing. It is practical that you prepare the cucumber soup the evening before and enjoy it marinated well the next day. The French suggest garnishing the soup with a few slices of toasted bacon just before serving. My girlfriend had refined the cucumber soup with smoked salmon instead of bacon strips. The pieces of salmon gave it a wonderfully tangy flavor. The Huile d'olive de Nîmes PDO has an intense taste and crowns the soup with fruity notes, which are mainly characterized by grass, hay, pineapple, yellow plum and raw artichoke, possibly complemented by aromas of red plum and apple.
This is how the French prepare the soup:
Ingredients:
For 4 people :
1 cucumber
1 yogurt
10cl cream
2 tablespoons Huile d'olive de Nîmes PDO
Juice from 1 lemon
5 sprigs of mint
salt
pepper
Preparation:
Peel the cucumber and cut off four slices for decoration. Cut the rest of the cucumber into cubes.
Place the cucumber pieces, yoghurt, cream, mint, lemon juice, Huile d'olive de Nîmes PDO, salt and pepper in a blender and blend until smooth.
Place the cucumber soup in the refrigerator overnight.
The next day, serve the cucumber soup in large glasses, decorate with slices of cucumber and small mint leaves.
A tip: You can make the cucumber soup even spicier with roasted bacon strips or smoked salmon cut into strips.
French olive growers recommend intensely flavored Nîmes PDO olive oil with its aromas of grass, dry hay, pineapple, yellow plum and raw artichoke.
But you can also do one of the following olive oils Use PDO: Aix-en-Provence, Corse – Oliu di Corsica, Haute-Provence, Provence, Vallée des Baux-de-Provence.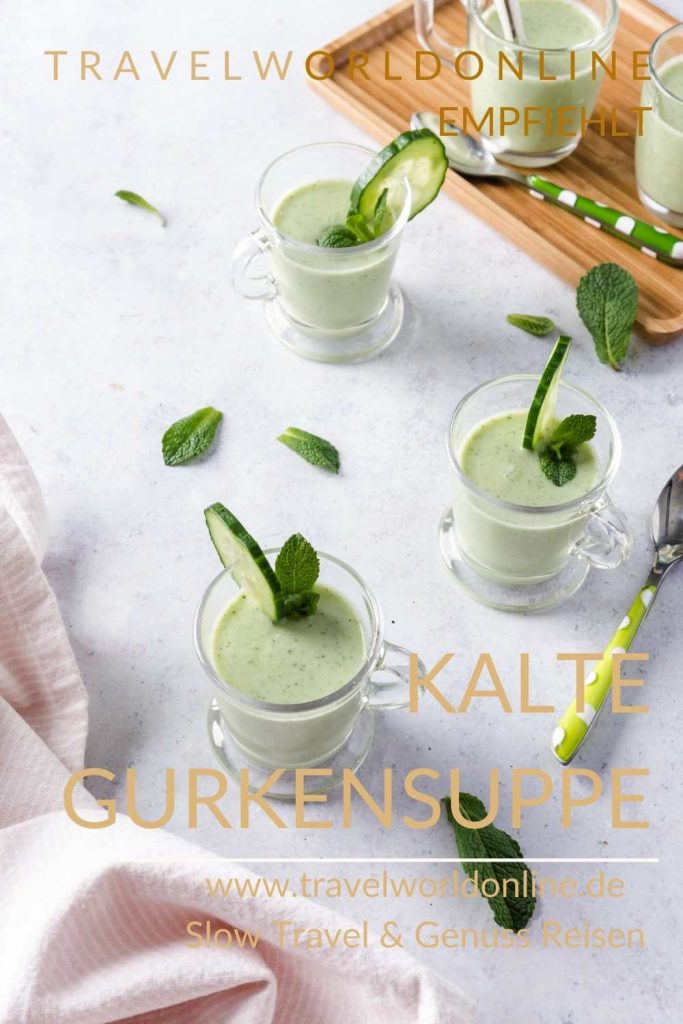 Do you already know:
Source of Cold Cucumber Soup Recipe: Looking for the Perfect Food.
Text cold cucumber soup: © Copyright Monika Fuchs
Photo © Celine de Cérou / France Olive
Cucumber soup with mint and olive oil