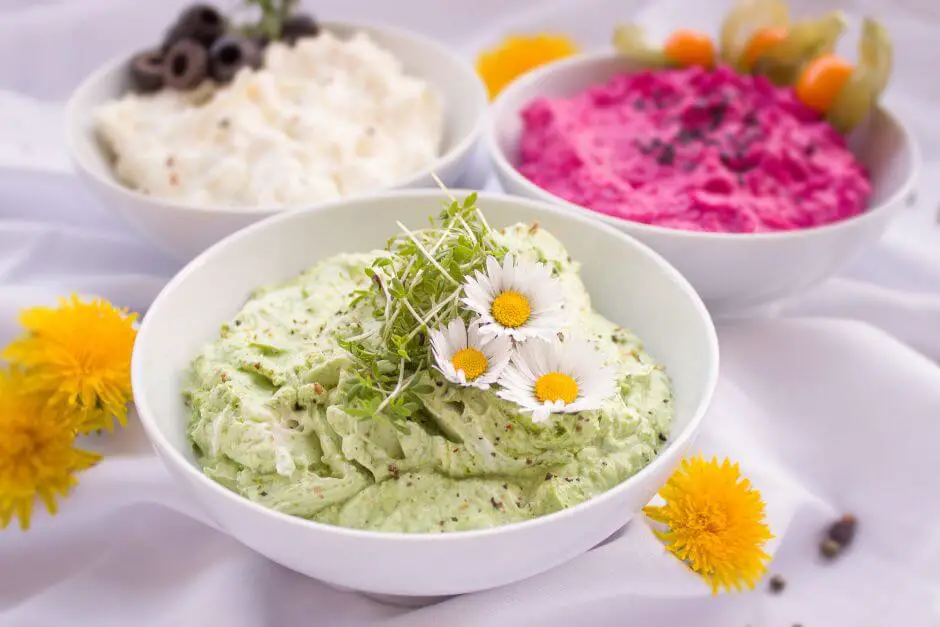 Grill fun with these dips for grilling
A barbecue event needs dips for grilling so that the enjoyment is perfect. That's why we collect barbecue sauces and dips recipes for at home here. Make grill dips yourself Dips can also be prepared well for a barbecue picnic. Simply fill into a screw-top jar and serve on site with the grilled meat and vegetables. So that is a picknick Success in the green guarantees success. The same goes for yours, of course BBQ evening.
Grill sauces and dips recipes
Of course there are the barbecue sauces that you can buy ready-made in the supermarket. We've had them for a long time as an accompaniment to grilled food. In the last few years, however, we have switched to cooking these ourselves. Making grill dips yourself is fun and, above all, they add flavor to food that tastes new every time. We don't just spice them up with this Gas grill recipes on. Also the BBQ salmon This gets the icing on the cake. So pack yours Grill throw out meat or vegetables and prepare your own sauces. This will make your picnic, your grilled food in the garden, on the balcony and on the terrace a real pleasure.
Wild garlic dips for grilling
In spring, wild garlic is one of the first wild herbs that can be harvested mainly on floodplains or in forests. But beware! It can easily be confused with the leaves of lily of the valley or autumn crocus. However, these are poisonous. Therefore, it is best to buy your wild garlic at the farmer's market or to plant it in your own garden. When collecting in nature, pay attention to the following:
Wild garlic smells intensely of garlic. It's best to rub the sheet between your fingers. If they smell like garlic, you have the right plant. However, this only works for the first few leaves. Then your hands smell it and you can no longer tell whether the plant is poisonous or not.
You can harvest wild garlic between March and May. Then the wild garlic blooms and it no longer tastes good.
A wild garlic leaf has one recognizable stem per leaf.
In contrast to the poisonous plants, wild garlic leaves are matt on the underside.
Wild garlic is best processed fresh. If you pick it up, it will lose its aroma.
Wild garlic leaves are cut off with scissors.
You don't know any place where wild garlic grows? No problem: on mundraub.org you can search for places near you.
Wild garlic zaziki - herb dips for grilling
Ingredients
a cucumber
a handful of wild garlic leaves
100 g sheep's cheese
two cups of solid yogurt
a tablespoon of olive oil
two teaspoons of lemon juice
freshly ground pepper
Caraway seeds to taste
Preparation
Halve the cucumber and remove the seeds. Then grate finely. Sprinkle with salt and set aside for about a quarter of an hour so that the juice can draw out.
In the meantime, wash the wild garlic leaves, shake dry and cut very finely. Crumble the cheese. Mix the yogurt with the oil and lemon juice.
Drain the cucumber juice. Now you mix the grated cucumber, the wild garlic snippets and the cheese crumbs with the yogurt. Season to taste with salt and pepper. If you like it spicier, stir in the caraway seeds.
Onion Dip - spicy dips for grilling
Ingredients
200 g creme fraiche
250 g Schmand
a pack of ready-made powder for onion soup
chives
two tablespoons of fried onions
Preparation
Mix the sour cream and creme fraiche in a bowl until smooth. Stir in the soup powder and refrigerate for an hour.
Wash and chop the chives. Pour over the cream mixture together with the onions. Finished.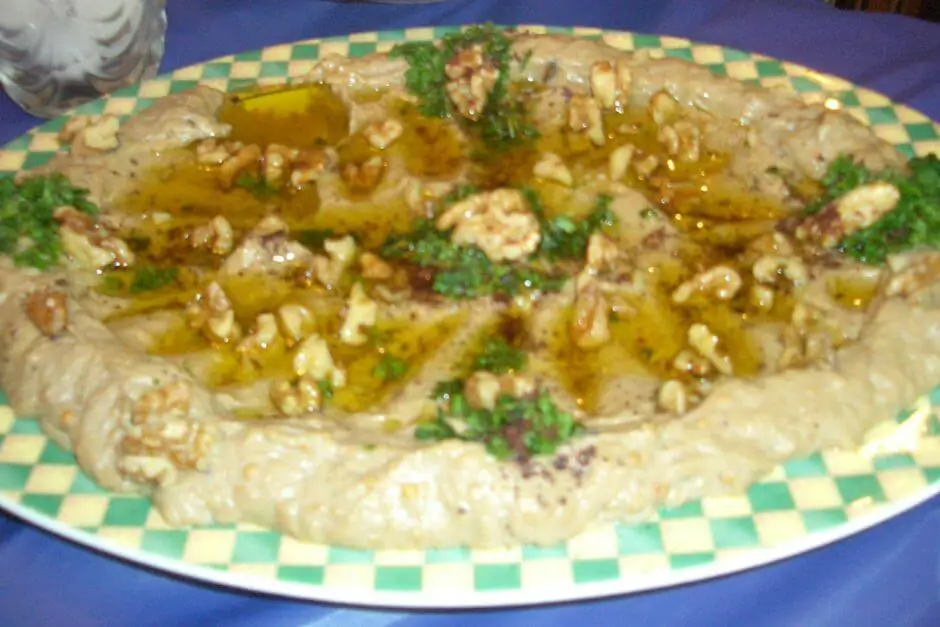 Baba Ganoush - oriental dips for grilling
Ingredients
an eggplant
Toe of garlic
50 g sesame paste (tahini)
approx. 35 ml lemon juice
salt
pepper
cumin
Preparation
Wash the aubergine and prick all around with the knife. Then bake in the oven at 250 ° C for about twenty minutes. The shell should be black. The pulp must be soft. Then let the aubergine cool for about a quarter of an hour.
In the meantime you can chop the garlic into small pieces. Then you scrape the pulp out of the eggplant. You puree this with tahini, lemon juice and garlic. Then you season the cream with salt, pepper and cumin to taste. Before serving, drizzle the cream with a little olive oil.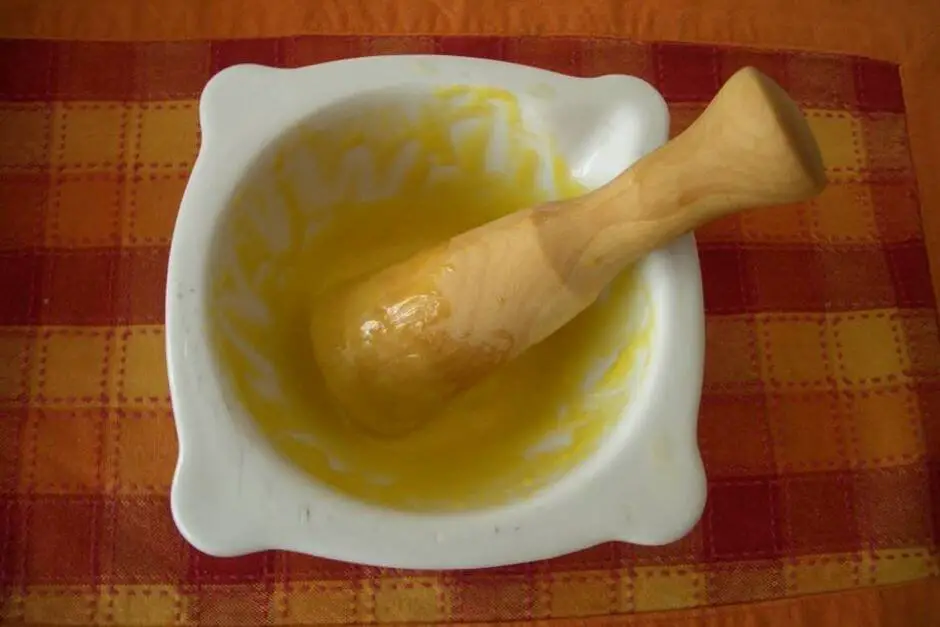 Aioli - garlic dips for grilling from Catalonia
Ingredients
eight cloves of garlic
100 ml of olive oil
optional: mustard, salt, pepper, chilli, or egg yolk
Preparation
The classic aioli cream consists exclusively of garlic and olive oil. The optional ingredients are not included in a classic aioli.
Remove the skin from the garlic cloves and cut them into quarters. Then you put them in a mortar and pound them with the pestle. If the garlic is small, add a few drops (approx. 5 ml) of oil and crush the mass until the oil is completely incorporated. In doing so, make sure that any remaining pieces of garlic are crushed further. Repeat this until all of the oil has been processed.
It is better to add less oil per step. Otherwise the aioli will curdle. If this happens, you can add an egg yolk. This delays the curdling.
We will collect more grill sauces and dips recipes at this point over time. So it is worthwhile to stop by again and again.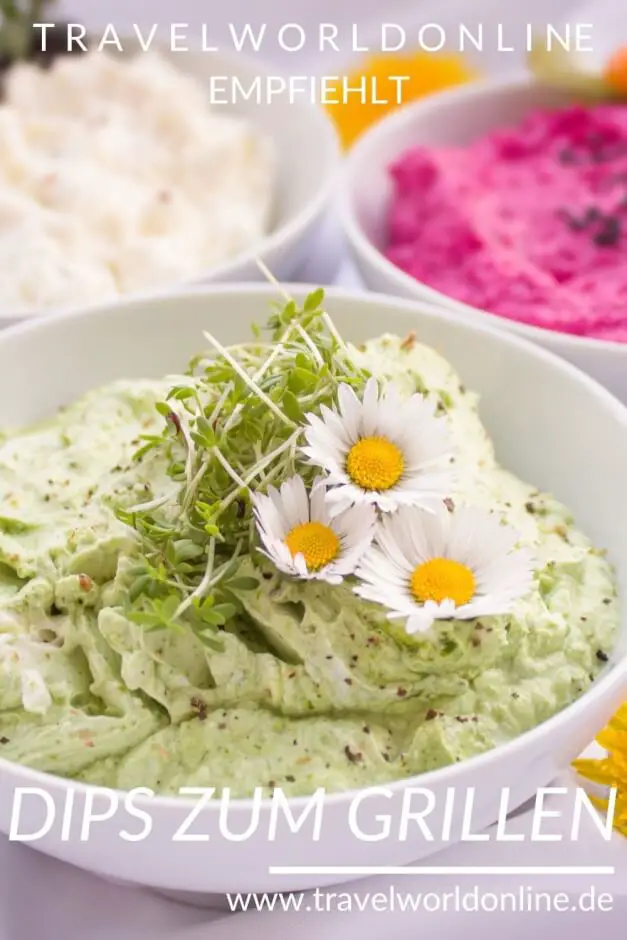 Source: Dips for grilling, own research
Text dips for grilling: © Copyright Monika Fuchs, TravelWorldOnline
Photos of dips for grilling: © Copyright Canva and Wikimedia public domain