Is St Patrick's Day in Dublin worth the trip? Absolutely! Nowhere else can you experience Irish joie de vivre and tradition as closely as in Dublin.
Origin of St. Patrick's Day
St. Patrick's Day, also known as Paddy's Day, is an Irish folk festival celebrated on March 17th. But did you know that it was originally a religious festival? That's right, the day commemorates the death anniversary of St. Patrick, the patron saint of Ireland. St. Patrick was born in Britain in the 5th century and later came to Ireland to spread Christianity. An exciting legend has it that he drove all the snakes off the island. In reality, there were never any snakes there. The story is meant more symbolically and stands for the expulsion of paganism.
The meaning of St. Patrick's Day has changed over time. Today it's a joyful festival where the Irish celebrate their culture, music and traditions. People often dress in green because green is the color of Ireland and St. Patrick's Day. Leprechauns, little mythical creatures, are also a popular symbol of the festival. Parades are held in many cities, with decorated floats, dancers and musicians parading through the streets. St. Patrick's Day is not only celebrated in Ireland but also in other countries like USA, Canada and Australia.
Overall, St. Patrick's Day is a great opportunity to enjoy Irish culture, have fun and make the world a little greener with friends and family.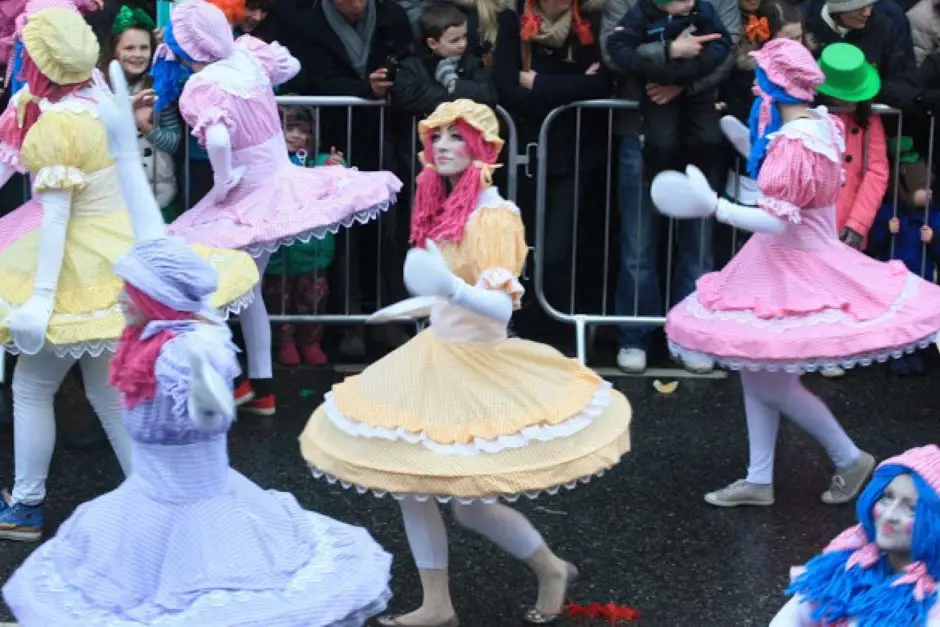 Why Dublin is a perfect destination for St Patrick's Day
Dublin is the capital of Ireland and the center of St Patrick's Day celebrations. If you're looking for the most authentic and vibrant St Patrick's Day experience, there's no better place than Dublin. Here are some reasons why.
The largest and most spectacular St. Patrick's Day parade takes place in Dublin. Thousands of people flock to the city to watch the parade, which features decorated floats, dancers and musicians. The parade is an unforgettable experience to witness up close in the Irish capital. Dublin is also the birthplace of many Irish traditions and customs which are celebrated during St Patrick's Day. Here you have the opportunity to delve deep into Irish culture and learn about the history of the country.
The city is also known for its lively pub scene. On St. Patrick's Day, pubs are transformed into places of celebration and conviviality. In Dublin you can enjoy some of the best Irish beers and traditional dishes while listening to live music and upbeat singing. During the St. Patrick's Festival, which lasts for several days, there are many events in Dublin that cater to people of all ages. You can attend concerts, street theatre, workshops and art exhibitions that bring Irish culture and history to life.
Dublin also has an impressive array of sights and attractions for you to explore. These include St. Patrick's Cathedral, Dublin Castle and the Guinness Storehouse.
Overall, Dublin is the perfect place to experience St. Patrick's Day in all its glory and allure. You will collect unforgettable moments and impressions that will accompany you for a lifetime.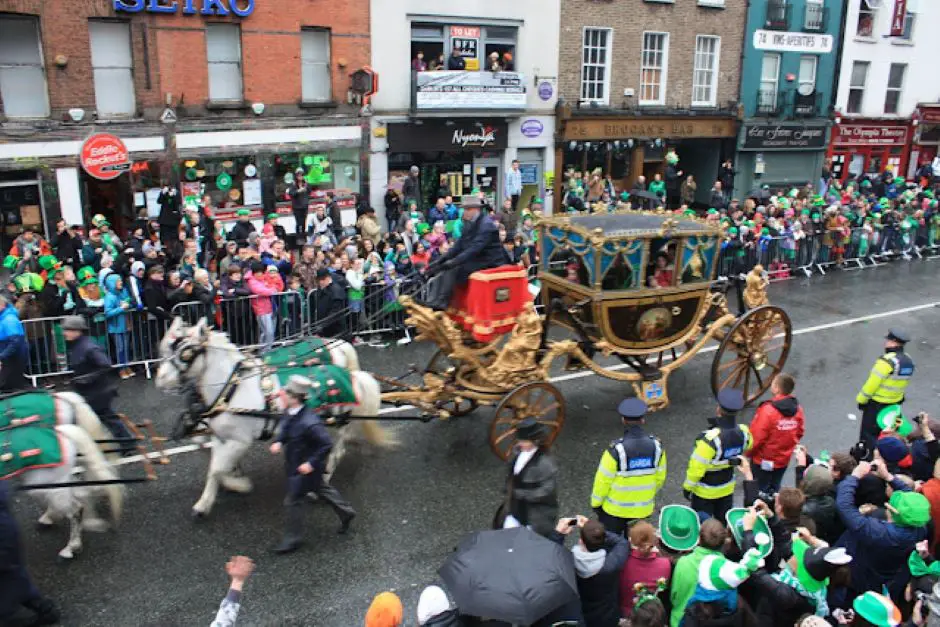 A guide to Dublin's St Patrick's Day celebrations
If you're planning to spend St. Patrick's Day in Dublin, you've got plenty of festivities and activities to look forward to. Here you can find out all about the best events not to be missed during your stay in the Irish capital.
Take part in the parade and festival
The St. Patrick's Day Parade is the highlight of the celebrations. It attracts thousands of visitors each year who gather along the streets to admire the decorated floats, dancers and musicians. The parade usually begins in Parnell Square and travels through the city center, passing landmarks such as O'Connell Street, the Liffey Bridge and St Patrick's Cathedral before ending at St Patrick's Park. For the best view of the parade, find a spot along the route early on. The area around O'Connell Bridge and Westmoreland Street is particularly popular.
Each year, the parade has a specific theme, which is reflected in the performances and costumes. You will experience various music bands, dance groups and community organizations all presenting their unique interpretations of the theme.
Enjoy delicious food and drink
During St. Patrick's Day, the Pubs a major meeting point for revelers in Dublin. Many pubs have live music and traditional Irish dancing, creating a lively atmosphere. A visit to the famous Temple Bar area is a must, where you can find Dublin's most famous pubs and get carried away by the festive atmosphere. But be warned it will be very busy so be prepared for a lively evening!
In the pubs you will also have the opportunity to taste traditional Irish food and drink. Popular dishes include Irish stew, a hearty lamb and vegetable stew, and boxty, a type of potato pancake. Of course you can freshly tapped Guinness, the most famous Irish beer, not missing. You can also try other Irish drinks like whiskey or cider.
Participate in local festivals and events
As well as the parade, Dublin also hosts the multi-day St Patrick's Festival, which offers a variety of events and activities for all the family. Here you can catch numerous concerts and performances by Irish and international artists performing at various venues around the city. Pay attention to the official program to find out which events interest you the most.
St. Patrick's Festival also offers many family-friendly activities and workshops where you can delve deeper into Irish culture and history. You can take tours of historic sites, join creative workshops, or watch street artists and performers transform the city into a giant stage.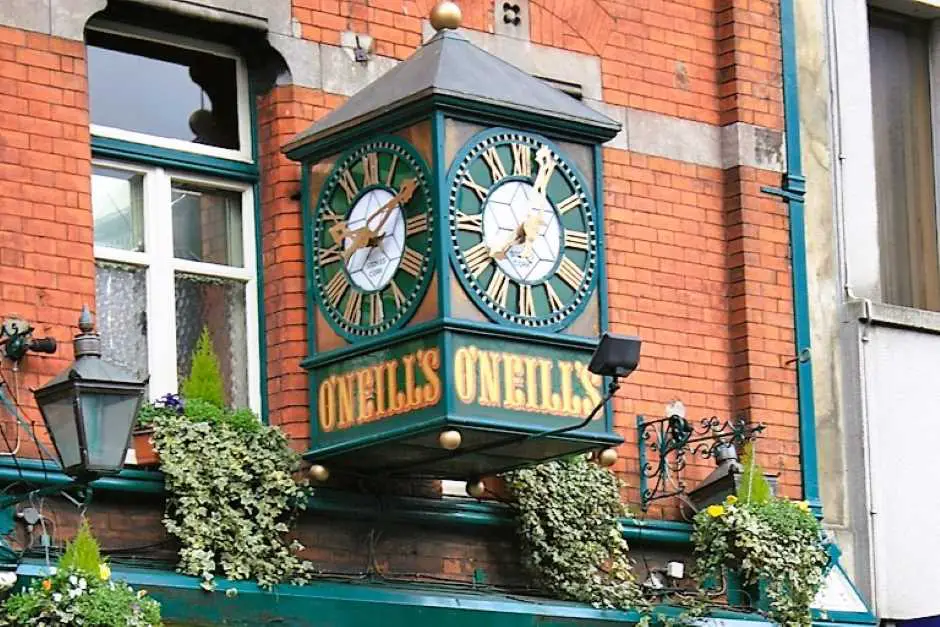 Visit Dublin attractions
Dublin, the capital of Ireland, has a variety of sights and attractions to explore during your visit. Here we present some of the most well-known and interesting ones.
St. Patrick's Cathedral
St. Patrick's Cathedral is Ireland's largest church and is an impressive Gothic structure that was built in the 12th century. It is dedicated to Saint Patrick, the patron saint of Ireland. Take a tour to discover the beautiful stained glass windows, the great organ work and the tomb of Jonathan Swift, author of 'Gulliver's Travels'.
Guinness Storehouse
The Guinness Storehouse is one of Dublin's most popular attractions and a must for beer lovers. In this interactive museum you will learn all about the history and production of the world-famous Guinness beer. At the end of the tour you can enjoy a freshly poured Guinness at the Gravity Bar on the top floor while admiring the panoramic view of the city.
Temple Bar
The Temple Bar District is the heart of Dublin's nightlife and culture. In this lively area you will find numerous pubs, restaurants and galleries that are popular with both locals and tourists. Strolling through the narrow cobblestone streets, you can admire the colorful facades of the buildings and soak up the atmosphere of the city.
Dublin Castle
Dublin Castle is an impressive 13th-century fortress that was once the residence of the British monarchy in Ireland. Today it serves as the seat of government and a venue for events. During a guided tour you can visit the magnificent state chambers and the chapel as well as explore the old fortifications.
Grafton Street
Grafton Street is one of Dublin's most famous shopping streets and a great place to experience the hustle and bustle of the city. Here you will find everything from large department stores and small boutiques to street artists and musicians. Don't forget to check out nearby St. Stephen's Green Park, a green oasis in the middle of the city.
Museums in Dublin
The National Museum of Ireland is divided into four different locations, each covering different thematic areas. The Archeology Museum displays treasures from Celtic and prehistoric times, while the Decorative Arts and History Museum showcases a collection of artwork, weapons and furniture. Discover Ireland's wildlife at the Natural History Museum and the Country Life Museum is dedicated to the country's rural history.
Overall, Dublin offers a wealth of sights and attractions that offer something for every visitor. From historic buildings to vibrant neighborhoods to fascinating museums, there is always something to see and do in Dublin. An overview of the Sights of Dublin can be found in this article.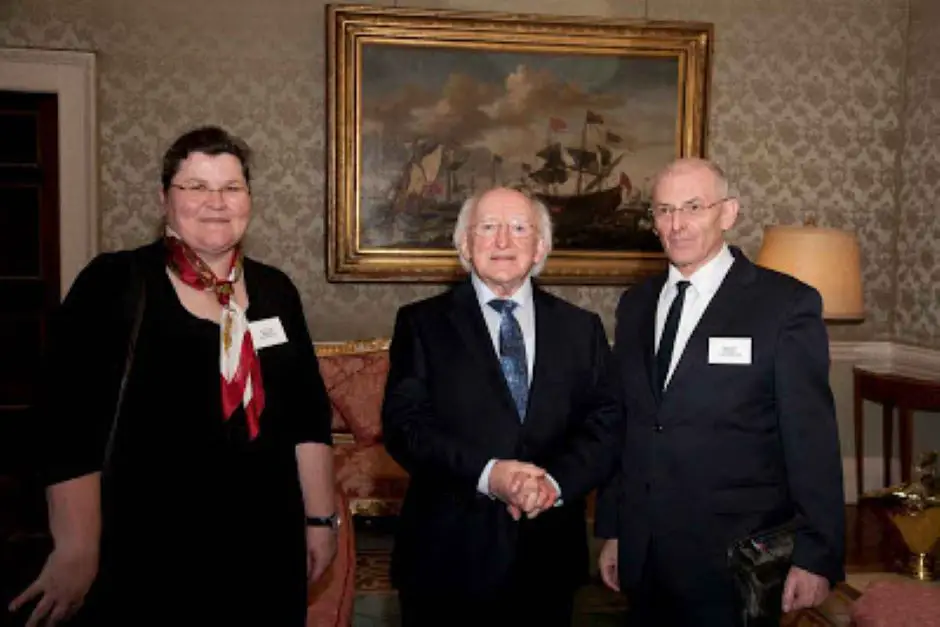 Dublin St Patrick's Day - How we experienced it
What a day! Or rather: what a weekend! Experiencing St Patrick's Day in Dublin is a fantastic experience. In 2013 we were invited to Dublin for St Patrick's Day weekend in Ireland. And that was what it was all about. First of all, we get something like the "blogger accolade" because the President of Ireland, Michael D. Higgins, personally welcomes us to the Áras an Úachtaráin in Dublin, the residence of the country's President. It was a colorful bunch wandering through the venerable rooms of the presidential residence in Phoenix Park.
You can find accommodation near the parade here: 
Over tea and canapés, Michael D. Higgins spoke of "The Gathering", an invitation he sent out that year to all Irish people and friends of Ireland. In it he invited them to join the Irish on the island in celebrating St Patrick's Day and, above all, Irish culture, music, dance and the Irish soul. He called - and thousands came from all over the world! The result was a festival of absolute superlatives! We were proud to be there. When does one get the chance to be welcomed by the president of a country? After the official part we finally dived into the celebrations of St. Patrick's Day in Dublin. You can do that too. Nowhere else can you celebrate this day more authentically than in Dublin and Ireland. Our guide will show you how to best experience this day.
St Patrick's Day in Ireland
For example, we celebrated the Tradfest in Kilkenny with the residents and an impressive marching band from Colorado, where the Celtic roots are celebrated. Irish bands wowed the audience with their great rhythms, which they elicited from their traditional musical instruments. Sometimes our legs itched to beat the beat or – even better – join in the spontaneous group dance. To the sounds of flutes, tin whistles, the Irish banjo and other old instruments, we made our way through the castle park and the historic town on the banks of the River Nore.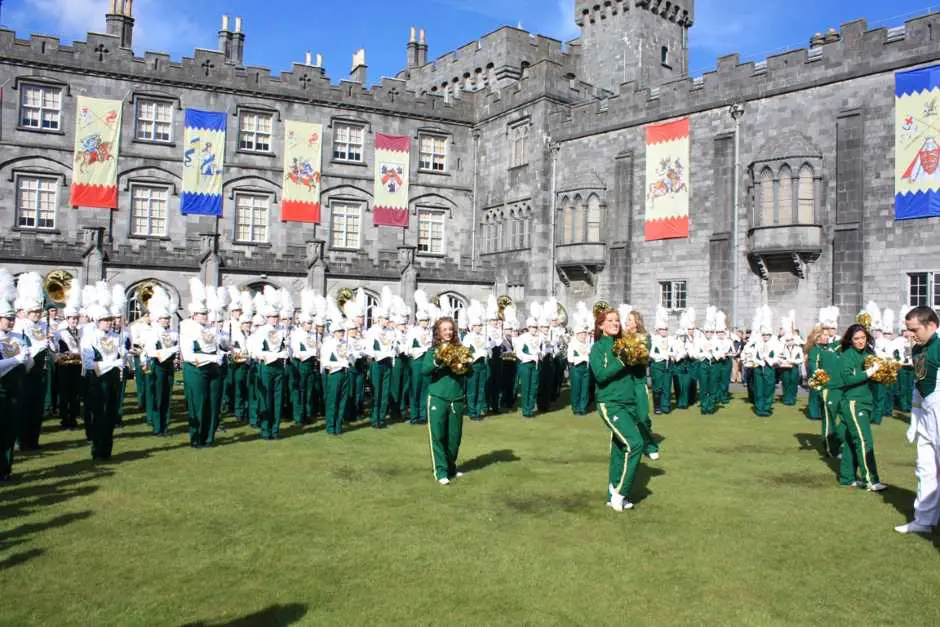 We watched as children, mothers, fathers and grandparents were introduced to the art of Irish dance, but also discovered experts who have mastered this dance form perfectly. In bright sunshine we celebrated the beginning of the St. Patrick's Day weekend with the Irish. Our Dublin St Patrick's Day in Ireland began in glorious sunshine.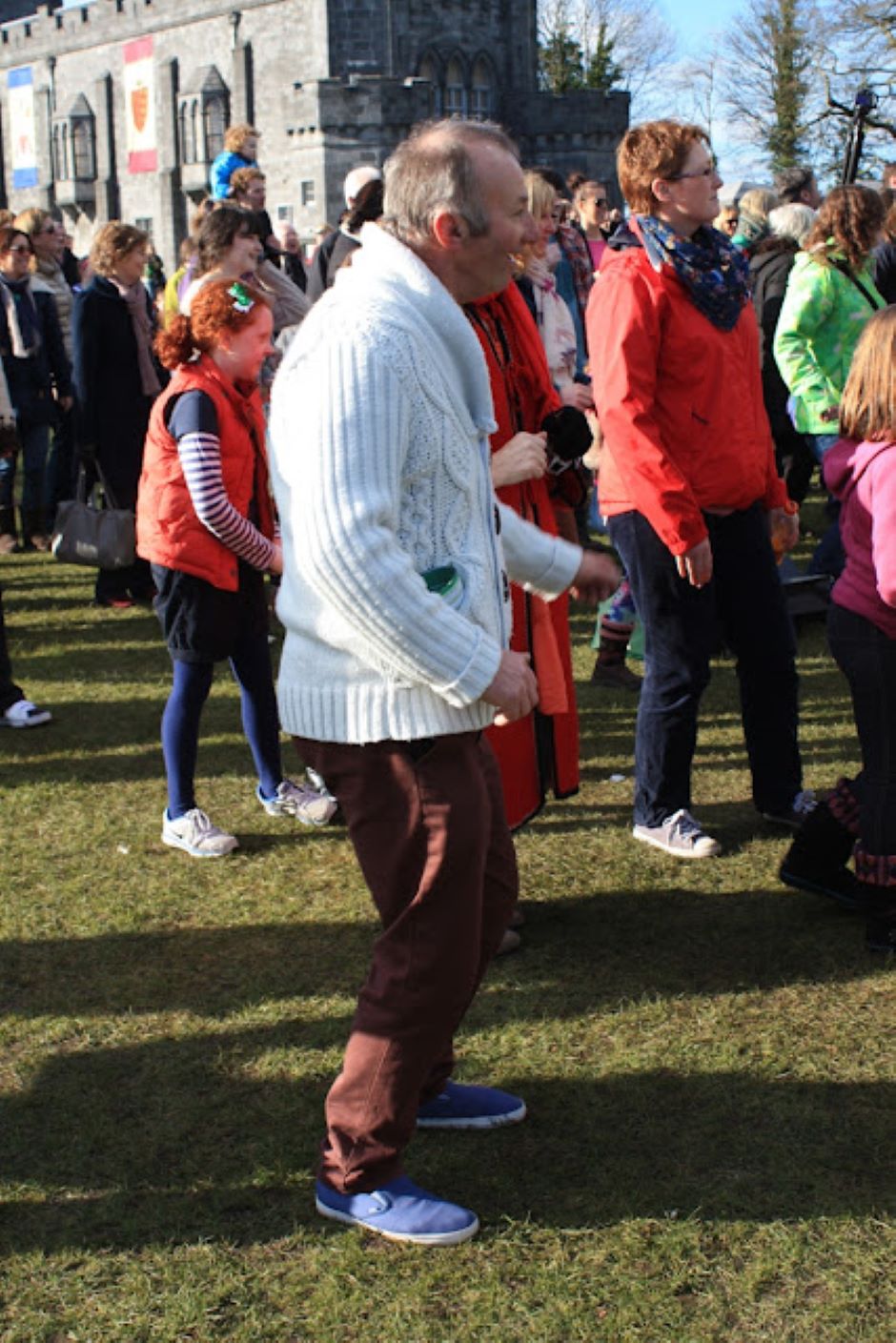 The People's Parade
The highlight of our weekend was definitely the Dublin St Patrick's Day Parade. During our visit this was in two parts due to The Gathering. Numerous friends of Ireland from all over the world, including us, marched in the People's Parade, a kind of pre-parade in which visitors could take part. Among them were groups from Poland, the USA, Canada, Australia and many other parts of the world. But we all had one thing in common: a lot of fun. The atmosphere during this parade was fantastic. Everyone was talking to everyone, you just couldn't help but smile. Not even the initial rain spoiled the fun. In Ireland, this is simply part of it. In any case, nobody cares about St. Patrick's Day in Ireland. Instead, everyone had a great time.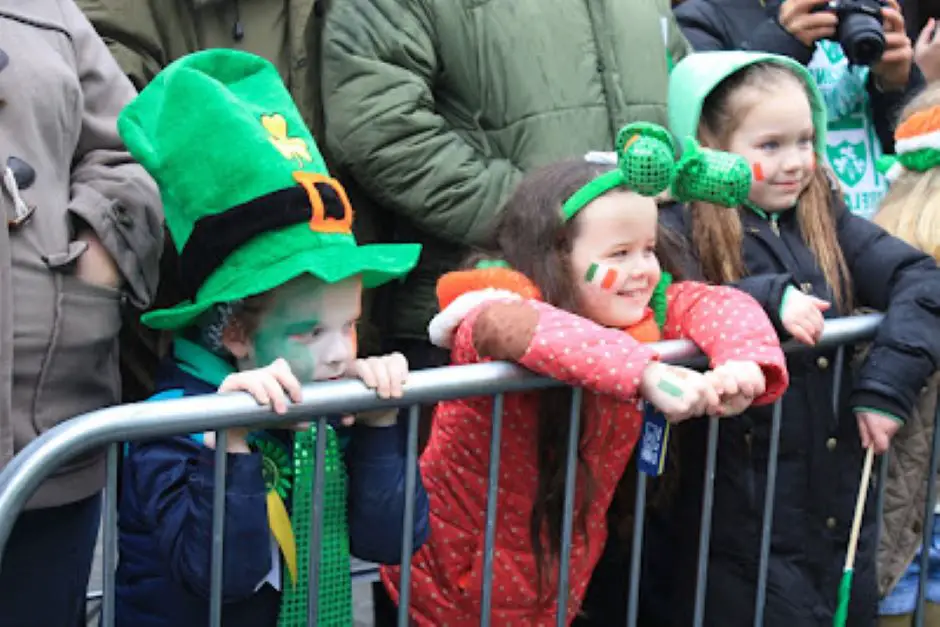 The Dublin St. Patrick's Day Parade
Our ragtag parade was followed by the official Dublin St Patrick's Day Parade. This was also a tough one: after the official groups of the military, the navy and the city's notables, one marching band after the other followed - from Ireland, Canada, the USA and many other countries. All regions where Irish people have ended up in the course of history. In between, the imaginative floats, groups and mythical creatures alternated - so many that we couldn't stop being amazed. Our summary of the three days during St. Patrick's Day in Ireland: hats off, dear Irish. You really know how to celebrate and put on a great party!
In our video you can literally smell the joie de vivre that oozed from every pore of the city during this parade. Dublin on St Patrick's Day in Ireland is definitely fun - whatever the weather.
Safety and tips for St Patrick's Day in Dublin
St Patrick's Day in Dublin is an unforgettable experience, but it's important to keep your safety in mind as well. In this post, you'll find some tips and advice to ensure your trip to Dublin is smooth and carefree.
Safety tips for travelers
Watch your personal belongings. As with any big event, you should be extra careful with your valuables to avoid pickpocketing. Carry a zipped shoulder bag and keep money and valuables close to you, or better yet, in the hotel safe.
stay in the group If you are traveling with friends, it is advisable to stay together. If you lose each other, arrange a meeting place in advance.
Find out about the local emergency numbers. If you need help, it's important to know what numbers to call. The general emergency number in Ireland is 112.
Watch your alcohol consumption. St. Patrick's Day is known for its boisterous celebrations, but don't overdo the booze. Drink responsibly and make sure to drink enough water and eat in between.
Tips for attending events
Plan ahead. Research the various events and activities taking place in Dublin ahead of time and plan your attendance accordingly. This way you can make sure you don't miss anything and make the most of your time.
Be there early. Events like the St. Patrick's Day Parade can get crowded. Find a good spot in good time to have an undisturbed view of what is happening.
Pay attention to weather conditions. The weather in Dublin can be quite changeable in March. Dress for the weather and, if necessary, take a rain jacket and comfortable shoes with you.
Transport options and traffic conditions
Use public transport. In Dublin there is a well-developed network of buses, trams (Luas) and trains (DART) that will take you comfortably and cheaply through the city. Plan your routes in advance and get a Leap Card to make trips even easier.
Avoid traffic. The city may experience increased traffic and road closures during St. Patrick's Day. If possible, use public transport or explore the city on foot.
Drive responsibly. If you rent a car, be extra careful in traffic. Obey traffic rules, such as driving on the left-hand side of the road, and avoid drinking and driving.
Use taxis or ride-sharing services. If you're traveling at night or want to get from one place to another quickly, taxis or ride-sharing services like Uber are available. However, make sure you use an official taxi or verified driver and check the prices in advance to avoid any possible surprises.
Be patient and flexible. Due to the many celebrations, there may be delays in public transport or longer waiting times for taxis. Allow enough time to travel to and from events and be prepared to use alternative routes or modes of transport if necessary.
bike rental. Another way to explore Dublin is by renting a bike. There are several bike hire stations around the city and Dublin has a growing network of cycle lanes. Make sure to wear a helmet and follow traffic rules.
This is the best way to plan a trip for St. Patrick's Day in Dublin
First of all, you should know that St. Patrick's Day falls on March 17th and the weather in Dublin in March can be quite changeable. It is mostly cool and humid, with temperatures between 5 and 10 degrees Celsius. It is therefore advisable to bring weatherproof clothing and comfortable shoes.
There are numerous flight options to get to Dublin. You can from many European cities direct Flights find. It is advisable to book flights early to get cheaper prices. There are several options for accommodation in Dublin, from Hostels to hotels to holiday apartments*. Keep in mind that accommodation prices are often higher during St. Patrick's Day. So it makes sense to book early and maybe look a bit outside of the city center.
When planning your travel budget, there are a few factors you should consider. In addition to flight and accommodation costs, there are expenses for meals, transport and any entrance fees for sights. Dublin can be a bit more expensive compared to other European cities, so it's important to calculate realistically and look for cheaper alternatives. For example, you can shop at supermarkets to save money on food, or visit free events and attractions.
By considering these aspects when planning your trip to Dublin for St Patrick's Day, you can have a memorable time while keeping your budget in mind.
What needs to be in the suitcase for a trip to Ireland?
A rain jacket is essential. In Ireland the weather is changing quickly. Therefore, it is best to prepare for it.
Good Shoes we recommend, because in Ireland - whether in the city or in the country - you walk a lot.
A backpack, in which you can store everything you need for the day.
And finally ...
An unforgettable experience awaits when you celebrate St. Patrick's Day in Dublin. The capital of Ireland is transformed into a green sea of ​​celebrations where you can get to know the fascinating Irish culture and tradition.
One of the highlights of the celebrations is the St. Patrick's Day Parade, which parades through the streets of Dublin. Be there early to secure a good seat and experience the hustle and bustle up close. The St. Patrick's Festival runs parallel to the parade, where you can enjoy concerts, events and workshops for the whole family.
For the ultimate St Patrick's Day experience in Dublin, also visit the famous sites such as St Patrick's Cathedral, Guinness Storehouse, Temple Bar District, Dublin Castle, Grafton Street and the National Museum of Ireland. These places offer you a comprehensive insight into the history and culture of the city.
Ultimately, St. Patrick's Day in Dublin is a unique opportunity to experience Irish culture up close and create unforgettable memories. Enjoy the celebrations, discover the city's treasures and soak up the lively atmosphere of this special time in Dublin.
St Patrick's Day Dublin Questions and Answers
What color should I wear on St. Patrick's Day?
On St. Patrick's Day, it's customary to wear something green to show your connection to Irish culture and tradition. Green accessories, clothes or even green make-up are popular.
Are there traditional Irish foods I should try on St Patrick's Day?
Yes, some traditional Irish foods you should try are Irish stew (a lamb, potato and vegetable stew), soda bread (a traditional Irish bread) and colcannon (a mashed potato with cabbage or kale).
How long do the St Patrick's Day celebrations last in Dublin?
Although St Patrick's Day itself falls on March 17, celebrations in Dublin often span several days. The St. Patrick's Festival usually lasts four to five days.
Is it possible to take a selfie with a leprechaun during St. Patrick's Day?
Yes, it is quite possible that you will come across disguised leprechauns who are happy to pose for a selfie. Keep an eye out for these jolly Irish leprechauns that are often part of the celebrations.
What's the best way to behave in a traditional Irish pub on St Patrick's Day?
In an Irish pub you should be friendly and respectful. Wait patiently for your order, enjoy the live music and socializing, and make sure to give other guests enough space. Drink responsibly and don't forget to enjoy Irish hospitality. More information about Irish pubs and pub culture and etiquette You can find out in this article.
The next time the holiday will be celebrated on Sunday, March 17, 2024. If you want to party at home instead, Kelly Stillwell has the perfect treats for you: St. Patrick's Day Cupcakes.
---
Travel Arrangements:
Parking at the airport
Here you can reserve your parking space at the airport.
Arriving in Dublin for St Patrick's Day
Arrival by plane, bus or train*. Lufthansa and Air Lingus will follow Dublin. In addition, the arrival by ferry*  is possible.
Car Rentals:
Cheap car hire - book quickly and easily!
Hotels for Dublin St Patrick's Day:
Dublin Hotels * you can, for example, also book via our partner booking.com under this link.
Dublin Travel Guide:
Bruckmann Guide: 500 Hidden Secrets Dublin. The best tips and addresses from the locals.
Dublin - adventure travel guide Michael Müller Verlag: 33 adventures to experience for yourself (MM adventures)
Dublin Like a Local: By the People Who Call It Home (Local Travel Guide)
111 Must-See Places in Dublin: Travel Guide
Happiness Places in Dublin: Go & Be Happy: Go and Be Happy
Bruckmann Guide: 500 Hidden Secrets Dublin. The best tips and addresses from the locals.
Dublin - adventure travel guide Michael Müller Verlag: 33 adventures to experience for yourself (MM adventures)
Dublin Like a Local: By the People Who Call It Home (Local Travel Guide)
111 Must-See Places in Dublin: Travel Guide
Happiness Places in Dublin: Go & Be Happy: Go and Be Happy
---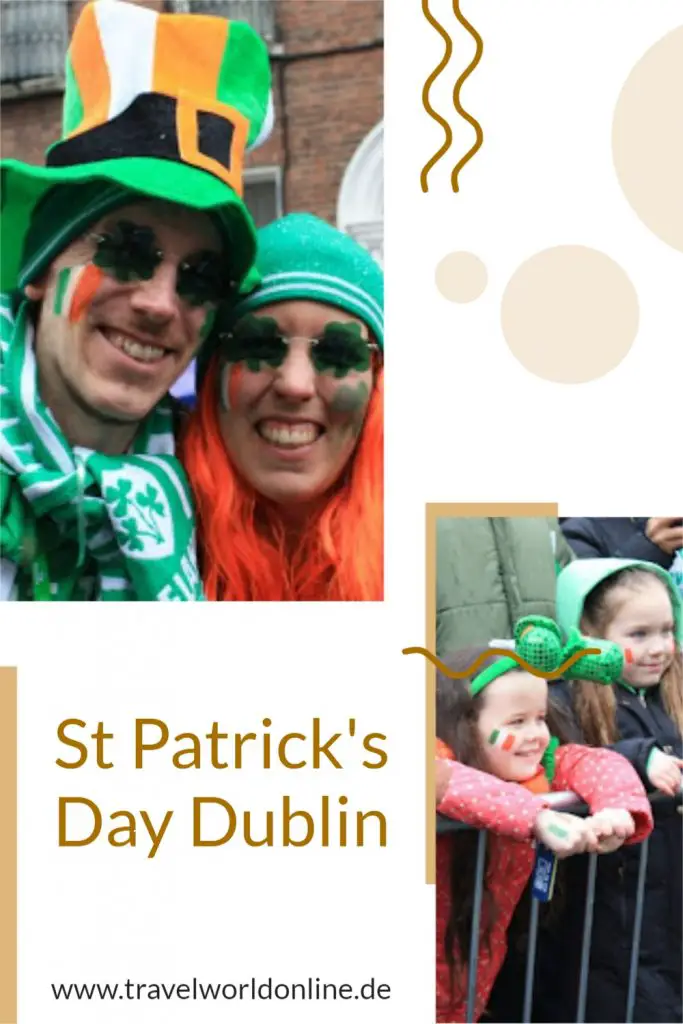 Do you also know:
Slow Travel Destinations you can also find it here. Discover Cities in Ireland.
Sources Dublin St Patrick's Day : Dublin St Patrick's Day research supported by Failte Ireland. However, our opinion remains our own.
Text Dublin St Patrick's Day: © Copyright Monika Fuchs and TravelWorldOnline
Photos Dublin St Patrick's Day : © Copyright by Monika Fuchs as well as TravelWorldOnline and Failte Ireland
Dublin on St Patrick's Day - a typical Irish festival
Last update on 8.09.2023/XNUMX/XNUMX / Affiliate links / Images from the Amazon Product Advertising API