Why is an e-bike folding bike useful in a mobile home when camping?
We have seen on ours that a bike is helpful for camping trips with a mobile home Mobile home tour through the wine region on the Main Experienced. As pleasant as the size of our motorhome was on the campsites, handling it on the road trip over country roads on the Main was problematic. We wanted to see small towns. We had planned to visit sights in Würzburg. With a large motorhome, this was not always easy. Having an e-bike folding bike with you in the mobile home when camping is a good solution.
Here you will find a selection of e-bike folding bikes for camping

BLUEWHEEL 20″ folding e-bike Order here*

Veloja Ebike folding bike - electric bike foldable Order here*

Electric folding bike 20 inch Order here*

A Dece Oasis ADO A20F XE e-folding electric bike Order here*

VIVI Ebike mountain bike 26 inch foldable Order here*

Electric bike e-bike folding bike Order here*

Aluminum electric folding bike, maintenance-free 250 watt central motor Order here*

AsVIVA e-bike 20 inches Order here*
Problems on a sightseeing road trip with a motorhome
In Würzburg we couldn't find any possibility to park the mobile home in the city centre. We finally parked the vehicle in a bus parking lot away from downtown. The walk to the center was nice, but also time consuming. In the wine villages, some streets turned out to be too narrow for our mobile home. Some wine towns didn't even let mobile homes drive into town. On our tour, in almost every village along the route, this meant that we had to park the vehicle outside the village or in a remote parking lot on the outskirts. From there, the way to the sights was often long. Reaching the attractions usually took more time than we had planned for it. Camping with an e-bike folding bike has clear advantages.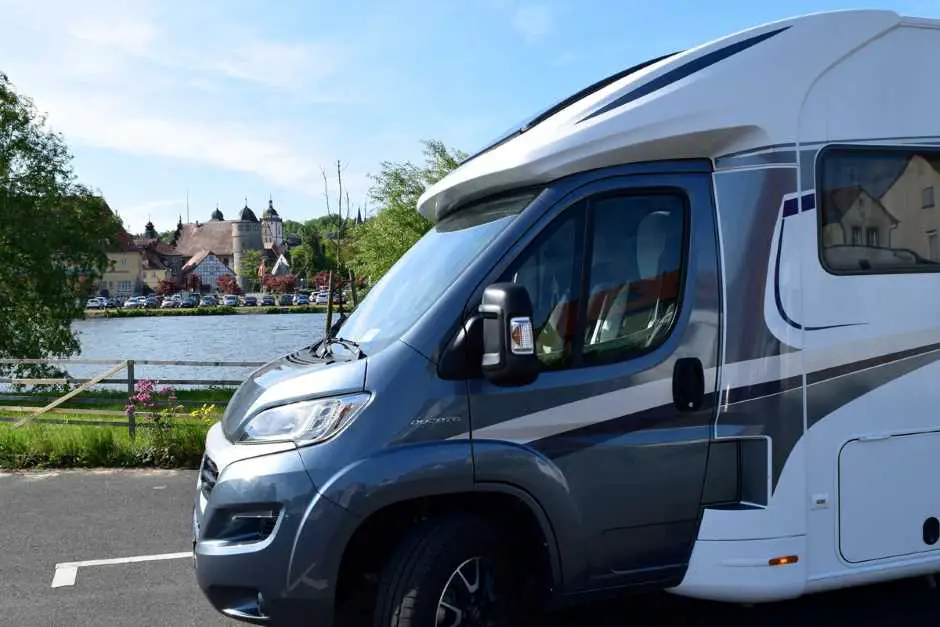 Advantages of an e-bike folding bike on a camper trip
An e-bike is the perfect complement to your motorhome to explore the world even better. With a folding e-bike, you have the opportunity to get around quickly and comfortably while staying fit at the same time. With an e-bike you are also mobile in places where getting around with a motorhome is difficult. It's easy to find the right folding e-bike for your needs by looking at the different features and choosing the one that suits you best.
There are many advantages that an e-bike folding bike offers. For example, you can fold it up and easily store it in the camper when you're not using it. You can also use it to run quick errands or just explore the area. It's a great way to explore the world while taking care of your health.
An e-bike takes the stress out of a road trip
If you have a folding bike with you, organizing a sightseeing road trip with a motorhome is easier. You park your mobile home at the campsite or on the outskirts, unpack your e-bike and cycle to the sights of the city with an electric drive. Camping with a folding e-bike definitely makes sightseeing easier.
On a camping trip, an e-bike folding bike brings advantages when shopping
Shopping in the supermarket proved difficult on our trip with the mobile home. The parking lots in the small towns along the route were often small. They had space for cars. On weekends they were so full that even cars had trouble finding a parking space. With our mobile home it was hopeless to stand on these parking lots. Either the parking spaces were too narrow to be able to maneuver in them with a larger mobile home. Or there was no parking space where we could have parked it. For us, this usually meant long distances lugging the shopping bags. If, on the other hand, you have a folding e-bike with you - preferably with a shopping basket - you can cycle comfortably from the campsite to the supermarket and transport your purchases to the mobile home.
Be mobile for trips while camping, with the folding e-bike
After all, you can also use a folding e-bike for excursions into nature. What could be nicer than jumping on your bike at the campsite and taking a bike ride along the river or around a lake? You transport yours in the basket backpack familiar with the swimwear or his snack for a picnic on the go. This way you can also make your camping holiday in nature varied. Having a folding e-bike with you when camping has numerous advantages.
Features that you should consider when buying a folding e-bike
Before you buy a folding e-bike, there are a few features you should consider to make sure it suits your needs. First you should choose the motor type, which is usually either a hub motor or a mid-mounted motor. After that you have to think about things like range on one charge, speed, maximum weight, battery type and size, suspension and brakes. These characteristics determine which folding e-bike best suits your needs. Remember that a folding e-bike is a great way to get around the area quickly and easily without worrying about parking.
Looking for a cheap option for a folding e-bike
You don't want to spend too much money when buying your e-bike folding bike? Don't worry, there are some great options on the market to suit all budgets. If you're looking for a cheap model, make sure it has a hub motor, simple suspension and braking systems, a smaller battery, and lower speed limits. All of this can help keep costs down. You could also be looking for used or refurbished models that may offer decent savings while still offering great value.
The advantages of lightweight construction
Folding e-bikes are not only convenient for RV trips, they are also easier to transport and store. This makes them a great choice for people who are short on space and need to move their bike frequently. In addition, light models require less energy to accelerate than heavier models, which means they are faster and easier to drive. The lower weight also makes them more manoeuvrable and offers a pleasant driving experience!
Maintenance tips for your e-bike folding bike
If you want to make sure your e-bike folding bike runs smoothly, it's important to maintain it regularly. Regularly check the brakes, tires and other components for wear. Follow the manufacturer's instructions for lubrication and cleaning to ensure your bike runs efficiently for years to come. Properly maintaining your bike can also help prevent costly repairs.
Questions and Answers
Which e-bike folding bike is best suited for motorhome trips?
It depends on your specific needs, but I recommend a lightweight model with a hub motor and a range of at least 50km per charge.
How much weight can a folding e-bike carry?
Weight capacity varies by model, but most can carry at least 100kg. However, always check the manufacturer's specifications.
How much does a folding e-bike cost?
Prices vary by brand and model, but you should expect at least $800 for a basic model. However, if you are looking for a model with more features, the price can go up to 2000 euros.
What is the best way to look after my e-bike folding bike during a motorhome trip?
Keep the bike clean regularly, check the tires for wear and the brakes for functionality. Follow the manufacturer's instructions for lubrication and cleaning to ensure the bike runs as efficiently as possible.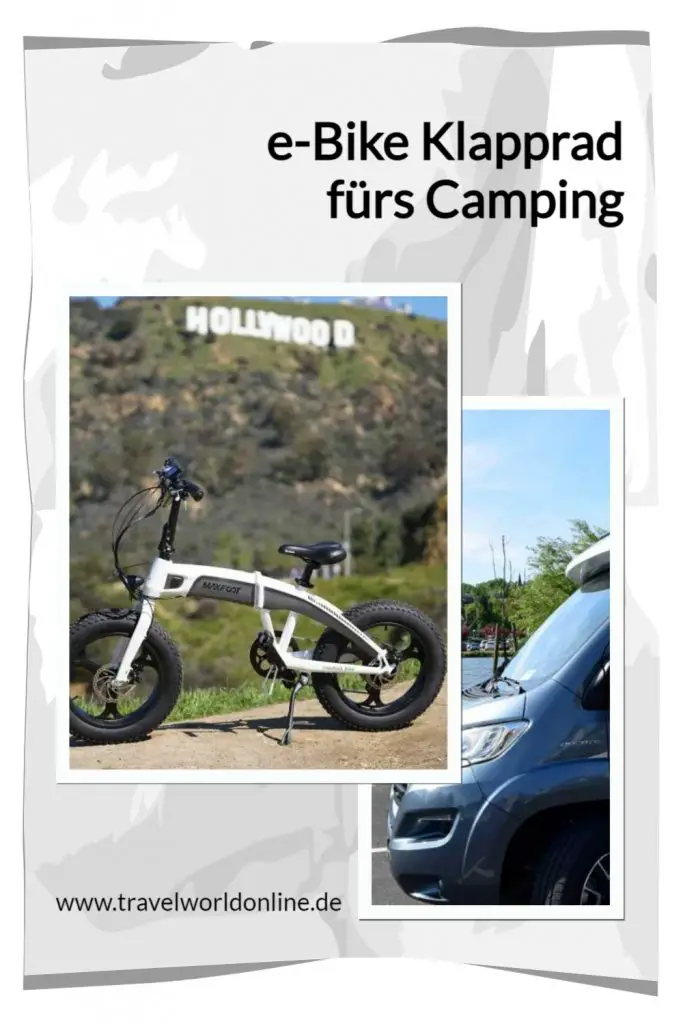 Do you also know:
Source: own research on site
Text: © Copyright Monika Fuchs and TravelWorldOnline
Photos: © Copyright Monika Fuchs as well as TravelWorldOnline and Pixabay
Camping with an e-bike folding bike in a mobile home