Eat vegan breakfast
Admittedly, we are not vegans. However, since we were served a purely vegan menu on a press trip, it has often been the case in our kitchen at home that we do without meat. We would describe ourselves as flexitarians, if such terms have to be used. I don't usually like being pigeonholed. Especially when it comes to food. We eat what we like. This also includes vegan dishes from time to time. But in between we also like an egg american breakfast or a roast with dumplings quite well. It is important for us that we get up from the table after the meal with a good feeling and say: "That tasted good." It doesn't matter whether the food is vegan, vegetarian or something else. Eating a vegan breakfast is always good when it tastes good.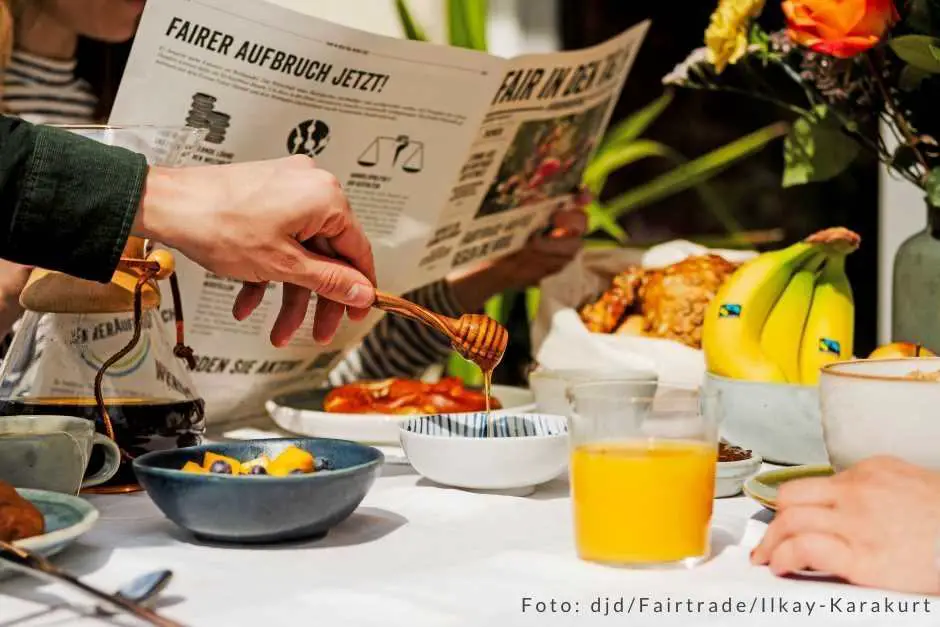 Fair trade ingredients
The same goes for the ingredients we use in our food. When shopping, we pay attention to where the ingredients come from. If it is possible in terms of price, we are happy to choose those that come from fair trade. But it has to fit here too. If the prices are too high for such ingredients, we prefer to replace the ingredients specified in the recipe with ingredients that come from the region. This is slow food from local production. The ingredients are mostly freshly harvested and taste more intense than those that are transported to us over long distances. However, this is not possible for everyone. Bananas, for example, always come from regions that require long transport. The same goes for coffee. We make sure that both come from fair trade.
Creating better living conditions in the Global South
"Fairan" is a trend: Those who live fairly pay attention to fair and ecological ingredients and thus support people in Africa, Latin America and Asia who grow the ingredients for many of these favorite products. The Fairtrade seal, for example, identifies goods from fair trade that have been manufactured in compliance with certain social, ecological and economic criteria. Through fair trade, people in the Global South receive stable prices and invest in their future, in that of their children - and their products, with social projects and environmental programs.
At www.fairtrade-deutschland.de there is an overview of available products as well as fair breakfast ideas - including banana chocolate cake, quinoa bread or a power smoothie. Act fair with conviction: "I live fair because it just feels right. I don't want animals, people or the environment to suffer because of my food preferences or the jacket I'm wearing," agrees the 27-year-old influencer Justine from Vienna. On Instagram and below justinekeptcalmandwentvegan.com Justine from Vienna presents many delicious vegan recipes - like these banana and cinnamon waffles.
Eat vegan breakfast with fair trade ingredients
For many, a balanced breakfast is the perfect start to the day. Especially at the weekend, when you're sitting comfortably with family or friends, the table can be well set, and that's also vegan and fair. Whether coffee or tea, crispy rolls with chocolate spread or honey, muesli with nuts and bananas, delicious fruit juices and a bouquet of roses as decoration: there are numerous products that are fair trade available for the vegan breakfast variety.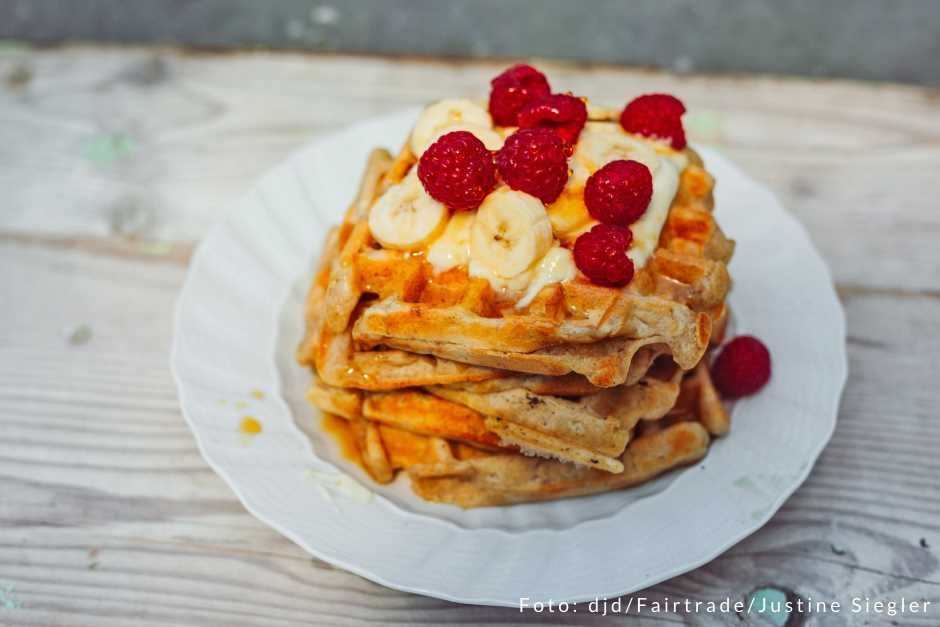 Eat vegan breakfast with banana cinnamon waffles
Ingredients (for 8-10 small waffles):
260 g spelled flour
170 g bananas* (weight without skin)
300 ml plant milk (e.g. oat milk)
2 dashes agave syrup* (or other sweetener)
1 tsp cinnamon*
2 teaspoons cream of tartar baking powder
1 dash of apple cider vinegar
1 tbsp coconut oil* (plus more for greasing the waffle iron)
*These ingredients are available with the Fairtrade seal.
As a topping:
Maple syrup to taste, plant-based yogurt, fruit
Preparation:
Preheat the waffle iron. Mash the bananas with a fork and mix with the plant-based milk, some agave syrup, cinnamon and coconut oil in a bowl with a whisk. Add the flour and stir well. Add cream of tartar and some apple cider vinegar and mix again. Grease the waffle iron, pour in the batter in portions and bake the waffles. Then enjoy with delicious toppings such as yoghurt, maple syrup, banana pieces or other fruits.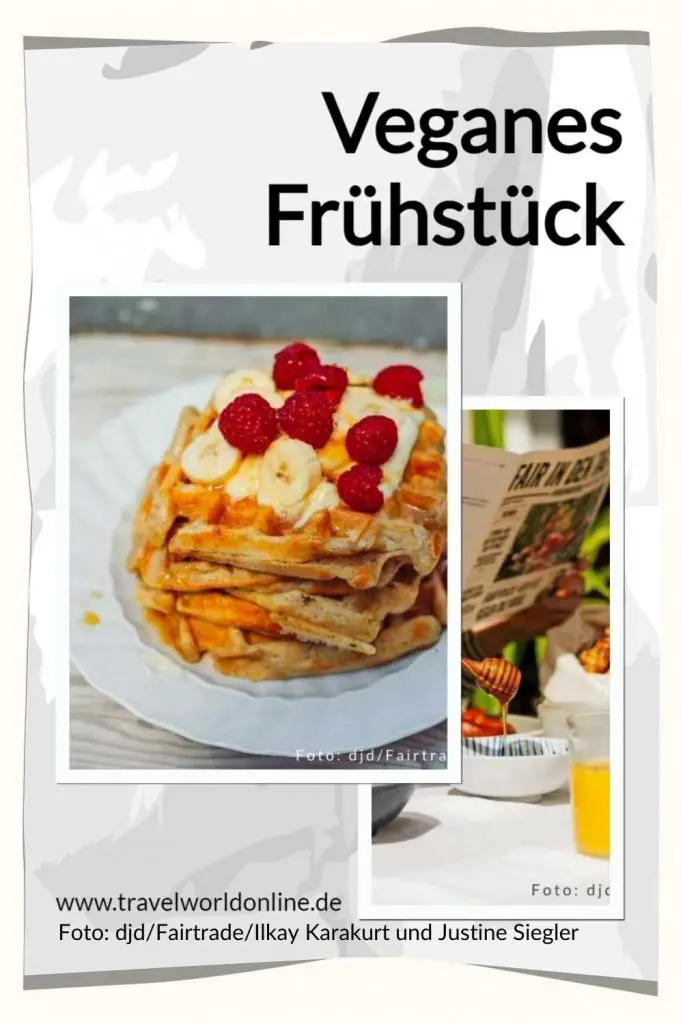 Do you already know:
Eat vegan breakfast source: own research and djd/fairtrade/Justine Siegler
Text eating vegan breakfast: Monika Fuchs as well as TravelWorldOnline and djd/fairtrade/Justine Siegler
Photos: see captions and copyright notices in the photos
Eat vegan breakfast – fair and delicious