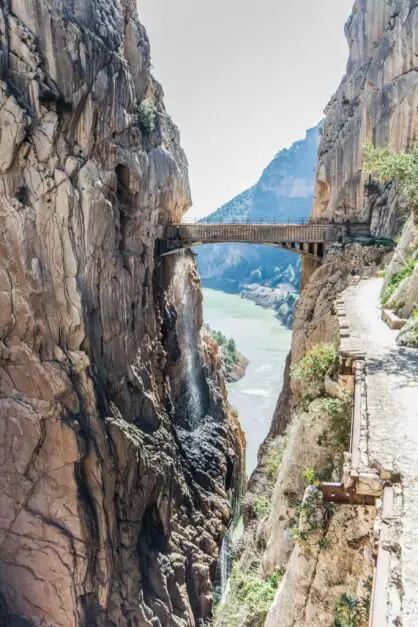 Since March 2015, the Caminito del Rey has reopened for hikers. Before that, he was closed for 14 years. The reason was that many hikers and climbers had crashed in the vertical gorge. Until its closure, it was considered the most dangerous trail in the world. No wonder, if you look at the photos from earlier times. The jetty leads along steep cliffs and was in a dilapidated state before its closure. Even then adventurers ventured over the way into the gorge. This is part of the popular winter climbing El Chorro in Andalusia.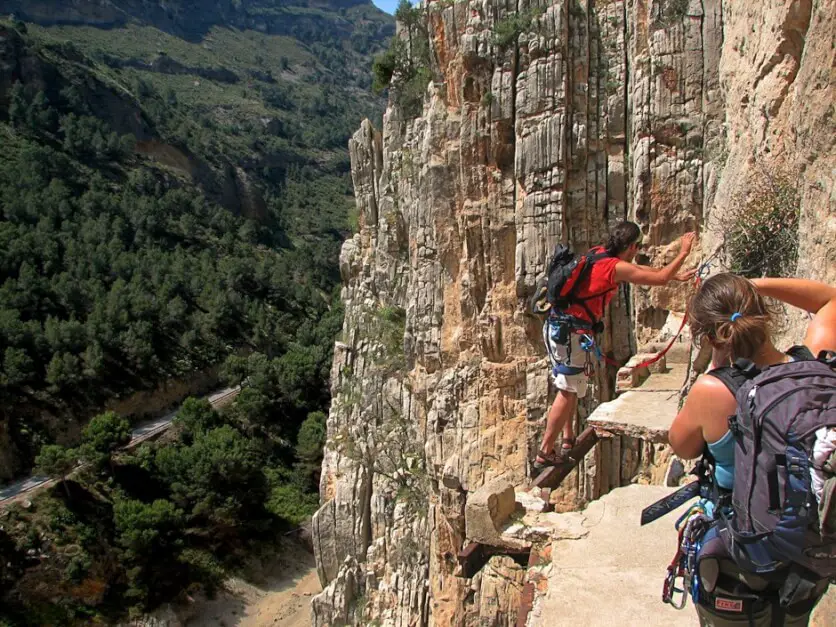 El Caminito del Rey
They used the footbridges to get to their climbing areas. A game with life, as the photo above shows. Meanwhile, the trail is open to the public again. Even if today only 400 hikers are allowed on the dock per day. You must wear a helmet and pay ten euros entrance fee (as of June 2017). The crowd is so big that you have to register in advance. So, if you plan to conquer the steep gorge, you should sign up early. This works out on this website, A good seven and a half kilometers long is the footpath from the village of El Chorro. The jetty in the cliffs has a length of almost three kilometers. For the hike you should plan about four to five hours.
Benalmadena Hotels
It takes about an hour to drive from Benalmadena to El Chorro, the village where the trail starts. The perfect distance to do this hike as a day trip. These Benalmadena Hotels * are good as starting points.
---
Travel Arrangements
The hotels in Benalmadena are located on one of the most popular Andalusian coastlines. From there, the coastal towns of Torremolinos, Malaga, Estepona and Marbella are within easy reach.
---
Text: © Copyright Monika Fuchs, TravelWorldOnline
El Caminito del Rey, Andalusia - Hotels