Explore Miami Beach on a food tour
We discover good food on a food tour in Miami Beach. We were warned: Do not let the rip-offs on Ocean Drive lure you into the restaurant with cheap promises! Eating for five dollars usually means eating without coffee, and if you order it, you'll have to pay each cup dearly. It costs you more than a good restaurant off the boulevard of South Beach. We had such experiences already during our visit Miami Beach made and were warned. For this reason - and because we wanted to get to know the "good cuisine" of South Beach - this time we let Kelly Woodward from Miami Food Tours introduce us to the secrets of the Miami Beach cuisine.
Best Food Tour in Miami Beach
We sat with Kelly in front of Café at Books & Books on Lincoln Road January morning in Miami Beach The first tasting of Floridian cuisine awaited us: a hors d'oeuvre with guacamole and crispy nachos, a corn salad with herbs, a cream of black beans and ceviche. The latter should get us through our journey more often Florida Ceviche (pictured top right) is a specialty that consists of raw fresh fish marinated in citrus or lime juice and flavored with various spices and herbs. For that we use a lot of different fish: we tried Ceviche from Grouper, from Tilapia and from Red Snapper. A very refreshing dish.
Food Tour in South Beach
We stroll through the streets of South Beach with its Art Deco houses and just a few steps later make a stop at a street kiosk that advertises "Café Cubano" in large letters. Kelly asks us if we have already tried this. When we say no, she laughs. "It's a good thing," she says. "Because otherwise you would have had a surprise." Curious, I ask her why. And she answers: "Do you like espresso?" Of course, I reply. "Well, imagine a ten times stronger one. This is Café Cubano! "And she shows us how to drink it like a real connoisseur.
A Café Cubano can not be missed on a food tour in Miami Beach
We get a plastic cup full of coffee that exudes an intense fragrance. To do this, she takes three tiny cups into which she distributes the coffee. "And now sugar stirs in," she advises us. "Otherwise the coffee is too bitter." We follow her advice and are glad that we only get such a tiny portion. This coffee is a real stimulant. I can imagine that after a whole mug of it you have to deal with circulatory problems.
French crepes on Espanola Way
So strengthened and shaken awake, Kelly leads us into Espanola Way, a street with Spanish flair. She stops in the first bistro and says, "Here you get the best crèpes from South Beach". It's cozy here, and guests sit at their bistro tables and spend a quiet morning - unlike what is common in American restaurants, where you usually pay and leave after dinner. Here you treat yourself to one café crema after another and talk to friends about life itself. We try the buckwheat crêpes with pears, French brie and walnuts and listen to Kelly tell us the story of the Espanola Way.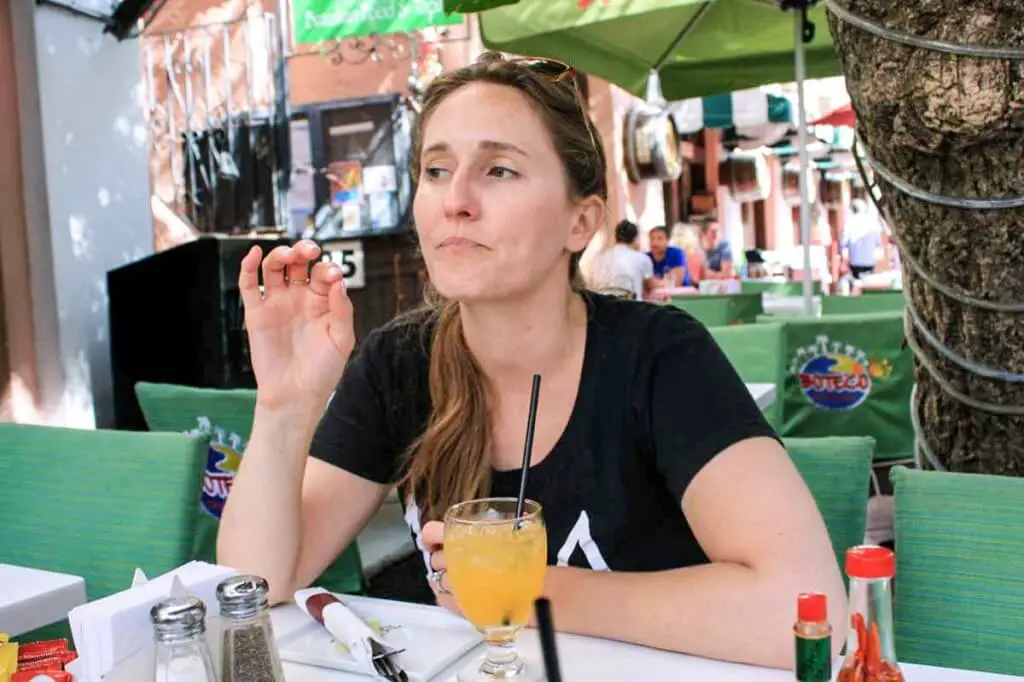 Food Tour in Miami Beach - Al Capone tasted it here
This street played an important role in South Beach history. With its Spanish-style houses, tiled houses and street cafes, it was an early magnet for tourists. However, they weren't always the way the city fathers liked them. Al Capone and his cronies once stayed at "The Clay Hotel" - a hostel on a street corner of the Espanola Way - rather uninvited guests, even if they committed themselves to leave their criminal machinations "on vacation".
... as well as Crocket and Tubbs
Welcome was there already Don Johnson and the film crew of Miami Vice, the pictures of this hotel in the opening credits of their television series showed. Today, it houses a hostel whose guests appreciate the proximity of Espanola Way's restaurants and sidewalk cafes.
Brazilian food in Miami Beach
Afterwards Kelly takes us to a Brazilian restaurant. There we are served Coxinha. These are chicken croquettes stuffed with Catupiry cheese. That's the name of the cream cheese from Brazil. It shows us that we can even recognize the origin of the owners at the establishment of the restaurant. The way the floor and walls of the restaurant are tiled is typical of the region where the family comes from.
Who is our guide on the Food Tour in Miami Beach?
Over a glass of pineapple juice I ask Kelly how she knows these dishes so well and what gave them the idea of ​​offering their culinary tours of Miami Beach. She tells us about her last trip to Brazil, and that she leaves Florida during the hottest months of the year and goes on a voyage of discovery around the world. The idea for her food tours came to her when she came to Miami Beach herself a few years ago.
At that time, she worked in an architectural firm, dreaming of her travels through more than twenty countries around the world and the beautiful moments she experienced as she sought out the local specialties of her travel destinations. 2010 founded Miami Food Tours and offers these experiences to their customers today. If you go on a culinary discovery tour of South Beach with her, you can look forward to a delightful and informative tour of Miami Beach, where you will get to know the restaurants, cafés and pubs, which also like to visit the locals. A discovery tour with friends, more or less.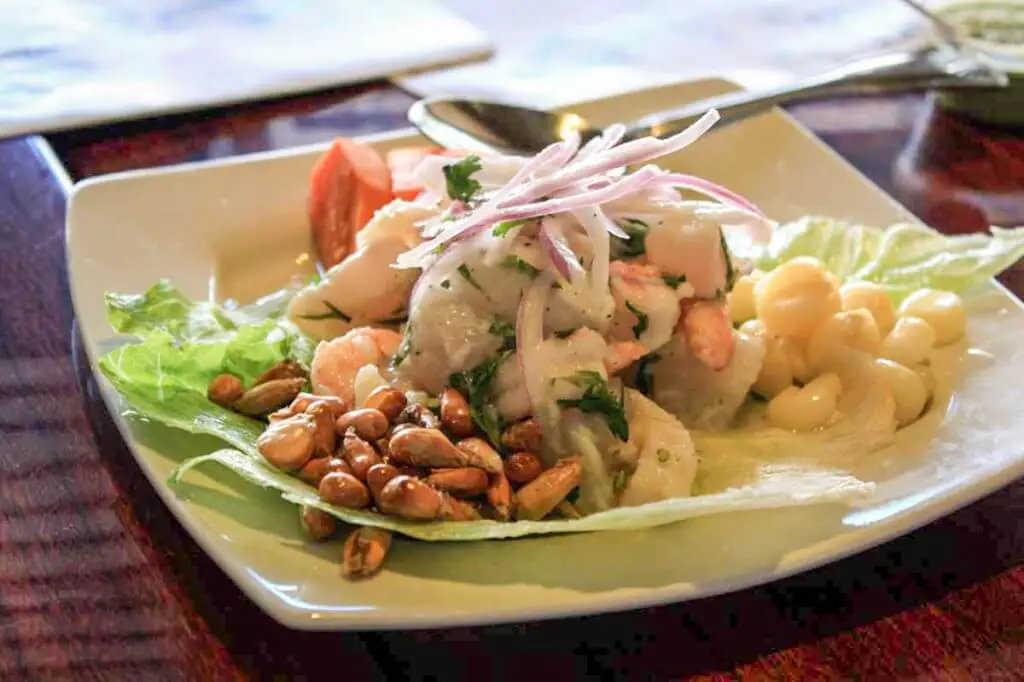 Peru's kitchen in South Beach
Our final culinary stop is finally on our way back to Lincoln Road. This time, Kelly takes us to Peruvian cuisine. Even our tastings close the circle, because here we get ceviche in the Peruvian way. Where this Latin American court originally comes from, argue the connoisseurs. Some say it is a specialty of the Peruvian Moche Indians, others say the Spanish conquerors brought the raw fish dish from Moroccan chefs. It is now considered a Latin American specialty served with corn, avocados and other vegetables.
After many fish and poultry, the head of El Chalan serves us a Peruvian meat dish: Lomo Saltado. It is the most popular food of its guests, he assures us. And we can understand that: the lean beef that is served with onions, tomatoes and French fries literally melts on the tongue. Just delicious!
A culinary tour of South Beach is filling
Almost three and a half hours we ate through the kitchens of South Beach. We got insights into the history, the architecture and the anecdotes of the Art Deco District, Then we come back to our starting point on Lincoln Road. We are satisfied and feel that we have not only come to know South Beach superficially. Instead, we discovered it with a new friend.
More tips for Miami and the surrounding area
---
Travel Arrangements
Getting there
Various airlines fly to Miami, including Lufthansa, United Airlines and others
Rental car
Book one cheap car hire here*
Hotels and accommodations
Accommodation in Miami Beach * You can also book here.
Miami accommodations * you can also find here.
Trips in and around Miami
Numerous Tours and tours in and around Miami * Get Your Guide to Online Booking.
Apart from the A Taste of South Beach Food Tour described here, there are a number of other food tours through Miami and Miami Beach. These can be booked online at Get Your Guide if you click on these links (we get a small commission, but the tours cost you nothing more than booking directly).
---
Source: own on-site research for the Miami Beach Food Tour article courtesy of the Greater Miami Convention and Tourism Bureau. Our opinion, however, remains our own.
Text: © Copyright Monika Fuchs, TravelWorldOnline
Photos: © Copyright Monika Fuchs, TravelWorldOnline