Fort Lauderdale sights and their history

Fort Lauderdale Florida attractions have a fascinating history. The Tequesta originally settled the area in the 18th century. Later settlers from the Bahamas came and founded the place. The name honors Major William Lauderdale, a hero of the Seminole Wars. Some of Fort Lauderdale's attractions are reminiscent of the city's history.
In the 20th century, the city boomed thanks to the agricultural industry. But it wasn't just agriculture that shaped her. In the 1920s it became a tourist magnet. In the 70s, however, she was known for her crime. But that changed. Today it is a popular tourist destination with many sights.
Las Olas Boulevard invites you to stroll. Here you will find shops, restaurants and bars. The Riverwalk shows you the city from the water. And the Museum of Discovery and Science? A must for those hungry for knowledge.
So the history of Fort Lauderdale is multifaceted. A lot has changed from the first settlers to the present day. But one thing remains: the city keeps attracting new visitors with its sights and history.
Fort Lauderdale sights along the canals
We explore Fort Lauderdale Florida sights aboard the Jungle Queen IV. My head is slowly spinning: "Nick Nolte lives in this villa and Al Pacino shot one of his blockbusters in that one". It goes on like this or something like that while we leisurely board the sternwheeler jungle Queen through the channels of Fort Lauderdale slide. At first we thought about exploring the waters in and around Fort Lauderdale with a water taxi. Then we decided to go on the riverboat tour. This is in Miami / Fort Lauderdale Sightseeing Pass* contain. We wanted to learn a little more about what we see along the way. That's what the three-hour boat tour through the canals of Fort Lauderdale offered us. We would have passed it by water taxi without learning more about it. We wanted to know what and who is hiding behind the facades of the millionaire villas that line the waterways of America's Venice.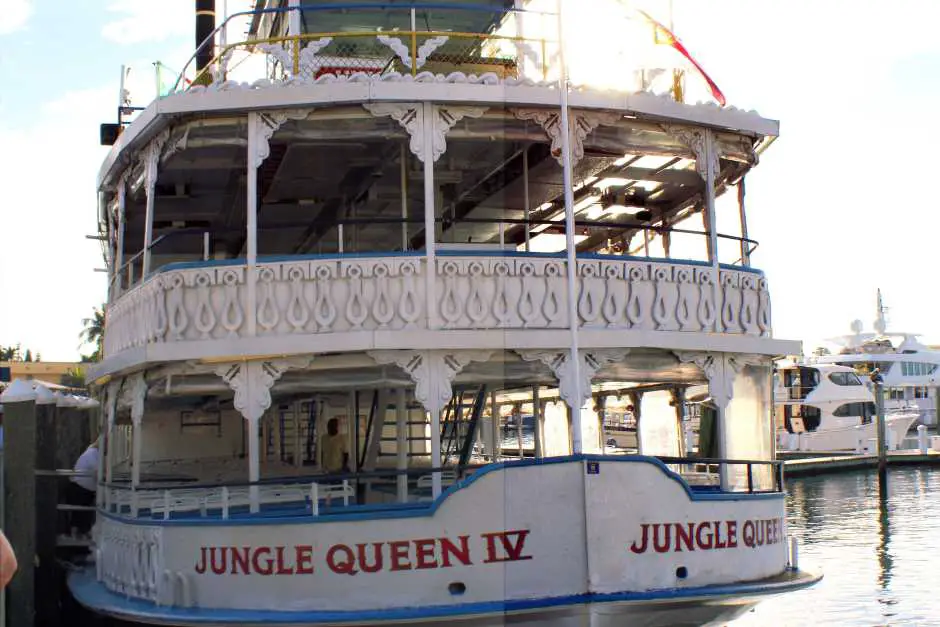 Popular excursions in Fort Lauderdale
Although raindrops fall shortly before departure, we stay on board. I'm actually very happy that the sun is not shining as intensely from the sky today as it has been in recent days. As a new arrival from wintry Germany, the sun quickly wins its battle here. We are red like now grilled Chicken. A few clouds in the sky are just right.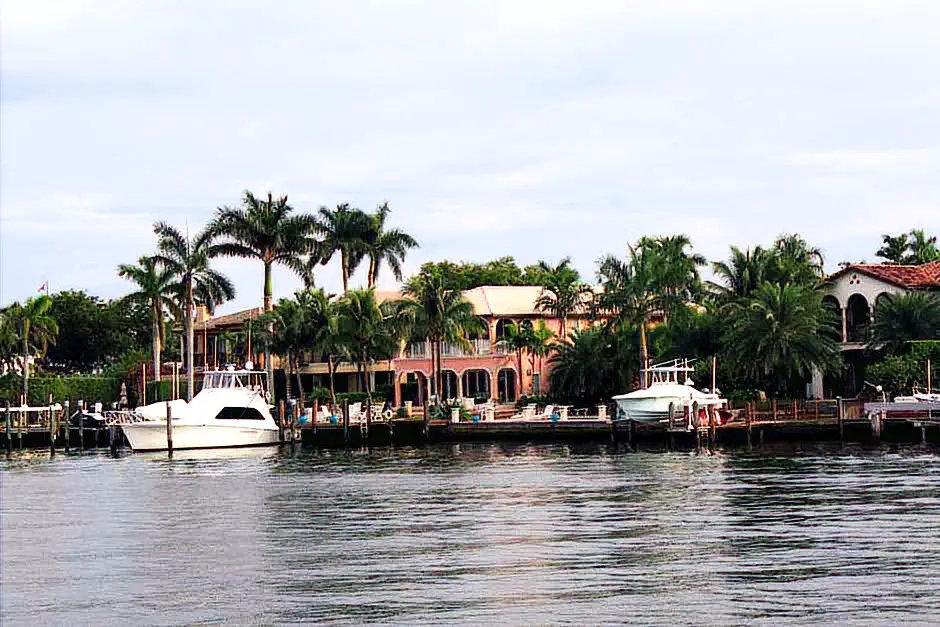 The mansions of Fort Lauderdale
Anyone who lives behind the facades can be proud of. Numbers are buzzing past us telling about villas for $ 28 million or yachts that are worth several million dollars alone. Hollywood giants as well as the CEOs of international corporations are among the residents of these magnificent buildings. They have a good time and no one is afraid to show their wealth to the outside world: when we drive past a particularly large house, one of our fellow passengers asks: "Who lives there?" The answer comes promptly: "The chairman of the board large international corporation with his wife. "And again the question arises:" Only two people? Why do they need this huge house? "The answer was typical:" Well, because they can afford it. "Stupid question: why else should a couple buy a 32-room house, right? In Fort Lauderdale there is no mess, there is a lot of stuff.
The yachts in Fort Lauderdale canals
Again and again we pass the driveways to canals that branch off from the main channel that leads west towards the Everglades. And everyone is lined with rows of yachts and superyachts lying left and right on the shore in front of the villas. If a boat owner wants to leave his pier, he must cautiously squeeze past the other impressive yachts until he reaches the wider waters of the main channel, which either leads to the sea or downtown Fort Lauderdale. And yeah, yachts are more important in these parts of Fort Lauderdale than a car - they are often the fastest way to get to the city center and shopping centers. If you live here, go shopping with your own boat or your own yacht, and it is not uncommon that the boat is used for the daily trip to the bakery or the weekly visit to the hairdresser.
There are "bargains" on the canals
Nevertheless, there is always a "for sale" sign in between, which indicates that the economic crisis of recent years has not passed unnoticed by these circles in American society. However, the winners of the real estate crisis also live in these parts of Fort Lauderdales. Our guide shows us a villa that still looks very new - and it is, as he explains to us shortly afterwards: "It belongs to a lawyer who specializes in foreclosures. And he extends his house every week and month or buys neighboring properties. "Is he popular with his neighbors? Our guide is discreetly silent and goes on to another topic.
A tip: you can use the channels of Fort Lauderdale also explore on a SUP tour, How much fun that is, says Olivia in her blog.
When we returned from the tangle of canals from Fort Lauderdale to the harbor area, the sun came out on time and let the magnificent villas shine in the evening light, as if to say: "Look, there are still Americans who are so stately Residences. "
That has to be in your   suitcase for a trip to Fort Lauderdale
The gardens at Bonnet House
As far as the eye can see, orchids await us in the gardens at Bonnet House in Fort Lauderdale. And not only the. Also interesting is the history of its inhabitants. Helen Clay Bartlett was responsible for the gardens that hide behind the fence of the Bonnet House. She created a paradise for her family. Their successors extended this and brought together a breathtaking collection of art, kitsch and clutter. This fits wonderfully into the gardens and courtyards of the house.
Bonnet House in Fort Lauderdale
900 N Birch Rd
Fort Lauderdale, FL 33304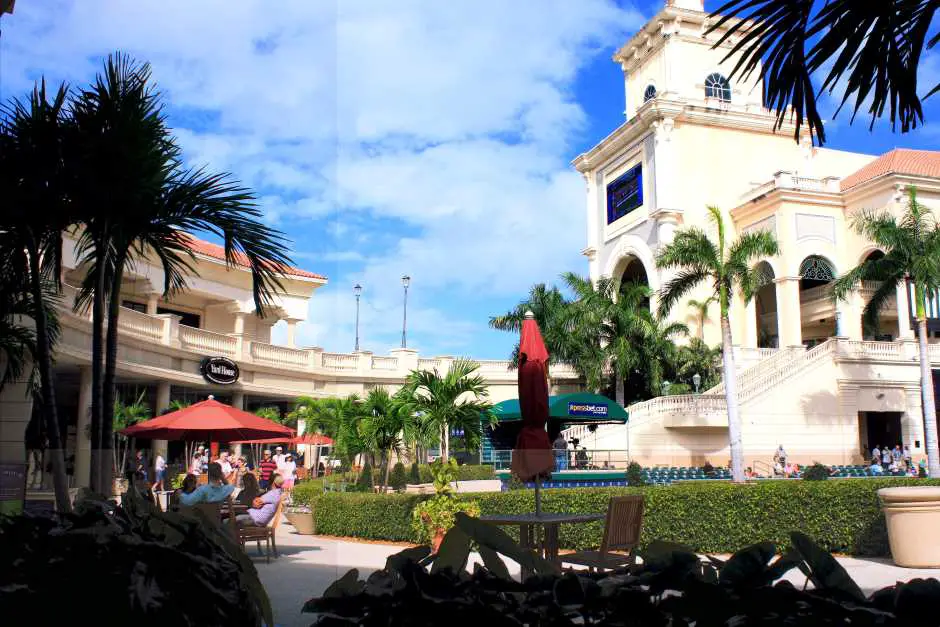 The Gulfstream Mall & Race Track
I think it can only happen in Florida. A combination of shopping mall and racecourse. If you go shopping in the Gulfstream Mall, you can join in a horseback race during a shopping break. Directly to the shopping paradise is followed by a racecourse. Over lunch in one of the sidewalk cafes and restaurants in the mall, you can see the horses showing the jockeys before the race. Maybe you feel like watching one of the races yourself. An exceptional experience is the mall in any case.
Gulfstream Mall & Race Track near Fort Lauderdale
901 S Federal Hwy
Hallandale Beach, FL 33009
Fort Lauderdale in the rain: in the Festival Flea Market
It also rains in Florida from time to time. When that happens, water masses often patter from the sky, as we seldom see them in Europe. Then it is good to spend a few hours in a sheltered environment. Especially exciting is a visit to the Festival Flea Market. There you can stroll for hours through the huge halls in search of vintage souvenirsthat remind you of Florida at home. We spent the only rainy day of our Florida trip there. We have seen only a small part of the antiques and old utensils that the dealers offer. The Festival Flea Market is not just a way to weather a rainy day. He also provides great insights into the lives of Americans.
The Festival Flea Market near Fort Lauderdale
2900 West Sample Road
Pompano Beach
Florida 33073
Other Fort Lauderdale attractions worth visiting
Las Olas Blvd
This is a street with shops, restaurants and bars. Many of the city's cultural attractions are also located here.
Fort Lauderdale Beach
A popular beach with white sand and crystal clear water. It offers a variety of activities from sunbathing to water sports.
The riverwalk
A pedestrian and bike path along the New River that takes in some of the city's most well-known landmarks and attractions.
Downtown Fort Lauderdale
A lively city center with many shops, restaurants, bars and entertainment venues.
Las Olas Marina
A marina on the banks of the New River with a breathtaking view of the city skyline.
Hugh Taylor Birch State Park
A natural oasis in the heart of Fort Lauderdale with a variety of wildlife and a two-mile stretch of beach that also offers shade.
Museum of Discovery and Science
An interactive museum that focuses on science, technology and the natural world.
Transportation options in Fort Lauderdale
One of the highlights are the water taxis. They glide gently over the waterways and not only offer you transport, but also impressive views. It's a relaxed way to explore the "Venice of America".
If you prefer to stay on land, are Rental car a good choice. They give you flexibility and independence. This is how you discover corners of the city that would otherwise remain hidden. But remember to keep an eye on traffic and parking.
Of course there is also public transport. Buses connect important points of the city with each other. They are reliable and an inexpensive option. For longer distances, the Tri-Rail is worth considering. It connects Fort Lauderdale with Miami and West Palm Beach.
Tips for visitors
Fort Lauderdale has a variety of attractions to offer. Are you planning a visit? Here we have some tips for you.
Start at Las Olas Blvd. Life pulsates here. Shops, restaurants and bars are waiting for you. Then the Riverwalk beckons. This walkway along the New River gives you a different perspective of the city.
For those thirsty for knowledge, the Museum of Discovery and Science is a must. Interactive exhibits make science exciting and tangible. If you love nature, visit Hugh Taylor Birch State Park. It offers peace and relaxation in the middle of the city. We also liked the Bonnet House with its garden.
A tip for bargain hunters: Use public transport. They are cheap and take you to many attractions. Or try the water taxis. Not only do they offer transportation, but great views as well.
Finally, a culinary tip: be sure to try the local seafood. They are fresh and delicious.
Do you like to travel by motorhome?
Do you want to rent a motorhome? Then you will find information and a selection in these  booking options.
Also check our packing list for campers to see whether you have packed everything for your motorhome tour.
There are many campsites in and around Fort Lauderdale. For example, one is Easterlin Park, 1000 NW 38th St, Oakland Park, FL 33309, United States
Are you looking for ideas to continue your trip through Louisiana? Wanderu poses the best travel destinations in Louisiana .
Travel Arrangements
Parking at the airport
Here you can reserve your parking space at the airport.
Excursions and tours
Excursions and Tours in and around Fort Lauderdale * get your guide
Travel guide for Florida
Hotels in Fort Lauderdale
Accommodation in Fort Lauderdale * you can book here, for example. We have stayed in these hotels.
---
Do you already know:
Source Fort Lauderdale Attractions: Research on site with support from the Greater Fort Lauderdale Convention & Visitors Bureau. However, our opinion remains our own. Travel Tips for Slow Travelers you can also find here.
Text: © Copyright Monika Fuchs and TravelWorldOnline
Photos: © Copyright Monika Fuchs and TravelWorldOnline
Fort Lauderdale Attractions: What You Shouldn't Miss!