Gift ideas for gifts for campers and motorhomes
What gifts for campers and motorhomes are outdoor fans happy? Vacation in a camper and Caravan is trendy. Therefore, gifts for RV fans can be needed all year round. Gifts for camping enthusiasts make their recipient happy not only for Christmas or for a birthday. Maybe a camping friend is going on vacation? Or someone else is going to retire? There are always occasions to make motorhome drivers happy. Here you will find a gift for the motorhome that suits your interests. Discover ideas for gifts for RV fans as well as fun gifts for campers.
Gifts for camping enthusiasts
Choosing gifts for the motorhome is often difficult for someone who does not go on vacation in this way. Here should this Gift selection help.
Useful gifts for motorhome lovers
Camping chairs with table
You never have enough seating. A table makes the set complete. Therefore, camping chairs with a matching table are perfect gifts for campers. You get to know your neighbors quickly on campsites. So it's good to have a spare camping chair with you. On the table you can enjoy your glass of wine or your dinner in the open air. This chair and table set is good for motorhomes because it is light. In addition, it takes up little space. It can be folded up and stowed away quickly.
Hammock as a gift for camping enthusiasts
A hammock can be transported to save space. In addition, it weighs very little and thus hardly increases the weight of the vehicle. All the more, it ensures well-being on the go. Or can you imagine something nicer than enjoying nature in a hammock?
For privacy - a rear tent for the van
Are you traveling in the campervan and sleeping in it? Then this rear tent will give you a little more privacy, for example when getting dressed in the morning or with your first cup of coffee.
For campers - a roof tent for weekend trips into nature
Do you spontaneously feel like going on a weekend trip into nature? With a roof tent you are immediately ready for it. Without time-consuming pre-booking of accommodation. You just pack a picnic for a few days. You have your bed with you on the car roof. And off we go to the next outdoor adventure.
For tent campers - an instant tent for easy pitching
Anyone who enjoys outdoor life will be happy about this tent, which can be set up in no time at all.
E-bike folding bike for camping
A folding e-bike is very practical so that campers with a tent or mobile home can remain mobile without a vehicle.
A gift for camping enthusiasts that provides cozy warmth
Not only Winter camper are happy about such a thermal blanket. In the rest of the year, too, there are always times when you can look forward to a warm bed in the motorhome.
Camping washing machine without electricity
This camping outdoor washing machine is very practical for on the go. It doesn't matter whether you're traveling on a road trip, with a tent, roof tent or motorhome, it's good if you can quickly wash your clothes in between. This works in the hotel room as well as on the campsite, in the wilderness or in a campervan. A big advantage of this camping outdoor washing machine is that it is easy to store. It weighs little and you can wash it in an environmentally friendly way if you use a sustainable detergent.
camping stove
Even if there is a kitchen in a mobile home, prepare gourmet enjoy eating outdoors on a motorhome vacation. At many campsites there are tables on which you can set up your camping stove. Such a camping stove is particularly practical if it has more than two cooking zones. In the motorhome, the stove usually has two plates. So you are limited in the choice of dishes. If you have four hotplates available, you can prepare more complex dishes.
If it can be one size smaller, then a camping stove with a gas cartridge will do the trick. This is also good for camping with a tent. You need this:
Camping cookware as a gift for camping enthusiasts
Appropriate dishes are required for cooking. This cookware works well because it is specially made for camping. It saves space and includes the most important things that 2-3 people need for cooking on a camping trip.
Dutch Oven - for cooking outdoors
On a mobile home vacation, am campfire In nature or when barbecuing on the terrace, there is always the opportunity for a campfire or a barbecue. A Dutch oven is perfect for this. Dutch oven accessories you can find here. Like the pioneers who roamed the American Wild West, you can cook your food in a cast iron pot. There are many recipes you can cook with it. You can find suitable recipes for this, for example, in this one Recipe book *. This is one of those gifts for RV fans that makes them particularly happy.
Oven - gifts for the motorhome
Does the motorhome driver like cake or freshly baked goods? Then he is guaranteed to be happy about the Omnia oven. In this one can bake cakes as well as bake rolls for breakfast. If you like, you can even bake your own bread in it. These are gifts for the motorhome, like gourmet you love.
Gift for camping enthusiasts for storing food
The refrigerator in an RV is small. You can't put much there. Camping friends are happy about these cooling box, you can keep vegetables and other fresh food cool with rechargeable batteries for a few days. This makes the food on camping trips more varied.
Cookbook for the motorhome
It is clear that cooking in a motorhome is different than in the kitchen at home. You have less space there. In addition, you will limit yourself to a few foods. Which spices you take with you needs to be carefully considered. Therefore, a camping cookbook helps to find suitable recipes for it. You can find 250 in this cookbook.
Portable espresso machine
If you like cake, you usually also love coffee. With this espresso machine you can prepare your own coffee on the go. One of the gifts for campers that connoisseurs love. Espresso lovers will love this espresso maker. Compact and portable, it is a perfect gift for camper enthusiasts. But hikers or road trippers will also like this espresso maker. This allows you to quickly prepare an espresso on the go. The machine doesn't take up much space, which is important in the mobile home. You can prepare your own espresso anytime and anywhere: camping, hiking, in the car or in the office.
gas Grill
A very useful gift for camping enthusiasts is a gas Grill. A mobile home often has only two hotplates. Camping holidays are also outdoor holidays. It's a good idea to throw a steak or sausage on the grill - especially on a campsite with a beautiful landscape. Motorhome drivers are therefore guaranteed to be delighted with a gas grill as a gift for campers. They are also practical for campers and mobile homes portable charcoal grills take away. You can count on that in one with a Dutch Oven after a day trip .
For wine lovers
Do camping enthusiasts like to have a glass of wine in the evening? You don't need to set up a camping table for this. With two folding chairs and this wine stake for a wine bottle and two wine glasses, you can enjoy the view in peace with a glass of wine.
Two stainless steel wine glasses are perfect for enjoying a glass of red or white wine. The double wall ensures that the wine stays at a good temperature.
This table lamp creates the right mood for an evening for connoisseurs in front of the motorhome.
This solar lamp, which generates its light sustainably and emission-free with solar energy, is even better. Why not protect nature wherever possible on vacation?
Solar power bank for mobile phones
Anyone who likes to take photos with their mobile phone while traveling is familiar with this. There is nothing more annoying than when the cell phone battery gives up the ghost at the most beautiful photo motifs. Or even if an empty battery prevents you from making an emergency call. This cannot happen with a solar power bank. You don't even need a socket for this. This power bank is charged by solar energy. This has already proven to be a very useful piece of equipment on our travels. It is definitely one of the most practical gifts for motorhome enthusiasts.
Electricity storage that can be charged via solar panels
Anyone who travels a lot and often with their mobile home or tent will be happy about the opportunity to generate and store their own electricity. It's easy with the Jackery Explorer 1000, 1002Wh, a portable power station that can be used as a mobile power storage with 230V/1000W (peak 2000W) socket, USB and QC. The portable generator is easy to use. In addition, the many ports allow charging a variety of devices. If you buy two optional solar panels, you can generate your own electricity when there is enough sun. There's also a carrying case for it Jackety Explorer 1000*. If the Jackery Explorer 1000 is too expensive for you, you can also use it Jackety Explorer 500* store electricity (230V/500W (peak 1000W) socket + USB). 
Travel planning for the motorhome
RV trips need to be planned differently than any other vacation. There are practical aids for this, which are very suitable as gifts for campers. You can find a selection of them here.
Navigation device for the motorhome
A motorhome has different dimensions than a normal car. In addition, it is not so easy to cross inclines or slopes. A navigation device that offers vehicle-specific route guidance for campers can help. These routes take into account the weight and dimensions of the vehicle. This prevents you from driving routes that contain obstacles such as bridges that are too low or extreme inclines. At the same time, you can use the database to find the most beautiful campsites. One of the perfect gifts for campers.
Pitch guide and campsite guide
In addition, a parking space guide and campsite guide will help you find suitable places where you can stay overnight in your motorhome. We have detailed here for that this is not the case everywhere Germany described. Therefore, these manuals are perfect gifts for RV fans.
Reference book for everything to do with camping
Regardless of whether you are traveling with a tent, a mobile home or a camper, there are always questions and problems that cannot be solved off the cuff. So it's good to have a manual with you that has answers to pretty much everything to do with camping. Author Gerd Blank is practically always on the road with his camper. This passion began in his childhood.
He made it his profession and writes about all types of camping not only in this book, but also for media such as Financial Times Deutschland, Audi Magazin, SPIEGEL Online or Heise Verlag. We can highly recommend the Camping Bible. Here you will find answers to all practical and legal questions. You will receive tips on removing the camper or repairing minor damage. There are tour tips in Germany, Europe and on the other continents. Get tips for the camping kitchen and for cooking in it. This is a gift that every camper is happy to receive.
Reise Know-How Verlag has published another mobile home manual. It contains tips on purchasing, equipment, technology, travel preparation and tips for traveling.
Ideas for weekend trips by motorhome
A motorhome is suitable for spontaneous excursions in the area or for longer tours in the surrounding area. There are now great travel guides with ideas for short breaks in the area. These are good gifts for motorhome fans and camping enthusiasts.
Funny gifts for campers
Vintage motorhome
There are some funny gifts for campers. Hardcore campers don't want to do without motorhomes at home either. This vintage camper is suitable for them and can be placed in the living room for decoration. One of the fun gifts for RV fans.
Awning carpet
Funny gifts for campers are awning carpets with funny sayings. If an enthusiastic motorhome enthusiast retires, he will definitely be happy about this gift when he leaves the company.
Lightweight reading material for the beach is also a practical gift for a motorhome holiday. You can find gifts for camper fans here.
Gifts for motorhomes - questions and answers
What can you give campers?
Some ideas:
What should not be missing in the camper?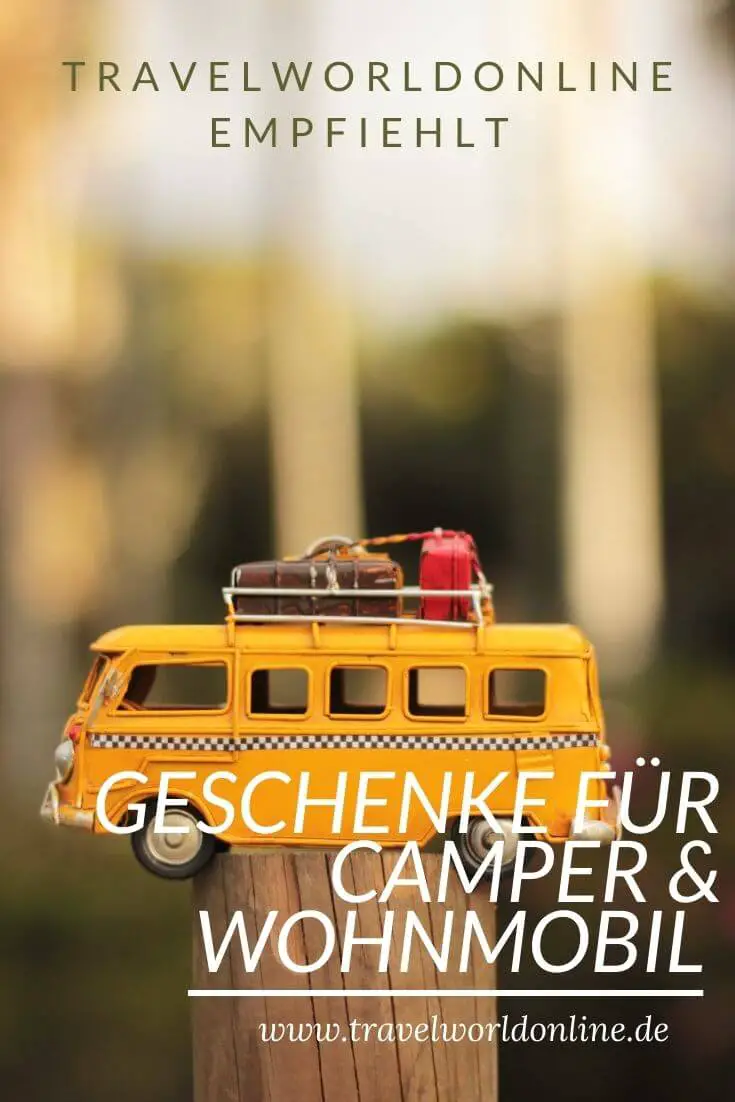 Do you already know:
Source of gifts for camping enthusiasts: own research
Text gifts for camper fans: © Copyright Monika Fuchs and TravelWorldOnline
Photos: © Copyright Canva and Amazon product photos