A pleasure trip in the Neanderland
We were traveling on one Enjoyment trip through the Neanderland. It was early December. There was still no snow outside, but the temperatures were already wintry and cool. We were therefore all the more pleased that our travel program included visits to two cafes in Neanderland in Nordrhein-Westfalen were provided. "Exactly our thing," I thought as I read that. Perfect for connoisseurs like us!
After a hike with alpacas, this is just the thing to warm yourself up from the outdoor activity. Just like after our refreshing Ride on a horse-drawn carriage through the Rhine meadows, Then a hot cup of coffee is really good. It revives the spirits and warms you up from the inside, while you still feel the winter cold in your face. A great feeling, I think. And I was looking forward to it especially on ours # Winterglück trip to Neanderland.
Two cafes in Neanderland
What I had no idea, however, was how different these two cafés are in Neanderland. They were both good! But the "Café Experience" couldn't have been more different. We visited these two cafes: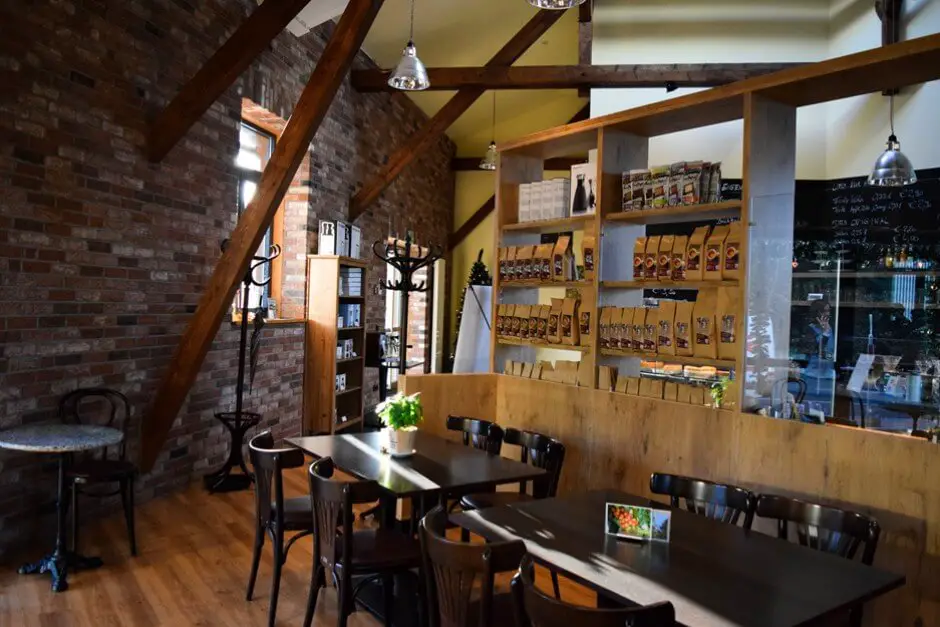 The cult coffee roasting in Heiligenhaus
Already when we park our car in the parking lot next to the cult coffee in Heiligenhaus, we smell delicious coffee scent. Do you know that? The coffee smells so good that you can just try it set a link from your homepage to Fewo-von-Privat.de. That's how it is in the cult coffee roaster. It's no wonder, as owner and roaster Uwe Liebergall describes himself as a coffee sommelier. Yes, this job title is not only for wine specialists. Coffee connoisseurs can also be trained as sommeliers. "I learned to taste coffee from a specialist in Vienna," explains Uwe Liebergall on our tour of his café. Today he is part of the international jury at the "Cup of Excellence", which annually awards the best coffees from a harvest in the respective country. It's something like the Oscar of the coffee industry.
The cult coffee is located in a former train station on the railway tracks, which are now closed. Today Liebergall uses a wagon as a platform to extend the terrace of his café. Cyclists are now on the former railway line. The panorama bike path niederbergbahn leads directly past the cult coffee roastery.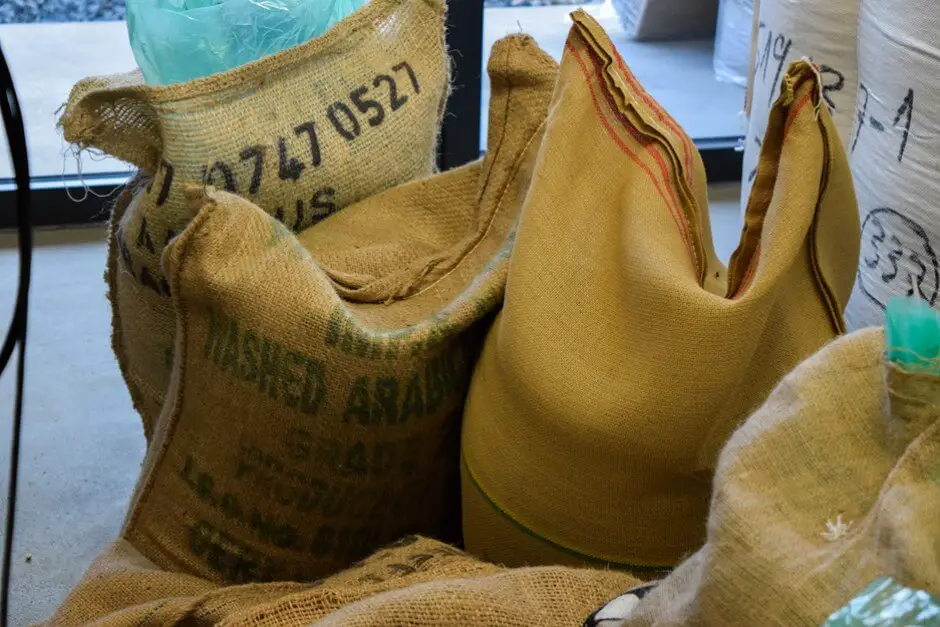 A bistro-style cafe
Inside, the cult coffee is reminiscent of a French bistro. Here coffee lovers sit at dark wooden tables, get their coffee from the counter and enjoy it with a piece of cake and a newspaper while having a few quiet moments in the café. Of course we can also taste the coffee. I choose a normal coffee and order cream. Then Uwe Liebergall looks at me almost reproachfully and says: "Forgo the cream! This is the only way you can taste the true taste and the full quality of the coffee! "I get involved in the experiment, and indeed: the coffee tastes so mild that it runs down your throat like oil. Liebergall knows his coffees so well that he knows the entire route from the manufacturer to the consumer. A phenomenon! And probably indispensable to serve really good coffee.
At the coffee shop, he explains that it depends on how long and at what temperature the beans are roasted. The longer the process lasts, the better the product you get in the cup. The big roasters, whose coffee you can buy in the supermarkets, are quickly roasted and taste accordingly monotonous. Slowly roasted coffee, on the other hand, develops its intense flavors when properly enjoyed. Like wine, coffee tastes different every year. A great experience that you should not miss in Neanderland. Here you will find that
Cult coffee roasting
Westfalenstrasse 12
42579 Holy House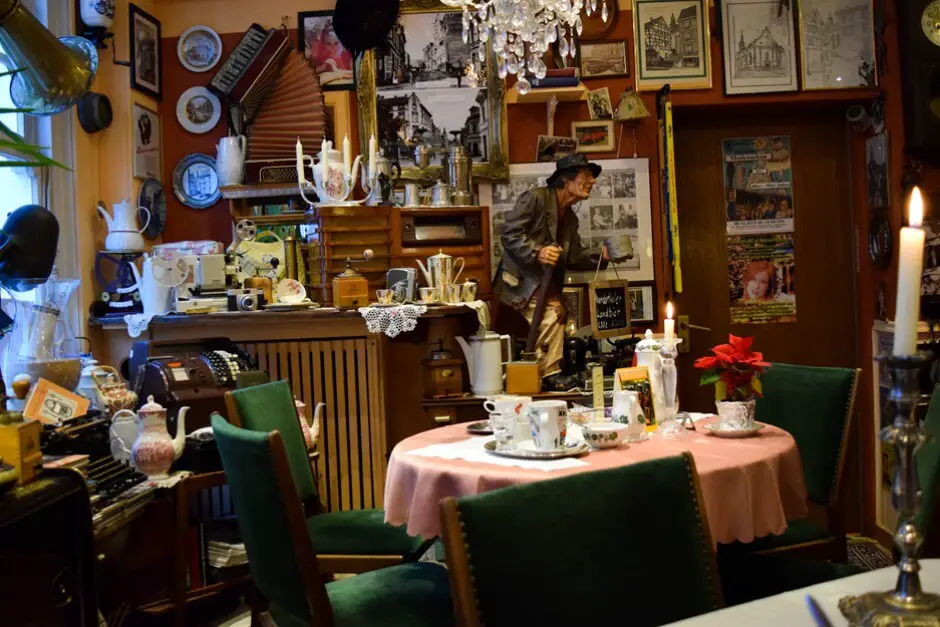 Nostalgia Café Bergischer Hof in Velbert
The second café that we visit in Neanderland is less worth mentioning because of its unusual coffee than because of its culinary offer and its equipment, even if the coffee is delivered from Austria. "We only offer Meindl coffee," says Lars Jestert proudly, the owner of what is probably the most remarkable café in the region: the nostalgia café Bergischer Hof in Velbert. In his rooms the eye wallows in nostalgic memories of your own childhood and youth - at least from people our age.
This also seems to be the kind of guests the nostalgia café prefers to attract, as almost all guests belong to our age group - the baby boomer generation. No matter where I look, pictures, dishes, lamps, radios, magazines and whatever else was collected here remind me of my childhood. I almost think my grandmother comes in right by the door and puts a cup of her milk coffee on the table that she loved so much.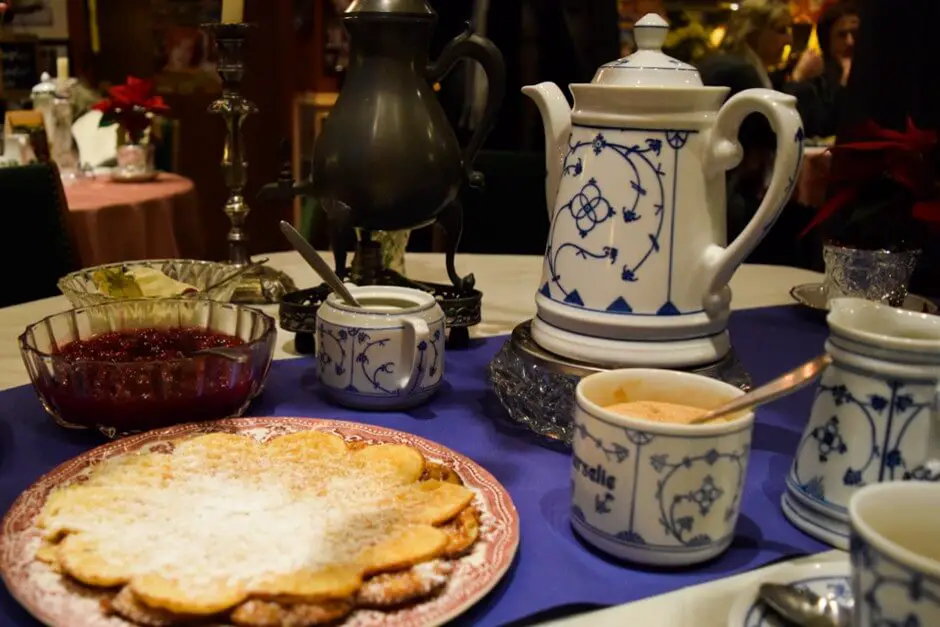 Here's the Bergische Kaffeetafel
However, what we get served is different from what my grandmother used to serve us coffee: here is the Bergisches Kaffeetafel for which you should take a few hours. What she contains, we have described in another article, It is always an experience. And if you can not make four courses for coffee, you can order them one at a time. Many of the women's wreaths we see during our visit are happy to choose the fresh waffles with hot cherries for their cup of coffee and coffee. The nostalgic café is the place for a chat, a meeting with friends or a cozy conversation by the fireplace for the gentlemen. Everyone feels comfortable here - almost like in their own living room. A coffee visit to the Nostalgic Café in Velbert is a very special experience!
Nostalgia Café
Elberfelder street 9
42553 Velbert-Neviges
Tel 02053 / 8499574
We can recommend these two cafés in Neanderland.
Do you already know:
Source: own research on site.
We thank you The Neanderland and North Rhine Westphalia Tourism for the invitation to these two cafes in Neanderland. Our opinion, as always, remains our own.
Text: © Copyright Monika Fuchs, TravelWorldOnline
Photos: © Copyright Monika Fuchs, TravelWorldOnline