Visit Harvard College with a Harvard Campus Tour
It is worthwhile when visiting Boston get to know Harvard University on a campus tour. We have taken part in such a tour during each of our stays in Boston and each time we have learned something new. A visit to Harvard College is especially interesting if you do a Harvard campus tour with students. They will tell you what their life on campus is like. They explain the history of the university, which is one of the oldest in the country. You will learn anecdotes from the lives of famous Harvard graduates. On top of that, they present modern teaching methods from Harvard University.
Book a hotel on the Harvard campus here
Hear the history of the college on a Harvard campus tour
The history of the university, which we learn about on the Harvard Campus Tour, is interesting. Harvard was founded in 1636 as America's first college by the Puritans under John Winthrop and has been one of the most important educational institutions in the country ever since. From the original 12 male students, the number has now grown to 18000 students. Even the Puritans felt the need for education. This was not a purposeless, noble pursuit of education, but your concern was to ensure the continued existence of the religious elite in New England.
Harvard was very much in the pedagogical tradition of Europe. Initially, the classical fine arts, Latin and Greek were offered. Later, when the ideas of John Locke and other enlighteners began to assert themselves, some students who did not like this tendency left Harvard and founded what later became Yale University in New Haven, Connecticut, in 1701. The leading personalities of the American Revolution grew up in the Enlightenment-friendly environment of Harvard: John Hancock, Samuel Adams, John Adams.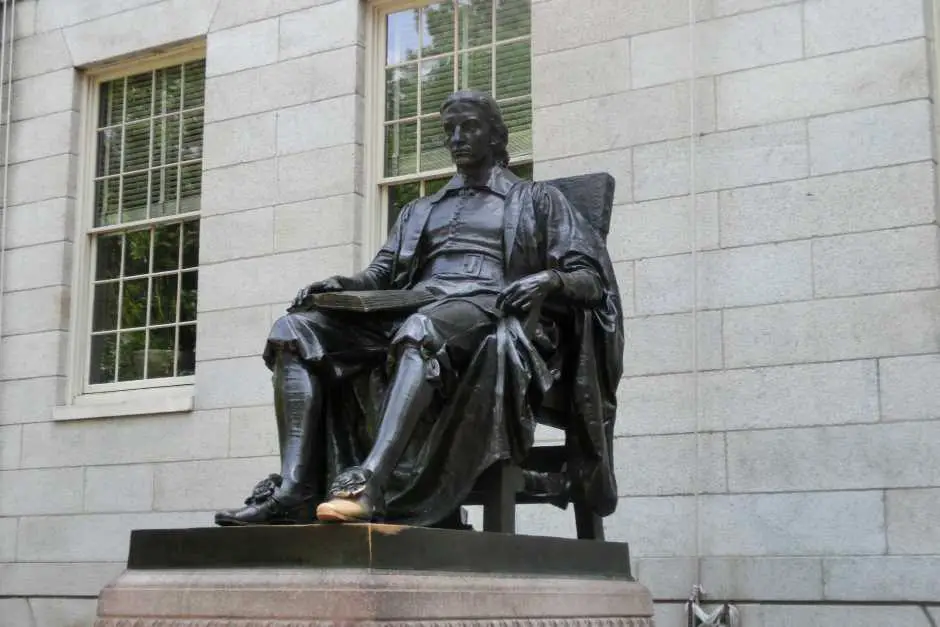 You will get to know famous Harvard graduates on a Harvard campus tour
Not only the statue of John Harvard introduced us to our guide at the Harvard Campus Tour. Other Harvard alumni of the past were famous writers and philosophers who settled in the town of Concord in the mid-19th century: Ralph Waldo Emerson and Henry David Thoreau. Harvard University graduates also include six American presidents, including Theodore Roosevelt, Franklin Delano Roosevelt and John F. Kennedy. And the current teaching staff is also impressive: more than 30 Nobel Prize winners teach at Harvard alone.
On a Harvard campus tour you will find out how the university is financed
The guide on our Harvard campus tour explained to us what it costs to study at Harvard. The university is funded by an endowment currently valued at around $6 billion. This makes it the richest university in the world. Furthermore, the university finances itself through research contracts, in which scrupulous care is taken to ensure that the independence of the research is maintained. Harvard education doesn't come cheap. On average, a year at Harvard College costs between US$ 17000 and 25000, depending on the degree. Scholarships are available for students with less affluent parents.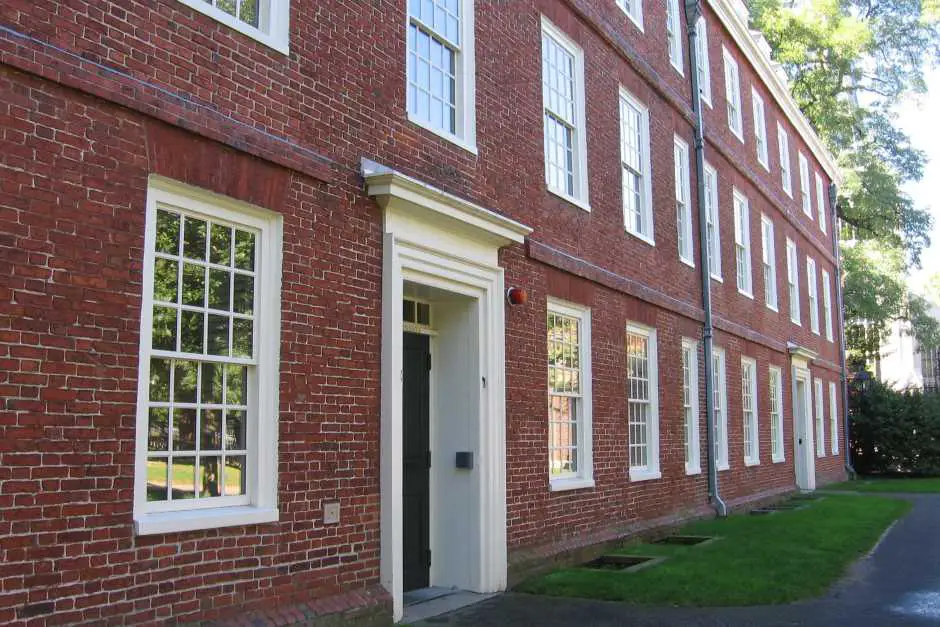 Did you know that you can even complete an online course at Harvard University?
On our Harvard Campus Tour, we found out that Harvard University even has free online courses. The exciting thing is that these Harvard University online courses are very different. You can take fee-based courses from all possible majors. These range from art & design to business courses to data science, programming and social sciences. What I find even more interesting is that there are also free online courses at Harvard. It's about topics like Beethoven's 9th symphony and the orchestra of the 19th century, but also about culinary topics like science & cooking: from haute cuisine to soft matter science. The current Harvard online courses you can find under this link.
Your Harvard Campus Tour begins at the Harvard University Visitor Center
The Harvard University Visitor Center is located at 1350 Massachusetts Ave, Cambridge, MA 02138. There, students welcome visitors from around the world, answer their questions and offer a Harvard campus tour. However, you have to register for the tours. This is possible once a week on Friday. You can also find more information on the website of the Visitor Center.
Do you like to travel by motorhome?
Do you want to rent a mobile home? Then you will find information and a selection of here booking options.
Check our packing list for campers to see whether you have packed everything for your motorhome tour.
Near Boston is the Lorraine Park Campground, 133 Jenkins Rd, Andover, MA 01810, United States. However, there are others in the region.
A  Campsite guide for the region (in English) * you can also order here.
---
Travel Arrangements:
Getting to Boston Massachusetts
Arrival by plane, bus or train*. KLM, Lufthansa, Air France, United and British Airways fly to Boston. You can also rent a car there.
Car Rentals:
Cheap car hire - book quickly and easily!
Camper Rentals:
Compare motorhome prices here.
Hotels in Boston Massachusetts:
Hotels in Boston* You can also book through our partner booking.com at this link.
---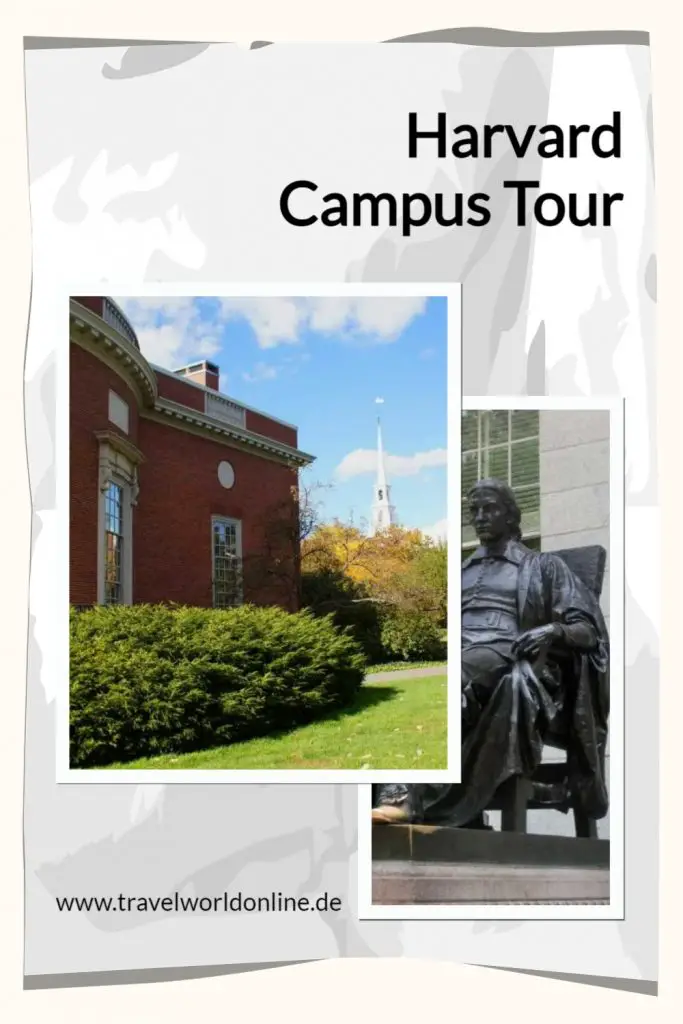 Do you also know:
Source Harvard Campus Tour: Research on site. We financed this trip ourselves. In any case, our opinion remains our own.
Text Harvard Campus Tour: © Copyright Monika Fuchs and TravelWorldOnline