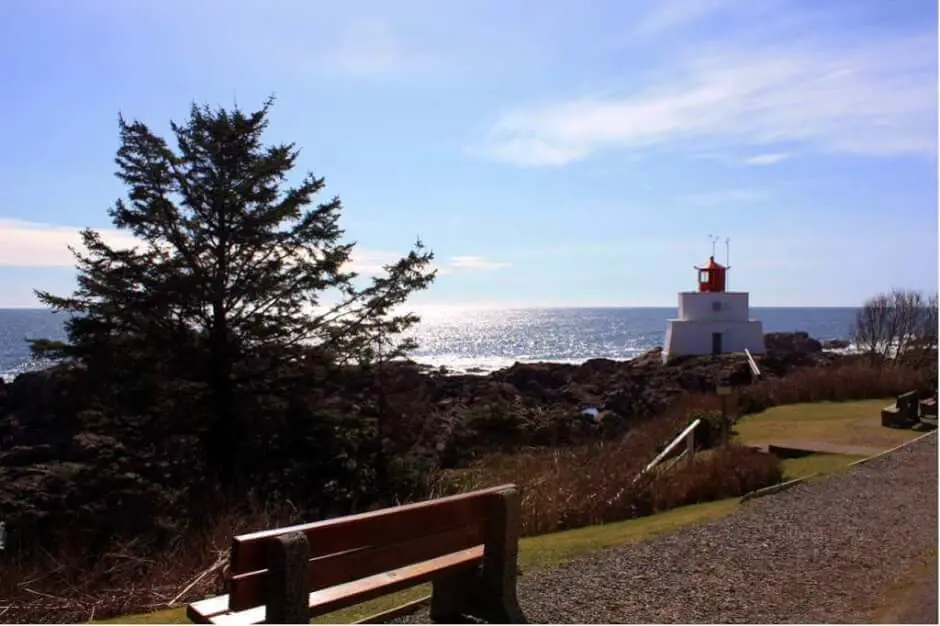 Hiking on the Wild Pacific Trail
It doesn't have to be the West Coast Trail to experience the wild coast of Vancouver Island. "Oyster Jim" recognized this on Ucluelet and managed to convince others of his dream. Today, the small town on the west coast of Vancouver Island has its own coastal path, which guarantees visitors a typical West Coast experience.
By now he is over ten years old - the Wild Pacific Trail at Ucluelet on the west coast of Vancouver Island. It offers everything the West Coast region of Vancouver Island has to offer in terms of scenic and natural beauty: views of rugged cliffs, a rugged coastline, spectacular Broken Island Group and Barkley Sound panoramas and, with luck, one or the other Dolphins, sea otters or even seals off the coast, who feel at home in these waters. At the time of Grauwalwandwanderung end of February to end of May you can observe the giants of the sea also from the coast.
The trail consists of three sections that run along the shoreline before Ucluelet: past lighthouses, Big Beach and Brown's Beach. On the way there are always viewing platforms at the most spectacular vantage points, from which the coast can be wonderfully observed during storms. The trail runs at a safe altitude from 20 to 30 meters above the surf and offers many views of stormy rocks and the high waves that roll in from the Pacific Ocean and break along the shoreline. On the way, the hiker gets a good insight into the vegetation of the temperate rainforest, which grows on the west coast of Vancouver Island: lichens, mosses, crooked trunks, branches and roots are just as photo motifs as ferns and fallen tree trunks, from which the next generation of plants grows.
Videos are subject to copyright
The Wild Pacific Trail will be expanded to include seven sections, which will provide the hiker with a typical West Coast experience, with views of lighthouses from the early 20 era. Kayakers who make their way out to the sea through the surf and to one or another animal off the coast. While staying in Ucluelet, a small Indian fishing village on the edge of the Pacific Rim National Park, which now offers visitors a choice of beach huts, bed and breakfasts and cozy inns overlooking the ocean, a walk on the Wild Pacific Trail is a great option To enjoy beauties of the Canadian west coast.
A Map of the Wild Pacific Trail is available here in .pdf format.
Text: © Copyright Monika Fuchs, TravelWorldOnline
Photos: © Copyright Monika Fuchs, TravelWorldOnline
Video: © Copyright Petar Fuchs, TravelWorldOnline