Travel blogger tips on how to finance your vacation
Travel is one of the most important things in our life. Not only do we write about it and make films, traveling has been our life's purpose for decades. We have traveled to five continents. There are always new countries and travel destinations that attract us. "How can you finance your vacation?" - How many times have we heard this in the past 20 years? Countless times. This is one of the issues that people get under their fingers when they hear that we blog full-time. The answer is very simple: we pay attention to economy in everything we do.
Our travels as travel Bloggers cost money. Since we only travel in pairs, that can be a lot. To finance this, we have developed methods that reduce our cost of living. Because we too have to pay for flights. Eating out in restaurants isn't free. Accommodation costs apply. Petrol and tolls make up a proportion of travel expenses in Europe. Then there are costs for insurance, equipment and more. The tax authorities also want their obulus. Expenses for our everyday life such as rent, cars and groceries need to be paid.
Finance Vacation Funding Strategies
We have developed strategies to reduce the cost of living. Our life has changed. Traveling and blogging are the main purpose of our lives. Everything else is secondary. We do without much. Our everyday life is minimalistic. This saves us a lot. What that looks like, we introduce here.
Use your blog or website to finance your vacation
If you have your own website or blog, you can advertise on it. So far, many have been doing this through Google Adsense. We too have done this for a long time. In the meantime, however, we are using the advertising that comes from the artificial intelligence from Ezoic * is played out. We have been working with Ezoic for more than a year and we are seeing increasing advertising revenues month after month that exceed what we have generated through Adsense. After a trial period of several weeks, income began to grow. The Ezoic system needs this start-up time in order to show the readers the appropriate advertising.
Ezoic makes vacation financing a breeze
There are ways with which you can show the advertisement fully automatically. There are also adjusting screws that can be used to adjust advertising to match the content. The Ezoic support team is very helpful and provides recommendations, tips and weekly webinars to help set up the banner areas and optimize the monetization options. In our experience, the support response is very quick.
A big advantage of advertising via Ezoic is that artificial intelligence ensures that the readers and users of the website receive advertising in such a way that they do not perceive them as annoying. If the bounce rate increases, the artificial intelligence adjusts the number and frequency of advertisements. The reactions of readers and users can be easily followed using the statistics that the program offers.
If the traffic on the website or blog increases, the income increases. At the same time, you rise in the Ezoic ranking and get access to premium advertising networks as soon as the blog or website exceeds predetermined limits. This means better advertising and increasing advertising revenue.
What is Ezoic?
Ezoic is far more than an ad network. It offers numerous Tools to optimize your own website / of your own blog:
You will get practical advice on how to optimize PageSpeed.
You can monetize your YouTube videos and show them on your own website and YouTube.
Test your content for the best results in the search engines. This is a good way to re-optimize old posts.
Use the access to the Ezoic Cloud for a fast website.
You can easily get started with a free trial.
At the same time, Ezoic's statistics provide valuable information as to which content can be easily monetized. This gives suggestions for further articles and topics that are worthwhile. You can get more information by clicking on the banner. There you will also find a trial version of Ezoic that you can use to try out the system. (We receive a commission when you register with Ezoic via this banner.)
Finance holidays through a sustainable investment
With VisualVest you can save yourself a sum for your next trip. It is also exciting that you can invest in sustainable investments. After all, travel almost always harms the environment. It is all the more important to pay attention to sustainability when traveling. This is very easy to do with the Greenfolio from VisualVest. You save your travel budget in up to eight sustainable funds. These are only included in the portfolio if they meet high ethical, social and ecological requirements.
VisualVest takes over the complete management of your investment. The digital asset manager keeps your investment permanently under control. Should the market change, the VisualVest asset manager will adjust your investments. Important for digital nomads: You can use your investment conveniently via an app or your user account online. You can use it to deposit money, make direct debits or simply check the status of your system while you are out and about.
Finance your vacation with the Credit Card Gold from Miles & More
A tip that we have been practicing ourselves for years is to use the Credit Card Gold from Miles & More. The Miles & More Credit Card is not only accepted as a means of payment everywhere. In addition to the services of the Credit Card Blue, the Credit Card Gold also includes travel insurance that when booking with the card are automatically included. You can of course also use it as a means of payment in everyday life. By paying with it, you collect airline miles with every purchase that you can use to book flights, hotels or other travel services. Alternatively, you can also shop in the Lufthansa WorldShop. After all, a big plus of the Credit Card Gold is that the award miles you have collected do not expire. We diligently collect airline miles through our purchases, which we use to book flights, hotels or rental cars.
There are three credit cards from Miles & More. These are the services that are included:
Miles & More Blue Credit Card:
500 award miles Welcome Bonus
2 euros = 1 award mile
50 Euro Lufthansa flight voucher
Avis upgrade voucher
10% welcome discount in the Lufthansa WorldShop
Permanently increased miles with selected partners
Miles & More Gold Credit Card:
Up to 4.000 award miles Welcome Bonus
2 euros = 1 award mile
Avis weekend rental voucher
15% welcome discount in the Lufthansa WorldShop
Permanently increased miles with selected partners
Miles & More Credit Card Gold Business:
Up to 15.000 award miles Welcome Bonus
2 euros = 1 award mile
Avis weekend rental voucher
15% welcome discount in the Lufthansa WorldShop
Permanently increased miles with selected partners
Finance vacation by saving expenses
Since moving to the countryside, we have had opportunities to live with and from nature. We collect woodruff, elderflower and wild garlic in spring, blueberries, lavender and herbs in summer and mushrooms in autumn. We get to know recipes on our travels. We try these with these ingredients in our kitchen. When we are at home in summer, we eat vegetables from our own garden. We grow herbs, tomatoes, cucumbers, peppers and try exotic vegetables. We get fruit in farm shops in spring and summer. We will freeze this for the winter months.
In this way we save transport costs for fruit from far away regions of the world. At the same time, we are protecting the environment. Our fruits and vegetables taste better. And we enjoy local products in winter. If we have time, we cook jams or create our own jelly recipes. These bring diversity to our menu because we produce them according to our own recipes. This is not only easy on our wallet, it also adds variety to our menu. Country life is enjoyment for us.
This way of life not only enables us to save money, it has also given us a new hobby. Cooking together and trying out Recipes that we collect all over the world.
Since we live in the country, it is not difficult for us to give up cinemas and concerts. Except for a visit to the village farm in the neighboring village or a visit to our favorite café, the choice of going out is not great. When we were still living in Munich, things looked different. There were temptations such as meeting friends in bars, admissions or concerts a permanent opportunity to spend money. Since we live in the country, these expenses are almost completely gone. That makes our savings account grow.
A big cost factor on our trips is gasoline. We fill up almost exclusively during the week. Then the gasoline prices are lower than on the weekend. We also avoid gas stations that we know are overpriced. When we travel, we do not fill our tank at motorway service stations. There you can easily pay up to 0,20 € more per liter of gas than at a gas station, which is a bit off. If we travel through neighboring countries, where gasoline is cheaper, we fill our tank again shortly before we leave the country. So we save money during our travels.
That is probably one of the most important questions we ask ourselves before we pull out our wallets. The seduction is great. Advertising fools us into needs that we don't have at all. Catalogs of clothing companies are in our mailbox every day. The advantages of the latest mobile phone models are discussed in internet groups. In our email account, new recommendations from software programs appear every day, with which we can edit our blog more efficiently, quickly and easily. If we had said yes to every offer that fluttered into our house and paid for it, we would have been bankrupt for a long time. The question "Do I really need this?" Has often prevented us from making expensive wrong decisions. However, when we buy something, we pay attention to quality. After all, the things we buy should be useful to us for a long time.
Finance vacation by paying in installments?
Even if there are pages circulating on the Internet that say that Otto Reisen, Neckermann or Expedia offer holiday financing through installment payments, this is not true. Expedia states explicitly: "You pay the full amount when booking. Expedia does not accept bank transfers or installment payments. "Even with Otto, you cannot pay for your vacation in installments. Instead, the organizer refers to the payment terms customary in the industry. First a deposit is due, then the total price. There is no vacation in installments with this operator either.
Let's be honest: if we can't afford a trip, the effect of relaxation is lost from the outset. After all, you have to work all the more afterwards to stop traveling by installment. In this case we would rather wait until we have saved up the necessary money. After that, we can enjoy our trip even better.
A reputable vacation financing promises better relaxation than one that is based on a vacation loan or an installment payment for the trip.
Those are definitely interesting too 22 savings tipshow single parents can make their vacation affordable.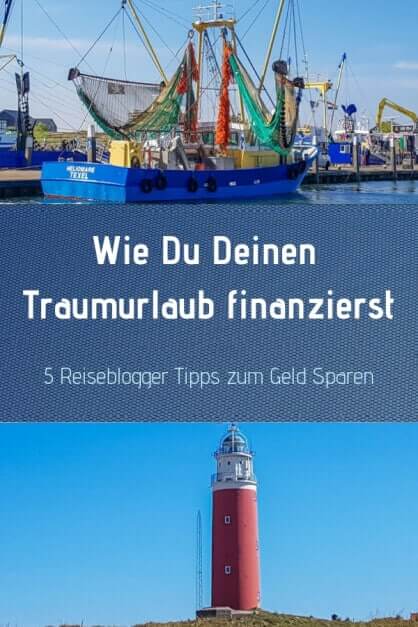 Do you already know:
Text finance vacation: © Copyright Monika Fuchs, TravelWorldOnline
Financing photos for vacation: © Copyright Monika Fuchs, TravelWorldOnline
Finance Holiday - Travel Blogger Tips