Hot chocolate in the Burg Café Bad Belzig
"You should definitely try the hot chocolate in the Burg Café Bad Belzig in Eisenhardt Castle! "I didn't have anyone tell me this twice after our hike in the Hoher Fläming Nature Park. Hot chocolate always sounds good, especially when it is made from real chocolate. In any case, this is what the host praises. After a look at the cake counter, chocolate does not only play a role in this tiny café in drinkable form.
The Burg Café Bad Belzig
First of all, we have a hard time finding the café. Our navigation device points us to Wittenberger Str. 14 in Bad Belzig. There stands the imposing Eisenhardt Castle, which is still surrounded by a moat today. In the gate a door leads to the museum entrance. There you can also pay the entrance, if you want to climb the castle tower. We are after ours Hike through the castle park of Wiesenburg Castle and on the Art trail through the Fläming however tired. Therefore we give ourselves the ascent. Instead, we are looking for a good cup of hot chocolate, which was announced as particularly delicious. Of course we do not want to miss that.
Upon entering the courtyard, we immediately notice the set tables on the square in front of the castle hotel. However, we do not see guests there. Rather, a young man is busy cleaning the tables. When asked where the Burg Café is, he points to an inconspicuous house on the other side of the courtyard. Before that, some people sit at a few tables. All are occupied. Therefore, we try our luck in the interior of the café despite the sunshine, the middle of September still warms the courtyard.
Plush, cozy atmosphere in the Burg Café Bad Belzig
Tiny are the two rooms that the Burg Café offers its guests. We have the choice inside. We can either sit on a plush sofa or have a room for us. There is a table with many chairs. However, I wonder if these are ever occupied. Because it's tight in here. It would be difficult to fill all the seats. Anyone who has taken a seat must wait until the room empties when he wants to go out again. But since nobody wants to get in here except us, we take a seat on the two chairs at the entrance.
Just as in the other room, it exudes an atmosphere of bygone times. A thick blanket lies on the table, waiting for the artistically carved chairs to score. The lamps on the walls are reminiscent of Art Nouveau times. The candlestick, which stands in the middle of the table, fits in with this.
Nostalgia in the Burg Café
The innkeeper looks in briefly: "Have you already ordered?" We deny and order two cups of hot chocolate. We have to choose cakes at the cake counter. Here, too, it quickly becomes clear that chocolate is not only served in a drinkable form in this café. I order a piece of chocolate cake that looks particularly tempting.
It only takes a few minutes, and the landlady brings us two thick-walled cups, which alone are worth a visit to a café. A porcelain elephant stares at me as I turn the handle on me. Otherwise, I only know such cups from the flea market or from old antique shops, where everything from past times is offered. I think she is wonderfully quirky.
Immediately afterwards, the landlord comes back a second time and puts a huge piece of chocolate cake in front of me that makes me swallow. I'm glad we only ordered one of them. So Petar can help me to consume this calorie bomb.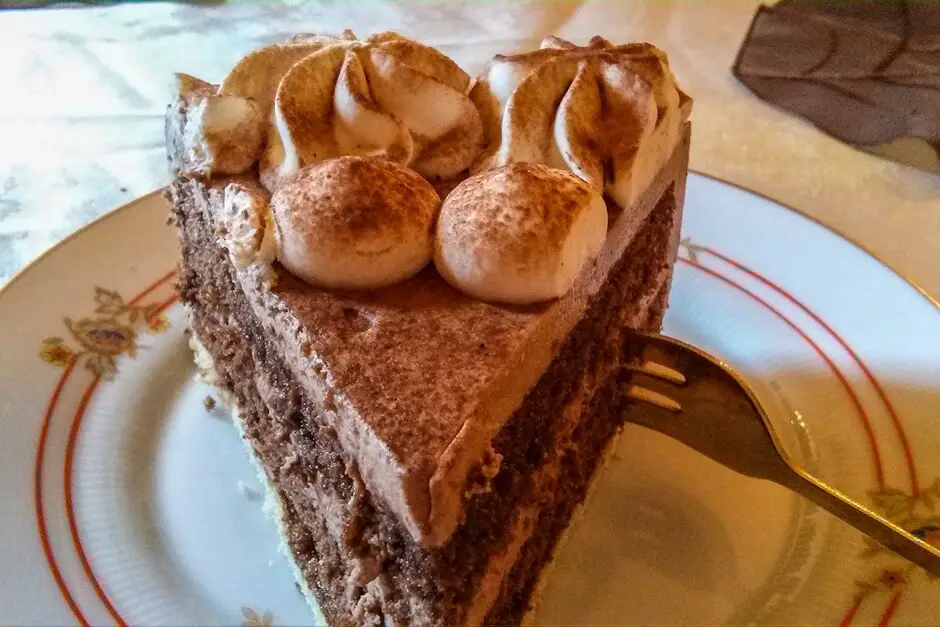 The finest hot chocolate at Burg Café Bad Belzig
And then comes the moment of truth. The first sip of hot chocolate from the elephant cup! What a poem! Now, it does not surprise me anymore why everyone is raving about this café. Melted chocolate trickles down my throat and warms my palate. It leaves a feeling of happiness, as one always says chocolate. So far, however, I have never felt this as intense as at this moment. Pleasant well-being spreads in me, and I could sit here for hours just to sip that divine chocolate. The fact that real chocolate is used, you can taste it in every sip. This is not the usual cocoa milk trickles through my mouth. Instead, a thick chocolate crema flatters my tongue and gently and slowly flows down to the stomach, which it warms pleasantly. It almost feels like she wants to make me aware every inch of the way through that comforting feeling.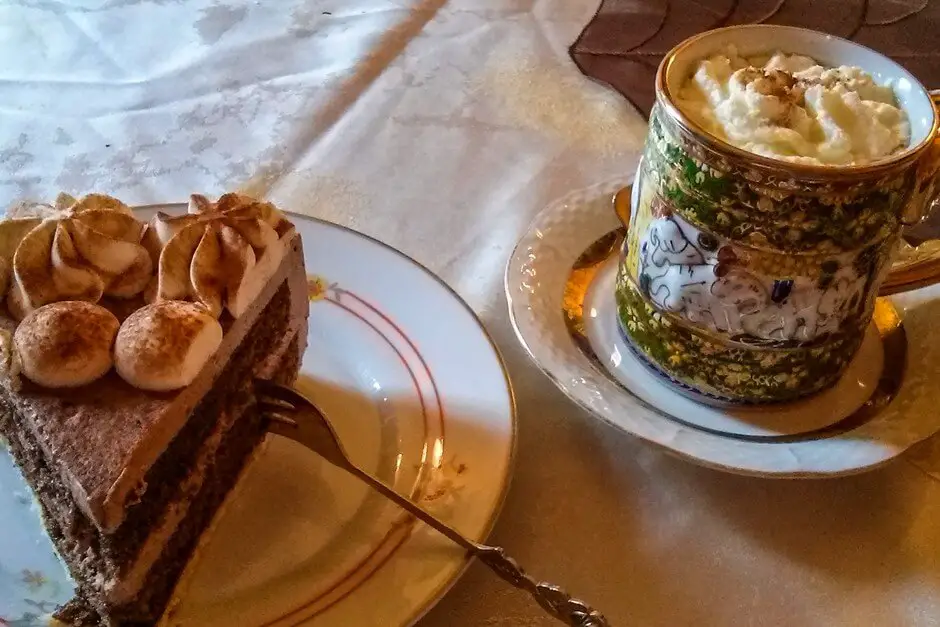 Hot chocolate recipe - make it yourself with real chocolate
Since we rarely get in Brandenburg the Burg Café in Bad Belzig has given us a taste, we always make hot chocolate ourselves. With real chocolate, because that's the only way it tastes so seductive. At Good kitchen we discovered a simple recipe for it:
Ingredients
250 ml of milk
a pinch of cinnamon
half a teaspoon of brown sugar
50 grams of dark chocolate
Method
Break the chocolate into pieces.
Heat three tablespoons of milk, brown sugar, chocolate chips and cinnamon in a saucepan until the chocolate melts.
Stir until the chocolate has melted completely. Then add the rest of the milk and slowly heat it up. Then pour the chocolate into a large cup or tall glass and sprinkle it with a little cocoa. If you like it very seductive, add some cream to the hot chocolate beforehand.
Conclusion: a must for chocolate lovers
The Burg Café Bad Belzig is a must for all chocolate lovers! If you are in the area, do not miss this treat. The cafe may be tiny and cranky, but the taste of this chocolate is unique and worth a visit.
Take a look at Petar's video about Bad Belzig and Schloss Wiesenburg. His photographs entice to a walk through the castle park. Just click here to watch the video.
Do you like to travel by motorhome?
Do you want to rent a motorhome? Then you will find information and a selection in these booking options here. Rent a motorhome or a camper near you here. Or would you rather stay in one  roof tent on the car? Also the overnight stay in  camping tents is possible.
There are several campsites in Bad Belzig and the surrounding area, e.g. in the HappyNest - Permaculture and Art Garden Bad Belzig, Weitzgrunder Weg 23, 14806 Bad Belzig.
Check our packing list for campers to see whether you have packed everything for your motorhome tour.
You want to know where you can   stay overnight in Germany can and are you looking for parking spaces and campsites? You can find information about this under this link.
---
Travel Arrangements:
Check in:
Arrival by plane, bus or train*. The nearest airport is Berlin. You can also travel by train: Timetable and booking*
Car Rentals:
Cheap car hire - book quickly and easily!
Accommodation near the Burg Café Bad Belzig
Hotels and accommodation in Bad Belzig and surroundings * You can book through our partner booking.com. However we have in very quiet Paulinen Hof Seminar Hotel * a few miles away, which we highly recommend.
---
Find more Enjoyment travel tips you find here. Discover here Restaurants and cafesthat we recommend.
Do you already know:
Source: On-site research. We thank Tourismus Brandenburg for inviting us to go hiking in the Hoher Fläming Nature Park. However, as always, our opinion remains our own.
Text: © Copyright Monika Fuchs, TravelWorldOnline
Photos © Copyright Monika Fox, TravelWorldOnline
Hot chocolate in the Burgcafe in Bad Belzig