Juneau Whale Watching
Going whale watching in Alaska in Juneau is an experience I will never forget. That was a highlight on all my Alaska trips that took me along the coast. Whales can be seen very well in the Inside Passage between Canada and Alaska. With a bit of luck you can see their behavior. In this image, a humpback whale leaps out of the water off the coast of Alaska. The scientists do not know exactly why they do this. But one of the theories is that they want to stun their prey with the force of the leap. Another says it just happens out of exuberance and is playful behaviour.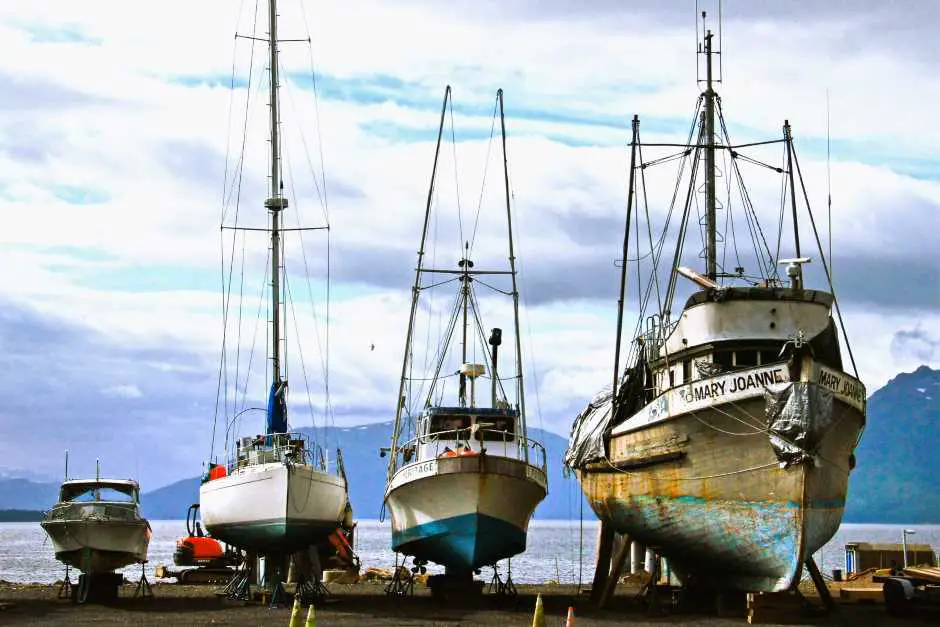 Alaska whale watching
Whale watching in Alaska is a highlight of any trip along the Inside Passage between Prince Rupert and the Alaska Peninsula. However, there are a few things to consider to ensure you get the best whale watching experience in Juneau. You can book whale tours in Alaska* here.
Best time for whale watching in Alaska
The whales migrate to the regions of southeast Alaska in the spring. These are their feeding grounds. They leave the region again in late autumn and swim back to areas in the south or around Hawaii, where they give birth to their young. The best time for whale watching in Alaska is between May and September. Orcas and humpback whales are often seen. In the Icy Strait one often encounters gray whales.
Whale tour operators often guarantee whale sightings during this time. If it happens that you don't see any, you can go on a second tour for free. Whale tours are available from Juneau, Glacier Bay and the Icy Strait, as well as from Ketchikan, Seward, Valdez, Petersburg and Sitka.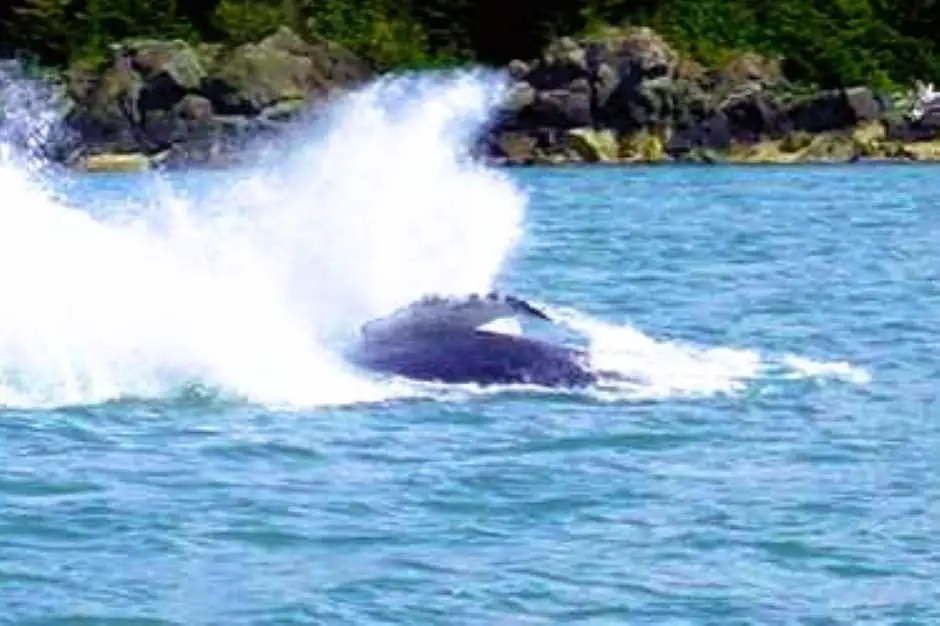 Watching whales in Alaska shows the behavior of the animals
This behavior is called "breaching". When a humpback whale heaves out of the water and then falls back, it causes a roar. This behavior is commonly seen in whales in Auke Bay off Juneau.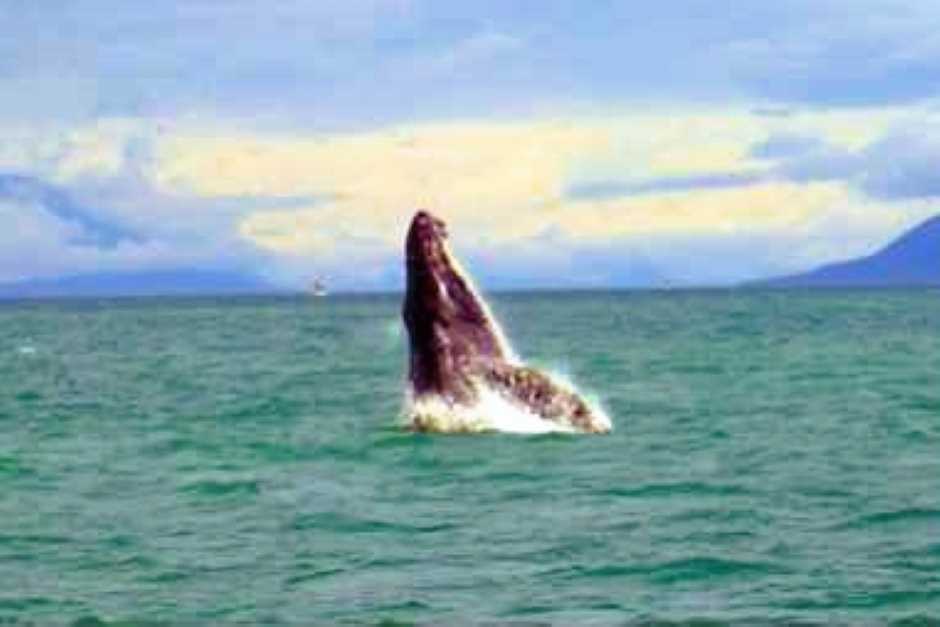 Spy hopping while whale watching in Juneau
It's not uncommon to see a humpback whale pushing its body out of the water in the waters off Juneau Alaska. Scientists believe that this is a hunting behavior. Perhaps the animals are on the lookout for prey.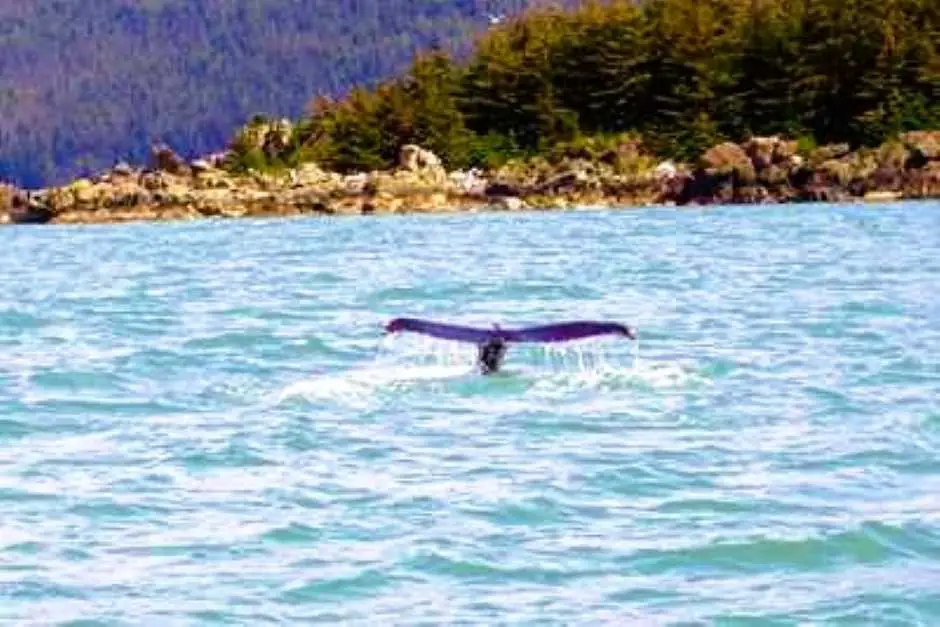 Whales display their flukes before diving
This sight is very popular with photographers when whale watching. Then the humpback whale dives into the depths of the sea, often showing its fluke. However, this also means that it remains underwater for minutes afterwards. It usually only reappears after some time and in a different place. Then you need patience. You have to wait for the whale to appear again. You need to be lucky, if you'll look at the exact spot, where it reappears out of the water.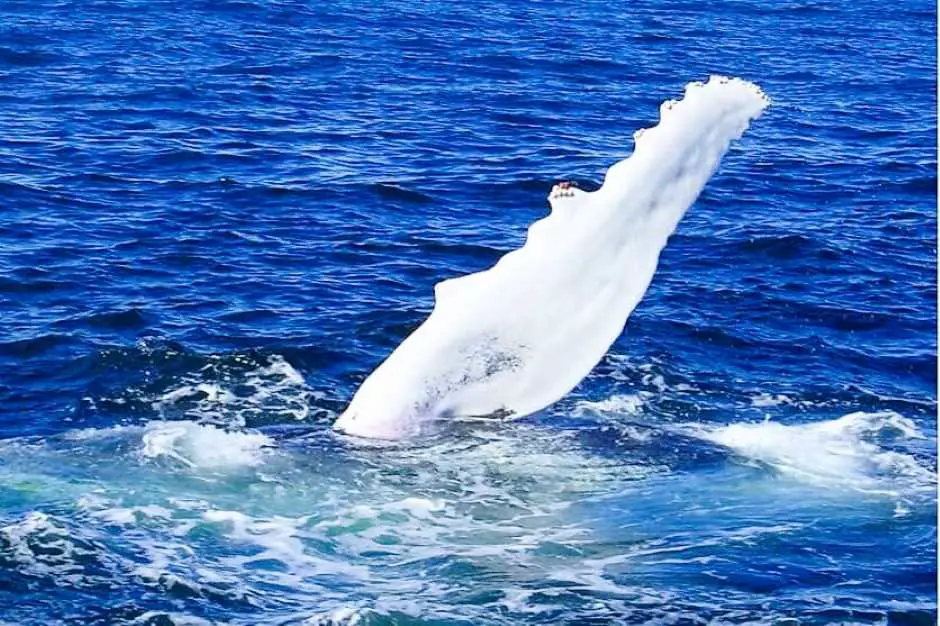 You can often see the whale tail when whale watching
With a bit of luck you will see this behavior. The whale swims to the surface of the water and turns sideways. He lifts his fin out of the water and hits it with a loud splash on the water. According to the scientists, this is also a hunting behavior of the humpback whales.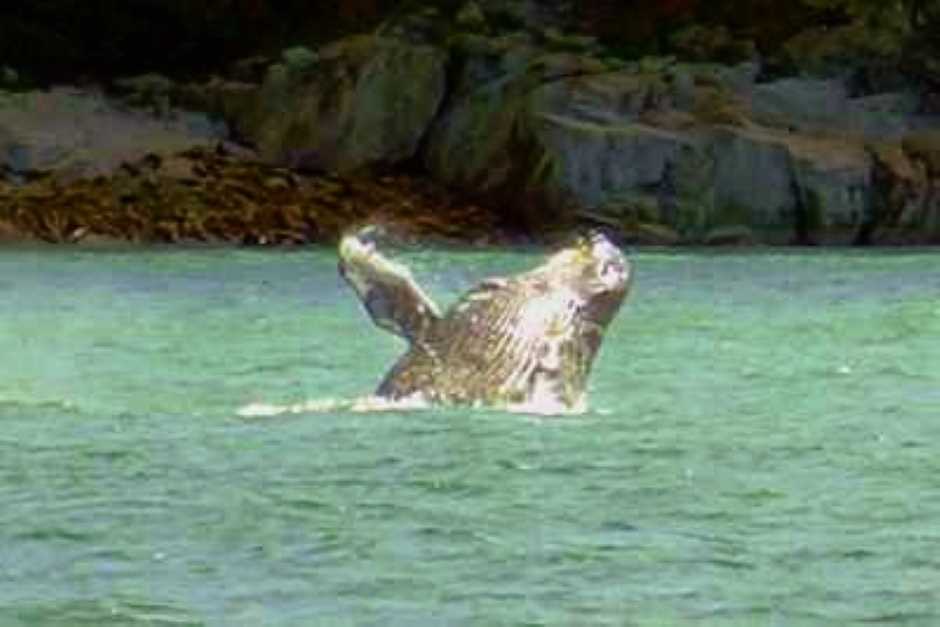 Chances are good to see whales when whale watching off Juneau Alaska
Since the waters off Alaska are very species-rich, with a bit of luck you can photograph a whale with other animal species. Here I spotted a humpback whale in front of a group of sea lions lounging on the rocks in the background.
Travel Arrangements:
Parking at the airport
Here you can reserve your parking space at the airport.
Arrival
Arrival by plane*. Condor and Lufthansa offer flights to Anchorage and Fairbanks. From there you can fly to Juneau. You can also reach Juneau by ferry from Skagway or British Columbia. The city has no road access to inland Alaska.
Car Rentals:
Cheap Car Hire - Book Fast and Easy! *
Juneau Hotels:
Hotels in Juneau*you can book here.
Whale Watching in Juneau
Whale Watching from Juneau*can be booked here. 
---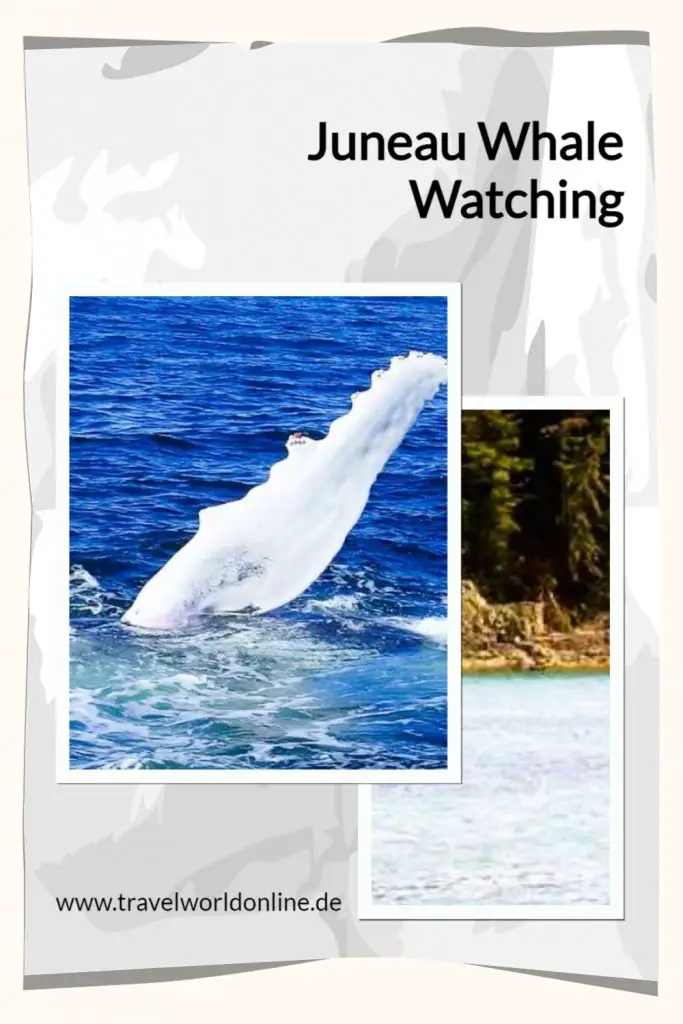 Do you already know:
Source Juneau Whale Watching: Research on site
Text Juneau Whale Watching: © Copyright Monika Fuchs, TravelWorldOnline
Photos: © Copyright Monika Fuchs, TravelWorldOnline and Wikimedia Commons in the public domain
Juneau Whale Watching – Alaska Whale Watching